For some, painting on an iPad isn't as easy as doing it traditionally. Even if you are a gifted artist, sometimes the options in the app can feel limiting. Even though Procreate has been one of the best drawing apps for iPad since its release, there's a long way for it to go. Fortunately, to help you level up your drawings, in this guide, we have covered the best free Procreate brushes you can download in 2022. Each of these brushes works on the most recent 5.2 update, which allows you to import 3D models in Procreate. From calligraphy to anime art styles, we have included brushes and even some stamps to satiate the needs of every artist. Not to forget, since most of these brushes use general file formats, you can use them on a few Procreate alternatives as well. With that out of the way, let's explore the best free Procreate brushes in 2022.
Best Free Procreate Brushes (2022)
We have personally tested the brushes on this list in Procreate 5.2. So you can expect the brushes to run perfectly on any version of the app after Procreate 5.0. You will find 30 brush sets, offering you access to over 800 different brushes, along with their free download link in the description below. This list isn't ranked, so feel free to explore the brush sets as per your interest.
1. Stocking Stuffers – Free Background & Texture Brushes
Starting with artwork creation, our first brush set focuses on a collection of unique background textures. All of these brushes can help you create seamless textures that are great for making wallpapers in indoor scenes. If you are creating an outdoor world, these can be used to add depth to buildings, rocks, and similar objects. There's even a Christmas-themed brush that gives you a collection of snowflakes that fit perfectly in winter-themed arts.
A bonus detail in these brushes is the subtle grains. You can notice them if you make the brush size large enough. They aren't as game-changing as the brushes themselves, but they do add a more realistic touch to the drawings. We even tried using these brushes to texture garments and book covers at lower transparency. The results were more than promising.
Number of Brushes: 20
Download Stocking Stuffers Brush set
2. Paperlike Dynamic – Free Environment Brush Set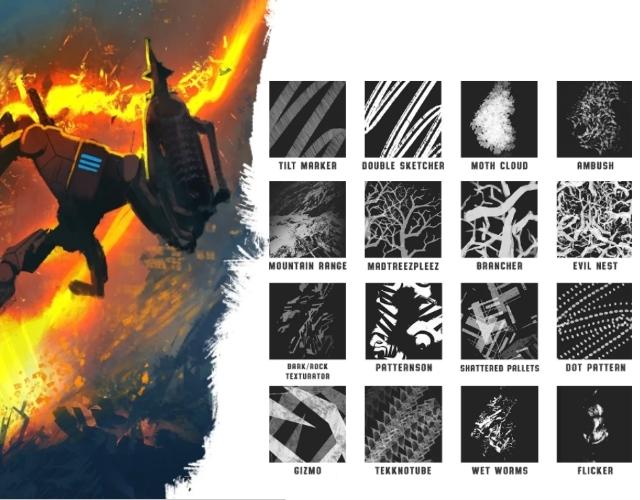 Once the background is ready, it's time to create the environment for your characters. This professional brush set from the Paperlike team is one of the best picks. Unlike most environment brushes, these don't only focus on still worlds. You can use the brushes to create moving elements in the background too. From mountains to thunder, the range of dynamic elements in this brush set is huge.
Each of the brushes also has a detailed texture creating an easy realistic effect. Not to forget, these brushes were created in collaboration with Filip Zywica, who is an illustrator famous for dynamic backgrounds. Zywica follows an unstructured approach to artworks, and these brushes surely reflect that.
Number of Brushes: 34
Download Paperlike Dynamic Environment Brushes
3. Marc Brunet's Free Starter Brushes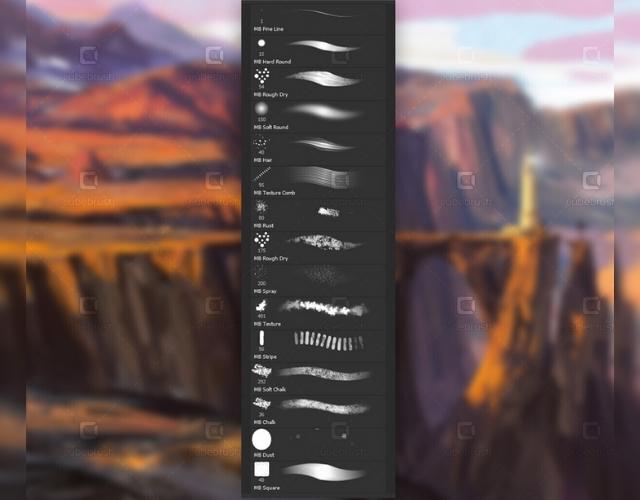 Usually, each brush set focuses on particular aspects of an artwork. However, this set of professional brushes does more than that. Coming from art instructor Marc Brunet's collection, this set offers 17 unique brushes that you can use in many different scenarios. These are great for artists just starting with Procreate, as you can find most of the brushes required to follow professional tutorials.
Among the included brushes, you can find brushes to outline, paint, add texture, and even make background patterns. They are of high quality and would be useful even later on in your artistic journey. There's also an iconic cube-shaped brush that enables you to create steady paint strokes.
Number of Brushes: 17
Download Marc Brunet's Starter Brushes
4. Free Procreate Pencil Brushes
A usual hiccup that artists face when shifting to digital painting is a lack of realism. Fortunately, this entry on our list of best free Procreate brushes tackles that well. This brush set offers unique pencil brushes that can help create a realistic granite effect. There are brushes of different sizes and shades similar to the B series of pencils.
You can not only use these brushes for basic sketches but use them to complete shading-based artworks as well. As for the quality, the huge file size of the brushes speaks volumes. If you zoom into each brush, you can notice the irregularities that a real pencil might make. Some of these brushes even have smudge-based effects giving you an additional layer of realism in your artworks.
Number of Brushes: 17
Download Free Procreate Pencil Brushes
5. Jingsketch Basic – Free Premium Brushes
If you have been part of the Procreate community for long, chances are you might have heard of Jingsketch. It's one of the most popular and reliable premium sources of brushes, tutorials, and more. The following set gives you a taste of premium brushes with a set of 10 basic brushes from Jingsketch's official collection.
This collection includes general-purpose brushes that you can use for a variety of artworks. They are high-quality recreations of real brushes and provide versatile functionality. Half of them are painting brushes, while the rest are for smudging and sketching. These are best used for character creations or soft environments.
Number of Brushes: 10
Download Jingsketch Basic Brushes
6. Abbie's Watercolor Procreate Brushes
If you are someone like me who shifted from traditional to digital artworks, the recreation of watercolors might be an issue for you. But not anymore. This brush set will help you recreate watercolor effects in their entirety. Not only do these brushes look real, but each stroke also leaves a reducing color trail.
The benefits of this set don't end here. While creating artworks, you can even combine colors as you would with real watercolors. The effect won't be 100% accurate but with a paper texture, it is going to be more than convincing. You can even use some of these brushes for outlining and lettering. Just make sure that stroke doesn't run out of color before you finish your action.
Number of Brushes: 5
Download Abbie's Watercolor Brushes
7. Tree Silhouette Stamps
Let's move our focus away from traditional brushes and check out stamps with this collection. Unlike regular brushes that depend upon your flow, stamps work by a single tap. Their primary aim is to recreate certain shapes without too many details or colors. This particular set of stamps gives us the easiest way to make trees in Procreate.
There are not only a variety of individual trees with their branches. But you can quickly create continuous forests with multiple brushes that offer a series of trees as well. These brushes can be reduced in size to use in the background, and you can even enlarge them to make a tree as the main focus of your artwork. Once the base tree is ready, you can then add details, including the leaves and more.
Number of Brushes: 35
Download Tree Silhouette Stamps
8. Nature Leaf and Grass Brushes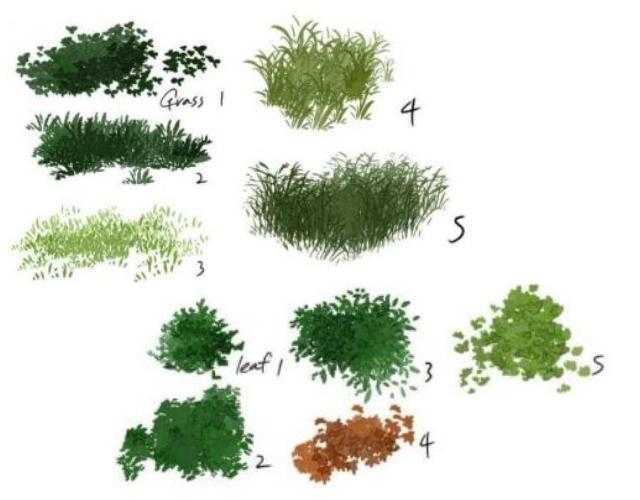 In any nature-based artwork, creating leaves and grass is easy. But it can also get tiring because of the repetitive actions and placement of the same shapes. If you relate to this situation, you will love these best Procreate nature brushes. Each brush inset either creates realistic leaves or grass patterns. In the case of the leaves, You can rotate the brushes while reusing them to make sure the patterns are unique.
There's also built-in contrast for each brush, so you can notice shadows within each impression. When used in combination with tree and beach silhouettes, these brushes can create amazing effects. They are simple in their details, and you should use them in a smaller size for best results. You can even combine them to create more variety in your artwork.
Number of Brushes: 10
Download Nature Brushes
9. Cloud Brushes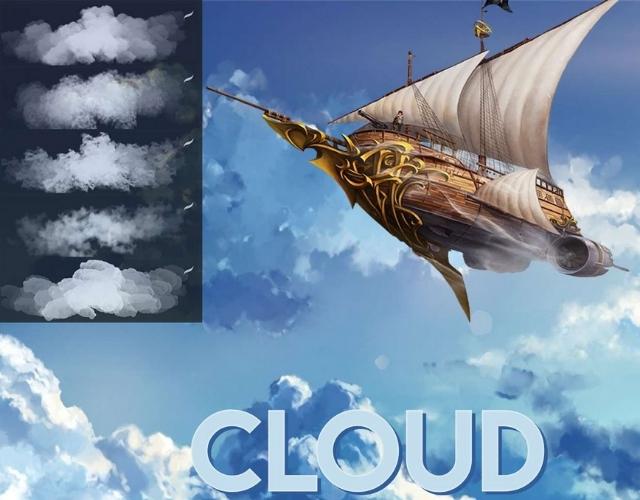 One of the easiest ways to bring your artwork to life is by adding clouds. They are not only relatable for most people but also are easy to fit into most scenes. But that doesn't mean they are easy to make. Lucky for you, our next stamp brush will take care of that. With these five unique brushes, you can make almost any type of cloud.
However, make sure to resize, rotate, and play with the brush to generate more realism. What I try to do is that I use different shades of the primary color to add depth and shadow effect to clouds. You can use a gaussian blur filter to increase the fluffiness of these already perfect free cloud brushes.
Number of Brushes: 5
Download Cloud Brushes
10. Maria's Free Deer Stamps for Procreate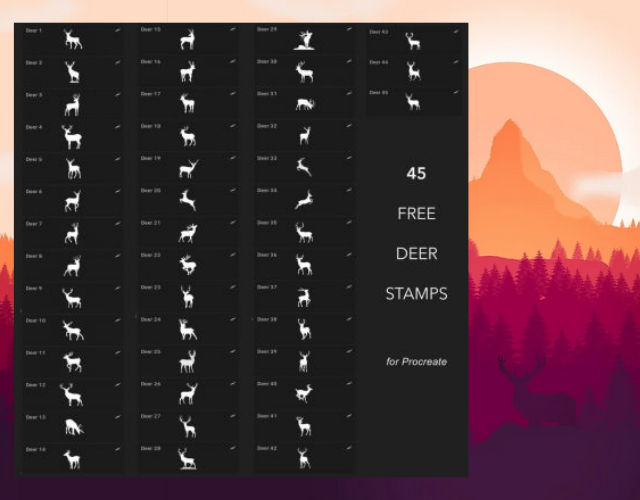 Continuing with stamps for our growing list of best free Procreate brushes, we have deer stamps. Whether it is Harry Potter or a common forest scene, artists love to create deer silhouettes. Unless you are using stroke stabilization to make smooth lines, making a deer isn't an easy task. That's where this set of brush stamps comes in.
With a variety of poses from running to eating, this stamp covers almost every type of deer silhouette. Thanks to the high quality, you can even use these brushes with the outline for your deer. But make sure to use similar sizing when using multiple deer brushes to maintain consistency.
Number of Brushes: 45
Download Maria's Deer Brush Stamps
11. Anime Brushset
Anime is an art style that is gaining popularity all over the world and this brush set is made to cater to artists making anime artworks. With 8 brushes, this set covers most of your basic anime art requirements. The brushes are focused on creating characters and backgrounds. So, if you are planning to make structures too, you will have to use other brushes alongside these.
Focusing on the brushes, there are two that you can use to draw hair, and the rest are for general purposes. You can use them to create skin, costumes, and other components of your anime character. There's even a blurred soft brush that you can use in artworks with a kawaii vibe. As for inspiration, our list of best websites to watch anime will come in handy.
Number of Brushes: 8
Download Anime Brush Set
12. Webtoon Frame Brushes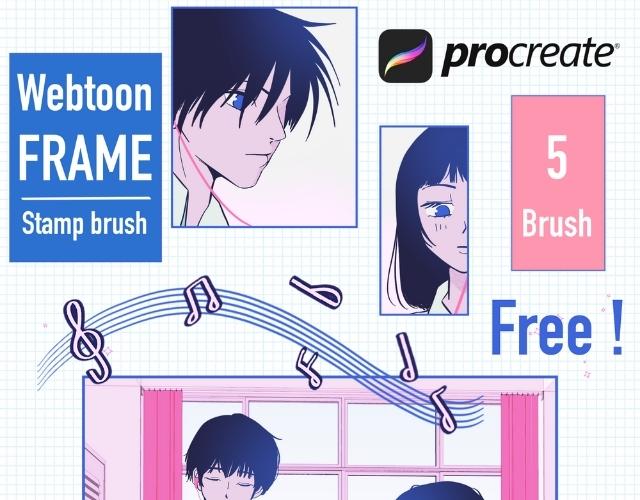 If you plan on drawing comics, manhwa, manga, or any webtoon-related content, you will love this brush collection. It caters to a popular complaint of Procreate not having framing options in the app. And with the new pages layout of the new 5.2 update, this brush set can make Procreate the best app for making webtoons.
These brushes function as stamps that create frames in different sizes and formats. These frames include verticle and horizontal rectangles, squares, and divided frames. These include dedicated frames that you can use for dividing dialogues, scenes, and POVs. But to maintain consistency in your comic, try to use a fixed size for each brush in this set.
Number of Brushes: 5
Download Webtoon Frame Stamp Brushes
13. Comics Halftone Brushes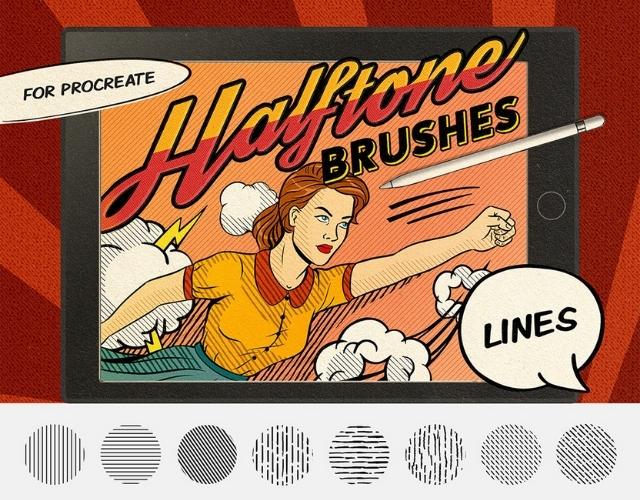 Comic books, from the early 1950s to today, have undergone a variety of changes. But one can agree that vintage comics have a certain art style that is hard to replicate. These halftone Procreate brushes aim to bring the original vintage pattern and texture-based style in modern comics too. With a variety of patterns, including dots and lines, these brushes add a clear retro style to any artwork.
You can use different brushes from each category at distinct transparency to create a variety of styles. If you are not into retro comic styles, you can even use these brushes to create backgrounds for other artworks. You can also use the grunge brushes in this collection to add a rough paper-like texture to any artwork.
Number of Brushes: 16
Download Comics Halftone Brushes
14. Lettering Daily Brushes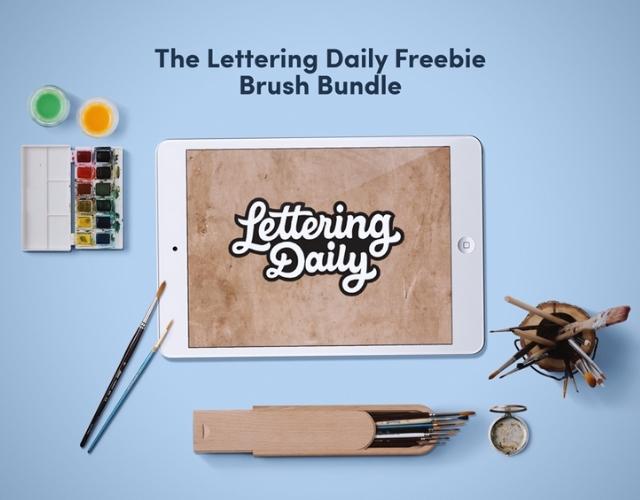 Lettering in general terms means the art of drawing letters instead of writing them. Unlike calligraphy, lettering involves adding shadows, borders, and more to letters. In a way, letters are treated as characters with personality and require very accurate brushes to make. This set provides us with 8 brushes that are perfect for lettering.
Each brush serves a separate purpose in the process of lettering. These brushes are replicas of real-life stationery items, including markers, parallel brushes, brush pens, and chalks. It's a collection by the team of Lettering Daily, an online community dedicated to the art of lettering. So, you can rest assured about the quality of these brushes.
Number of Brushes: 8
Download Lettering Daily Brushes
15. Liner Brushes for Procreate
The next entry on our list of the best free Procreate brushes takes lettering to the next level. This collection of brushes is handy for lettering. But with their variety, you can also use these brushes to make illustrations. Beyond regular ones, this set even includes slim smooth brushes for outlines and details.
This collection works best with bright colors and pastel-style illustrations. Most of the brushes here are recreations of crayons, chalks, and markers with unique textures. Using them with a rough paper background can help you create realistic scribble-based illustrations.
Number of Brushes: 22
Download Liner Brushes
16. Pattern Factory – Free Textile Brushes
A mistake that even professional character artists sometimes make is not focusing on clothes and other textiles. One can add shadows, highlights, and reflections to them, but the originality lies in their textures. Thankfully, this brush set is all that you need to add this extra layer of detail to your clothing illustrations.
There are different types of brushes in this collection based upon the design, material, and size of the pattern. You can choose the one that fits your character the most. Some artists use similar brushes to paint patterns over walls and furniture too. If you are only going to use them with clothes, do make sure to rotate the brush to go with the flow of that cloth instead of a unidirectional pattern.
Number of Brushes: 15
Download Textile Pattern Factory Brushes
17. Pixel Art Brushes
With the popularity of games like Alt254, it seems like pixelated games are here to stay. And this brush set fits perfectly with each of them. Unlike most Procreate brushes, this set doesn't focus on realism. Instead, it tries to accurately replicate pixelation of illustrations with 3 separate brushes. One of them is for drawing and the other to add effects.
The main focus here is the 1-pixel size brush which will help you draw pixel to pixel. Then, the additional 2 dithering brushes will help you create the retro pixelated noise effects in your artwork. But keep in mind that you will have to zoom in a lot into your artwork to be accurate with this brush set.
Number of Brushes: 3
Download Pixel Art Brushes
18. Alien Galactic Space Brushes for Procreate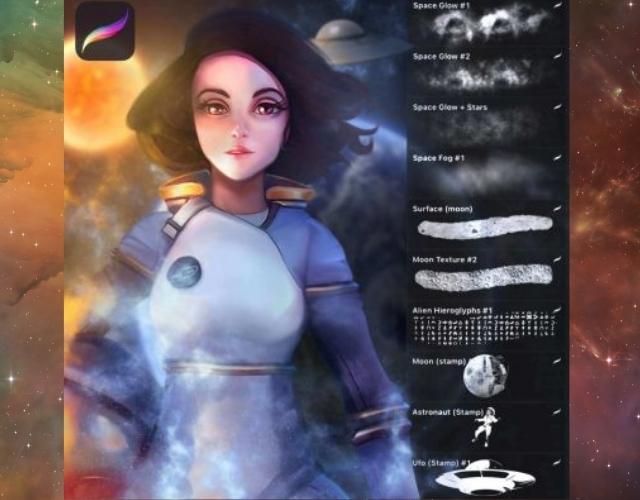 As the name suggests, this is a collection of space-themed Procreate brushes. The collection is a mixture of stamp and pattern brushes. But you will have to rely on other sets to paint the main subject and structures. Though, all the background and environment details can be covered using this brush set.
This collection has 3 stamp brushes that help you create a moon, an astronaut, and a spaceship. Then, there are 3 types of space glow and fog brushes for environmental effects. One of them even includes stars in it. Finally, we have to texture brushes to create planets and moons with a texture inspired by the real moon.
Number of Brushes: 10
Download Alien Galactic Space Brushes
19. Galactic Lens Free Light Brushes
While we are on the topic of space, this Procreate brush set can also take your space illustrations to the next level. It focuses purely on light-based effects, and if you have noticed any space photos, they can make a lot of difference. But thanks to the way these brushes are created, you can even use them in non-space-themed illustrations. Each of them can make your light sources feel more realistic.
The 5 cluster brushes have different glowing shapes with varying sizes and spacing. Then, several lens flares recreate the reflected flare effect that we can notice if cameras directly look at light sources. Similar to these are the diffraction spikes that are used to show the light's interaction with its environment through diffraction. Finally, there's also a stamp brush, which you can directly place to make a round light source or a sun-like star.
Number of Brushes: 20
Download Galactic Lens Brushes
20. Manga Motion Brushes
Among all the best free Procreate brushes, this one is the easiest to recreate. But it will also take a lot of time to do manually. If you haven't recognized these familiar patterns, these are template patterns for motion in almost every manga and anime. They are usually used to show a character or an object moving at a very high speed.
It's perfect for use in any motion-based artwork or an action anime scene. Two out of these 3 brushes focus on the subject moving sideways. Meanwhile, the third brush shows the perspective of a character coming or going at a distance. You can also use these brushes to leave a motion trail in regular illustrations involving high-speed vehicles or rockets.
Number of Brushes: 3
Download Manga Motion Brushes
21. Free Rain Brush Pack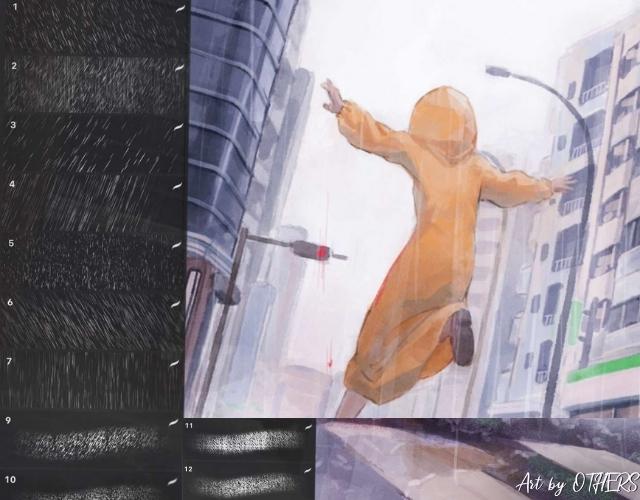 Rain is a universal natural element that can generate relatable vibes in almost every artwork. But the task of creating each raindrop and making sure they are similar can be very tedious. The only possible and reliable replacement for the manual task is this rain brush set. It offers a variety of rain brushes with different drop-length, volumes, and spacing.
Using the right color and blending mode, you can easily implement these brushes into your artwork. There are even some diagonal brushes to create realism in the rain pattern from different perspectives. If you want to cover the whole canvas, keeping the brushes at medium size and dragging without picking up the pencil works best.
Number of Brushes: 25
Download Rain Brush Pack
22. Calligraffiti Markers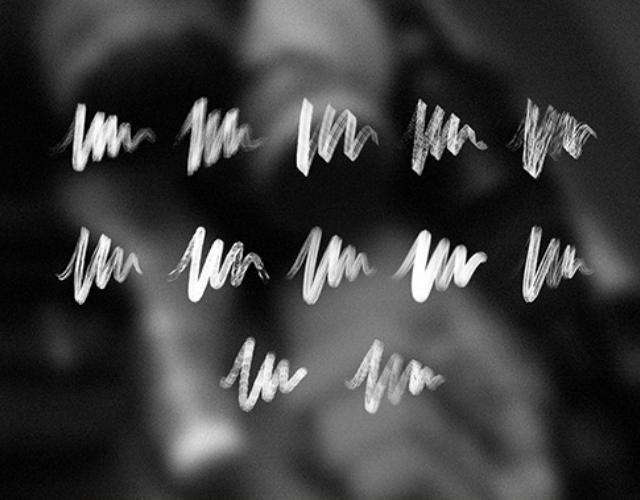 Our next brush set caters to the popular and iconic art of Calligraffiti. which combines traditional calligraphy with graffiti styles. You might have seen it in global movements and even on graffiti walls around the world. With accurate recreation of the style and spirit of real graffiti paints, this Procreate brush set is one of a kind.
Each brush has separate transparency spots in its strokes. It ensures a realistic marker trail with each flow, and you can even overlap a few of them to create distinct elements. This brush set is best for calligraphy, but you can also use it for free-style illustrations.
Number of Brushes: 15
Download Calligraffiti Markers Brushes
23. Fur & Fluff Brushes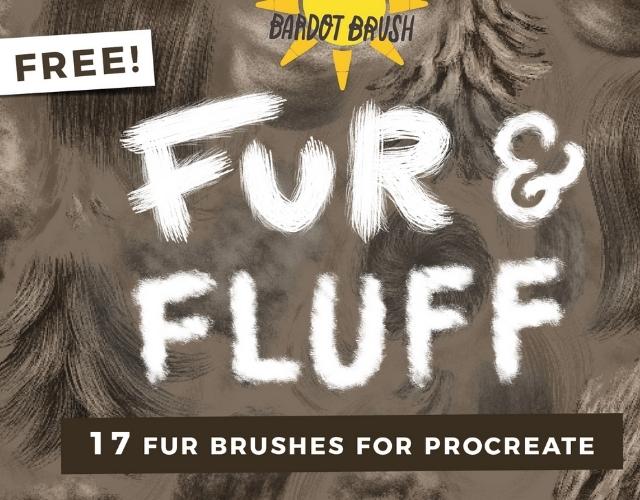 These brushes are for anyone like me who finds it hard to draw animals because of their fur. With 17 different brush options, this set helps us create realistic fur on animals of all sizes. There are even brushes with a fluffy effect, which you can use to draw animals like cats. But you don't have to stop at animals only.
You can use this set to create monsters, soft toys, and a huge variety of other creatures. The brushes are divided into short hair, shaggy, fluff, feathered, and combed categories. There's even an additional brush that you can use to add realistic shadows on the fur or fluff you create. Practically, you can even use these to make human hair, but maybe our next entry can be a better alternative for that.
Number of Brushes: 17
Download Fur and Fluff Brushes
24. Hair Brushes for Procreate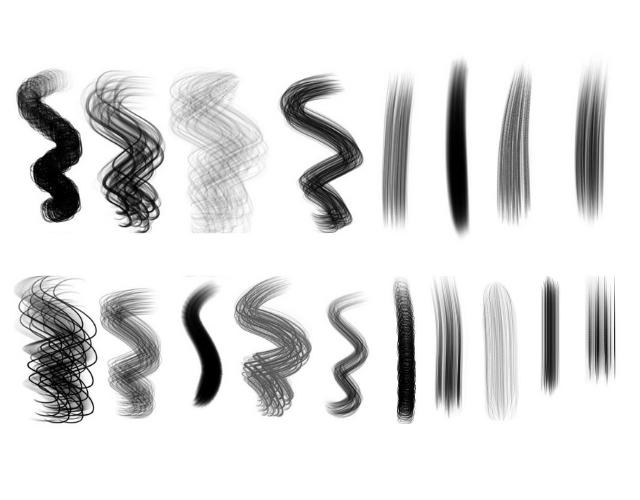 For every kind of hairstyle, this is the only free Procreate brush set you need to install on your iPad. With 19 options for different flows of hair, it has everything covered. Not only that, but you can even use these brushes for regular painting if you want to add a multi-thread look to your work. Their high quality ensures that you can even use them freely on your main enlarged subject.
If we go over individual brushes, most of them follow multiple strands of hair in their strokes. But you also get a couple of single-strand brushes that can help you add individual hair later. Another great feature of this set is the presence of brushes for curly hair. Not to forget, because of the realistic hair gap in each stroke, you can even use these to make multi-colored hair.
Number of Brushes: 19
Download Hair Brushes
25. Taozipie Skin Details – Free Skin Brushes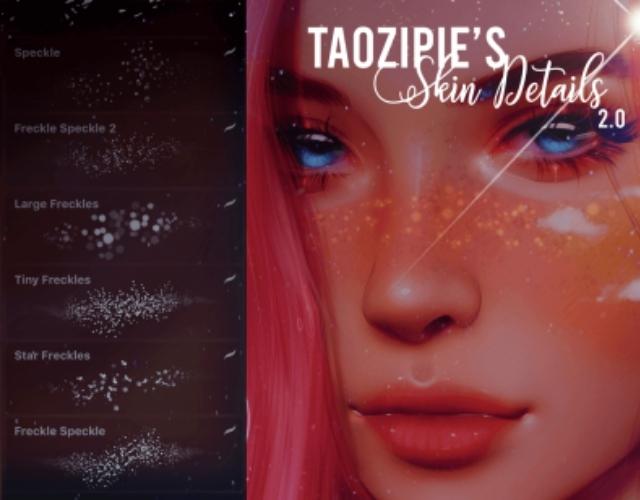 The final entry to our list of best free Procreate brushes is a special one. You can use the other brush sets to create your environment and its characters. But these brushes are essential to add personality to your human characters. As you might have guessed, it's a collection of unique details that one can have on their skins.
There are freckles, fractals, tattoos, and more in this set. But other than regular roundish skin spots, it allows us to add custom-shaped ones too. You can have a variety of glitter on your face, along with uniquely shaped freckles. There are even options to use tiny stars, hearts, and other shaped brushes to create tiny tattoos on your face.
Number of Brushes: 22
Download Taozipie Skin Details Brushes
26. Matt's Painting Procreate Brush Set
When you think of water painting you most probably think of translucent colors that merge with each other. But when it comes to the gouache method, each color has its opaque pigmentation thanks to a binding agent. So, you can get sketch pen-like detailing with little to no mixup. That's exactly what this set of brushes provides with various gouache-styled brushes.
The set has multiple-sized and textured brushes that can work in all-purpose art pieces from portraits to sceneries. And, if you want some blending there's even a no-texture airbrush to help you out.
Number of Brushes: 10
Download Matt's Painting Procreate Brush Set
27. Flower Brushes & Stamps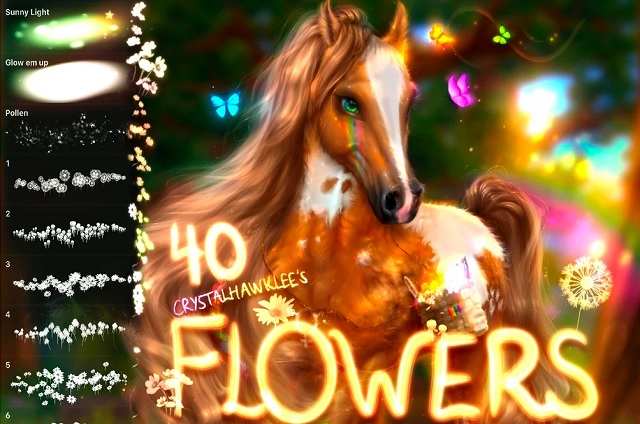 In the real world, scenes filled with flowers are one of the best ways to relax your mind. However, it comes to painting, it can be tiring to draw repetitive flowers. Even more so when they don't even have to be of separate colors. Fortunately, Crystal Hawklee has a perfect brush set to solve this issue.
You get a bunch of natural-looking flowers along with a series of flower beds as Procreate stamp brushes. So, instead of having to draw a single flower at a time, you can tap to get 15 to 20 of them at once. Once your scene is complete, you can use the sunlight and pollen brush from the same set to make them appear more natural. The level of detail in these Procreate brushes is impressive and the additional effect-based brushes are the cherry on top.
Number of Brushes: 40
Download Flower Brushes & Stamps
28. Flora: Vegetation Brushes for Procreate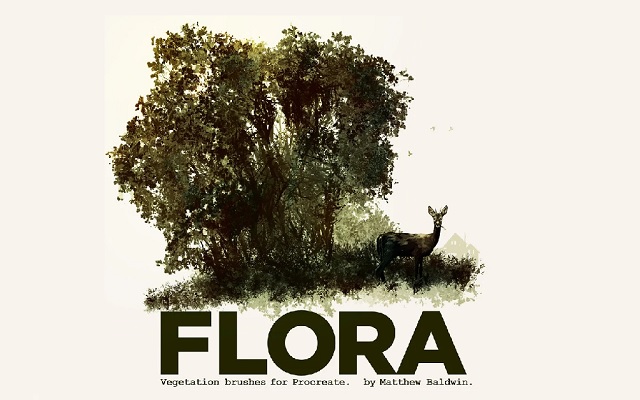 Whether you are making an architectural sketch or a detailed mountainside scene, vegetation will set the vibes of the area more often than not. But the problem is that, due to the level of detail, it can take you hours to get it right. While we can't entirely replace the process, this brush set is bound to speed everything up.
It consists of 91 unique brushes, each one of them focusing on different types of bushes, grass, leaves, trees, and more. Some of them even act as filler brushes which are great to create a background or to texture items in scenes that don't even have vegetation. Though, keep in mind that this particular set is suitable for monochromatic artworks. Too many contrasting colors would require you to manually alter the details.
Number of Brushes: 91
Download Flora: Vegetation brushes
29. Azzylum's Default Brush Set
The default set of brushes in Procreate might get the job done for most people but they are far from perfect when it comes to fulfilling the community's needs. And now, you have a reliable alternative that satisfies way more art styles.
In Azzylum's brush set for Procreate, you have soft blending and clear strokes-based brushes, which are great for details, realistic artworks, and even comics. If the sample artworks are to be believed, you can get almost anything done with these brushes. Moreover, because the set only has 29 brushes, it is much easier to get them to work with each other. So, if you want a newer, reliable all-purpose free Procreate brush set, this is a smart choice.
Number of Brushes: 29
Download Azzylum's Default Brush Set
30. Unique & Original Handmade Brushes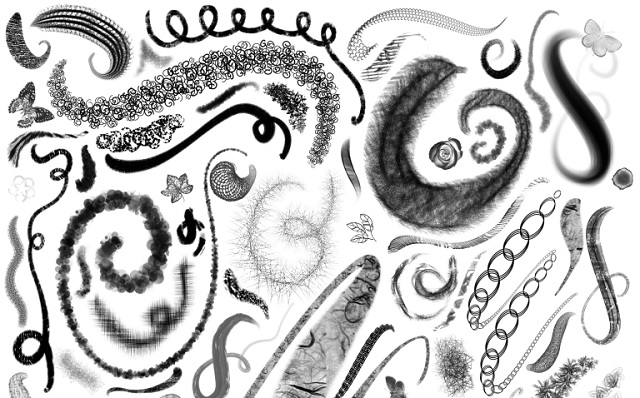 If you want to create realistic artwork but don't want to go through the effort of switching brushes in Procreate, this is the only brush set you need. It consists 200+ hand-made brushes, stamps, monolines, and texture brushes, which are suitable for almost every art style you can think of.
You can go from setting up a background to creating the main subject in no time. Moreover, all the brushes in this set are really detailed and of high quality. So, you don't even have to worry about mixing colors and going for larger artwork.
Number of Brushes: 230
Download Dashed Lines Brushes
Try These Popular Free Procreate Brushes
Whether you are starting out your digital artwork journey or are a professional, these best free Procreate brushes can help you a lot in your creative process. The best part is that you can even use them on 3D models in Procreate. All you need to do is export your 3D model from Blender or Forger to Procreate and start using these. Once you are done, you can even animate 3D objects in Procreate before exporting the art for sharing on some of the best social media platforms. We probably can't give you any art tips, but if you face trouble while using these brushes, do let us know in the comments. Someone from our team will help you out. Additionally, if you find any other great free Procreate brushes, don't forget to share them in the comments.