Even with the new iPhone 13 series having launched, the iPhone 12 remains a solid choice for people thinking of upgrading their smartphone. So if you've just bought yourself a new iPhone 12, and you don't want to slap a case on it (even though there are some really amazing cases for iPhone 12, including some really adorable iPhone 12 cases), chances are you are thinking of getting a skin instead. Well, you're in the right place. We have done all the research for you, and here are the 10 best skins and wraps for the iPhone 12.
Best iPhone 12 Skins and Wraps to Buy (2021)
Most accessory makers offer a wide variety of skins with different textures like stone, wood, leather, and more. So, you get a ton of options to mix and match. What's more, they also offer the option to design your own iPhone 12 wrap using your favorite textures. With that said, let's get started with the roundup!
Note: Looking for the skins for the iPhone 12 Pro Max? Click on the link to check them out.
1. dbrand Signature Skin
dbrand skins stand out of the rest. That's why every time we have rounded up the skins (like the ones for iPhone 11 Pro), we haven't failed to take note of them. If you wish to get a premium-looking skin for your iPhone 12, do not fail to check it out. Carved out of the 3M vinyl, the skin is incredibly sleek. With the high-quality adhesive, it securely fits on the rear panel of the iPhone.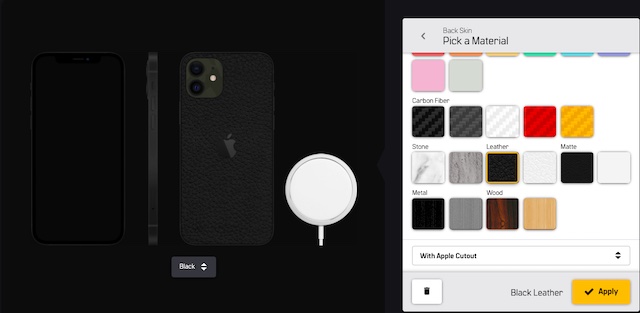 dbrand offers you the desired flexibility to customize your iPhone 12 skin. For instance, you can choose the preferred material from a range of options including matrix, swarm, camo, dragon, pastel, carbon fiber, and more. That aside, the company also offers you the flexibility to select the skins for the camera, frame, and even the MagSafe charger. There are also patterns like stone, leather, matte, metal, and wood.
The neat cutouts also play a key role in making a form-fitting pair. Notably, the skin is residue-free. That means it won't make the back panel look ugly when removed. That aside, you can also count on the skin to offer much-improved so that your hands will feel comfortable while gracing the iPhone. Overall, it's one of the best accessories for the iPhone 12.
While you're looking at dbrand's offerings, you might want to check out some of their special edition skins as well, including the Robot Camo skins, ICONS skins, as well as pastel skins.
Buy from dbrand: $14.95
2. Slickwraps Carbon Series
Slickwraps has also come up with a wide range of skins/wraps for iPhone 12. And from what I can tell after taking a close look at Slickwraps offerings, I must say that they are of top-notch quality. The Carbon Series skins are made of 3M vinyl and sport grippy texture. Being completely bubble-free, they are pretty easy to install.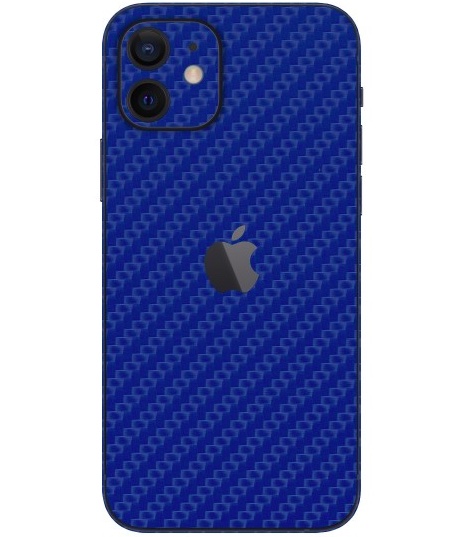 Slickwraps skins also offer goo-free removal so that the back panel of your iPhone will continue to look pristine even after you remove the skin. As it is available in a wide range of colors such as red, yellow, white blue, and more, you can choose a suitable pair for your smartphone. At $24.12, they may be quite expensive. However, given the high-quality material and the smooth texture, they are worth taking a chance.
Buy from Slickwraps: $24.12
3. Gadget Shieldz
If you are looking for high-quality skins and wraps for iPhone 12 at a comparatively affordable price point, Gadget Shieldz could be the right answer. The skins have been crafted with 3M materials and feature a soft-textured surface that feels warm to the touch. Apart from the much-improved grip, the skins can also fight out scratches.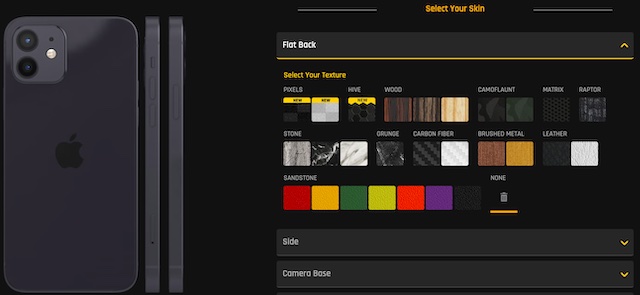 Even in terms of customization, Gadget Shieldz is second to none. With a variety of textures like wood, leather, marble, stone, wood carbon fiber, matrix, and more, choosing the right wrap for your iPhone shouldn't be a big deal. There are also a couple of new designs such as Pixels and Hive that you might like. At Rs. 450, they are also among the cheapest skins in India.
Buy from Gadget Shieldz: Rs. 449 (almost $7)
4. Slickwraps Wood Series
If you admire wood texture, chances are that Slickwraps Wood Series would be a big hit for your choice. The 3M vinyl material endows durability while also ensuring the wrap remains sleek. As it's bubble-free, you can install it on the iPhone 12 without any hassle.
Courtesy of the goo-free removal, it keeps the shine of the device intact. The soft-touch finish offers an enhanced hold to keep the device intact. And the precise cutouts play a vital role in giving it a form-fitting look. High-price tag aside, it remains one of the most loved iPhone 12 skin wraps in the market.
Buy from Slickwraps: $24.12
5. MightySkins Surreal Collection
Should you wish to opt for a designer skin for your iPhone 12, MightySkins Surreal Collection can make for a great choice. Just like other wraps in this roundup, it also features 3M vinyl construction and has carbon fiber texture. Thanks to the smooth matte finish, the skin provides an anti-slip hold.
3M vinyl attaches with ease and also peels offs comfortably with no sticky residue. Hence, the back panel won't look ugly when you remove the wrap. As for durability, the vinyl is strong enough to resist scuff. Starting from $10, MightySkins wraps are also in the affordable range as compared to other skins in the market.
Buy from MightySkins: starts from $9.99
6. Slickwraps Leather Series
It's the impressive leather texture that makes Slickwraps Leather Series a top bet. The wrap is neatly crafted with 3M vinyl and features perfect cutouts. Notably, it also allows the iconic Apple logo to continue to be at the forefront of attention.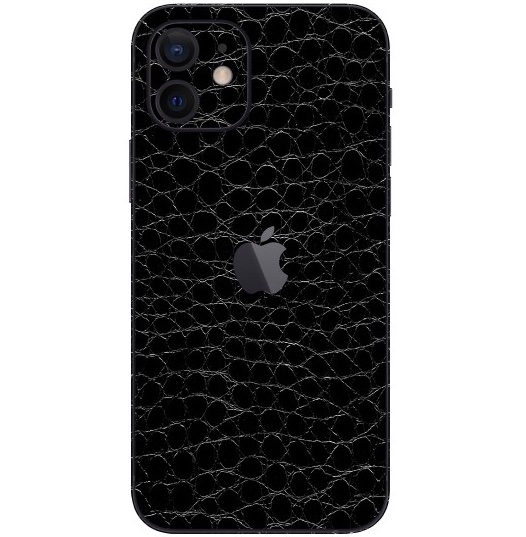 Slickwraps claims that the skin can endure minor drops and scratches. Though I wouldn't trust the iPhone 12 skin to withstand even minor impact, I can bank on it to prevent scuffs with ease. Moreover, the Leather Series skins are also bubble-free so that you can install and remove them without any pain.
Buy from Slickwraps: $24.12
7. MightySkins Marble Collection
Marble textures are well-known for an eye-catching design. And this offering from MightySkins is no different. The wrap is made with 3M vinyl material that gives it the resistance to ward off scuffs and minor dings. And with the carbon fiber finish, it offers the much-needed grip to provide a comfortable hold.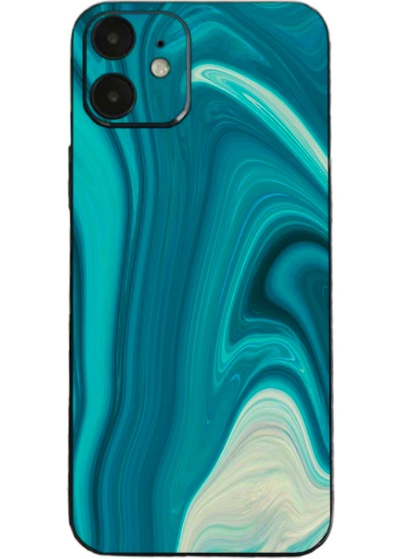 MightySkins states that the color doesn't fade away. If the claim holds true, it will be able to retain the glowing design for a long time. On top of all, you can choose the Marble Collection wraps in several stunning color variants, which is yet another plus if love to sport colorful designs.
Buy from MightySkins: $9.99
8. SopiGuard
This offering from SopiGuard is a fairly good-looking skin. The 3M vinyl coupled with the precise cutouts gives it a form-fitting design. As for variety, you get to choose from probably the widest range of options. Whether it's the unique wooden texture or the elegant matte finish or the honeycomb silver, it has got the range to be counted among the best in the business.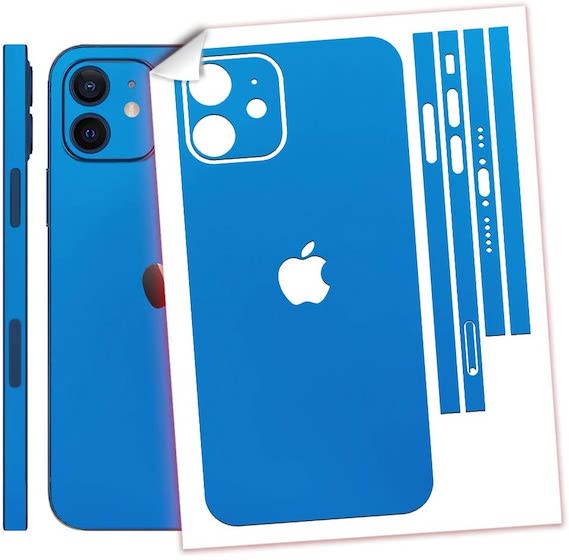 And with the durable material, SopiGuard is also no pushover when it comes to enduring scuff. Additionally, it can also resist dust, fingerprint, and smudges. Protection aside, the wrap also features a smooth texture to ensure the iPhone remains comfortably placed in the hands.
Buy from Amazon: $8.99
9. MightySkins National Pride Collection
If giving a patriotic touch to your iPhone 12 is what you are after, MightySkins National pride Collection can easily echo to your taste. The skin showcases national flag designs with vibrant colors. Just like other wraps in this roundup, it has also been constructed with 3M vinyl that can take on wear and tear.
National Pride Collection skin can attach to the iPhone with ease. And you don't have to put a lot of effort to peel it off. What's more, carbon fiber finish can also be trusted to offer a secure grip. To put it straight, it's easily one of the most appreciable skins for iPhone 12.
Buy from MightySkins: $9.99
10. Capes
Capes' collection of skins and wraps can hold their own both in terms of design and durability. The wraps are so thin that you may not feel its presence. At 0.22mm, it's one of the thinnest skins for iPhone 12.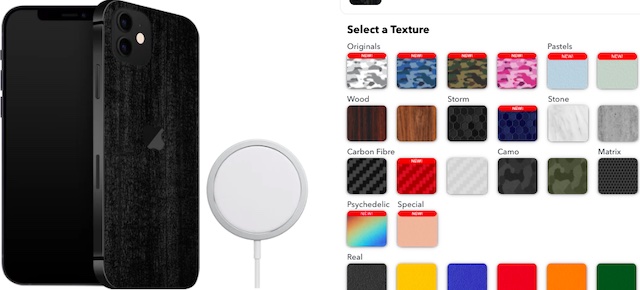 The precision finish with exact cutouts for speaker holes, microphones, and dual-camera module further enhances the look. With the 3D texture, the wrap promises to offer a secure hold.
Even better, it also offers heat dissipation so that the iPhone can remain cool and supports wireless charging as well. And yes, you can also choose it from a wide assortment of textures like stone, carbon fiber, wood, matrix, and more. Everything considered; Capes is undoubtedly one of the best iPhone 12 wraps in India.
Buy from Capes: Rs.499 (almost $7) 
Frequently Asked Questions
Q. Can I apply the skin at home?
As most skins are bubble-free, you can apply them with ease at home.
Q. Are all skins DIY?
No. But there are a number of skins that are designed to amp up DIY.
Q. Is it easy to remove after using the skins for a while?
Yes. It's pretty easy to remove skins after using them for a while.
Q. Will my phone become slippery after using a skin on it?
It all depends on the material. Most accessory makers use 3M vinyl material and add a bit of anti-slip texture on top so that your hands can get the desired grip while holding the phone.
Q. Why people use skins on their phones?
Aside from giving a nice look to the smartphone, skins provide a much-improved grip to hold the smartphone securely. They also prevent scratches and scuffs without adding any bulk that comes with using a case.
Q. How to apply leather skin on a phone?
Simply peel the skin and then gently apply it from the bottom of the phone. You can use a hairdryer on corners for a better fitting.
Q. Do skins protect against drops and bumps?
Frankly speaking, you shouldn't bank on skins to safeguard your phone against drops and bumps. Though you can trust them to ward off minor dings and scuffs.
Use These Skins and Wraps for iPhone 12
So, these are the best skins and wraps designed for iPhone 12. With a variety of skins vying for attention, I guess your device has found the matching wrap. Better still, you also have the option to design your own skin for full-on customization.
That said, which one of these wraps has caught your eyes? Is it the one that sports a wooden texture or the one that features a marble finish? Let me know your favorites in the comments section below.