While pro-looking cases remain my first choice, there are times when I like to go with the cute ones. Especially when the mood starts viewing everything from the funky lens. When choosing an elegant case, the eye-catching design remains my top priority. However, I also make sure the attractive design doesn't come at the cost of durability. Based on this very principle, I have handpicked the 10 best iPhone 12 and 12 Pro cute cases, which you would love to take a peek at.
Best iPhone 12 and 12 Pro Cute Cases in 2020
A variety of cool iPhone 12 cases are in the market. While some covers flaunt a sparkling design, others showcase floral patterns to arrest attention with ease. Besides, there are quite a few cases that boast unique designs to stand out of the rest.
In this roundup, I have lined up cases that can make a stunning match with iPhone 12 without putting protection from impact and scratches at the backburner. Now that you know what these covers have in store, let's dive right in to explore the cool cases designed for iPhone 12/12 Pro!
1. Sonix
To put it straight, Sonix is designed to amp up the style quotient of the iPhone, while also ensuring the needed safeguard against accidental drops. With the beautiful looking floral pattern, the case doesn't have to put a lot of effort to win attention.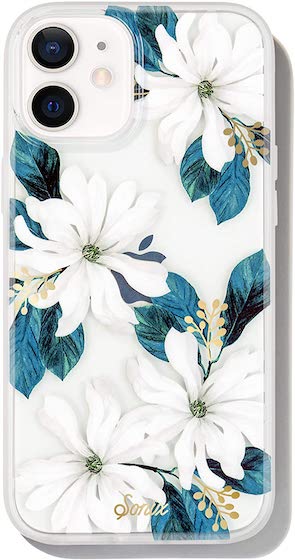 Despite having a sleek form-factor, the case delivers a certified military-grade defense against impact ( up to 10 feet drop protection). And with the grippy frame, it also fits comfortably in the palm by preventing accidental slip-offs.
However, what has called for my attention is the 99.9% antimicrobial property that can play a vital role in letting you disinfect your iPhone. What's more, it also works with MagSafe and wireless chargers so that you don't need to take off the case before juicing up the device.
Buy from Amazon: $25
2. OtterBox Symmetry Clear Series
OtterBox Symmetry Clear Series cases have been one of the most loved cases for a long time. And guess what, they have got everything covered to win over your iPhone 12 as well.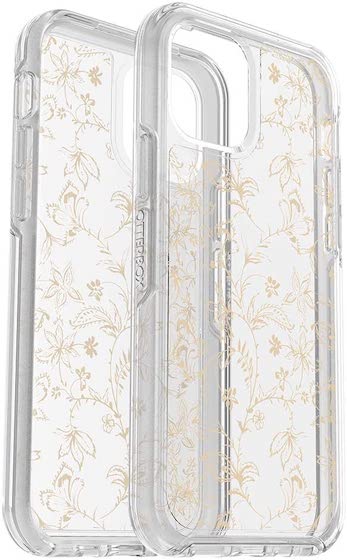 The clear design is nicely complemented by the flower pattern that catches attention right away. Moreover, it's pocket-friendly and also feels comfy in the palm. For all having one-piece design, the case has got enough cushion under the hood to endure the impact.
And with the incorporation of raised lips, the camera, and touchscreen remain protected from ugly scratches. At $50, OtterBox Symmetry Clear Series cases might seem a little over the top but considering the top-notch casing coupled with the impressive pocket-friendly design, you can't go wrong with it.
Buy from Amazon: $49.95
3. i-Blason Cosmo Snap
For those looking for a case with a stunning marble pattern, i-Blason Cosmo Snap seems to be a hot pick. Made of TPU and polyurethane material, the case features air-cushioned corners for an extra safeguard against impact. Besides, it also has raised bezels to shield the 6.1″ screen and camera against scratches.
But what makes i-Blason Cosmo Snap stand out is the built-in adjustable ring holder. Depending on your needs, you can turn the ring holder into a useful kickstand to prop up your smartphone for convenient hands-free viewing. Moreover, the ring can also play a vital role in letting you hold your smartphone securely.
Buy from Amazon: $15.99
4. MOSNOVO
Showcasing an eye-catching floral pattern, this offering from MOSNOVO deserves a chance to impress your smartphone. The case has a slim and snug-fit design that wraps around the edges of the iPhone 12. Besides, a clear profile also allows the smartphone to flaunt the design.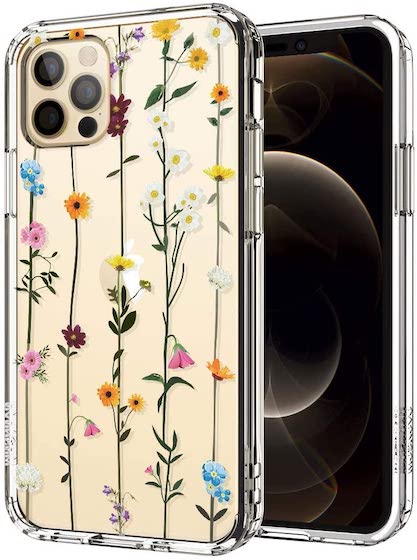 For all being sleek, it is fully capable to offer the essential protection to the smartphone. Thanks to the dual-layer of defense, MOSNOVO can endure shock and also put scuff away. And with the TPU bumper, the case provides enhanced gripping, making sure the device feels comfy in the palm.
What's more, it also comes in a variety of nice-looking color variants to choose from. In a nutshell, it's easily one of the best iPhone 12/12 Pro cute cases in the market right now.
Buy from Amazon: $16.99
5. Carson & Quinn
There are very few iPhone 12 cases that can carry style and protection as elegantly as this offering from Carson & Quinn. Exhibiting a leopard pattern, the case is designed to add cute vibes to your smartphone. Plus, the presence of metallic buttons further enhance the profile of the cover.
Another feature that sets Carson & Quinn case apart is the ability to offer up to 10 feet drop protection. That means the cover is fully equipped to withstand random shock and also take on scratches with equal measure. Notably, this cute case also supports wireless charging so that there is no need to remove it before charging the iPhone 12.
Buy from Amazon: $35
6. Coolwee
If you are willing to go for a cute iPhone 12 case with a sparkling design, Coolwee could be a nice choice. The case is made of German TPU material and features a 3D glitter metallic lace that arrests eyeballs with ease. With the smooth finish and rubberized bumper, it also provides a secure hold to prevent accidental slip-offs.
Though Coolwee lacks a durable casing, it is more than capable to resist the minor impact. Plus, the raised bezels also work as the extra shield to guard both the OLED display and the rear cameras against scuffs.
Not to mention, the 2H scratch resistance capability of the material further enhances the protection factor. Beyond protection, you can choose this glowing case in two designs such as crystal lace and crystal peacock. Taking everything into account, Coolwee is a top-notch designer case for iPhone 12 and 12 Pro.
Buy from Amazon: $11.99
7. J.west
This offering from J.west is the sort of case that can charm you at the very first glance. Featuring a glittering design, the case looks primed for a special outing. Beyond looks, it's made of TPU and features a smooth finish.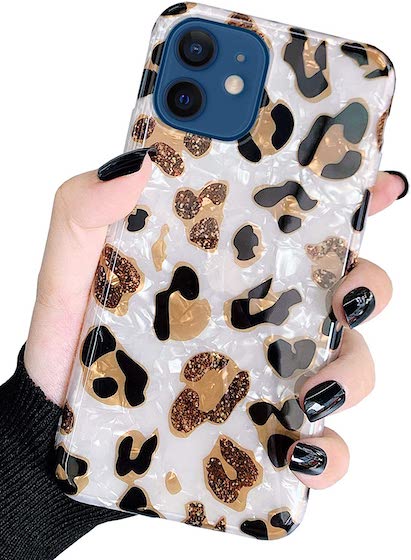 Due to in-mold-decoration technology, the print doesn't fade away easily. As for protection, the case can thwart low volume shock. The beveled edges make sure the cameras and screen have the needed defense against scratches. Additionally, it is also compatible with wireless charging to ensure there is no inconvenience while charging the device wirelessly.
Buy from Amazon: $9.99
8. STSNano
STSNano is a cool funny clear case. With the cartoon pattern showing the grin in full glory, the case makes its presence felt right away. Due mainly to the TPU material, the case has a soft and flexible casing that wraps around the smartphone snuggly.
Furthermore, the smooth finish also provides enhanced gripping so that the iPhone won't slip off. In terms of protection, the cartoon case can take on minor drops and also put scuffs away. On top of all, it also provides an additional shield to the cameras and touchscreen against scratches, which is yet another plus.
Buy from Amazon: $9.99
9. Caka
Yet another marble case that has lived up to my taste on multiple fronts is none other than Caka. Flaunting a vivid marble pattern, the case seems always ready to shoot attention. And that too without having to put a lot of effort.
Made of TPU material, the case has a rubberized casing that can absorb shock, while also offering a much-improved grip. Thanks to the IMD (in-mold-decoration) technology, the printing can keep the original look for a long time.
Furthermore, the case has precise cutouts for the camera and ports. And with the support for wireless charging, it has got everything covered to be one of the best iPhone 12/12 Pro cases with a marble pattern.
Buy from Amazon: $11.99
10. Cutebe
Exhibiting a nice-looking design, Cutebe is a highly-rated bumper case for iPhone 12 (4.8 stars out of 5 from over 330 ratings). Made of hard PC and soft TPU, the case protects the iPhone while also enhancing its profile. Besides, the hybrid construction feels quite comfortable in the hands.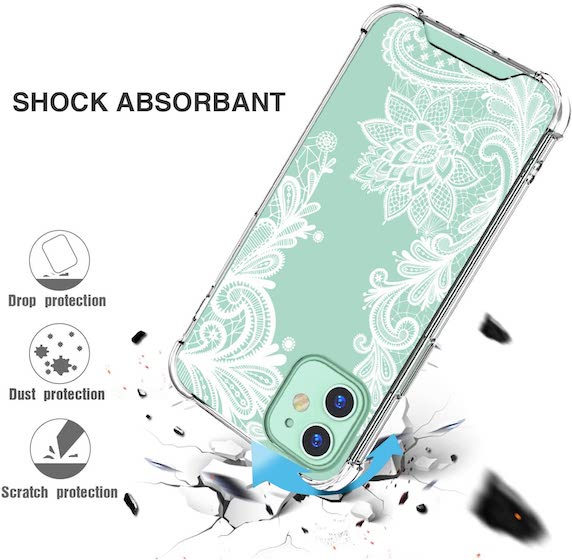 With the neat cutouts, the bumper case provides easy access to the camera and ports. As for the pronounced buttons, they are quite tactile, making it easier to press. What's more, you can choose Cutebe in two color variants such as the white and black butterfly. Overall, it's a pretty good accessory for your iPhone 12 Pro.
Buy from Amazon: $10.19
Top Cute Cases for iPhone 12 and 12 Pro to Buy
So, these are the best cute cases designed for iPhone 12 and 12 Pro. Despite putting more focus on the design, these covers have got protective casing to fight out the shock. And it's this fine balance that has impressed me the most.
What do you think of these cool cases and more importantly, which one of them is going to pair with your iPhone? It would indeed be nice to know your favorites and also the ones that deserve a mention in this collection.