Touted to be a breakthrough ecosystem of accessories for seamless attachment and faster wireless charging, MagSafe has been getting plenty of traction since the 'Hi,Speed' event. From what I can tell, it is surely going to have a huge impact on the way we use our iPhone. More importantly, it is also going to work as a catalyst for a port-free iPhone. If you don't want to be left behind in terms of experiencing this all-new ecosystem of accessories, here are the 14 best MagSafe accessories for iPhone 12 and 12 Pro to help you get started on the right note.
Best iPhone 12/iPhone 12 Pro MagSafe Accessories You Can Buy
Even though it's still early days for MagSafe (I'm not counting the MagSafe technology in relation to MacBook Pro), several accessory makers have launched MagSafe accessories for iPhone 12 Series.
So, whether you want a case that can attach magnetically to your iPhone or a wireless charger that can deliver a fast charging experience, or a car mount for quick installation and removal, you have the option to choose from a variety of accessories. With that said, let's get going!
1. Apple Silicone Case with MagSafe
Right at the top of this roundup is the silicone case from Apple. Made of top-grade silicone material, the case features a sophisticated design that looks premium on the iPhone 12/12 Pro.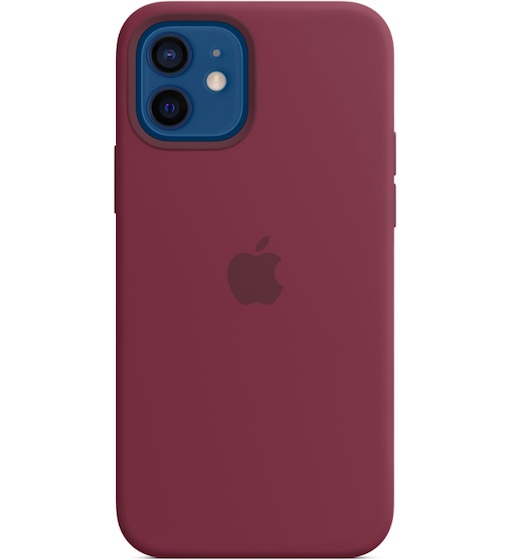 Featuring a pretty smooth finish, the case also provides a much-improved grip, allowing you to hold your 6.1″ smartphone comfortably. Besides, the silicone case also features neat cutouts for convenient access to all the ports.
Despite being slim, the silicone case is no pushover when it comes to fighting out the shock. And you can also trust it to keep scratches away from your all-new iPhone. Additionally, the case offers a great attach experience and also works with both MagSafe and Qi-charger so that you don't need to remove it before charging the device.
Buy from Apple: $49
2. OtterBox Figura Series Case with MagSafe
If Apple's silicone case claims to be an elegant companion of iPhone 12, the OtterBox Figura Series case isn't behind either. Figura Series sports a slim profile that wraps around the 6.1″ iPhone 12/12 Pro snuggly.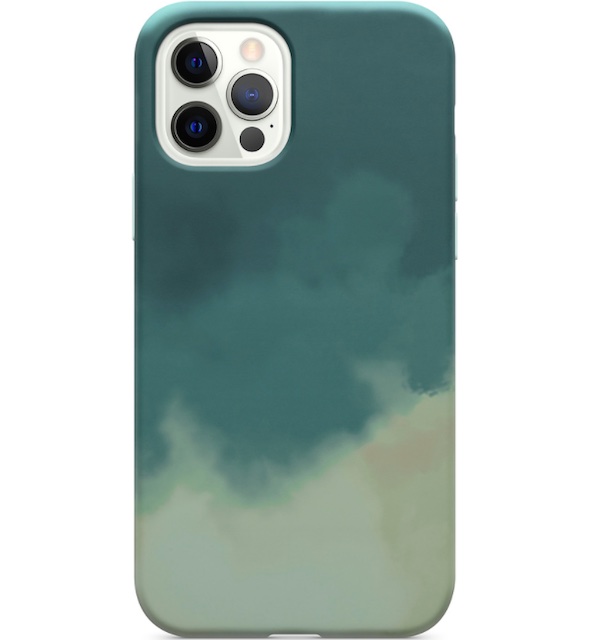 What's more, the OtterBox MagSafe compatible case has got the essential cushion to thwart the impact and also prevent scratches. With the soft and smooth finish, it also provides a secure hold, thereby reducing slip-offs.
Protection aside, Figura Series case is priced at $50 and comes in four colors including teal, berry, yellow, and fuchsia. In a nutshell, it's one of the best MagSafe accessories you can buy for your iPhone 12 or 12 Pro.
Buy from Apple: $49.95
3. Apple MagSafe Charger
If you want to opt for a fast and secure charging solution, look no further than the Apple MagSafe charger. It takes advantage of the perfectly aligned magnets attached to the iPhone 12 Series to deliver faster wireless charging up to 15W.
Notably, the MagSafe charger is also compatible with Qi- charging technology. That means you can use it to wirelessly charge your iPhone 8 or later and AirPods with a wireless charging case.
Design-wise, the charger is quite lightweight so that you can carry it anywhere without any hassle. Priced at $39, it also comes with a 1m USB-C cable for a secure charging experience.
Buy from Apple: $39
4. Apple Leather Wallet with MagSafe
If you are on the lookout for a premium leather wallet with MagSafe, check out this offering from Apple. Carved out of high-quality leather, the wallet has a professional look and feel.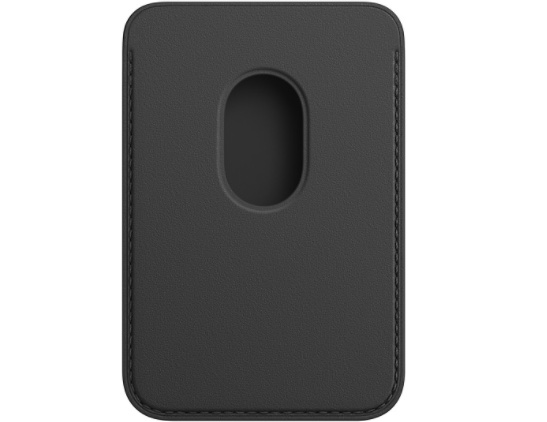 The leather wallet magnetically attaches to the back of the iPhone and has got enough space to hold multiple credit/debit cards. It features a cutout on the back to let you pop up your credit cards with ease.
In terms of colors, you can pick it in four hue variants such as black, brown, blue, and poppy. Though the $59 price tag seems quite expensive, you can bank on it to live up to the mark in terms of quality.
Buy from Apple: $59
5. Belkin 3-in-1 Wireless Charger with MagSafe
Belkin's wireless charger stands out on multiple fronts. For starters, the charger can let you securely charge not only your iPhone 12 and 12 Pro but also Apple Watch and AirPods with a wireless charging case.
With the 3-in-1 functionality, the wireless charger also doubles as a handy dock for your accessories. You can use the adjustable design to have preferred viewing angles while media streaming or video calling.
Additionally, the charging stand is well-built and features and solid base that remains steady while holding your devices. At $149, Belkin's wireless with MagSafe might seem way too expensive but given the qualities, you can't go wrong with it.
Buy from Belkin: $149
6. OtterBox Aneu Series Case with MagSafe
Another MagSafe case that has caught my eyes is the OtterBox Aneu Series. What makes Aneu Series case a good pick is a compact design that not only makes a nice match with the iPhone but also absorbs shock. So, you kind of have the best of both worlds.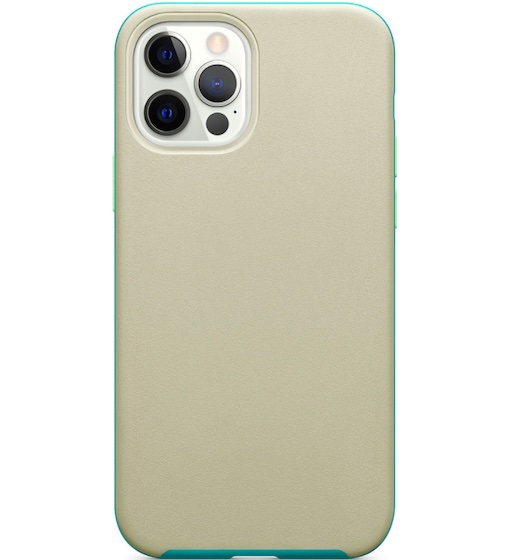 Aneu Series also features beveled edges to guard both the 6.1″ OLED display and the dual/triple cameras of your smartphone. As for buttons and cutouts, they have looked on-point to me.
Notably, you can choose this MagSafe compatible iPhone 12/12 Pro case in four colors: stone, black, pink, and blue. It's the blue one that has caught my attention.
Buy from Apple: $49.95
7. Belkin Car Vent Mount Pro with MagSafe
Yet another MagSafe accessory from Belkin that has found a safe spot in our lineup is the Car Vent Mount Pro. It comes with a strong magnetic module that keeps the iPhone 12/12 Pro securely mounted. Besides, the presence of a steady base and sturdy vent clip further improves stability.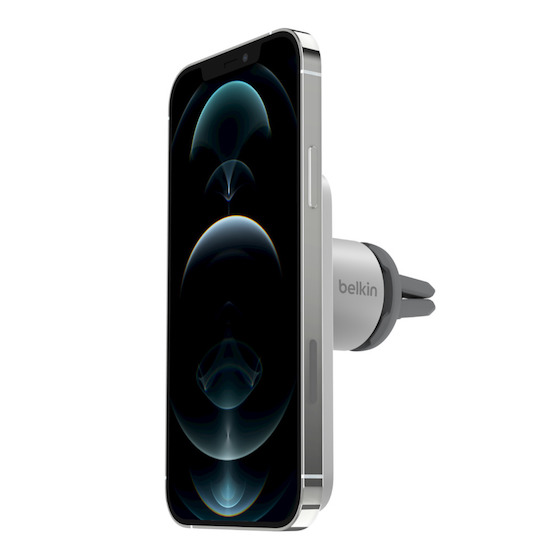 Another notable feature worth mention is the useful ball joint that lets you position your iPhone in both portrait and landscape orientations. Thus, you will have better viewing angles.
Not to mention, the MagSafe mount also allows you to install and remove the phone single-handedly. With the neat cable management, it keeps cable clutter at bay.
Buy from Belkin: $39.99
8. Apple Clear Case with MagSafe
If a top-notch clear case with MagSafe is what you are after, the official case could be the right way to go. The case has got a form-fitting design that fits around the edges of the iPhone. Besides, it also features tactile buttons and precise cutouts so that accessing ports and the speakers can remain hassle-free.
In terms of protection, the clear case can withstand shock thanks to the cushioned corners. And you can also count on it to safeguard your iPhone 12 against scuffs.
The smooth sides ensure your fingers have the needed grip while holding the smartphone. What's more, the case is made of anti-yellowing material which helps it retain clarity for a long time.
Buy from Apple: $49
9. ESR HaloLock Magnetic Wireless Charger
Just in case you are hunting for a relatively affordable yet equally efficient wireless charger for your iPhone 12 Series, give serious consideration to ESR HaloLock magnetic wireless charger. The wireless charging pad features a magnetic ring that ensures your iPhone can remain perfectly aligned for faster charging. Additionally, the pad sports a soft finish to prevent scratches.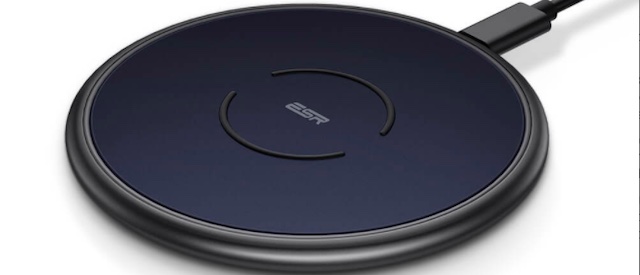 Notably, the HaloLock Magnetic wireless charging pad works with most cases. That means there is no need to remove the case from your iPhone 12 or 12 Pro. Another feature that makes it quite user-friendly is the heat-dissipating system that keeps your smartphone cool while it's charging.
Being sleep-friendly, the HaloLock is designed to be an ideal bedside charger. Putting everything into the right perspective, it's a handy MagSafe accessory for iPhone 12 Series which you shouldn't fail to check out.
Buy from ESR: $35.99
10. ESR HaloLock Magnetic Wireless Car Charger Mount
How about trying out a magnetic car mount that also doubles as a car charger? It's this 2-in-1 functionality that sets ESR HaloLock magnetic wireless car charger to mount apart from the rest.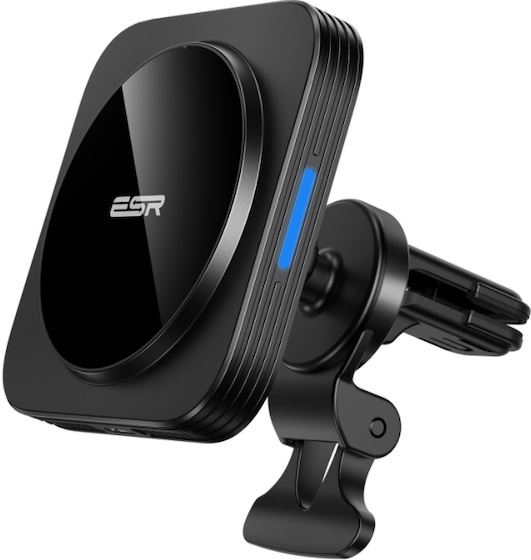 The magnetic wireless car charger mount has a compact yet rugged design. With the strong magnets, it locks onto the iPhone 12 series' built-in magnets for a secure and steady hold. What's more, it also offers the flexibility to let you place your smartphone both vertically and horizontally for a much-improved viewing experience.
Do note that it requires a magnetic phone case for a stable attachment. In terms of wireless charging, it can juice up your smartphone with up to 15W charging speed. Considering these notable features, the $40 price tag seems reasonable for HarLock magnetic wireless car charger mount.
Buy from ESR: $39.99
11. Moment Cold Shoe Mount with MagSafe
Moment has released several awesome MagSafe accessories for the iPhone 12 and iPhone 12 Pro. My favorite of them all is the new Cold Shoe mount that allows you to connect third-party accessories like lights and microphones. I like the camera quality of iPhone 12 and 12 Pro and consider them to be the best video recording smartphones on the market right now.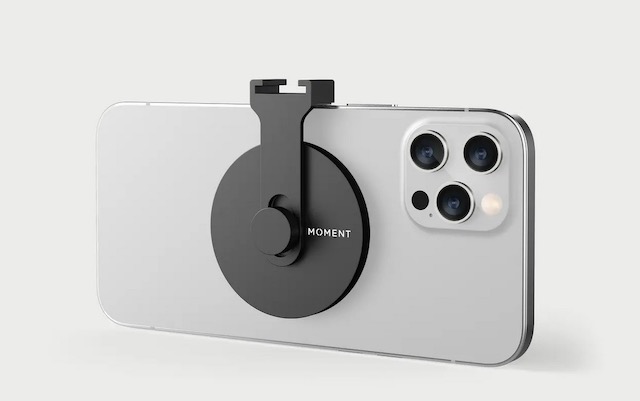 However, by the nature of being a smartphone, the mic quality is not that good. So, attaching a mic is always a good practice if you want the best recordings. This Cold Shoe mount allows you to do exactly that. And if you shoot a lot in the dark, you will be happy to know that you can also attach lights. If you use your iPhone as a video recording took, purchase this mount.
Buy from Moment: $29.99
12. Moment Tripod Mount with MagSafe
No matter how good you are at hand-held videography and photography, using a tripod for stabilization will always give you better results. That said, I mostly avoid using tripods as they are too cumbersome to attach and remove. The new MagSafe technology in iPhone solves this problem by allowing third-party creators to create magnetic mounts for tripods.
And Moment has done the same. It has released a premium tripod mound that works with MagSafe on iPhone. The mount securely attaches your iPhone 12 and 12 Pro to your favorite tripods. The mount works with any standard 1/4"-20 tripods or handles. And it works in both portrait and landscape modes.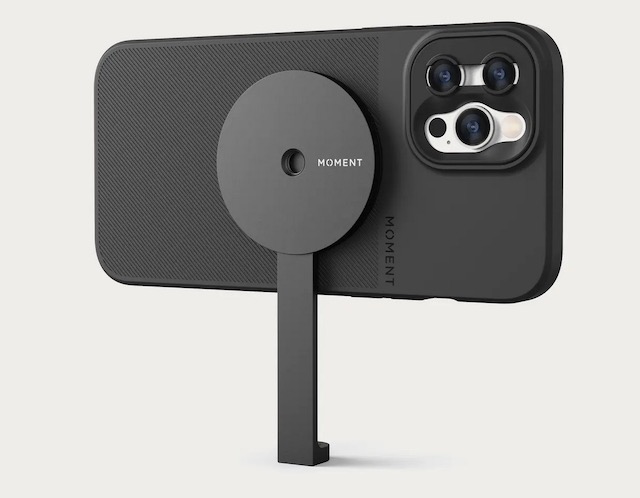 With this mount, you will no longer have to use clamps to attach the tripods. It solves the same problem that the MagSafe wireless car charging mounts for iPhone 12 and 12 Pro solve when you are driving a car, that is allowing you to mount your iPhone without dealing with clamps.
To ensure that your phone doesn't fall off the tripod, this mount comes with Moment's proprietary (M)Force magnet array that is even stronger than standard accessories. So, you can stick your iPhone without the fear of it detaching from the tripod.
Buy from Moment: $39.99
Note: If you love the above two mounts from Moment and are thinking of buying them, you can buy the Moment Pro tripod mound instead ($49.99) that allows you to do both things.
13. Moment Multi-Threaded Mount with MagSafe
If you want a MagSafe mount that allows you to attach your iPhone to anything including, magic arms, tripods, rig mounts, ball heads, and more, check out the multi-threaded mount with MagSafe. The mount comes with five female threads on one side and extra strong magnets on the other side, ensuring that your iPhone has a secure connection.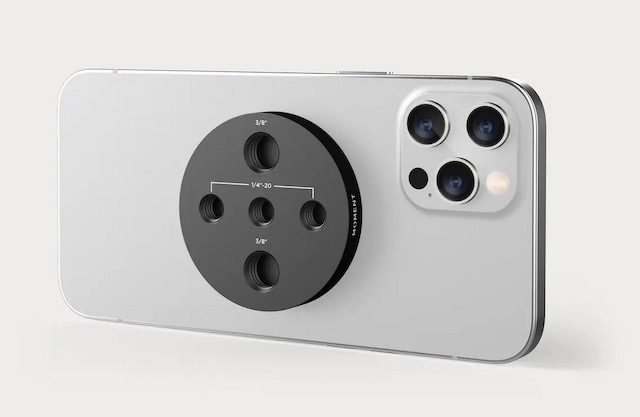 It includes (2) 3/8" female threads and (3) 1/4"-20 female threads allowing you to mount your phone wherever you want using any 1/4"-20 or 3/8" accessory. Using a machined metal body, the mount is durable and can last for a long time. So, if you have any existing accessories that work with these threads, you can now use them with your iPhone 12 and 12 Pro.
Buy from Moment: $29.99
14. Moment Wall Mount with MagSafe
If you want to buy a simple wall mount that allows you to attach your iPhone 12 and 12 Pro to walls or any flat surface for that matter, check out the MagSafe wall mount from Moment. The wall mount has strong magnets on one side and an adhesive on the other. You can stick the adhesive side to any flat surface and then use MagSafe magnets to attach the iPhone.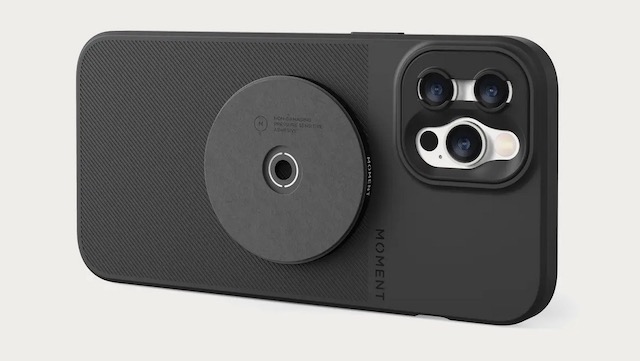 The mount even has a countersunk through-hole so you can screw it into a stud or drywall anchor if you want. So, if you don't trust the adhesive, you can permanently fix it to the wall and make sure that it doesn't fall off the wall.
Buy from Amazon: $19.99
Bonus: PITAKA MagEZ Case
PITAKA is well-known for producing one of the best magnetic cases for smartphones. And its MagEZ case for iPhone 12/12 Pro has got all the qualities to warrant immediate attention.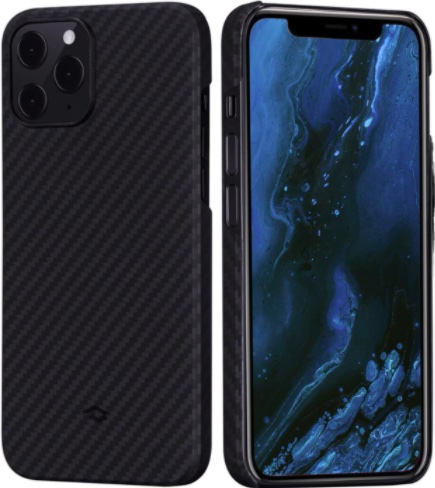 Probably the biggest highlight of this case is the top-grade aramid fiber material (body armor material) that endows the casing maximum strength without adding any unnecessary bulk (0.03-inch thickness). Courtesy of the 3D grip, the case fits snuggly in the palm ensuring there is less chance of accidental slip-offs.
The incorporation of built-in magnets enables it to work with magnetic car mounts. As a result, you can install your smartphone on a supported mount to have convenient viewing angles. More importantly, the built-in magnets don't interfere with wireless charging.
That being said, the magnets in this case are not for MagSafe, but rather for working with its own car mounts. And that's why this case is in bonus and not in the list.
Buy from Amazon: $49.99
Choose the Top MagSafe Accessories for iPhone 12 and 12 Pro
So, that ends our roundup of the top MagSafe accessories designed for iPhone 12 and 12 Pro. With a variety of accessories vying for attention, I guess your all-new iPhone has found the right companion. If yes, let us know your favorite accessories.
Moreover, if you think that some MagSafe accessories deserve to get a mention in this lineup, do tell us about that in the comments below. It's worth noting that we have created separate posts about the best accessories for iPhone 12 Pro and 12 Pro Max. If you want to explore more, do check them out as well.