A brand new flagship smartphone like iPhone 12 Pro Max deserves more customization so that the device can match your style quotient. When it comes to amping up the customization game, nothing can beat the luxury that comes with a custom skin. With a plethora of nice-looking textures at the disposal, you can design a stunning wrap for your iPhone 12 Pro Max. What's more, most accessory makers offer skins for not only the back of the device but also the frame and the triple-camera module. If you are all set to get a matching soft-textured skin, these are the 10 best skins and wraps for iPhone 12 Pro Max you can buy in 2021.
Best Skins and Wraps for iPhone 12 Pro Max
While rugged bumper cases or protective kickstand cases or even impact-resistant wooden suits may have a clear edge over skins when it comes to protection, they can't rival the sleekness of wraps. Without any bulk to the smartphone, they can enable the device to fight out threats like smudges, scuffs, and fingerprints. On top of all, vinyl skins with a smooth texture offer an anti-slip grip.
Keeping durability in mind, I have ensured all the skins are made of 3M vinyl. Besides, I have also made sure they sport grippy surface and have a precision finish. As they are completely bubble-free, installation/removal will be hassle-free. It's worth pointing out that we have also covered the skins and wraps for iPhone 11, 11 Pro, 11 Pro Max, iPhone 12, and 12 mini. So, do check them out if you need one. That all being said, let's get started, shall we?
1. dbrand Signature Skins
dbrand has always been a frontrunner when it comes to producing top-grade skins and wraps for smartphones. And guess what, the popular accessory maker has come up with a wide assortment of skins designed for iPhone 12 Pro Max as well. From wood to the matrix to swarm to pastel, you have a variety of materials to pick from.

Carved out of 3M vinyl, these wraps are both durable and provide an enhanced grip. So, you can trust the dbrand skins to not only shied your 6.7″ device against scratches but also provide the much-needed hold to prevent accidental slip-offs.
Protection aside, these wraps are also bubble-free and easily attaches to the iPhone. On top of all, you can also choose the drand skins for the frame, triple-camera module, and even your MagSafe charger.
Buy from dbrand: $12.95
2. Slick Wraps Metal Series
Flaunting premium look and feel, Slick Wraps Metal Series is for the folks who don't want to settle with anything less than the top-notch skins for iPhone 12 Pro Max. The high-quality 3M vinyl construction showcases a precision finish. And with the rich texture, your hands will get the secure grip to hold the 6.7″ iPhone comfortably.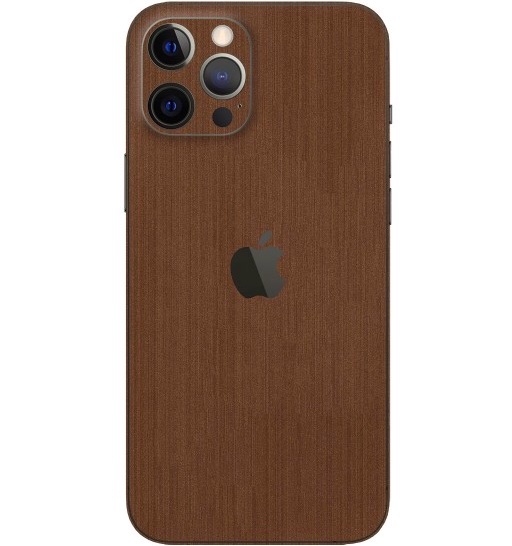 Slick Wraps claims that the Metal Series wraps are completely bubble-free. That means you will have a painless installation experience. Being goo-free, they can also be removed cleanly. Overall, Metal Series is one of the iPhone 12 Pro Max full-body skins in the market right now.
Buy from Slick Wraps: $24.12
3. MightySkins Marble Collection
For those looking for the best of both worlds: high-quality skins and relatively affordable pricing, MightySkins appears to be a better choice. As always, the accessory maker has introduced an impressive collection of skins and wraps readied to make a match with iPhone 12 Pro Max.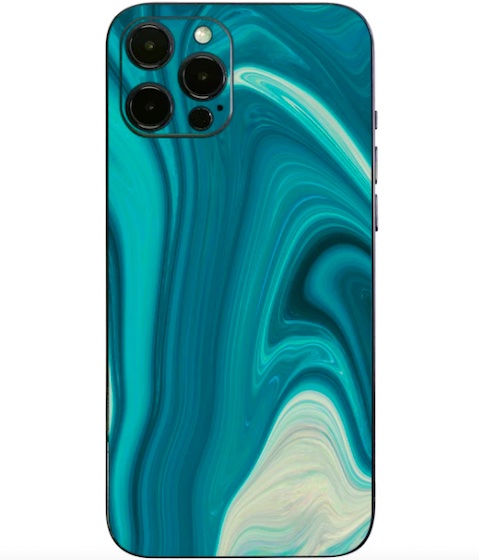 MightySkins Marble Collection skins sport an attractive profile thanks largely to the glowing texture. Moreover, you can choose this wrap in a ton of color variants with different patterns. The blend of carbon fiber and matte finish ensures your palm can feel the depth and texture. As for durability, 3M vinyl can keep scuffs away and also resist the color from fading.
Buy from MightySkins: $8.99
4. Capes
Capes has a solid collection of skins. And if comparatively low-priced skin templates for iPhone 12 Pro Max in India you are after, they are worth checking out. The wraps have been made with 3M vinyl and look sophisticated. Furthermore, you can choose Capes skins from several textures including pather, camo, pastels, stone, and more.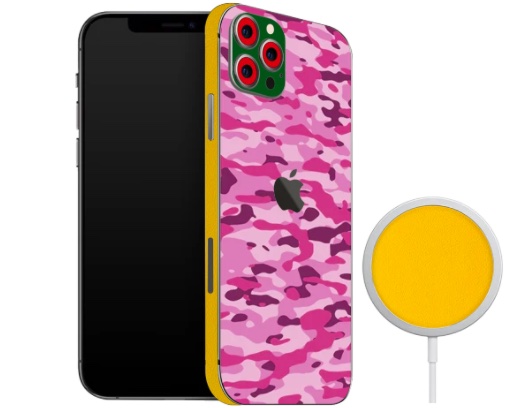 Capes offers wraps for not just the back of the iPhone 12 Pro Max but also the frame, camera, and lens. Oh yes, you can also design your MagSafe charger by choosing a suitable skin for it. Additionally, the skins feature precision finish and can take on smudge and even low impact.
Buy from Capes: Rs. 499 (almost $7)
5. Slick Wraps Marble Series
Should you wish to go for a top-of-the-line marble skin, Slick Wraps Marble Series has got everything covered to make for a strong case. The skin template scores pretty high in terms of aesthetic thanks largely to the impressive marble pattern.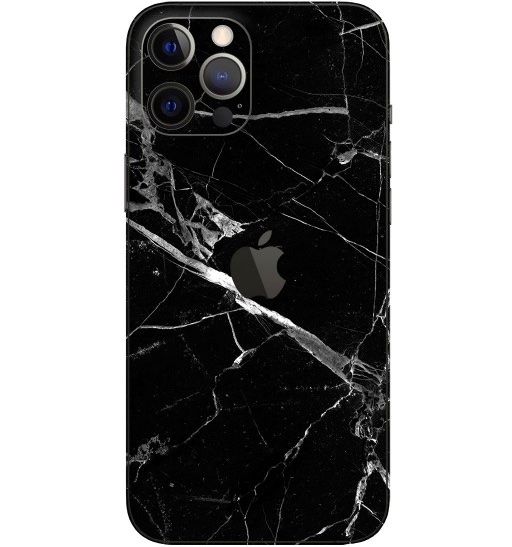 The presence of the glowing Apple logo further enhances its reputation as one of the most good-looking skins. Design aside, Marble Series can be trusted to withstand low-volume dings and also offer up resistance against scratches. Add to that the textured surface and it seems fully equipped to stake the claim of being one of the best iPhone 12 Pro Max teardown skins.
Buy from Slick Wraps: $24.12
6. MightySkins Surreal Collection
If you are hunting for an iPhone 12 Pro Max skin wrap with a vibrant design, give serious consideration to MightySkins Surreal Collection. These skins have been beautifully crafted with 3M vinyl and feature fascinating patterns that can steal eyes with consummate ease.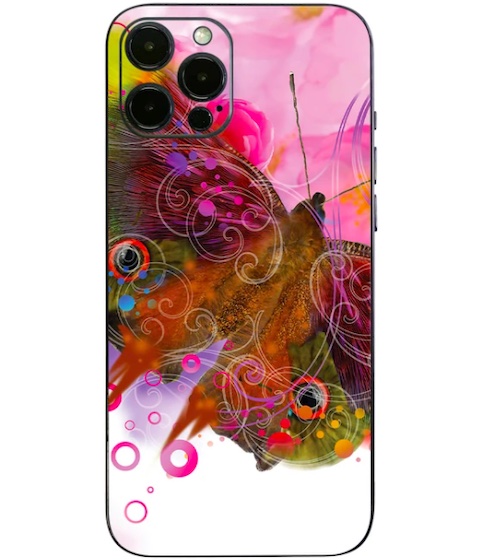 Unlike other cheap skins, the Surreal Collection skins do not fade away and also offer a reliable shield against scuffs. Despite being incredibly sleek, these wraps are up to the task when it comes to enduring low dings. With the carbon fiber finish, they also make it more convenient to hold the device. Considering these features, it is a notable accessory for your iPhone 12 Pro Max.
Buy from MightySkins: $8.99
7. Gadget Shieldz
Another accessory maker that promises to offer high-grade iPhone 12 Pro Max wraps in India is Gadget Shieldz. Just like dbrand and Capes, Gadget Shieldz also lets you select from a number of skin types such as sandstone, bushed metal, grunge, raptor, and more. So, if you prefer to try out a variety of designs, you would appreciate the large collection of skins.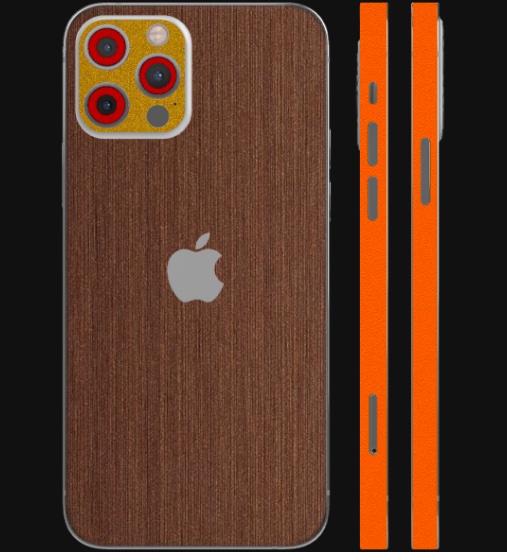 Notably, Gadget Shieldz also offers you the flexibility to pick a skin for the frame and camera base. That aside, these wraps are readied with 3M vinyl. The vinyl material endows more resistance to keep scratches away. Plus, you can bank on the skins to provide a secure hold.
Buy from Capes: Rs. 499 (almost $7)
8. Slick Wraps Oil Paint Series
Times when you want your style to shout out loud, an eye-catching iPhone 12 Pro Max skin wrap like Oil Paint Series can have a role to play. Due mainly to the attention-grabbing pattern, Oil Paint Series skin makes its presence felt with ease.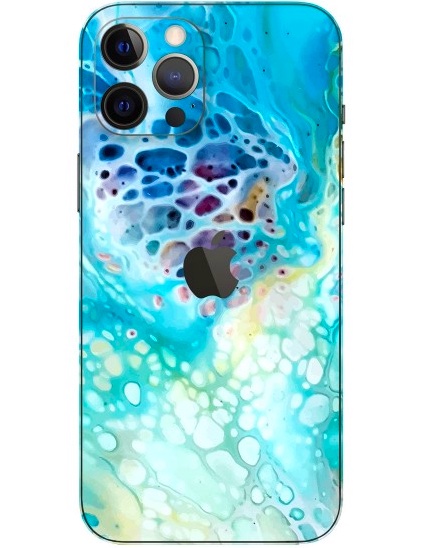 Moreover, you can choose it in more than 10 different color variants with different patterns. That aside, it features 3M vinyl construction that is more than capable to put scratches away. Beyond protection, its exterior also looks on point in terms of offering an anti-slip grip.
Buy from Slick Wraps: $24.12
9. MightySkins Classic Artwork Collection
If you are a fan of vintage artwork, MightySkins Classic Artwork Collection is for you. These wraps are made of 3M vinyl and feature pro-grade artworks that deserve a lot of praise. You can choose these textured skins in a range of colors with different designs.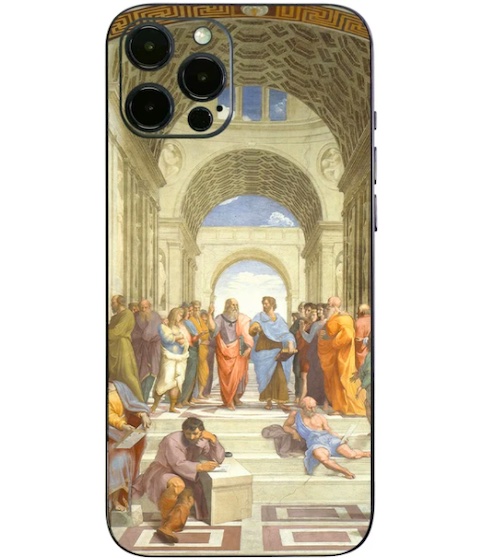 Classic Artwork Collection attaches to the iPhone 12 Pro Max with ease and also peels off cleanly without leaving any residue. The presence of a matte finish plays a vital role in improving the anti-slip hold. As for the cutouts, they are neat and do not interfere with the cutouts.
Buy from MightySkins: $8.99
10. SopiGuard
SopiGuard's roster of skins has looked amazing to me. Both in terms of variety and build quality, these skins are on par with the best. Depending on your fashion quotient, you can choose the texture that can get along nicely with your iPhone. Be it the satin ocean shimmer or gunmetal grey or the frozen mist blue, you have got a lot to pick from.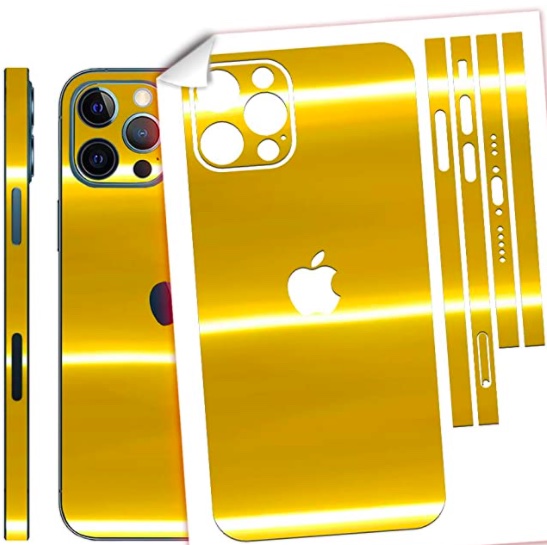 Wide variety aside, SopiGuard wraps are pretty slim and precise with neat cutouts. Furthermore, they are resistant to dust, fingerprints, and scuffs, Another notable feature is the support for MagSafe or Qi wireless charging technology, which could be a big deal if you prefer to charge your device wirelessly.
Buy from Amazon: $8.99
Frequently Asked Questions
Q. Why people use skins on their phones?
Most people use skins to give the custom look to their phones. With a variety of textures available, it's fun to design the skin for your smartphone.
Q. Are all skins DIY?
No. Though not all skins are DIY, most accessory makers offer you the flexibility to design the skin for your phone.
Q. Can I apply the skin at home?
Yes, you can apply skin at home without any hassle. As most high-quality skins are designed to be bubble-free, it's easy to install them.
Q. Is it easy to remove after using the skins for a while?
Yes, you can remove the skin after using it for a while. Most top-grade skins are goo-free and can be peeled off cleanly.
Q. Will my phone become slippery after using a skin on it?
No, your phone won't become slippery if the skin is made of high-quality material (i.e vinyl) and features a soft-textured surface that offers an enhanced grip.
Q. How to apply leather skin on a phone?
You can apply leather skin just as easily. To get started, peel the skin and then apply it carefully from the bottom of the phone. Be sure the skin is perfectly in line with the cutouts. After that, you can use a hairdryer on corners to improve the fitting.
Q. Do skins protect against drops and bumps?
No. Skins are not made to endure the impact of drops. Though they can withstand minor dings.
Top iPhone 12 Pro Max Skins You Should Try
So, these are my top iPhone 12 Pro Max skins based on the high-quality material and the variety of textures. Besides, they are also able to hold their own when it comes to resisting scratches. Apart from fighting out scuffs, they are equally good in terms of providing an anti-slip grip over the device. Which one of these wraps have become the companion of your iPhone? I can't wait to know your picks.
Have I missed out on any top contender? If yes, be sure to let me know the skin's name in the comments.