Without undermining the much-improved dual-camera, probably the biggest highlight of the iPhone 12 is the Super Retina XDR OLED display. The display marks a significant departure from the LCD display found on the iPhone XR and iPhone 11. Notably, the glass is coated with a "ceramic shield" for better drop protection. That being said, glass is after all glass and therefore needs to be given the extra protection. If you think of giving the safeguard against shock and scratches high priority, look no further than these 10 best iPhone 12 screen protectors.
Best iPhone 12 Screen Protectors You Can Buy
Keeping the high-end shield against impact in mind, we have chosen only tempered glass screen guards for iPhone 12. Boasting 9H hardness coupled with an additional coating to ward off things like sweat, oil, and smudge, they are fully capable of offering the required care to the 6.1″ Super Retina display. So, let's head over to pick the right shield for your all-new iPhone!
Note: Most iPhone 12 screen guards are also compatible with iPhone 12 Pro due to the same 6.1″ screen size. So, you can buy them for the all-new Pro variant iPhone as well. 
1. ESR
ESR is a well-known manufacturer of screen guards. And its offering for iPhone 12 seems to have checked off all the boxes to be a notable asset. Made of tempered glass, the screen defender has got 9H hardness which can endure impact and also put scuffs at a fair distance.
Notably, the screen guard can withstand up to 5 KG of pressure, which makes it one of the strongest iPhone 12 screen defenders in the market right now. In terms of clarity, the ESR screen protector can deliver maximum transparency to get the most out of the 6.1″ OLED display.
And with the true touch sensitivity, it is also quite responsive to let the touch and tap gestures work smoothly on your iPhone. Lastly, the $12 price tag for a three-pack is also in the affordable category.
Buy from Amazon: $11.99 (pack of 3)
2. OMOTON
Producing high-quality screen protectors at a relatively low is what OMOTON is known for. And the accessory maker continues to keep its offering for the all-new iPhone 12 in line with the reputation.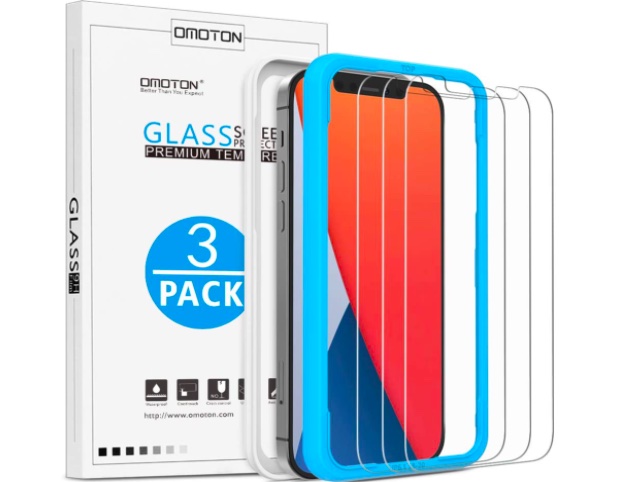 The tempered glass screen protector features precise cutouts that enable it to get installed accurately on the screen. The laser-cut dimensions also ensure there are no obstructions with the TrueDepth camera or microphone.
As for protection, OMOTON can survive the shock and fight out scuffs with ease. Besides, you can also expect it to keep the original transparency of the OLED display intact. Notably, it's priced at $7 for a three-pack which puts it in the cheapest segment.
Buy from Amazon: $6.98 (pack of 3)
3. Mkeke
When it comes to offering the full-screen safeguard to the 6.1″ screen, Mkeke screen protector is second to none. Yes, you got that right! Readied with the high-grade tempered glass, the screen defender is endowed with the 9H hardness.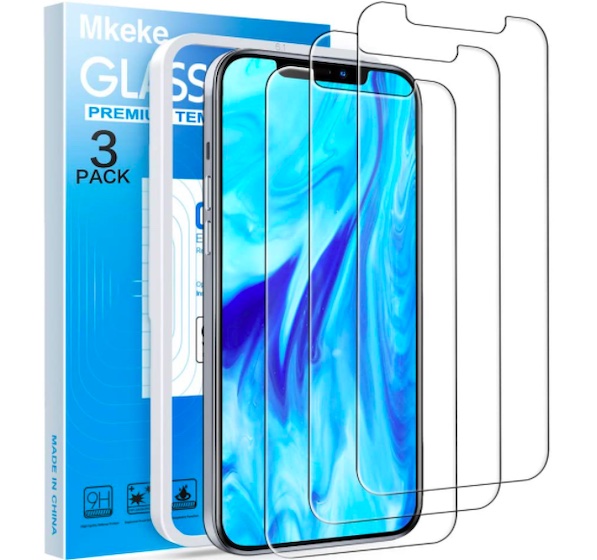 That means the screen protector can fight out even nasty impact and also put the challenges from sharp knives away. With the laser-cut dimensions, Mkeke screen protector fits precisely on the iPhone 12's 6.1″ screen.
The ability to deliver high clarity and resist unwanted things like dust, oil, and fingerprints make it a complete touchscreen protector.
Buy from Amazon: $9.99 (pack of 3)
4. UniqueMe
For the folks looking for exceptionally durable screen protectors for iPhone 12, UniqueMe appears to be a safe bet. At 0.03mm thickness, it's one of the thinnest screen guards in the market. Despite being thin, it's fully capable to withstand impact and take on scratches.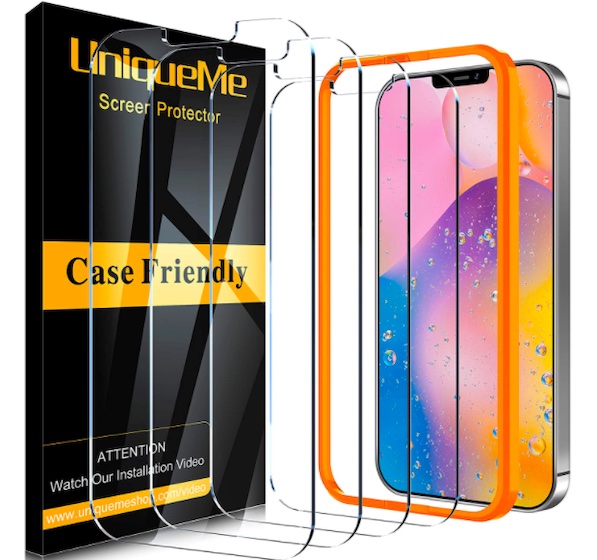 In terms of clarity, the company touts that it delivers up to 99.99% transparency, which means it's fully capable to keep the original clarity of the OLED display intact.
Plus, it's all got oleophobic coating for a necessary shield against things like smudges, fingerprints, and oil. Overall, UniqueMe screen defender is a reliable bet for the OLED display.
Buy from Amazon: $19.99 (pack of 4)
5. amFilm
amFilm is one of the very few accessory makers that have never failed to find a safe spot in our roundup of the best screen protectors for smartphones. And it has comfortably made it to this lineup as well.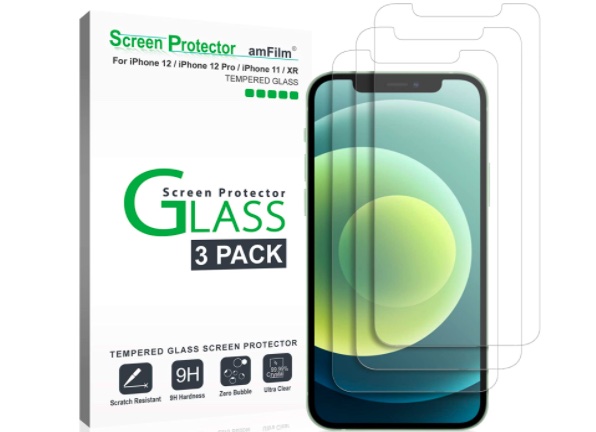 Going by the sheer numbers (4.6 stars out of 5 from well over 11K ratings), it's one of the most popular screen protectors for iPhone 12 in the market right now. At 0.33mm thickness, it's got a bit more cushion to fight out shock and scratches.
Moreover, it features true touch sensitivity and has an extra coating in the form of oleophobic to ward off fingerprints and oil.
Buy from Amazon: $7.99 (pack of 3)
6. QHOHQ
Are you looking for a great deal that can let you offer the essential safeguard to not only the touchscreen of your iPhone 12 but also the dual-camera? If yes, QHOHQ has got you fully covered.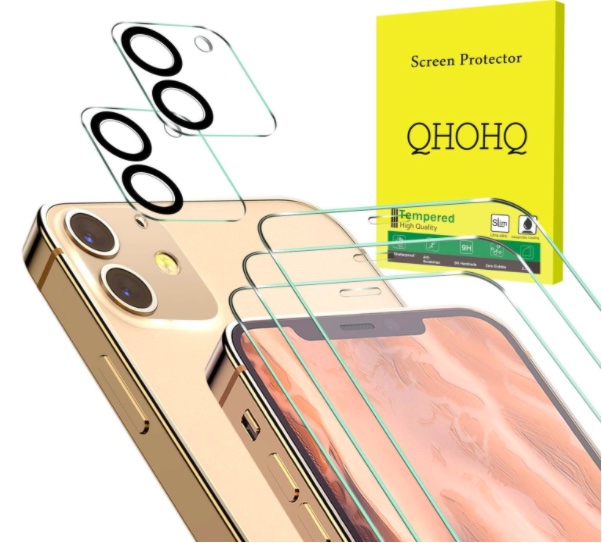 The company has come up with not only reliable screen guards (3-pack) but also camera lens protectors (2-pack). Thus, you can provide the trusted shield to both the OLED display and the rear camera.
Made of tempered glass, QHOHQ screen guards have got industry-standard hardness. Besides, they are also up to the mark when it comes to delivering the maximum clarity. As for the lens protectors, they are designed to be precise and don't obstruct the cameras from doing their best.
Buy from Amazon: $10.99 (3-pack screen guards and 2-pack camera lens protectors)
7. LK
For keeping the Super Retina XDR display protected from threats like shock and ugly scuffs, you can't go wrong with LK screen protector. The screen guard has got the essential cushion to offer the full shield to the touchscreen. With the tempered glass construction, it comes with 9H hardness and also boasts HD clarity.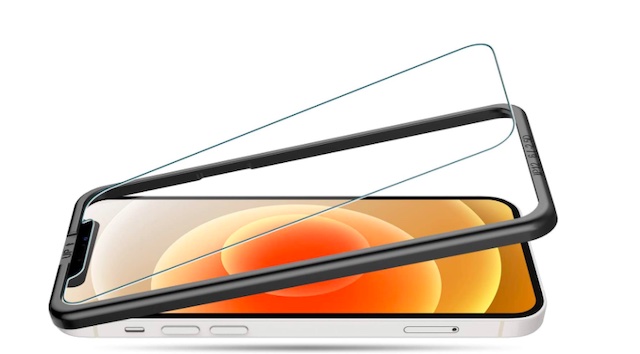 That's not all, the LK screen defender features precise cutouts to get installed perfectly on the screen. Being case-friendly, it ensures you can pair any type of cases with your device. Priced at $9 for a 4-pack, it's also one of the cheapest screen guards for iPhone 12.
Buy from Amazon: $8.99 (4-pack)
8. BAZO
Whether it's delivering HD clarity or fighting out nasty shock, BAZO screen guards have got the quality to be a reliable defender. Thanks to the durable tempered glass construction, features a robust shield that can endure an impact with ease.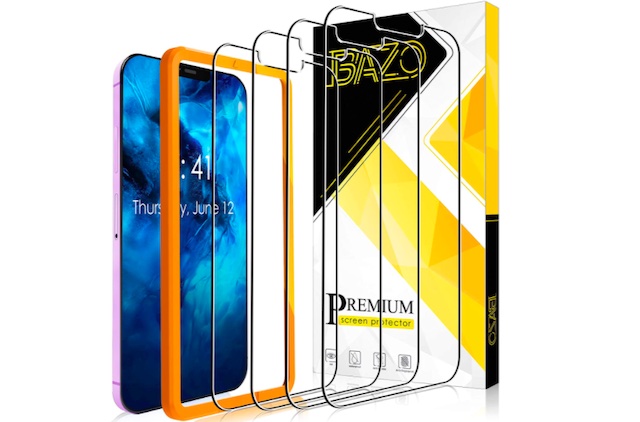 Plus, the screen protector can also withstand sharp scratches. Beyond protection, Bazo screen defender has got high sensitivity to let you touch, and tap gestures work smoothly.
Besides, it has also got an additional shield against fingerprints and sweat to ensure the responsiveness remains intact. At $9 for a 4-pack, it's also priced relatively lower than many other screen protectors for the all-new iPhone 12.
Buy from Amazon: $8.99 (4-pack)
9. FLOVEME
While FLOVEME may be less popular than some of its well-known counterparts, it has come up with the screen defender that can offer trusted defense to the 6.1″ OLED display. Constructed with the top-notch tempered glass, the screen guard is shatterproof.
Another feature that makes FLOVEME screen protector very helpful is the case-friendly design. The 2.5D curved design plays a vital role in helping it work perfectly with most cases and covers. That means you can use any type of case on your iPhone 12 without any issues.
Buy from Amazon: $11.99 (3-pack)
10. APEKX
If you are on the lookout for a reasonably good yet comparatively cheap screen guard for iPhone 12, do not miss out on APEKX. The tempered glass screen guard is fully equipped to take care of the 6.1″ OLED display of your iPhone.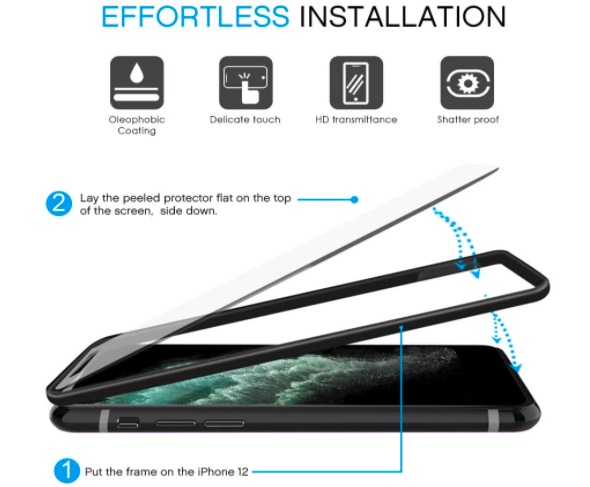 With the 9H hardness as well as the additional coating to prevent fingerprints and oil, it can also keep both the clarity and smoothness intact for a long period of time. Unlike many other screen guards in the market, it's completely bubble-free, which ensures there is no pain while installing the screen guard.
Moreover, APEKX is priced at $7 for a two-pack which makes it quite affordable.
Buy from Amazon: $6.99 (2-pack)
Choose the Top Screen Guards for Your iPhone 12
There you go! So, these are the top screen protectors that can offer the uncompromised safeguard to the OLED display of your iPhone 12. Readied with the top-grade tempered glass, they have got both the maximum hardness and HD clarity. And with the extra coating, the screen guards can also prevent oil and dust from piling up on the screen. Well that's it for this article. Before you go don't forget to check out our article where we list the iPhone 12 cases to guard your phone.