Sony's PlayStation 4, is not just a gaming console. It can be used for several other purposes as well. From streaming movies and TV shows to video editing, it's got plenty of apps in the PS Store, which you can make use of, in order to enhance your PS4 experience altogether. Although the App Library cannot even be compared to what's available on iOS and Android, most of the good apps that you'd probably need are available here. So, if you're looking to use your PS4 as your ultimate entertainment system, then we've got some great apps that you should install on your console. I have tried these PS4 apps on my PS4 Pro, so without any further ado, let's take a look at the 20 best PS4 apps you must have on your console in 2020.
Best PS4 Apps You Should Install in 2020
Considering one set of apps can't live up to everyone's billing, we've picked out a variety of apps designed for PS4. From sheer entertainment to news programs to music videos, this extensive roster has got you fully covered. So, it doesn't matter what brings you on the edge of the couch, you can stumble upon the sort of apps that can tickle your fancy and of course let you get the most out of your home video game console. With that said, let's dive right in to see what these top apps for PlayStation 4 have in store for you!
1. SHAREfactory
SHAREfactory is used by several PS4 users to easily edit their gameplay content. The software provides simple video-editing tools to effortlessly combine, customize and share your gameplay footage among your friends. You can even add your own commentary or soundtrack to the videos to make it look professional. There are also various themes, stickers and texts that you can add in a gameplay video. Once you're done editing, you will be able to directly upload it to Facebook or save it to a USB thumb drive and upload to other services later on, if you need. SHAREfactory is free to download and use, without any restrictions.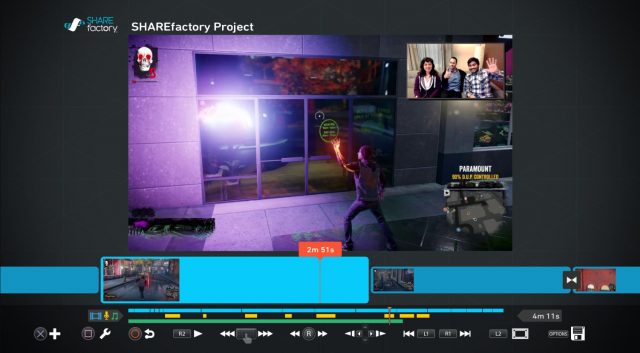 Install: (Free)
2. PlayStation Music (Spotify)
PlayStation Music is a music streaming service for PS4 owners introduced by Sony in 2015. As you might have guessed, it's powered by Spotify, which is the world's leading music streaming service and you will need a Spotify account to use the app. One of the unique features of Spotify on PlayStation Music is the fact that PS4 owners will be able to listen to music and play games simultaneously, which is enjoyed by many. PlayStation Music aka Spotify can be used for free, but includes ads and offers limited features. To remove all the ads and access every available feature, you will have to upgrade to premium subscription, priced at $9.99 a month. They offer a free 30-day Premium trial though, so you can try that out before actually purchasing it.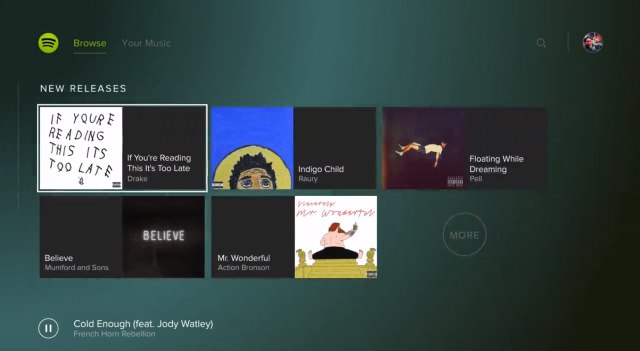 Install: (Free with ads, premium subscription at $9.99/month)
3. Plex
Plex is arguably the best software to organize all your personal media and access it on all the devices at any time and it's available for the PS4. While the PS4 Plex app isn't much of a standalone app, you can download the Plex Media Server for free on your computer, where you will be able to add all your media, including pictures, music, videos etc. Once added, you will be able to stream the content across all your devices, including the PS4 using the Plex app. The app is free to download, but there is a caveat. You will only be able to access content from the Plex Media Server if you have a Plex Pass subscription, which starts at $4.99 a month and goes up to $119.99 for a lifetime subscription.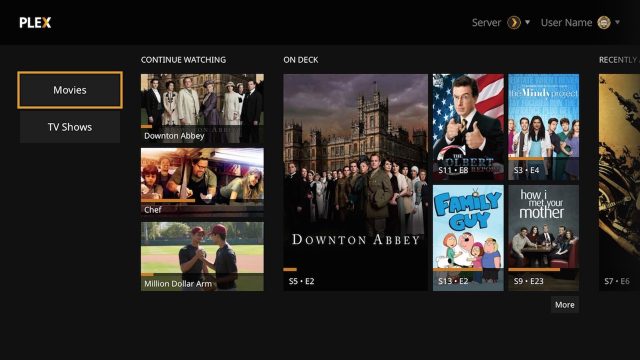 Install: (Requires Plex Pass subscription, starts at $4.99/month)
4. Twitch
Twitch, owned by Twitch Interactive, a subsidiary of Amazon, is considered as the biggest live streaming video platform for gamers. Gamers usually prefer streaming to Twitch rather than YouTube, as the broadcast experience is much better on the former. With almost 10 million visitors each day, this service is growing at an exponential rate. Although Twitch has been integrated into the PS4 to live stream your content, in order to view the content of other gamers, you have to download the standalone Twitch app that's available on the PS Store. The free app lets you watch live or recorded videos of gameplay, chat with broadcasters, follow channels and games of your interest and more. Being a PS4 gamer, this is one of the best PS4 apps that you can install on your device.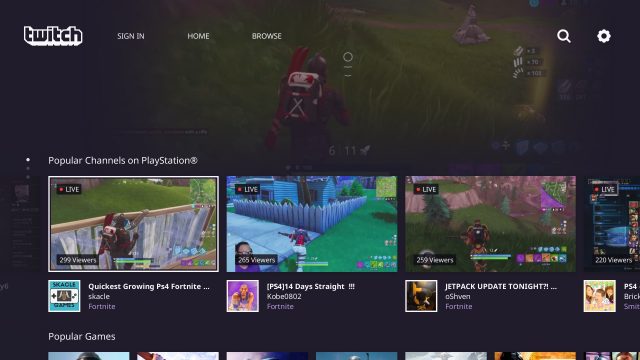 Install: (Free)
5. Netflix
No list of best PS4 apps should be complete without including Netflix. This should be the first application you download to turn your PS4 into a media center. Without a doubt, Netflix is the world's leading media streaming platform. There's tons of movies and TV shows that you can binge-watch during weekends with some popcorn by your side. Netflix is also flush with exclusives, that too a number of good ones like You or Birdbox, which make it a tempting service.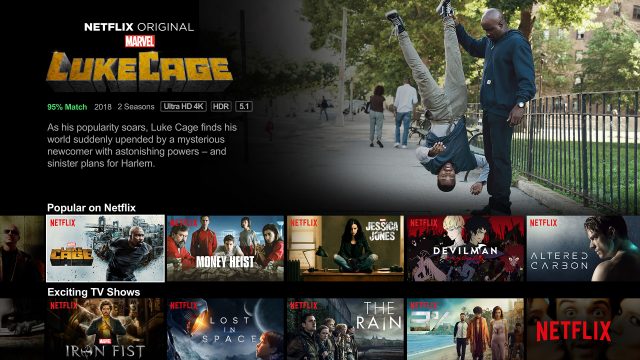 The application can be downloaded for free from the PS Store, but you need to avail the subscription starting at $8.99/month and going up to $15.99/month, depending upon the number of devices or highest resolution that you'd like to watch the content on.
Install: (Free, requires subscription starting at $8.99/month)
6. YouTube
YouTube has definitely changed the online world. It is now the face of user-generated video content and the YouTube app is available on a plethora of devices today. The service can be accessed from almost anything that has a screen. Although you can access YouTube from PS4's browser directly, the standalone app's user interface is pretty sleek and much easier to use. It's free to download and use, unless you're willing to pay for YouTube Premium, its paid subscription (starting at $11.99/month) that gets you ad-free streaming and access to exclusive video content.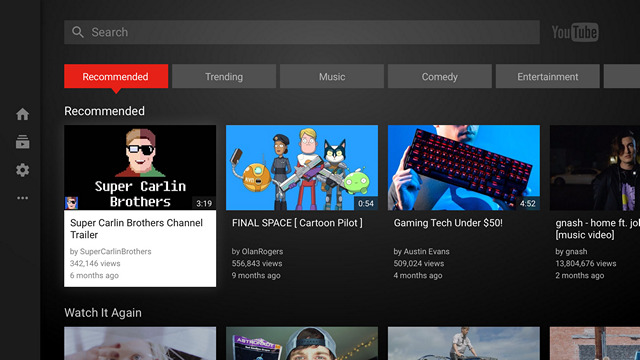 Install: (Free, YouTube Premium subscription available at $11.99/month)
7. PlayStation Now
This is a subscription based game streaming service launched by Sony to let PS4 owners play classic PS3 titles, without having to download them. Consider it to be a Netflix for games. According to Sony, there are above 450 games currently available on the PlayStation Now. In order to access all of them, you will have to shell out $19.99 a month, which isn't affordable for many of us. However, if you're new to PlayStation and want to try out the smash-hit exclusive games that were available on the older console, there's only one easy way of doing it and that's PlayStation Now. If you're not sure whether PS Now is for you, there's a 7-day free trial which you can utilize properly to make your decision. If you are a hardcore gamer, this is the best PS4 app where you should spend your hard earned money.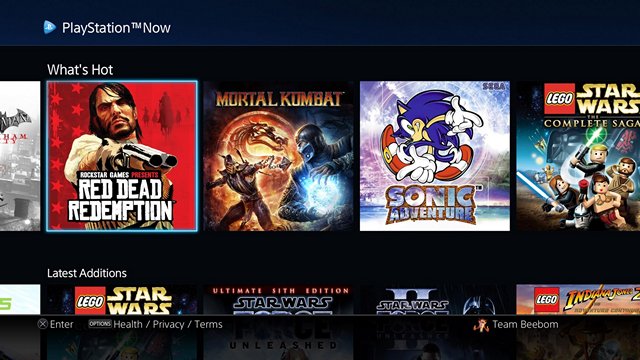 Install: (Free, 7-day trial followed by $9.99/month subscription + applicable tax)
8. Crunchyroll
If you're a sucker for anime, you'll love this application. Crunchyroll is the leading destination for Japanese Anime and Asian content. It's widely used by anime fans all over the world and brings anime like Naruto Shippuden, Bleach, Attack on Titan, Sword Art Online, Gintama, The World God Only Knows, Hunter x Hunter, and more. Crunchyroll aims at delivering the latest episodes an hour after it has aired in Japan and lets you stream the content in 720p. The application is available to download for free on the PS4. However, the service is not free. You will have to be a premium member to gain access to all the content that's available. Subscription starts at $6.95 per month, but if you want to try it out, Crunchyroll offers a 14-day free trial.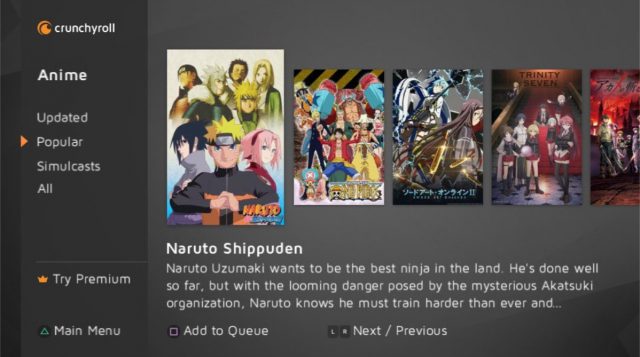 Install: (Free, 14-day trial followed by $6.95/month subscription)
9. WWE Network
If you're a fan of WWE, you'll probably want to install this app right away on your PS4, as you'll be able to access a ton of exclusive content with scheduled programming and an on-demand library, which you can access from anywhere. You will also be able to watch all the 12 pay-per-view events of WWE, live. That's not all, as the app also brings various original series, reality shows and documentaries. Now, that sounds like a sweet deal. However, the service is chargeable on a monthly basis. You will have to shell out $9.99 a month, but hey do offer a one month free trial, so you can decide for yourself if it's worth it.
Install: (Free, requires $9.99/month subscription)
10. Amazon Prime Video
Amazon Video competes against Netflix to be one of the largest streaming services today. Similar to Netflix, you get unlimited access to a myriad of movies and TV shows alike, including exclusives like The Marvelous Mrs. Maisel. You can either buy or rent your favorite movies and TV shows. Plus, the video content is available in 1080p, which is great.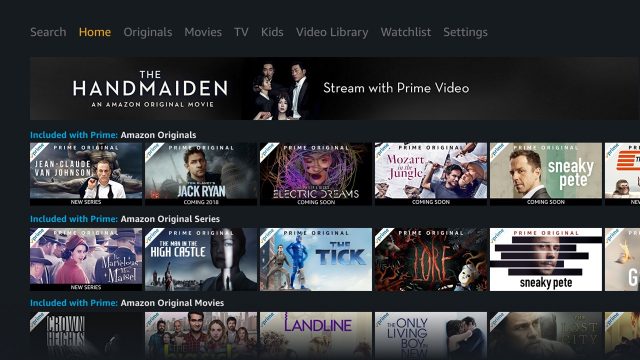 In order to avail this service, you require an Amazon Prime subscription that costs $12.99 per month or $119 a year. However, if you pay annually you'll get the first 30 days of the subscription for free. Prime members have several other benefits in addition to Amazon's streaming service though, like being eligible for free one-day and two-day shipping. It is what makes the Amazon Video subscription a pretty great deal.
Install: (Free, requires $12.99/month Prime subscription)
11. HBO NOW
HBO NOW is a standalone streaming service that brings you all the content from HBO. Unlike the HBO GO app, you don't need a TV package to access HBO NOW. If you're an ardent fan of the hugely popular Game Of Thrones or Silicon Valley, this is undoubtedly an application that you must have on your PS4. Plus, the app offers a plethora of original series, documentaries, sports, along with the latest blockbuster movies. Also, the content available on HBO NOW will not be available on Netflix or Amazon Video service or any other streaming service. The subscription price is much higher than the competition at $14.99 a month. However, they offer a one-month free trial, which you can cancel anytime if the service just doesn't cut it for you.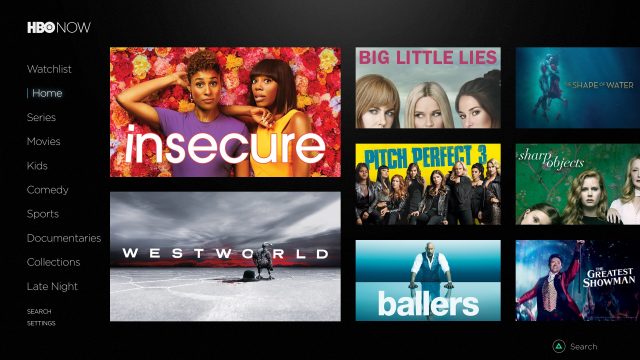 Install: (Free, 7-day free trial followed by $14.99/month subscription)
12. DAZN
DAZN is one of the most popular subscription-based video streaming platforms which is dedicated primarily to sports. The platform, for a simple monthly subscription, gives you access to live and on-demand streaming of boxing, fighting, and other sports events on a PS4. The highlight of the DAZN app is that you can pause and rewind live events, so you don't miss out on juicy bits of any match. You get a free monthly trial, post which a $9.99/month fee needs to be shelled out to satisfy your sports enthusiasm. Without a doubt, one of the best PS4 apps for sports fans.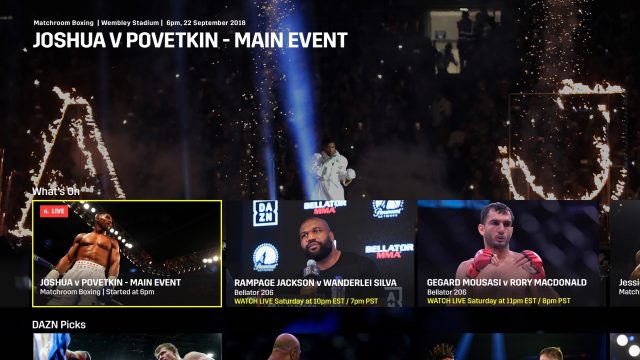 Install: (Free, $9.99 monthly subscription is needed)
13. VRV
If you don't want to clutter your PS4 with a plethora of streaming apps, well, VRV is the fan-first alternative to your needs as it aggregates content from some of the most popular platforms like Crunchyroll, Nerdist, Boomerang, Mondo and many others. This platform enables you to stream over 20,000 hours of content, with everything from anime, sci-fi shows, and cartoons among other things on your PS4 with ease. Just log in, connect your accounts to VRV, pay a measly subscription fee for full access, and enjoy!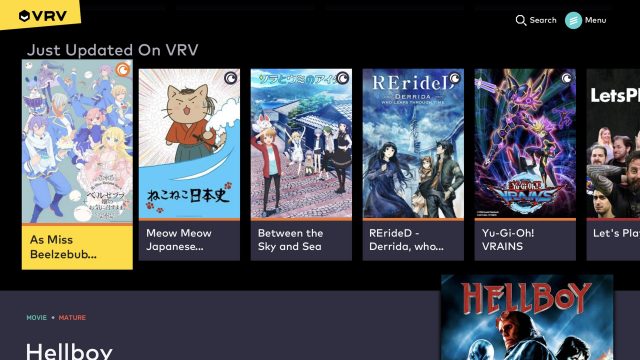 Note: If you're expecting the highest quality on this platform, well, you'll be disappointed because it doesn't deliver on the said promise. The official PS4 apps will be the best option for the same.
Install: (Free, with $9.99 monthly subscription)
14. BBC iPlayer
As the name itself suggests, BBC iPlayer is primed for the folks who want to stay in sync with BBC programs at their own pace. The app provides pretty simple channel schedules so that you can easily find the content you couldn't catch up with earlier. Plus, there is also an option to add your favorite shows to a personal list for quick access.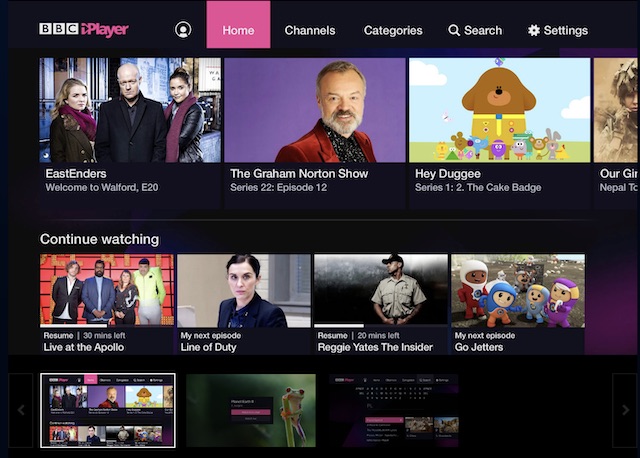 But what has attracted me the most in this app is the highly personalized recommendation that makes it pretty straightforward to find the content that I like to tune into. Besides, it also remembers the play history so that users can get started from where they left off. And for those looking for the essential parental controls, the app provides some really handy controls so that they can keep a check on what sort of programs their kids watch.
Install: (Free) 
15. Pluto TV
Simply put, "Pluto TV" is a one-stop platform for movies, sports, comedy, news, anime, and more. Packed with over 100 live channels including Bloomberg, CNBC, Sky News, and Cheddar, it has got you fully covered. So, if you are looking for an app that can cater to your variety of interests, give this app serious consideration.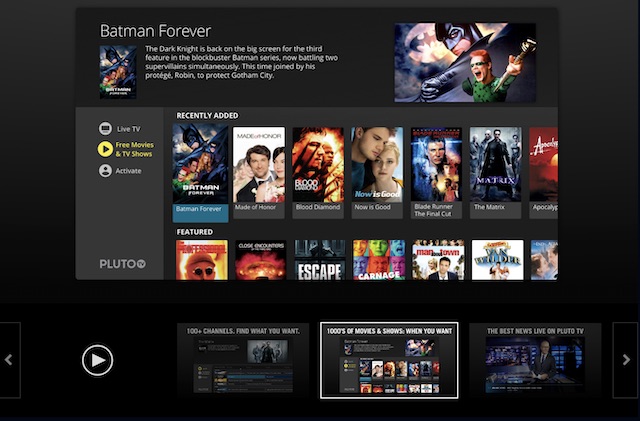 Interface-wise, I think Pluto TV looks neat. Plus, it also offers some cool customization into the mix so that you can personalize the app to suit your taste better. Another area where Pluto does a good job is personalized recommendations ensuring users don't have to spend a lot of time to find interesting content to catch up with.
Install: (Free) 
16. Tubi TV
This one looks right on the money for the folks who never seem to get enough of super hit movies and TV series. With one of the largest catalog of flicks and shows cutting across genres like comedy, drama, classics, etc, the app has got enough variety to appeal to the penchant of everyone. But what has compelled me to include Tubi TV is a solid collection of niche favorites such as Korean dramas, British series, and anime which are a treat to watch. Beyond interesting content, I like its intuitive UI and personalized recommendations which further enhance movie watching experience.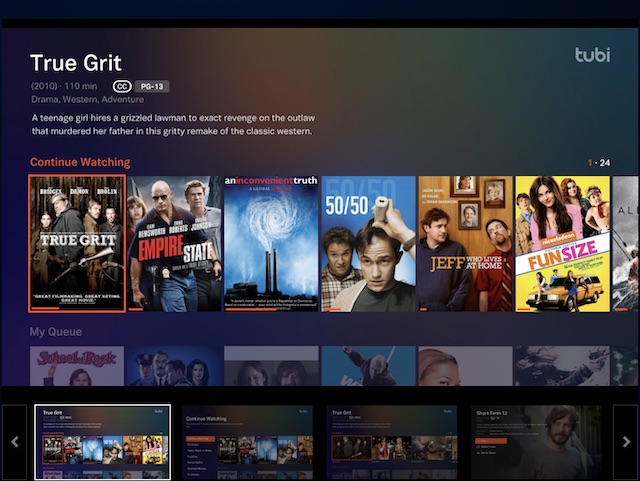 Install: (Free) 
17. Crackle
If you are after a cool app that can let you stream all sorts of movies and TV shows, Crackle could be the right answer for multiple reasons. For starters, the app has an ever-growing library of hit movies and shows. That means you will always have something really exciting to take on for a long binge-watching. On top of all, the app also offers plenty of exclusive Sony Crackle Originals which can live up to your penchant for exploring intriguing shows. And that too without compelling you to spend a single penny!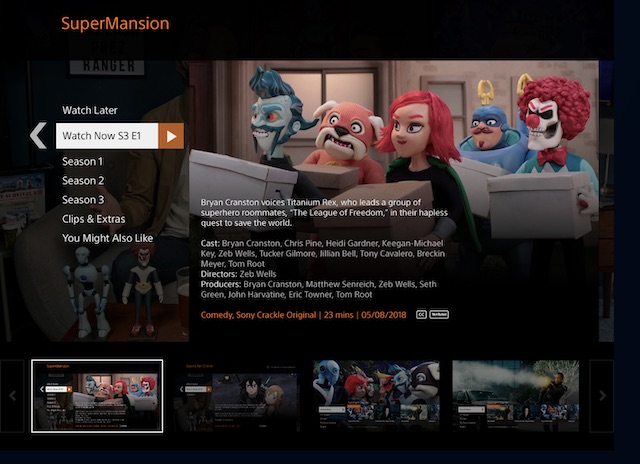 Install: (Free) 
18. WITHIN
Finally, if you've also got a PlayStation VR headset hooked onto your PS4 console, then WITHIN is the one app you cannot sleep on. It's a platform that is flooded with a ton of great VR content and immersive experiences, giving you the chance to explore not only real-life VR shorts and documentaries but also stories and animations from popular creators. WITHIN brings premium, story-based content in a variety of genres to your PS VR, something your kids or friends would love.
Install: (Free)
19. WeatherNation
Should you wish to keep a track of local weather forecasts, WeatherNation (the US only) can be the right platform to hop onto. The app provides accurate weather predictions from well-known meteorologists so that you can plan your outing smartly and also avoid getting stuck into bad weather. Plus, it also delivers real-time weather alerts from MNS (National Weather Service) to keep you fully updated about what's coming up. One of my top picks of this app is the detailed radar that offers a better insight into weather conditions.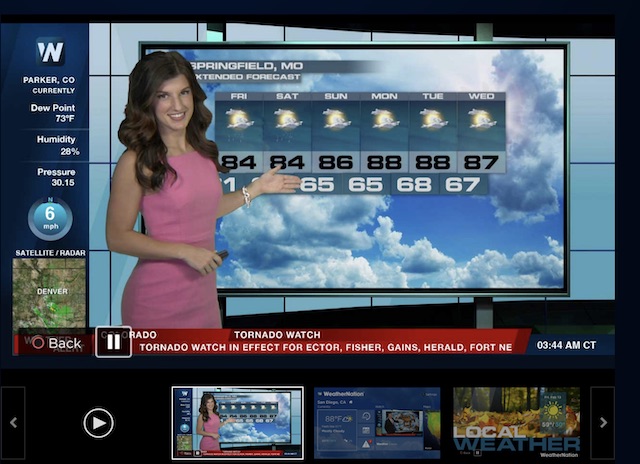 Install: (Free) 
20. GoPro Channel
Needless to say, "GoPro Channel" is designed for GoPro fans. And if you are one of them, this one is for you. With this app at the disposal, you can stream GoPro content on-demand. From exciting skating to thrilling motorsports, the app never seems to be short of fascinating content. That's not all, GoPro Channel also lets you browse through GoPro cameras and latest accessories that can play a vital role in enhancing your experience.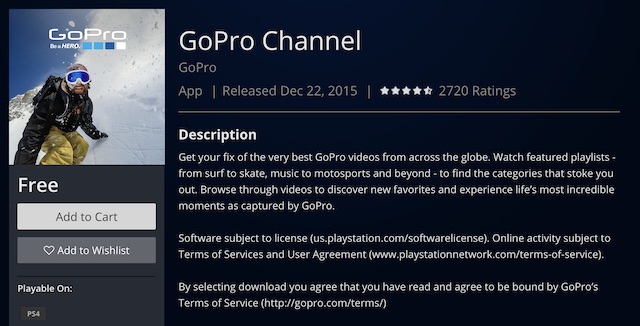 Install: (Free) 
Best Apps You Should Install on Your PS4
Although the PlayStation Store isn't the most fleshed out and is miles behind other App Stores, it does bring in tow useful applications to enhance the utility of your console. It might not seem enough, and it really isn't, however, you can clearly make do with apps available at your disposal on the PS4. These apps should work fine on the original PS4, as well as the newer PS4 Slim and PS4 Pro consoles. So, if you just recently bought a new PS4, then go ahead and check out all these great apps. Do let us know if we missed out on some good ones in the comments below.