Music is what keeps us liberated from all the worries in the world and that's why it's important we listen to quality music. Online music streaming websites have already got quite a good foothold and they should continue to make further inroads in the future. Presently, there is no dearth of great options when it comes to music streaming sites. In fact, there are a ton of music streaming sites across the internet and choosing the best among them can be a pretty hectic task. Well, we have always liked doing your hectic work, so we did this one, as well.
Here are 15 best online music streaming sites
Spotify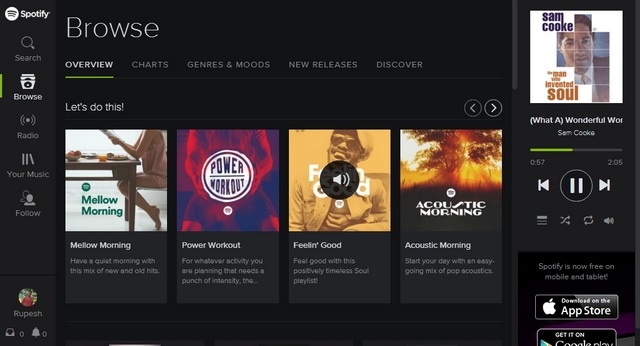 Spotify is one of the most popular music streaming services out there today and deservedly so. It has an ever growing music catalogue of over 30 million songs with 1.5 billion playlists and some amazing features to go with. Spotify is available as an online music streaming website as well as an app available on almost all platforms we know of. The popular music streaming service is available in a free and premium version. The free version lets you play music and that's about it, the premium Spotify subscription at $9.99/month brings ad-free music streaming & radio, unlimited skips, offline usage, HQ audio and more. Spotify is available in more than 60 countries including the likes of Australia, Denmark, Brazil, Chile, Malaysia, France, UK, USA and more.
SoundCloud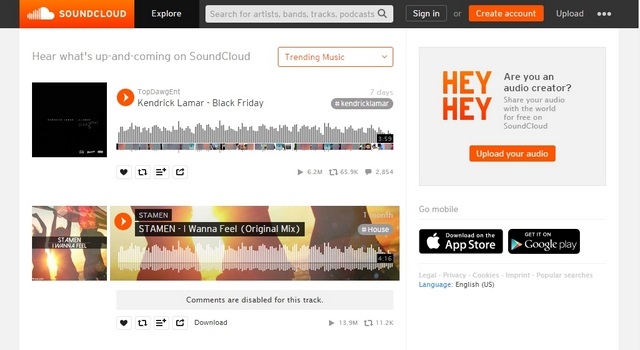 SoundCloud is a great place to discover great music & upcoming artists and chances are you might already be using it. It's essentially the best music social network. SoundCloud is the best place if you want to discover new music and budding musicians. If you are a musician yourself, you can share your own work for the people to see and comment. The coolest feature of SoundCloud is the ability to see songs in the form of waveforms and users have the ability to comment on a certain time of song. SoundCloud is available for free for listeners and they can listen to music & connect with people without any limitations. There are some limitations on uploads though, so if you are a budding musician looking to share more of your music, you will need the paid subscription plans. A paid subscription of $59/year lets users upload 6 hours of content every day, while a $159/year plans brings unlimited uploads. These paid plans also bring advanced statistics. SoundCloud is available on the web and as an app on Android, iOS and Firefox OS.
Deezer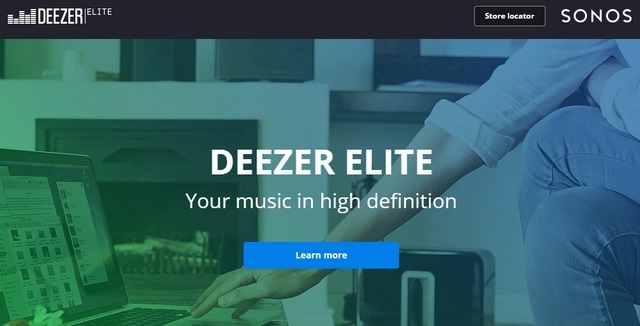 Deezer is a very popular music streaming site, which boasts of more than 35 million tracks and 100 million playlists. It offers the usual features like music discovery, favourites, playlists and integration of social media. Deezer is not only available for your smartphone platforms like Android, iOS, Windows Phone but it's also available for OS X and Windows PCs, Smart TVs and car systems. It's also available as a web player, so you can just shoot up the browser and stream music with Deezer. It's available in a free ad-supported version, which limits skipping and scrubbing. There's a Premium subscription for $9.99/month, which removes ads & limits, increases audio quality (320 kbps) and brings Google Chromecast support. That's not all, as there's also an Elite version, which costs $14.99/month and brings CD quality audio (1,411 kbps). Deezer is available in more than 180 countries including UAE, Argentina, Canada, Germany, Greece, Italy, Russia, South Africa etc..
Pandora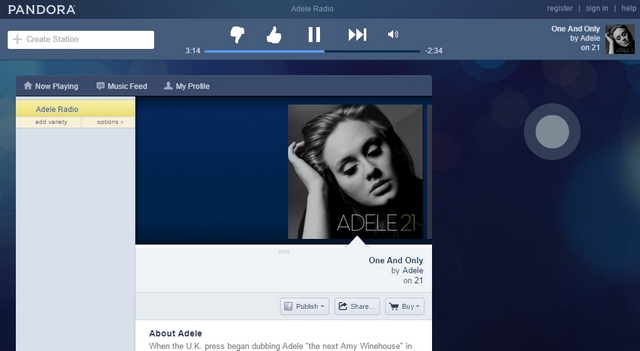 Pandora has always been known as a senior in the music industry and rightly so, as the service has been available for more than a decade & half now. While Pandora does not boast of a huge music library, it prides itself in its music recommendation, thanks to its Music Genome Project. Pandora's curation tricks hides its lack of songs (which is just 1 million by the way) but it might become a limitation for some. Pandora offers a free account for users, which comprises of ads and limits the skips and only lets you create 100 personalized stations.
However, you can get a Pandora One account for a paid subscription of $3.99/month or $36/year. A Pandora One subscription removes ads & skip limits and brings higher quality audio, access to Pandora One standalone app and more. Pandora along with its web offering is also available as an app on most major platforms including wearables like Apple Watch and Pebble. Sadly, the music streaming service is only available in the US. The company has also recently acquired Rdio for $75 million, so we might see some cool Rdio features come to Pandora.
Last.fm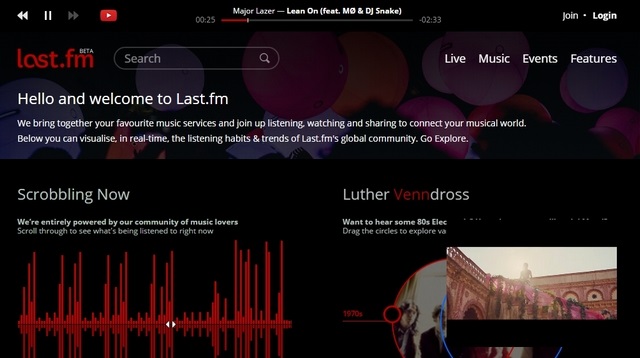 Last.fm is another cool music streaming site that goes by the mantra of Explore, Connect and Revisit for users. The music service lets you explore new music and check out other people's preferences in music. You can also get in touch with people who share your passion in a specific genre of music. The most important feature of Last.fm is its recommendations, which are generally spot on, thanks to the Scrobbling feature. The Scrobble feature, which kind of lets the app remember your favourite songs is so popular that it's integrated in various other music services like Spotify, Deezer, Groove, HypeMachine and more. It features more than 12 million individual sound tracks and while it has free accounts, the paid subscription of $3/month removes ads, gets you priority on the server, access to radio on mobile apps and more.
Google Play Music All Access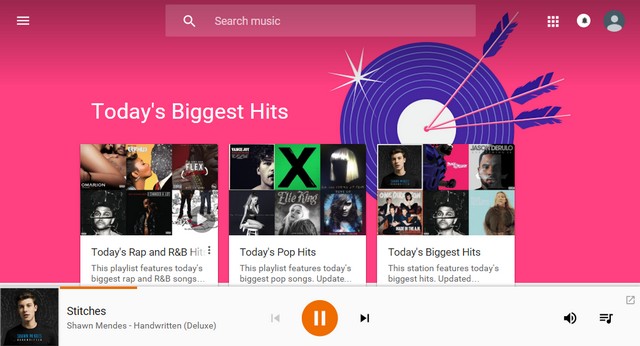 Google Play Music features a catalogue of 30 million songs and users can get "All Access", which means ability to stream all the songs through a monthly subscription of $9.99/month. Google has been constantly updating its Play Music service and it recently brought YouTube to the mix with YouTube Music Key, which brings curated playlists, instant mixes and more. The company's music service also uses Songza's (which it acquired last year) features like radio, auto-created playlists. The company also recently announced that it will shut down Songza in January 2016 and implement all its tricks in Play Music.
Google Play Music is available in 58 countries including major ones like Australia, Canada, Denmark, France, Germany, Mexico, Spain, Italy, UK, US and more but some countries like India are still missing out. You can try Google Play Music All Access as a free trial for 30 days, after which you will have to get the subscription.
Microsoft Groove Music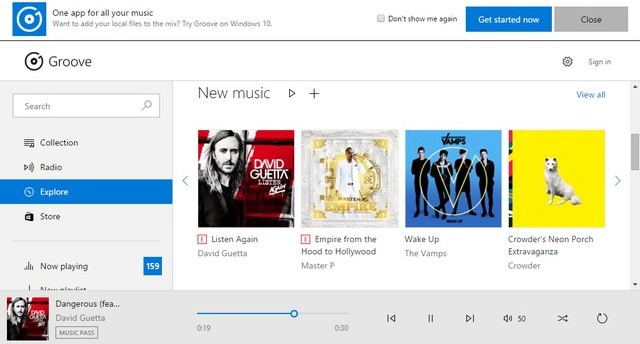 Microsoft has been trying to hard to make an impact with its music streaming offering and its offering has gone through a lot of changes ever since it came into the public eye. It started off as Zune Music, then turned into Xbox Music and it's now known as Groove Music. It has already crossed over 40 million songs, which is a great number indeed. Groove is available as a music streaming site as well as an app on all major platforms. Microsoft does offer a 30 day trial after which you will have to get the $9.99/month or $99.99/year subscription. Along with streaming, Groove also brings you the option to download songs, cool artist based radio, curated playlists and more. Microsoft's Groove Music is available in more than 20 countries like Australia, Austria, Finland, Ireland, Japan, Spain, USA, UK, Japan etc.
Slacker Radio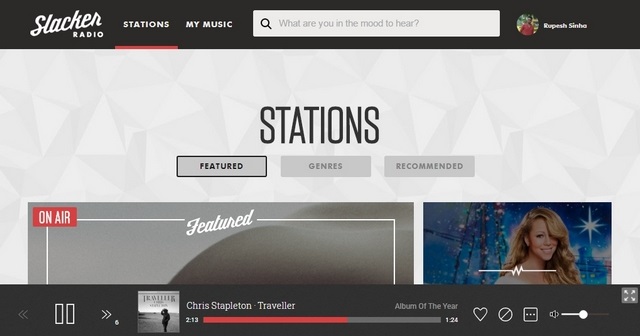 Slacker Radio is a radio-like music streaming website and app, as the name suggests. Its unique point has always been its expertly curated music stations, which are almost 300 in number. While Slacker doesn't give you details on the number in its music catalogue, it does mention about having "more than 10x the music of Pandora". The great thing on Slacker is free account users can listen to as many songs as they want but they will have to endure some ads after every 4-5 songs. It's available in two paid subscription plans: Plus and Premium. Slacker Radio Plus ($3.99/month) brings station caching, unlimited song skips & song requests, no ads, ability to turn off DJs on stations and lyrics support. Slacker Radio Premium ($9.99/month) brings all the features from Plus and adds features like songs on demand, custom & offline playlists and more. Sadly, Slacker Radio is only available in the US and Canada.
Mixcloud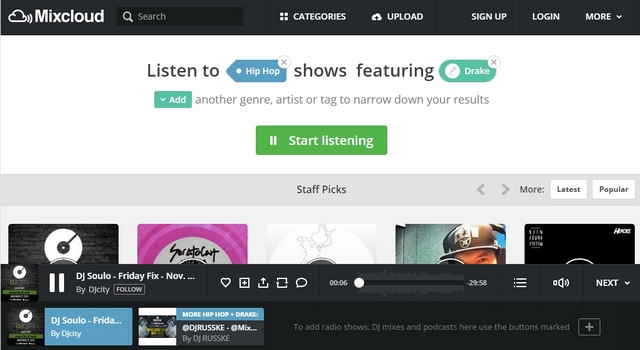 Mixcloud is a very popular music service that does not aim at people looking for songs or specific albums and instead, it's the place to go for mixes and some great curated music in general. It's available as a web platform and as an app. The music streaming service aims towards the longer music formats like DJ mixes, podcasts, radio shows etc.. It might not have the music catalogue muscle of other music services on the list but it has 3 million mixes from 500,000 partners. All these cool mixes are longer in duration, so you can keep playing them for hours and hours. It lets you discover music shows based on your tastes or moods like chillout, classical, Rap, RnB, Jazz, Indie and more. Moreover, Mixcloud is totally free to use & available worldwide and there's no catch to that.
Rhapsody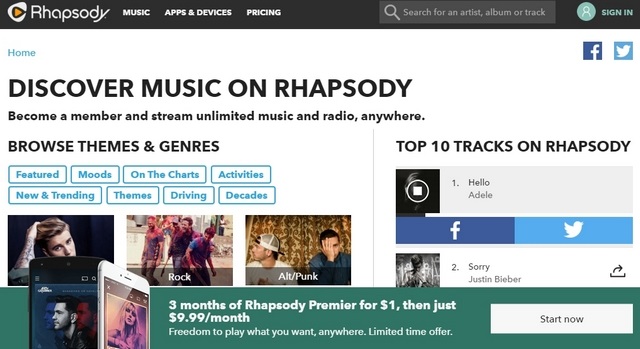 Rhapsody is another well rounded music streaming website, which brings all of the usual music streaming features and more. It has over 30 million tracks in its catalogue, so there's no shortage of that. Rhapsody comes in two plans, UnRadio and Premier. Rhapsody UnRadio brings you a 14-day free trial, after which you pay $4.99/month and you get ad-free radio with ability to save favourite tracks, unlimited skips and play on web or mobile. Rhapsody Premier lets you use the service at $1/month for the first three months after which it is priced at $9.99/month. Premier brings all the UnRadio features and other additional options like unlimited access, download anything including songs, albums & playlists, ability to play on home audio devices and a specialized Kids section. Rhapsody is available in more than 30 countries including Brazil, Belgium, France, Germany, Mexico, Peru, Spain, Sweden and more.
Tidal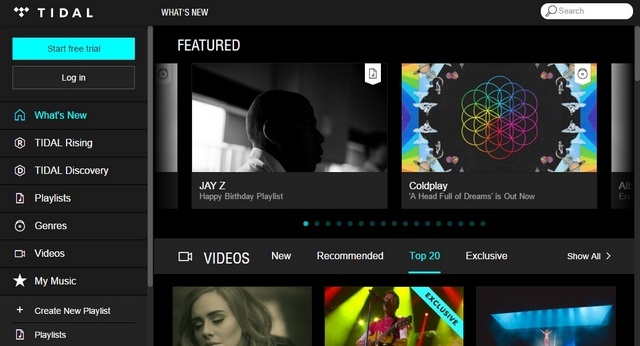 Tidal is a win-win high fidelity music streaming service for both consumer and musicians, considering it pays the highest royalty percentages to songwriters and producers. Tidal brings over 25 million tracks and that too in lossless quality (1,411 kbps). The music service has some cool features like curated recommendations, discover new artists, Tidal X for upcoming artists, audio search, ability to listen to your favourite songs even when offline and more. Tidel offers a 30-day free trial in both of its subscription plans: Premium ($9.99) and HiFi ($19.99). Both the plans are free of ads and  have unlimited listening time but the HiFI plan brings you lossless CD quality music, which makes much of a difference. Tidal is available in more than 40 countries across the globe including the likes of Australia, Denmark, Hong Kong, Iceland, Monaco, Netherlands, Poland, Singapore, Turkey and more.
iHeartRadio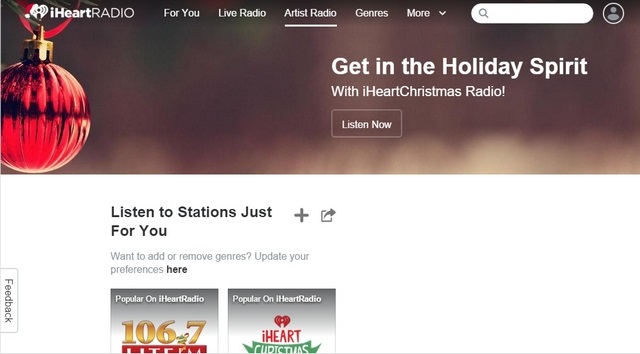 Chances are you might have heard of the very popular iHeartRadio. Well, it's an internet radio platform and a music recommender service, which is curated by the people themselves. It accumulates all its music from more than 800 radio stations. The cool music service also conducts a music award along with Live shows at its iHeartRadio theatres in New York and Los Angeles. iHeartRadio is available as a website as well as an app for mobile platforms. But that's not all, the music streaming service is also available for desktops, Smart TVs, home entertainment systems, automotives and wearables. Most importantly, iHeartRadio is available for free to use and download. iHeartRadio features more than 15 million tracks along with its radio stations. The quality of songs is a modest 128 kbps but that is understandable, considering the service is free. It's available in US, Australia and New Zealand as of now.
TuneIn Radio
TuneIn Radio is one of the most popular internet radio station services out there. It lets users discover music, news, talk shows, podcasts among 100,000 live radio stations and 4 million podcasts. You can either search for stations, podcasts or a show or let TuneIn list out content based on your location. There's also ability to explore the various categories in music (90's, Oldies, Top 40, Classical, Hip Hop, Internet only etc..), news or sports. TuneIn Radio can be used for free but it does bring a paid premium subscription ($7.99/month) that brings full access to NFL, MLB, BPL, select matches from Bundesliga, ad-free music stations, unlimited access to 40,000 audiobooks and language learning programs. TuneIn Radio is available globally, so you should be able to use it in your country.
Saavn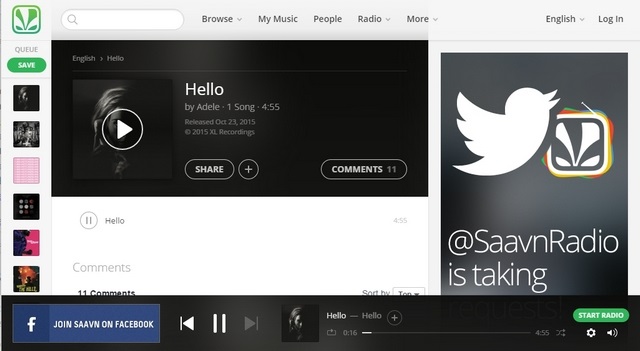 Saavn is for Bollywood song lovers out there but there are international tracks as well. So, if you are looking for a right mix between international and regional or Bollywood songs, Saavn should be the right choice. Saavn is a digital distributor, music search & streaming and radio service. It currently has a catalogue of over 7 million tracks. There are some cool features built-in like Song Map, which shows who's listening to what on Saavn on a map. Other than that it brings Featured curated playlists, Weekly Top 15, a "Surprise Me" feature which shows you curated tracks at random and more. Saavn is free with ads in the offering but there's a paid Saavn "Pro" ($3.99/month), which lets you download music for offline usage and removes ads. Saavn is available globally, so you should be able to use it wherever you are across the globe. You can also check out its competitors like Gaana.com.
8tracks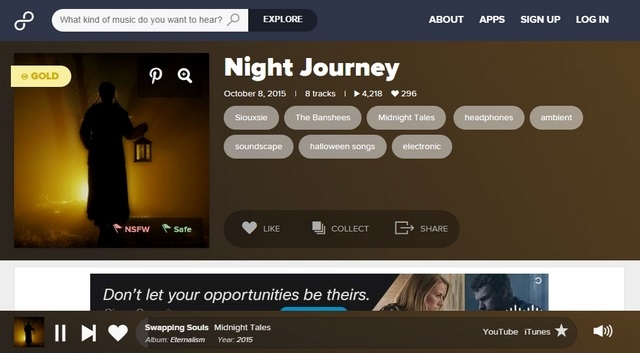 8tracks is essentially an internet radio service with some focus on the social parts of music streaming. It has always been known for its cool user curated playlists. Users can create or listen to cool mixes created by other users as well. The service is also great for artists and DJs who can create their mixes and showcase it to a music loving audience. Along with the mixes, 8tracks lets you discover music on the go. 8tracks is available for free but there's 8tracks Plus for $25 for six months, which brings a Plus badge on your profile, DJ specific features and removes ads.
SEE ALSO: 14 Legal and Free Music Download Websites
There are a number of other cool music streaming websites that aim at specific countries or niche but these are what we think are the best of the lot. Check them out and let us know the one you like the most in the comments section below.
---
Load More