Face swapping has long been the rage on social media, and numerous apps on the Play Store and the App Store already cater to the trend. However, do you know there are multiple such services that let you chat as funny animals, superheros or celebrities in popular chat apps, like Zoom, Skype, Google Meet, etc? Today, we'll introduce you to the top 5 best online webcam face changers (free and paid) to improve the fun element during your online chats. Using these software, you can add effects, filters, doodle, overlays, change background, etc. during video calls. We'll also tell you about what to remember while using these services, including possible privacy concerns, and more.
Best Online Webcam Face Changers to Use in 2021
Here, we will list some of the best online webcam face changers to help transform your video-chatting experience. We have included software that let you participate in video conversations with funny facial filters, as well as services that help transform your staid videos into fun images that are sure to put a smile on the faces of everyone who sees them. You can also use these online webcam face changer apps to apply webcam filters, webcam effects, overlays, change backgrounds, draw video doodle, and more. So without further ado, let's check out the best online face changers you can use right now.
1. FaceRig
The first and most impressive software on our list is FaceRig. It offers real-time facial animation, enabling just about anyone with a webcam to digitally embody awesome characters. You can use it for your online chats, to record vlogs or transform your party into a fun, freestyle impersonation show. The output can be recorded as a movie or streamed to Skype, Twitch, Google Meet or any service that traditionally uses a webcam in real time.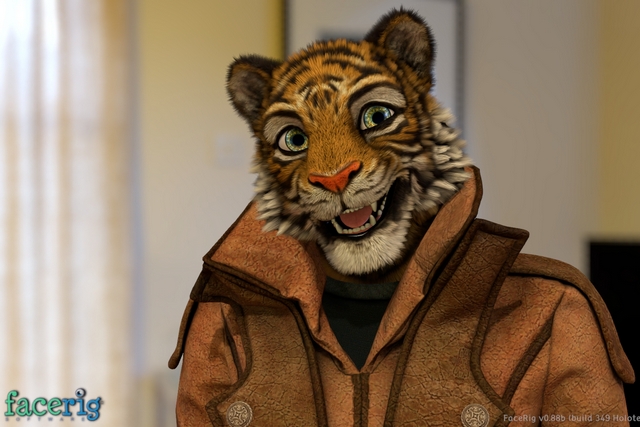 FaceRig is meant to be an open creation platform so everybody can make their own characters, backgrounds or props and import them into the service. You can design and share your own crazy or cool 3D character with this tool, making it possibly the most versatile service in its category.
FaceRig is conceptualized, designed and developed by experienced game developers who went indie. It has three major 'flavors' – Classic, Pro and Studio, but there are no technical differences between the free FaceRig Classic and the paid-for Pro/Studio. The difference is only in its licensing, which is based on how you use it.
https://youtu.be/ZFy5B8OC3Tw
The Classic is fully featured for private, non-commercial use, and you can also use it on your YouTube channel, provided, you're making less than $500 per month. Anything more, and you need to buy FaceRig Pro, which is just like Classic feature-wise, but can be used by commercial users. FaceRig Studio, targeted at businesses, has six types of licenses for enterprises and commercial establishments.
2. CamMask
Another great online webcam face changer is CamMask, which offers dozens of special effects when you video chat with your friends. Available for Windows and macOS, it also offers a host of annotation options, including graffiti, text and date. It also supports picture-in-picture (PIP) and snapshot / recording function. Thanks to the virtual webcam driver, you can use CamMask in up to six applications simultaneously, each with its independent special effect video source.
One of the most notable features of CamMask is its 'Magic' face changer that lets you turn into a celebrity at the click of a button. The feature will analyze your facial expression before fusing the new face into the target face to ensure that it retains the essence of your original expression. The software can also change your background to transport you to a news studio, in a sea of fire, or even inside a sci-fi movie.
CamMask also lets you add dreamy particle special effects, offers background replacement, and lets you create video doodles in real-time, allowing you to draw anything you wish in the video-chat picture. You can also show the date or other text in the video-chat picture. It also comes with a snapshot/video manager, enabling you to record any moment within a live-stream/chat session. You can download various interesting special effects from the official website. These include distortions, filters, borders, background replacements, particles, emoticons, animations and more. You could also combine them to create your own unique effects.
CamMask also supports output to multiple sources, as well as the ability to convert photo/video and broadcast desktop in real-time. It supports up to 1080p output with GPU acceleration to reduce load on your CPU. The developers also guarantee privacy, saying your information will be fully secure. The software is free for non-commercial users, but with a few restrictions, including persistent watermarks, etc. The paid version removes watermarks, offers DLC with interesting special effects, has six preset viewports, and more. It also includes free lifetime support via email.
3. AlterCam
Another notable online face changing software is AlterCam. As its name suggests, it helps you alter your face during online video chats by adding fun effects and filters. It also lets you hide your face with mosaic and other patterns, or add your logo to your webcam stream instantly. You can also broadcast pre-recorded video, live desktop or anything you want via Skype and other online chat software, thanks to the virtual webcam that can transmit videos with special effects.
With AlterCam, you can choose the desired webcam effect among the dozens available and start broadcasting to your new virtual webcam. It is compatible with Skype and other similar software. The software applies the chosen effect in real time and lets users see a live preview of their virtual webcam with the effects applied. Some of the available effects include Blur, Pixellation, Fish Eye and more. The app also lets you add your own overlay or underlay images to the output video to make tutorials, etc.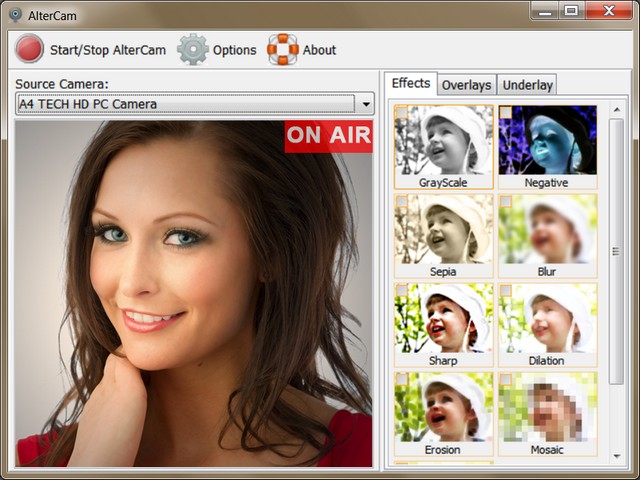 Along with helping you modify the visual look & feel of your live webcasts, AlterCam lets you make changes to your audio in real-time during live video chats. The software includes a special driver that lets you tell other apps to use AlterCam as a virtual audio device. For example, you can be chatting on Skype but choose to have the sound running through AlterCam.
The program also supports HD video resolution and uses GPU acceleration where available to reduce CPU usage. It also supports output to multiple programs simultaneously without the 'webcam busy' error message. You can also use AlterCam to stream video files as virtual webcam outputs.
4. YouCam
YouCam is a freemium application that comes from CyberLink – a recognized developer of video and audio tools for PCs and smartphones. It doesn't offer you full face swap unlike the other options in this list, but you can use it to change the chat background by choosing any image from your computer or one of the many pre-loaded photos in the program itself.
It also offers a host of annotation and filter options, including adding a headdress, animated 3D effects, a variety of frames and more. The application supports Skype, Zoom and other popular video call services, as well as seamless integration with Twitch, Facebook & YouTube live broadcasting.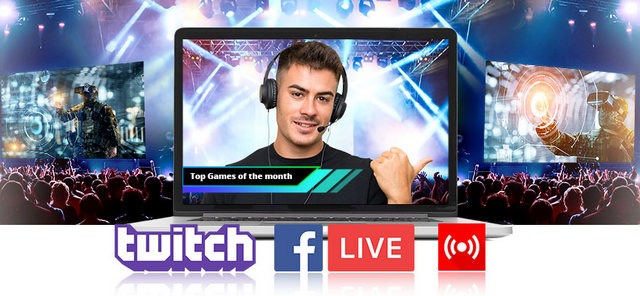 YouCam also comes with a host of face distortion effects, including the 'crooked mirror' effect. All these features can be used both on existing images or while chatting real-time. Some of the other notable features of YouCam include real-time skin smoothing for online chats and livestreams, automatic lighting and sharpness adjustments, PiP video, free-hand drawings and more.
The program brings more than 200 lively video effects, animojis, filters, particles, and distortions to add fun to your video chats and recording projects. It also comes with facial recognition technology. Plus, there's a suite of beautifying tools for you to touch up your facial features, remove imperfections and make subtle enhancements.
5. Faceit Live 3
Last, but definitely not the least, is the Faceit Live 3 project, which uses AI deep learning to let you chat online as someone else. Available for Windows, Linux and Mac, it doesn't offer you any of the fancy features offered by the commercial apps. However, you can use the deepfake face swap technology in real-time and not just for existing videos or photos.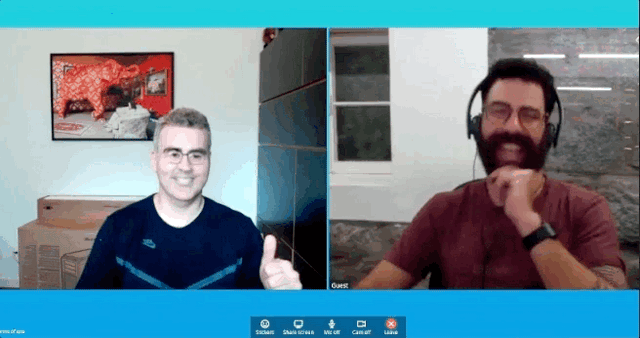 Using it, you can chat as anybody else, including celebrities, superheroes, etc. For a side project, it is surprisingly good, and the real-time render on the webcam works at a very good frame rate. In fact, it looks normal in a videoconference that isn't already buttery smooth.
Even though it looks very realistic, you still can spot that something is strange. What's more, the AI deepfake is restricted to the video and doesn't extend to the audio (check out best voice changer apps). To add to that, setting it up is a bit of a hassle for regular users, making it not the most intuitive of programs on this list.
Another negative is that it needs a high-end graphics processor and CPU for the algorithm to work as intended. However, if it is the best webcam face changer you're after and you're not afraid of a learning curve, this is undoubtedly one that you should try out.
Frequently Asked Questions
1. Can I Edit Videos Shot with These Software?
Yes, you can. Most of them come with basic video editors built-in, but you can also save them as standard video files and use third-party video editing programs to edit them.
2. Do They Work With Zoom Call?
Zoom offers a host of powerful features for fun effects, as does Skype, Google Meet and other online chat tools. However, you can also use these services to add more fun elements to brighten up your mundane video calls.
3. Can I Change My Background Like Snapchat?
Apps like SnapChat and Zoom already offer built-in options to help you change chat backgrounds, but the programs mentioned above also let you change your background during video calls.
4. Can Face Changer Work Like Apple Emoji?
Among the five, FaceRig works most like Apple's Animojis. It helps transform you to popular characters in real-time while still mimicking your facial gestures, etc. You can also use custom emojis for annotation purposes with these apps.
5. Can I Share Videos on My Social Media?
Yes, all the utilities let you share your videos online.
6. Do Webcam Face Changers Work With My Laptop Camera?
Yes, of course. All of these face changing apps work with your laptop camera.
7. Do I Need a Separate Webcam for Face Changers?
No, you don't need a separate webcam for the face changers mentioned above. In fact, some of them can even be used as the video source instead of actual cameras for chat apps. This should enable you to video chat without revealing your face.
8. Can I Download Face Changing Apps Offline?
All five online webcam face changers can be downloaded on your computer and used to record offline videos. For that, follow the download links given above.
9. Can I Use Face Changing Apps if I Have Glasses On?
Yes, but ensure that your glasses are not reflective, especially in dark rooms where your computer monitor is the brightest light source. If you don't have non-reflective glasses, try putting the brightest light source behind or beside you, and not in front. Also, glasses with thinner rims are preferred since they block less of your eyebrows.
10. Can I Stream with Face Changers Online?
Yes, that's the whole point of these face changing apps. They let you stream online with services like Skype, Twitch etc.
11. How Do I Change My Webcam Settings in Windows 10?
You can access camera and microphone settings in Windows 10 from Settings > Privacy. There, you'll find options to switch on/off your webcam and mic globally or for particular apps and services.
Have Fun with the Best Online Face Swap Apps
While deepfake apps and websites are becoming a bigger problem by the day, face changing apps can be great fun when used to add effects on video calls with friends and family, etc. So what are you waiting for? Try out the best online webcam face changers mentioned above and pick the one that you like best. My personal pick is FaceRig, which is not only fully free for home users with all its features, but also an open platform, making it more customizable than the rest.