When Apple introduced iPad back in 2010, artists all around the globe quickly saw a whole new world of possibilities appeared before their eyes. Fast forward to today, iPad has become the favorite digital canvas to paint, draw, and sketch; and the combination of iPad Pro and Apple Pencil is currently the digital artists' dream come true. But hardware is only half of the equation. There are many drawing apps to help channel everyone's appetite for drawing, even if you are just a part-time doodler like me. Here are some of the best of them.
Drawing Apps for Casual Sketching
1. Paper by 53
Paper by 53 might not be the first, but it might be one of the few apps that bring iPad drawing mainstream. It lacks many bells and whistles its competitors have, but simplicity might be one of its strong points. You can create and customize notebooks, add pages to them, and share your drawings with Paper community.
As far as features go, Paper give you five drawing tools, an eraser, color palettes, color mixers, basic zoom, and cool Undo-Redo gestures. Some of the tools were not free, but now everything is free to use.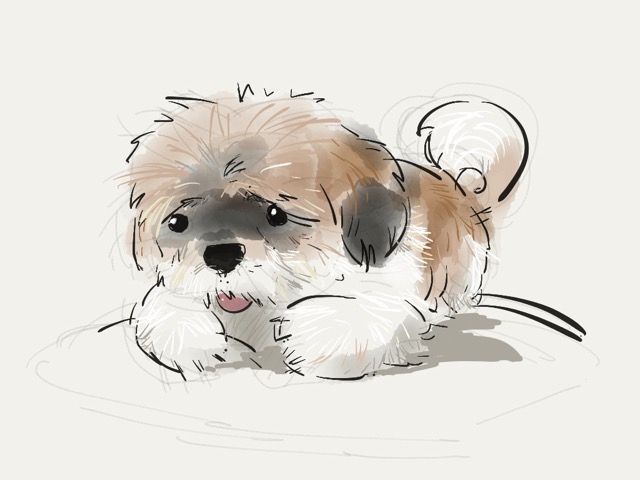 Image credit: Puttakhun Vongsingha
2. Tayasui Sketches
Tayasui Sketches gives you more tools than Paper does. More drawing tools, ability to import images, layers support, and options to add patterns and texts, to name just a few. It positioned itself between casual sketching and serious painting apps. It is a good drawing app, once you get the hang of it. But IMHO, the learning curve is a little steep for ordinary people to master quickly. So most of them who just want a quick sketching tool might give up before they do (like I did the first time). The app is free, but you can get more tools and features if you upgrade.
Image credit: Tayasui Sketches
3. Adobe Photoshop Sketch
The name Adobe should give you a general idea of what kind of sketching app Adobe Photoshop Sketch is. You can say this might be the Adobe version of Paper, but has deeper support to other Adobe's product. It's free, but you have to log in using Adobe account to unlock all the features.
In addition to the usual sketching tools, this app allows users to send their sketches to Illustrator and Photoshop, integrates with Behance and Creative Cloud Libraries, has built-in graphs and perspective grids, and lets users create custom brushes from photos.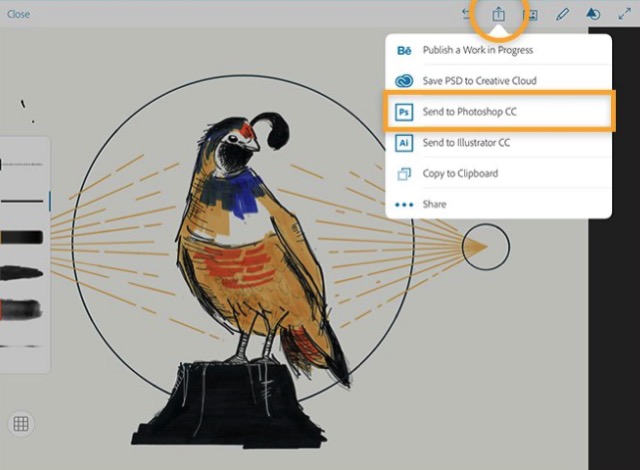 Image credit: Adobe
4. Asketch
If you want a drawing app that allows you to focus on your drawing instead of meddling with tools, the bare minimum Asketch might be your answer. You only have one Drawing tool – with color options, one Eraser, Undo button, Gallery, and Trash. The rest is up to your skill and creativity. At the moment of writing, the app is $ 2.99 in iTunes App Store and hasn't supported Apple Pencil yet.
Image credit: Asketch
Drawing Apps for More Serious Painting
5. AutoDesk Sketchbook
AutoDesk is another giant on the list. It's the name behind AutoCad, probably the most used 2D and 3D CAD (Computer Aided Design) app on earth. Autodesk Sketchbook is the company's foray into the less-technical drawing world, and it doesn't go half-hearted in doing so.
One unique thing about Autodesk Sketchbook is that you have all the screen property as your canvas. You can summon the tools using taps and gestures.
Autodesk Sketchbook is available for both desktop and mobile on all major platforms. It's available for free with the option to unlock all the Pro Tools in all platform with a single Pro membership. And its latest iOS version has already supported Apple Pencil.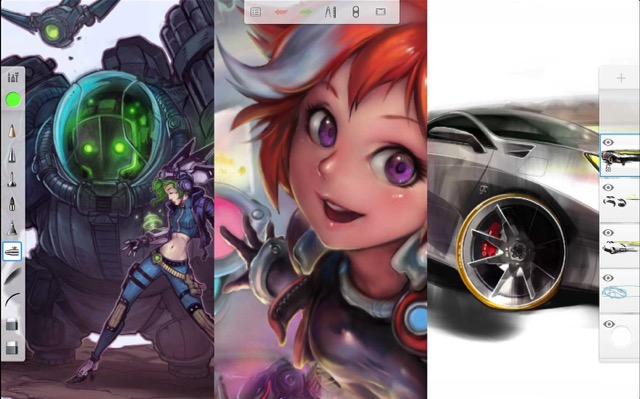 Image credit: Autodesk Sketchbook
6. Procreate
Procreate is an iOS-only award-winning drawing application. It started in the early days of iPad and has evolved into one of the most favorite drawing apps on iPad. One thing that stand out about Procreate is its fast performance. The developer behind Procreate created its own painting engine called Silica and claims it as the fastest 64-bit painting engine for iOS.
Procreate for iPad is available at iTunes App Store for $ 5.99.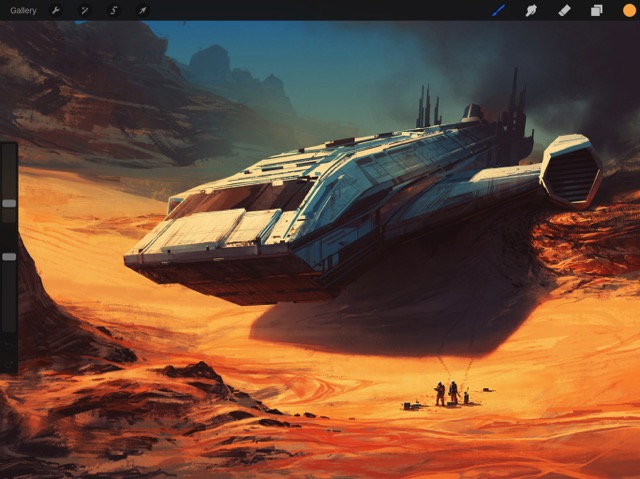 Image credit: Procreate
7. Pixelmator
Started out as a photo editor on Mac – which dubbed as the lighter Photoshop alternative, the recent version of Pixelmator can also do painting and vector drawing. Its iOS version is also a jack of all trades, but it can be a very capable painting app.
Pixelmator for iOS is available at iTunes App Store for $ 4.99.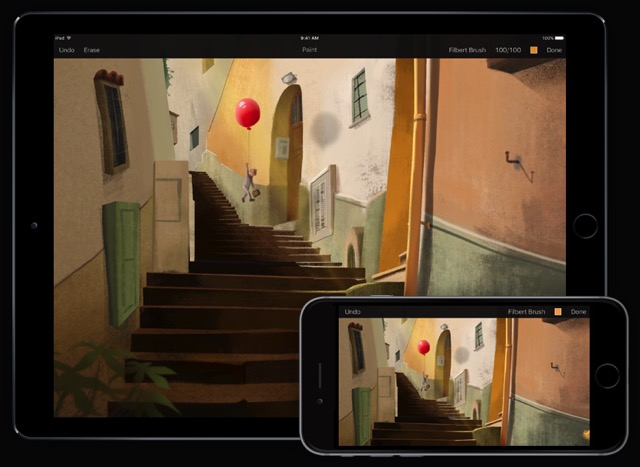 Image credit: Pixelmator
8. Inspire Pro
Another alternative that you can try is Inspire Pro. It differentiates itself from the rest by focusing more on the ability to create oil painting-like drawing and experience. This app is also using its own painting engine called Sorcery and touts its ultra-fast rendering.
Inspire Pro is available at iTunes App Store for $ 9.99.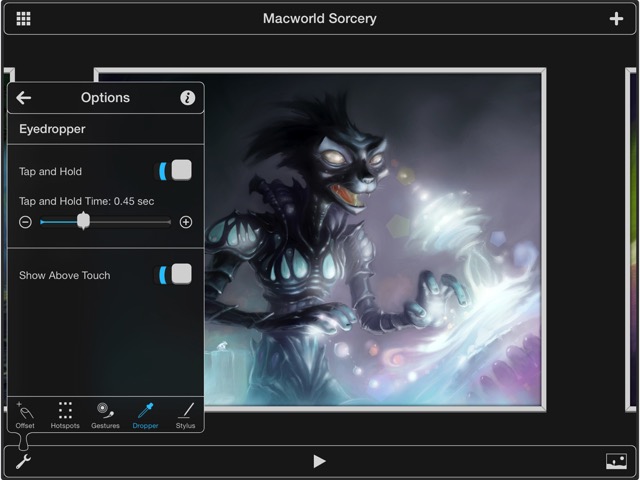 Image credit: Inspire Pro
More Precise Drawing Apps for iPad
9. Adobe Illustrator Draw
Formerly known as Adobe Ideas, the free Adobe Illustrator Draw incorporated precision drawing tools from now discontinued Adobe Illustrator Line. You can draw perfect lines, circles and curves; and you can also draw in perspective mode. This app focuses more on vector drawing, so your result is scalable. And you have all the goodies all Adobe apps have.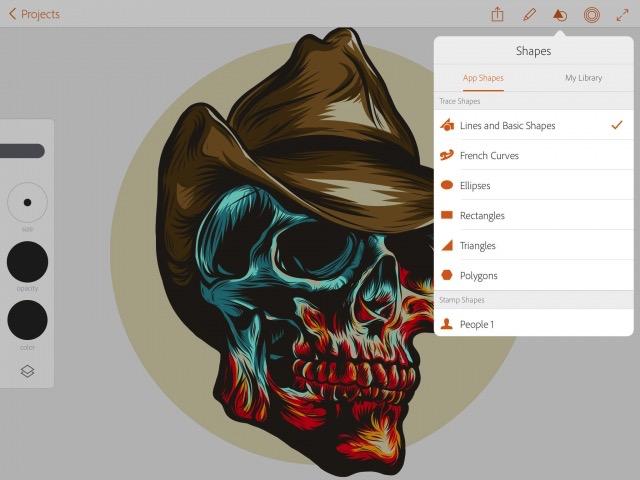 Image credit: Adobe Illustrator Draw
10. Concepts
For more serious precision drawing, this less known Concepts is the answer. It's more than just a drawing app; it's a CAD drawing tool for the touch screen. It's so precise that you can measure every element of your drawing, and scale it to your need. You can export your drawing as vector drawing (SVG), ready to print image (PNG), or even AutoCad friendly DXF.
The app is available for free with the option to upgrade to unlock more tools and features.

Image credit: Concepts
SEE ALSO: 10 Best Styluses for iPad Worth Buying
There are virtually tons of drawing applications available for iPad. The ones listed here are far from complete. If you draw on iPad and your favorite tools are not here, please tell us about them using the comment below.