Emojis are quite possibly the single best way of conveying emotions in messages, which is probably why they're all the rage these days. No matter how many emojis keep being added by Unicode, there'll always be a dearth of emojis. I mean, just recently the Unicode Consortium approved Emoji 13.0, bringing in a total of 117 new emojis that include new smiley faces, more gender-neutral emojis, emojis for food, animals, and flags, and more. But, they are not enough. Plus, even if there are enough emojis, they'll never have the personal touch of an emoji that you made yourself. So, if you've always wanted to make your own emoji, here are 5 emoji maker apps to create your own emojis.
Create Your Own Emoji in 2020
Here we have explained five different emoji maker apps that you can use to create your emojis. Also, make sure to learn the emoji meanings of old emojis so you are not mis-representing them in your creation process.
Create Your Own Emoji Using Bitmoji
Bitmoji is one of the most popular emoji creation apps around the world, especially since it's tightly integrated into Snapchat and offer a wide variety of custom stickers. Bitmojis have recently found their way into third-party apps like Tinder over the past year and it seems to be all the rage among teenagers. The highly-customizable avatars created via Bitmoji app are close to your real-life appearance and a fun, interactive way to converse.
The process of creating Bitmoji is pretty easy and straightforward. While Bitmoji earlier needed you to create an avatar from scratch, you can now simply click a picture and the app will present you with a myriad of stickers.
You can tweak your avatar if you think it's not what you imagined it to be, directly by selecting things like its hairstyle, eyebrow shape, its color, and other details.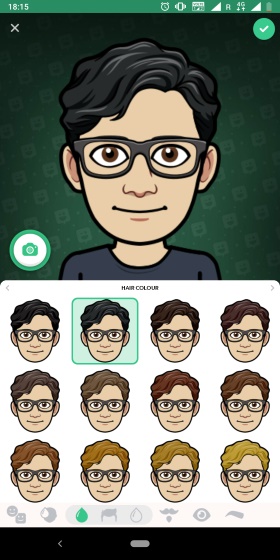 Bitmoji will then ask you to select the body type for your avatar, followed by a choice among a variety of outfits. You can tap the 'tick' at the top right once you've finalized your avatar.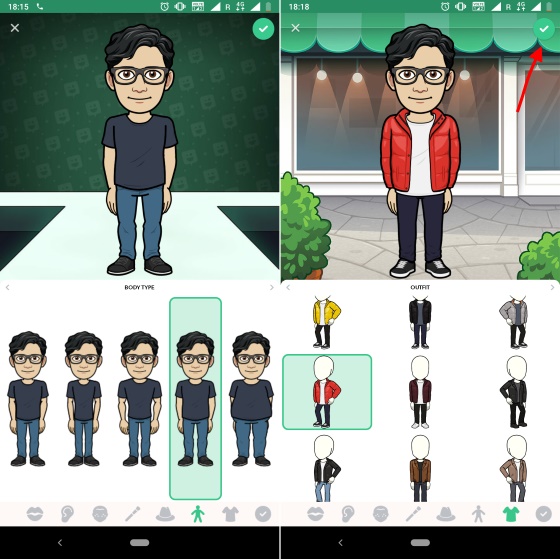 Bitmoji then continues to create a number of different emojis for you, based on the avatar you've created. These can be shared on social media or the messaging apps on your smartphone. Simply open the Bitmoji app, select the sticker and share away.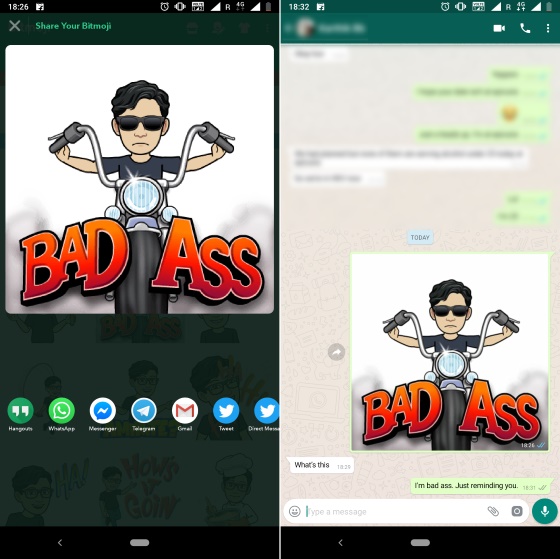 Install: (Free, Android & iOS)
Make Your Own Emoji Using ZMoji
If what you want is to create as well as easily share the cartoonish avatar with your friends, then give ZMoji a try. This app reminds me of the old days of Bitmoji, where you didn't have any AI helping you from the get-go. You had to jump in and create an avatar for yourself from scratch and it seems like ZMoji has embodied the same. You can tweak everything from your eyebrow, nose, and hairstyle to face type, facial hair, and clothing.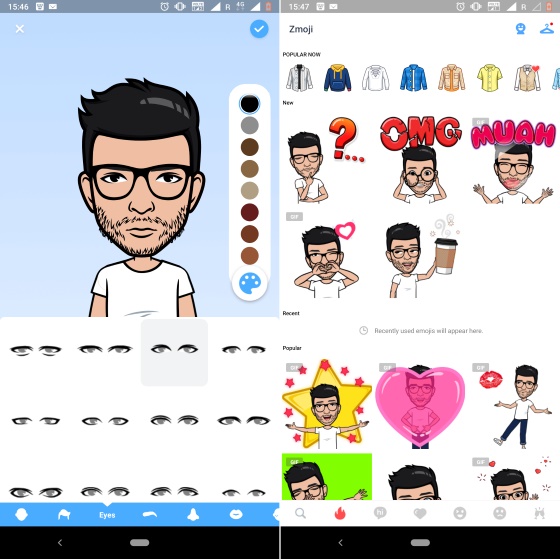 Once you've created ZMoji stickers for yourself, the app will ask you to enable the ZMoji keyboard to be able to quickly send stylised emojis or animated stickers (marked with a GIF tag) to anyone. Well, I'm not truly a big fan of third-party keyboards but you cannot live without the ZMoji keyboard if you're into animated emojis. It has a wide selection of stickers and you probably won't run out of options anytime soon.
The biggest drawback of ZMoji will, however, have to be the myriad of ads served by this app, how sluggish it is at times, and the hefty subscription fees.
Install: (7-day free trial with Pro subscription starting at $9.99/week, iOS)
Note: The Android version of the app has been removed from the Play Store. If you want ot try it, you can download it from APKPure.
Other Apps to Make Your Own Emoji
Stickers may be a widespread trend right now, but emojis are perennial. And if you have been looking for a way to expand beyond the usual set of emojis available on your phone, well, Emojily may be the perfect app for you. It offers a lot of control over each aspect of the emoji creation process.
When you launch the app, you have to option to create a new or random emoji. I love the creations spewed out by the latter but we need to select the former option.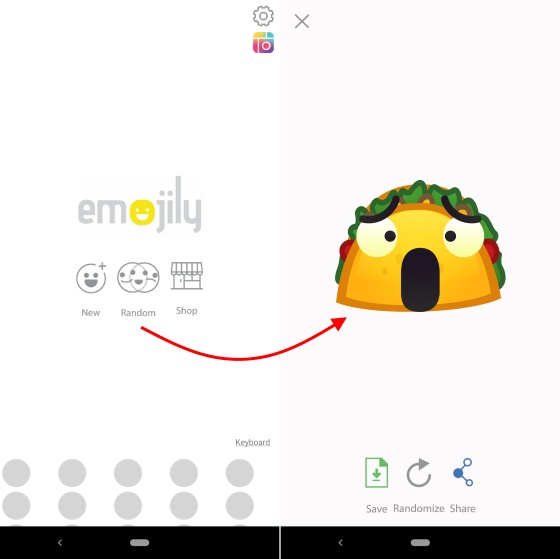 Upon selecting the 'New' option, you'll see the base template for your emoji, to which you can add elements such as eyes, brows, hands, or more to create something like this: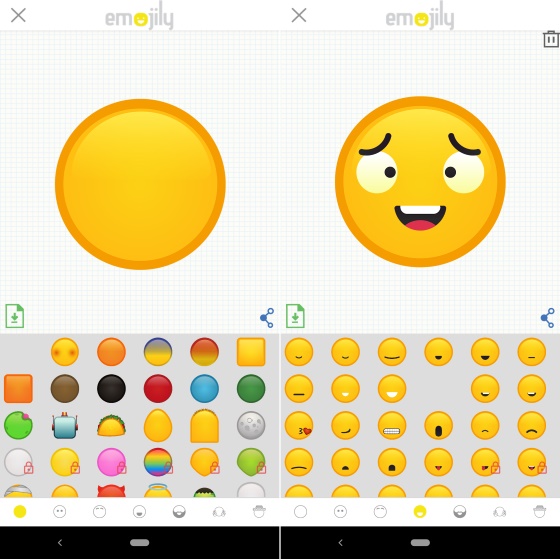 Once you've finalized the emoji design, you can tap the save button on the left to download your creation to the photo library. You can also tap the share button on the right to directly send it to someone.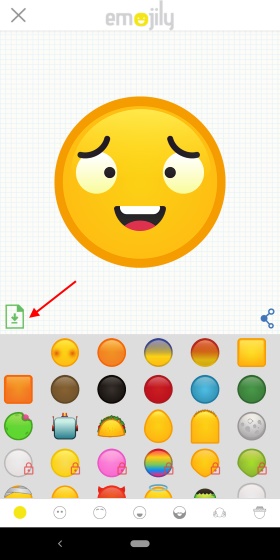 Note: Emojily only gives you access limited elements in the free version and you need to purchase the locked ones for more control over the design. It will make the process even more fun.
The app has been removed from the Android Play Store. But fret not as there's another great app that works exactly the same. It's called Emoji Maker (free) and you can download it if you are using an Android device.
Install: (Free with in-app purchase starting at $0.99, iOS)
Well, if you don't want to download any additional apps and you use Gboard on your Android or iOS device, you can now make custom Bitmoji-like stickers termed Minis from within the keyboard app. It uses both machine learning and artistry to recreate your face in sticker form simply by clicking a selfie, and it's pretty customizable.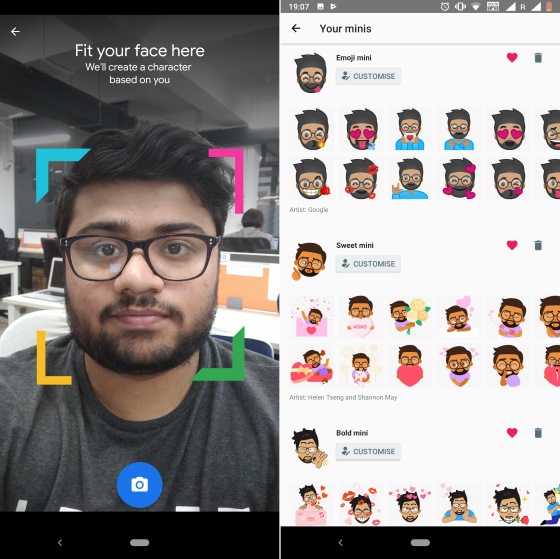 Once you've created your Minis, they will become available in the 'stickers' section of the keyboard and you can send them over to friends like you would do with any other sticker pack – in any messenger app you use. There are about 100 sticker styles that come in 2 different packs, including Sweet Minis and Bold Minis.
Install: (Free, Android & iOS)
Bobble Keyboard is another popular app that is often compared to Bitmoji, but it's very different from the same, in the sense that it does utilize your selfie to create an avatar but instead of creating a fully fledged avatar from it, Bobble simply uses a cartoonised version of your selfie in a variety of different stickers, GIFs, and even stories. It's a really fun app to use, especially if you want to annoy friends with creepy stickers.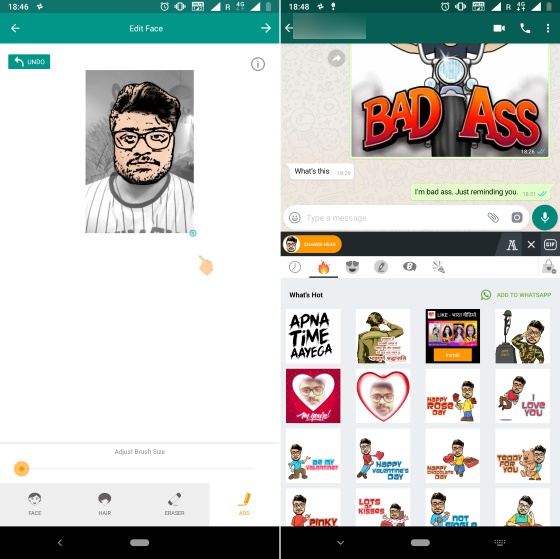 Bobble Keyboard, as the name suggests, makes it simpler for you to share stickers using their dedicated keyboard. But if you don't want to use the keyboard everytime you want to send a sticker, you can add these to WhatsApp's sticker section as well.
Install: (Free with ads, Android & iOS)
Create Custom Emojis with Emoji Maker Apps
Making your own emojis might sound like a difficult task, but these apps definitely make it simple for you to design custom emojis. Popular apps like Bitmoji or Bobble can help create stickers or avatars, while apps like Emojily can be used to create some really well-detailed emojis with ease. So, have you ever wanted to make your own emoji? If you have, which app did you use? Also, if you know of other good emoji maker apps that you think deserves a spot on this list, do let us know about it in the comments section below.
---
Load More