Face Swapping pictures is the new trend on social media, and it's about time you get into the action as well. Face swap is basically interchanging your face with another person in the photograph, and it mostly results in hilarious pictures, but only if you do it right. For that, you need the best face swap apps available for your Android or iOS device. So, cutting to the chase, here are 10+ cool face-swap apps to make your photos hilarious in 2023.
Note: The Face Swap apps are not to be confused with deep fake apps. While face swap apps are used for harmless fun, deepfake videos can be deeply problematic if used for misrepresenting someone. With that disclaimer out of the way, let's get to our list, shall we?
1. Snapchat
Snapchat is probably the most widely used app that allows users to swap their faces with friends with simple filters. Since it's not just a face swap app, using Snapchat will give you access to a ton of other features, Snapchat tricks, and even the new Snapchat+ subscription that adds features like the new Snapchat My AI Chatbot. Plus, even if you don't want to buy into the platform's trends, its face filters are actually pretty good. This makes it one of the most versatile face swap apps you can get right now.
However, unlike other apps that only offer a face swap filter, using Snapchat's face swap filter will require you to do some digging. If you can't find the filter in the camera interface, head to Explore section, search for 'Face swap,' and add it to Favorites. The filter is part of the several offered on the platform, but I can assure you that it's the best one out there. Not only does it do the job well, but the images also clicked using the face swap filter on Snapchat can be shared instantly with your friends, which is great.
Install: iOS (Free), Android (Free)
2. Cupace
Cupace is a great and easy-to-use photo editor app that includes a handy feature called Paste Face that allows you to take the face of anyone in an image and paste it on top of anyone else's face with ease. The feature is made possible because Cupace is capable of manually extracting faces from any image, which can come in handy even if you don't want to go ahead with a face swap and add the face to any inanimate object.,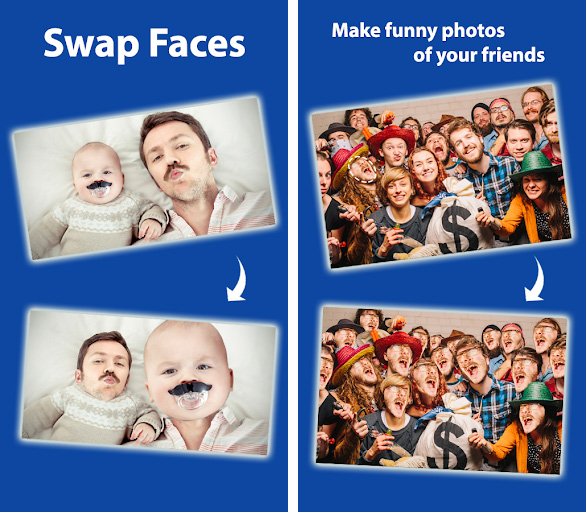 With Cupace, you'll be able to cut a face from an image easily, choose the image you want to paste the face on and then paste the face onto that image. In order to make the process a bit simpler, the app allows you to magnify the image so that your face cutout is as accurate as possible. Once the face is cropped, it's saved in the app, and you can paste it on multiple images if you so please.
Install: Android (Free)
3. Faceover: Photo Face Swap
Another one of the best face swap apps out there is Faceover, an all-in-one solution to swap faces in both photos and videos. Faceover has been packaged in a very easy-to-use interface and hence should be accessible by most users. The app has a variety of pre-loaded images that you can swap your faces with. These range from photos to celebrities to superheroes around the universe.
All one needs to do is tap the template and select the secondary image. Within just a few seconds, Faceover will dish out an amazing face-swapped image. Furthermore, it also comes with deepfake video face swaps we mentioned in our note, so you can give that a shot, too, if you wish. Faceover is free to use with a paid tier, but you must watch ads from time to time to unlock face swap credits.
Install: iOS (Free with in-app purchase)
4. B612
Initially, a simple photo editor, B612 now has the ability to swap faces in photos and videos as well. The feature works pretty much the same way as it does on Snapchat. You can simply select the Face Swap effect within B612 and then easily swap faces with your friends or your favorite celebrities. The results are decent, if not really great, and B612's face swap will definitely give you and your friends a few laughs while you're at it. Plus, it can be a fun photo and video editor for Instagram Reels as well.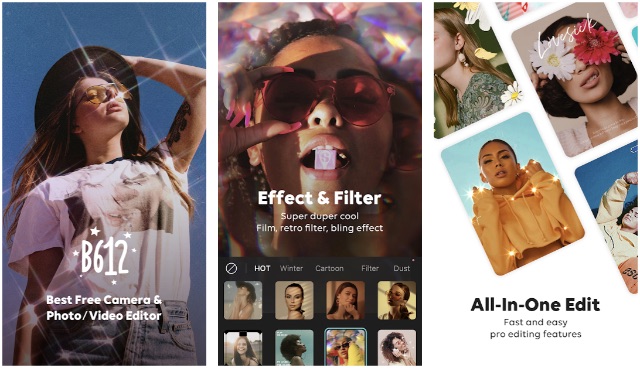 Install: Android (Free), iOS (Free)
5. Face Swap Booth
If you want a full database of faces that you can swap around any time you want, Face Swap Booth is the app to install. The cool face-swapping app lets you add faces, which you can manually add or let the app auto-detect it. You can use these different faces to swap around different people and have fun. Moreover, you can even swap your face with pre-loaded celebrity faces in the app.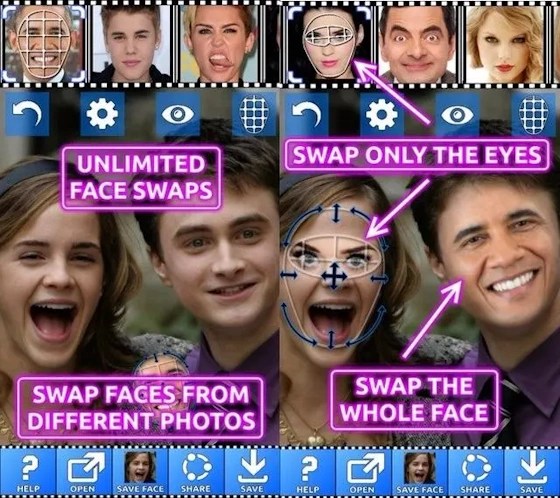 Other than that, the app also brings advanced editing tools, funny face masks, and more. Face Swap Booth is available in a free version, but it's fairly limited, so you will have to make an in-app purchase of $2.99 for the Premium version of the app to save unlimited photos, faces, remove ads and watermark, and more.
Install: Android (Free) / iOS (Free with in-app purchase)
6. Reface
Although Reface is technically a deepfake app, you can use it for swapping your face with celebrities on videos and GIFs. Reface, previously known as Doublicat, is one of the viral apps that you can use for creating quirky face swaps and sharing them with your friends.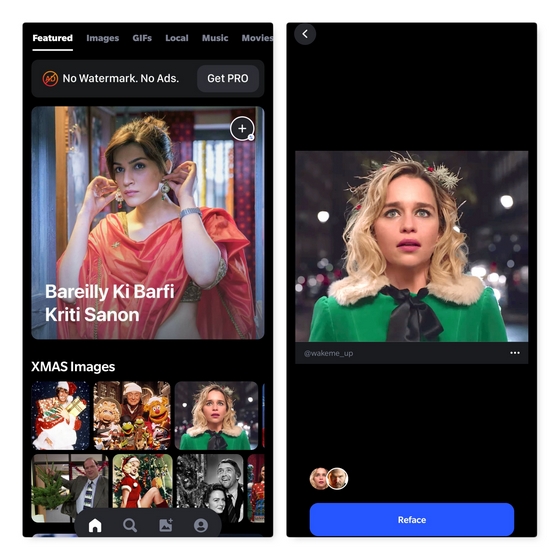 With Reface, you get a wide range of GIF and image collections that you can use to create new GIFs. Moreover, the developers are working on adding new templates every day, so you won't miss out on new content when you use this app.
Install: Android / iOS – Free (in-app purchases)
7. FaceApp AI Face Editor
This face-swapping app is the real deal if you're looking forward to replacing a face in a photo with a celebrity. FaceApp AI Face Editor offers more than 60 highly realistic filters. You can choose from a list of celebrities or add a custom face to morph a photo. You can find the face-swapping feature in the photo editor section of the app. Not only it blends the faces very well, but it also saves the morphed photo to the gallery without paying a penny.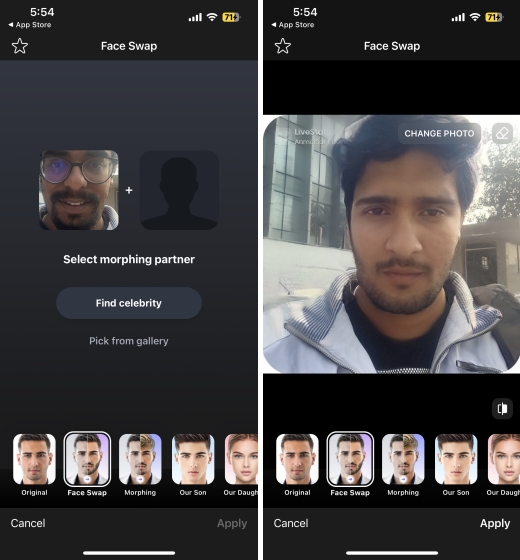 In addition to face swaps, the app also offers gender swaps, old and young age filters, weight filters, and more. You can tinker with different filters in the app to get desired results. The AI of the app works flawlessly, especially for editing photos and retouching them. FaceApp AI Face Editor is one of the best face-swapping apps that you can use to give your photos a hilarious angle.
Install: Android (Free) / iOS (Free)
8. Copy Replace Face
If you want to be a bit creative with face swapping, "Copy Replace Face" can be the right foil for making your images look standout. With this app, you get the desired flexibility to customize the entire appearance. For instance, you have the option to copy the whole face or only copy parts of the face like eyes, lips, and nose, which come in super handy, especially when crafting a unique-looking face. Furthermore, it also allows you to layer multiple faces on top of each other, which can go a long way in giving your pic an altogether different appearance.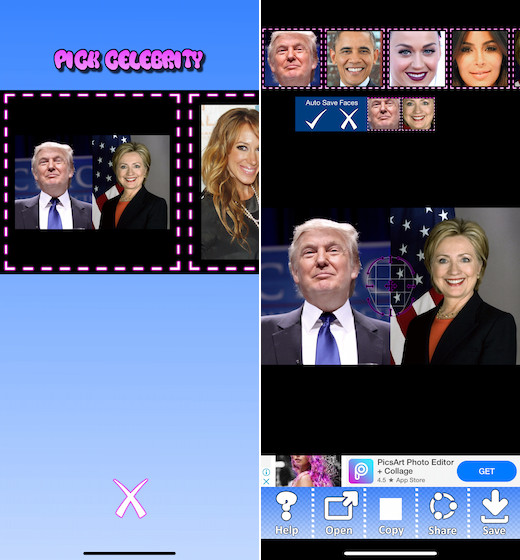 Install: iOS (Free)
9. Photo Face Swap
Photo Face Swap is another app that lets you swap faces in your pictures, and while it's easy to use, the results depend on how well-lit the pictures are and if your face is rightly aligned. So, our results were hit-and-miss, but we'll still recommend you give this a shot since the process of face swapping in the app is pretty hassle-free. Moreover, it includes a Face Bomb Effect, which puts one face on all the people in a picture.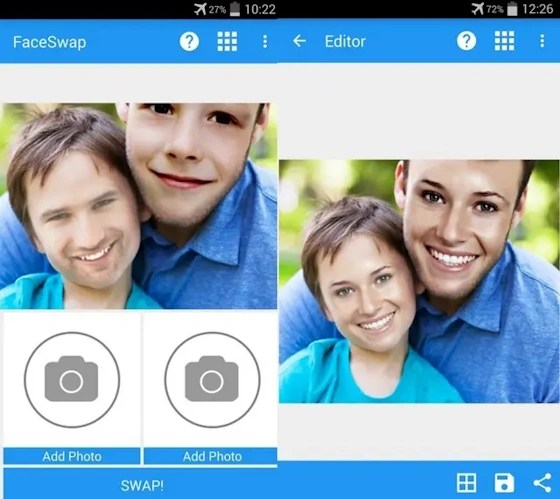 Install: Android (Free)
10. MixBooth
MixBooth does not swap faces in your pictures. Instead, it mixes up two faces into one, which is pretty fun too. The app lets you add your photos and photos of people you want your face mixed with to detect faces and mix them up automatically. You can even mix your face with the faces of strangers or celebrities to see how you would like in someone else's skin.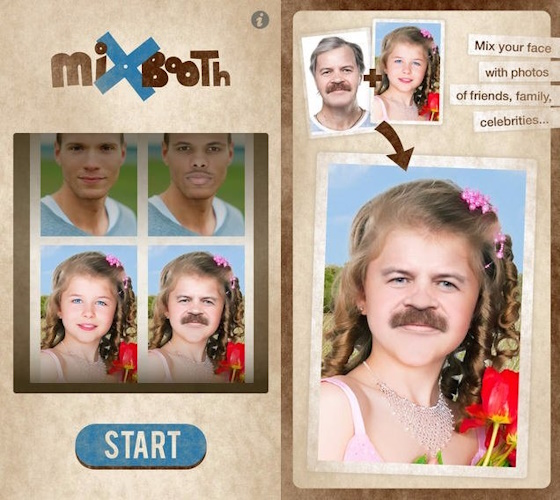 Install: iOS (Free)
11. Swap Faces With Your Friend Using Instagram
Instagram has a wide variety of filters that you can use. If you and your friend are hanging out together and you want to swap faces with each other, Instagram has you covered. All you have to do is open the Instagram camera, browse for effects, and search for 'Face Swap.' Then, you and your friend can record a video together (or take a picture), and the filter will swap your faces. It's a pretty fun filter that you can try out. There's even a group face swap filter that works with a bigger group of friends and can be loads of fun at a party.
Frequently Asked Questions
1. How do I change the face on a picture?
You can use one of these face swap apps mentioned above to swap faces for fun.
2. What app can you use to put your face on celebrities?
You can use apps like Face Swap Live and Face Swap Booth to swap faces with celebrities as they come with preloaded celebrity faces in the app. You can also switch to any celebrity with an image search.
3. How do you blend two faces together?
You can check out MixBooth to blend or merge two faces together. It is available on both Android and iOS.
4. Is face swap online safe?
Most popular face swap apps are safe to use. However, I would recommend you go through the privacy policy of the app you use to know how they handle your data.
5. How do I replace a face in a video on iPhone?
You can use Face Swap Live to replace the face in videos from your iPhone.