FaceApp has again gone viral for its ingenious ability to create old-age photos using AI. You can create your aging photos in just a few taps and it does look kind of accurate. That said, the app is not effective on every face type. As we have seen in thousands of pictures shared on social media platforms, FaceApp is not working equally good for all the users. If you are one of those users who are not getting authentic results from FaceApp, then you should read on. We have found some great apps which are almost similar to FaceApp and have additional features as well. So without wasting any time, let's get straight to the best FaceApp alternatives you should use in 2020.
Best FaceApp Alternatives (2020)
We have included all the apps like FaceApp which are available on Android and iOS app store. In our testing, all the apps work fine and are mostly free. However, you will find ads in some of the apps so there is that. Now having said that, let's begin with the best FaceApp alternative you can use right now.
1. AgingBooth
AgingBooth is a great alternative to FaceApp. It works very similar to FaceApp and creates aging photos in seconds. The interesting thing about AgingBooth app is that it creates aging photos in a very natural and realistic way, just like FaceApp. There are no superficial stickers or any kind of unnatural blemishes. The process to create an aging image is very simple. Just install the app and click on the "START" button. Further, you can either choose photos from your device, capture an image from your camera, or even import images from Facebook. The app takes a few seconds to process the image and offers you to adjust eyes, chin, and lip. That's it. After a few seconds, you will have an aging photo straight from 2051.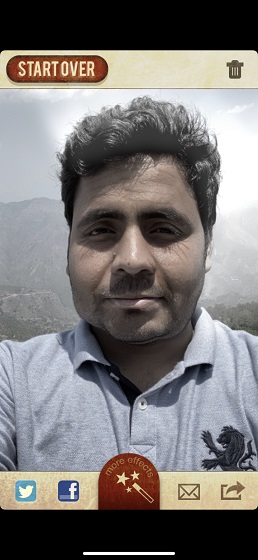 The same company also makes other face and body transformation apps including FatBooth (free), BaldBooth (free), UglyBooth (free) and more. All in all, it's an excellent alternative to the FaceApp and you can use it on both Android and iOS devices.
Install AgingBooth: Free (iOS)
2. Oldify
Oldify is another excellent FaceApp alternative which does the job really well. It allows you to create images from the future as to how you will look when you grow old. The app is quite similar to FaceApp which means it's simple and works for the most part. The great part about Oldify is that you can manually enter your age and find aging images. Besides that, you have access to lots of effects as well. So go ahead and download Oldify and create your old self in the go.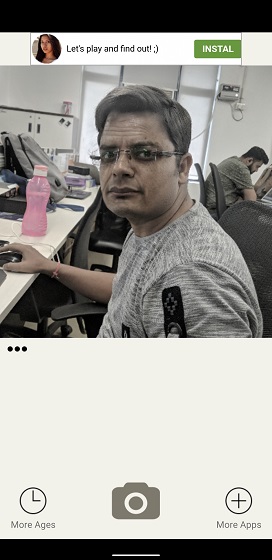 Install Oldify: iOS ($0.99)

3. Face Changer Photo Gender Editor
Similar to other apps in the list, Face Changer allows you to create images from your old-age. Not only that, but you can also change your gender and see how you would have looked if you were born female. There are many effects which let you create attractive images, bald portrait, skinny face, etc. Overall, Face Changer app is a feature-rich app and if you are looking for a FaceApp alternative then you should definitely check it out. Do note that Face Changer app is only available on Android.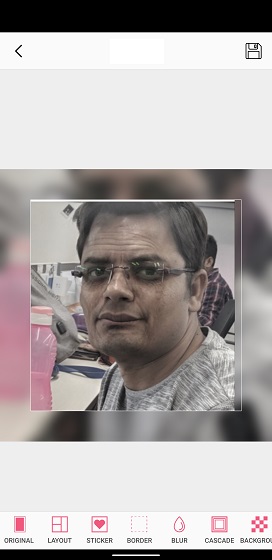 Install Face Changer: Android (Free)
4. Make Me Old
Make Me Old is a decent FaceApp alternative. It only allows you to create aging photos and is missing other features like creating young images and changing gender. The app is pretty simple and does a decent job at creating aging photos. If you are looking for a no-frills app which lets you create some realistic old-age photos then Make Me Old can be a great alternative. However, do note that the app is available on Android only.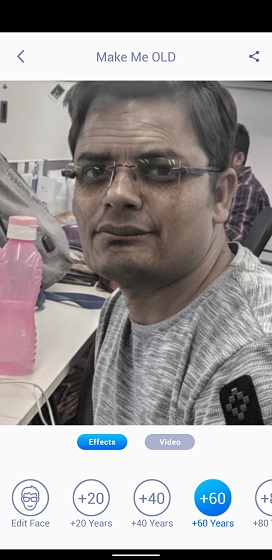 Install Make Me Old: Android (Free)
5. Old Face
Old Face app is our final FaceApp alternative in this list. You can create old-age images in a few taps and the final images are decent at best. The output does not look artificial and I think you are going to love this app for its natural skin tone. You can also capture an image from the camera or choose an image from the gallery. All in all, Old Face is a decent app and you can give it a try.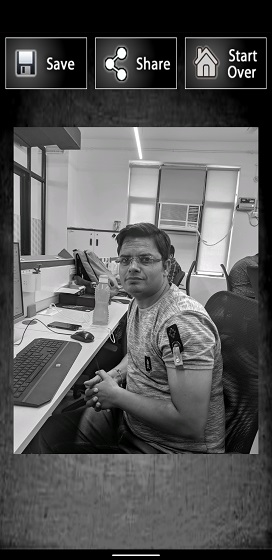 Install Old Face: Android (Free)
6. Face Story
For getting a realistic aging face, you can't go wrong with Face Story. The app comes with an aging booth camera that lets you change your face in the blink of an eye. Just like FaceApp, it also takes advantage of both the AI face-scanning and the latest algorithm to give an aging look to the skin, eyes, nose, hair, lip, and cheek. Probably, the best part about this FaceApp alternative is the ability to offer a better looking aging face without having to edit the photo or use filter. Moreover, it also works with the existing images so that you can transform the look of any pic with the desired flexibility. Everything considered; if you want to get impressive aging faces without having to use photo editing tools or filters, Face Story can be a better substitute to FaceApp.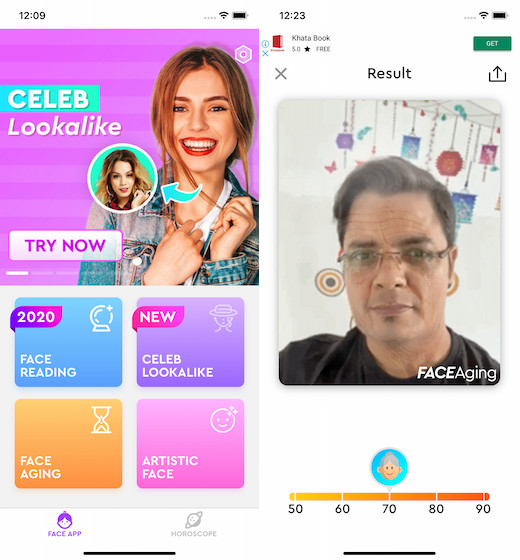 Install Face Story: Free (iOS)
7. Old Age Face Effects App
What has called for my attention in the "Old Age Face effects App" is the full-on customization that brings plenty of fun into the play. For instance, you can use a variety of face filters to get a more befitting aging face, baby-face, bald face, and whatnot. That's not all, the app has also got a ton of stickers so that you can make your face look hilarious. So, just in case you aren't pleased with the customization in FaceApp, chances are you may find Old Age App spot on. Another notable feature of this app is the gender swap which allows you to transform a male into female or vice-versa. Not just that, there is also a fat face booth to let you create incredibly funny faces.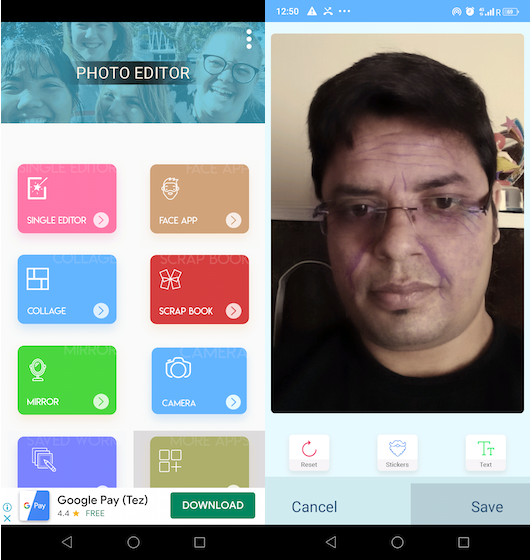 Install Old Age Face effects App: Free (Android)
8. What Will I Look Like Old Face
While FaceApp comes with a range of features to let you get an aging photo, it lacks a tool that can let you age yourself up to 99 years with precision. And that's exactly what makes "What Will I Look Like Old Face" an able alternative to FaceApp. The app analyzes several important facial characteristics to create an aged pic. Just like its famed rival, it also makes the most of AI to generate aging faces. Furthermore, it's got a variety of aging filters so that you can choose how you would like to be when you get old. And with some really eye-catching animations on offer, you also have the flexibility to add some fun quotient to the whole affair.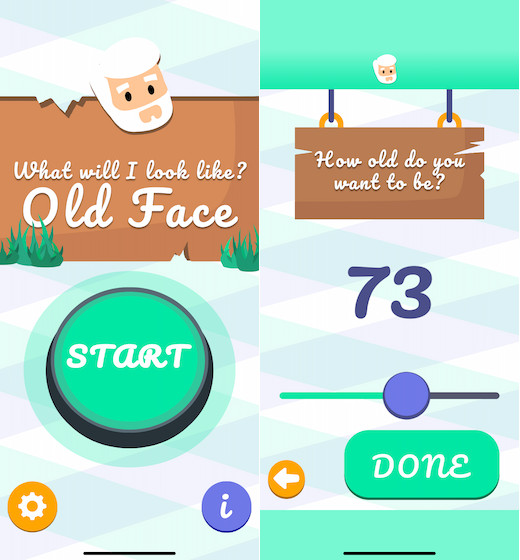 Install What Will I Look Like Old Face: Free (iOS)
9. Face Booth
While Face Booth may not be as versatile as FaceApp, it's equally efficient when it comes to changing a face into an old age face. The app boasts a large collection of old face masks like bald, mustache, beard, fat, and glasses. Thus, you have more freedom to choose from different face masks that can suit your face. Just like most counterparts, it also comes with a built-in camera to let you snap pics and then change the look of their face. Besides, you also have the option to transform your existing images.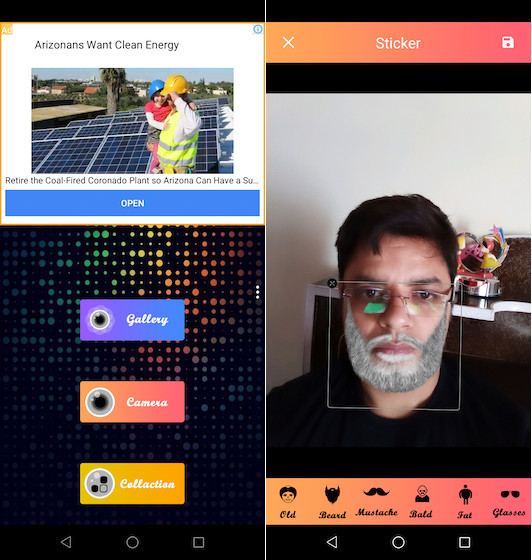 Install Face Booth: Free (Android)
10. Old Booth – Age Up Camera
Last but not least, Old Booth is one of the coolest FaceApp alternatives. It offers a pretty straightforward way to age the face of photos after 20, 40, 60 or 80 years. Thanks to the auto-face detection and crop features, it makes the task of transforming the age of face a breeze. Thus, you don't have to use filters or editing tools to get the desired look. One of my favorite features of this app is the ability to compare looks that help you take a close look at all the wrinkles that would come up over time. And once your pic is ready, you can unleash them on multiple social networking platforms like Facebook, Twitter, and Tumblr to send shock waves across the spectrum!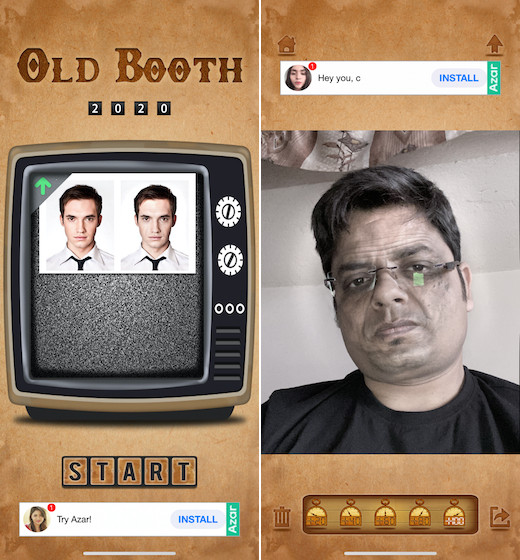 Install Old Booth: Free (iOS)
Get the Best FaceApp Alternatives Here
So that was our quick look at the best FaceApp alternatives available for both Android and iOS devices. While FaceApp is definitely brings more features to the table, the alternatives are not too bad either. AgingBooth and Oldify are particularly two great apps that I would recommend. However, go through all the other apps and see which one do you like the most. So that will be all from us. If you like the FaceApp alternatives, do let us know in the comment section below.