Are you an audiophile? Do you consider your audio collection as a prized possession? If your answer to any of these questions is in the affirmative, then you've come to the right place. You would have tons of audio files on your smartphone but let's be honest – not all of them are completely flawless. There may be some parts of a few audio files that you don't like. If this is true, then you can edit those parts and make your collection near perfect. Now, you may be wondering how to do that? Well, without further ado, here is a list of 10 best audio editing apps for Android you can use:
The Best Audio Editing Apps for Android Devices
1. Audio Evolution Mobile Studio
If you're looking for an Android app to do some advanced audio editing, then Audio Evolution Mobile Studio wouldn't let you down. With the option to let you edit unlimited tracks, the app boasts some cool features like equalizer, loop playback, multi-track, and MIDI recording. There are other options as well, like letting you select from a list of virtual instruments and insert their sound while editing and adding effects like chorus, compressor, reverb, etc.
Though the app may seem daunting to use at first, there are video tutorials in the app that can teach you how to use it. You can download Audio Evolution Mobile Studio as a trial version from the Play Store and if you want the full version, you can buy it for $6.99.
Install: (Free trial, $6.99)
2. WavePad Master's Edition
With WavePad Audio Editor, you can either choose to add audio files from your phone's storage or you can record them yourself as well. Along with the basic functionality of an equalizer, you can add effects such as amplify, normalize, and compress. The app also comes with a noise cancellation feature that is automatically activated whenever you choose to record an audio from within the app. Though not very aesthetically pleasing, WavePad Audio Editor has tons of features which compensate for its not so good looking interface.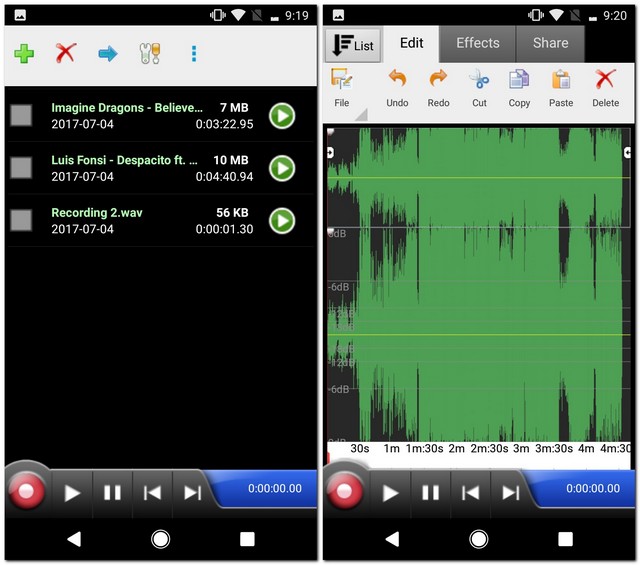 To edit an audio, you would first have to add it to the app and then tap on it. You can even merge multiple audio files to create a mix. And once you're done with your masterpiece, you can share it with your friends from within the app. Sadly, its free version, WavePad Audio Editor, doesn't support many devices, but if you really want to get your hands-on this app with all the features unlocked, then you can buy its Master's edition.
3. Voice PRO
Voice PRO is an audio editing app that can work with more than a hundred audio formats. You can render audio files to up to 32 kbps and even insert audio of your own. Voice PRO lets you merge two audio files even if they are of different formats. You can change their properties like gain, time, and reverb, and render them to a multitude of audio formats.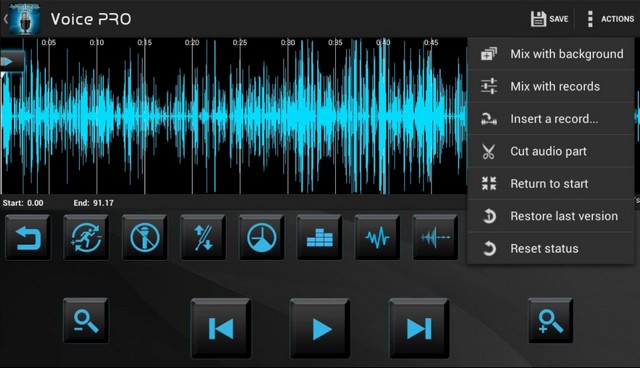 There are various plug-ins that can be installed from within the app. These plug-ins let you do a variety of other things like encrypting and decrypting your records and backup and restore records from the cloud. With a home screen widget that can turn out to be very handy, Voice PRO is overall a nice audio editing app.
Install: ($12.99)
4. FL Studio Mobile
If you want a high-quality audio editing app, then FL Studio Mobile is what you should have on your Android smartphone. With its high-quality synthesizers, sampler, drum kits, and sliced-loop beats, FL Mobile Studio will leave you mesmerized. The app has various effects which include audio ducker, distortion, equalizer, and delays and also comes with a few sample presets. Coming with MIDI controller support, you can play configurable virtual instruments. Your edited files can be exported in both WAV and MP3 formats and be shared with your friends.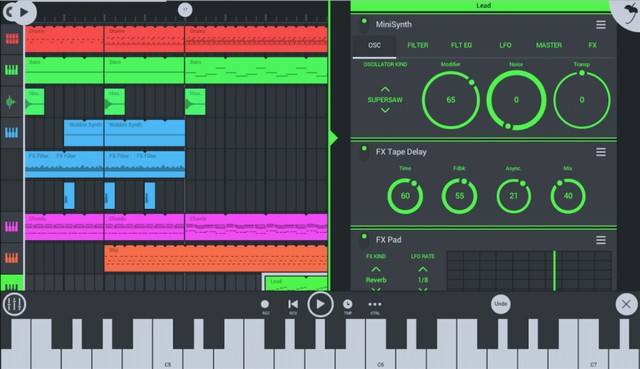 For an app that costs $15.99, FL Studio Mobile is worth every penny. If audio quality is your primary concern, then you should look no further than this.
Install: ($15.99)
5. Recording Studio
Recording Studio lets you record, edit, and mix your audio files. You can add up to 24 audio tracks selected either from your recordings or from the virtual instrument tracks within the app. Recording Studio supports WAV or MP3 audio files from your device and lets you mix them even when you're offline. Moreover, you get a configurable metronome and tempo ranging from 30 – 260 BPM. With the ability to edit each single note, you can create some really great sounding music.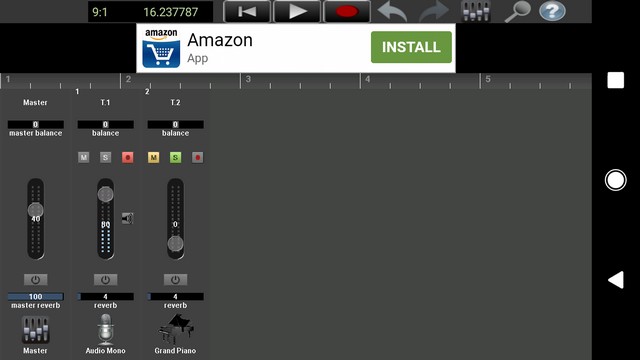 Recording Studio Lite is a free version app which only lets you import up to 2 tracks at a time. To gain access to all the features, you should consider buying Recording Studio Pro.
6. Lexis Audio Editor
Lexis Audio Editor is a free app that lets you edit files and save them in your desired audio format. You can copy and paste audio files from one file to another to create a mix. In the app, you can change the tempo, speed, and pitch of an audio file. With an audio file added to the app, you can trim it, add a fade in or fade out, insert silence, or even delete some part of it.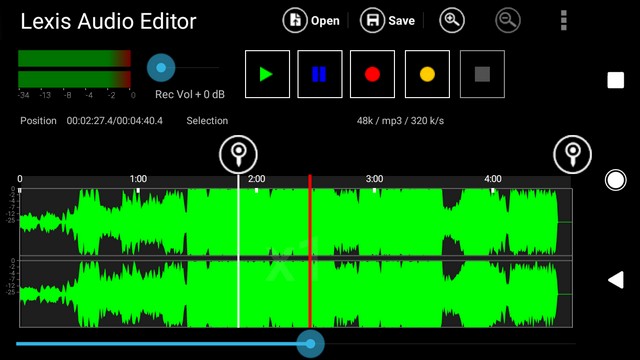 Personally, I like this app very much as it costs nothing, yet boasts features like compressor, equalizer, and noise reduction which most other apps offer in their paid version. Rendering up to 320 kbps MP3 and 16-bit PCM WAV, Lexis Audio Editor is one of the best free audio editing apps.
Install: (Free, with in-app purchases)
7. Caustic 3
Caustic 3 is not exactly an audio editing app, but it can create some wonderful music. Inspired by rack-mount synthesizers, the app lets you choose up to 14 machines from a choice of many like Subsynth, BeatBox, Vocoder, FMSynth, 8BitSynth, etc. To make things interesting, you can add up to 2 effects per machine.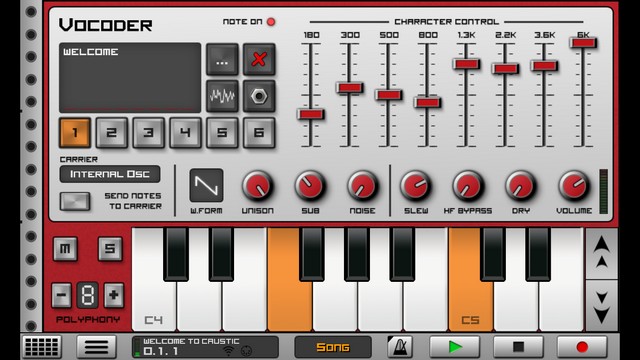 You can add your own WAV files to be used in the PCMSynth, BeatBox, and Vocoder. Supporting all uncompressed WAV files with any sampling rate, Caustic 3 is a cool app that costs nothing and let you create some amazing music.
Install: (Free with in-app purchases)
8. AudioDroid
AudioDroid lets you edit and mix a plethora of audio formats. You can edit audio files to create either a ringtone or an alarm or even a notification tone. The audio files can either be from your device storage or recorded by you. Apply offline effects to your audio files with a 3-band equalizer, filter, tempo, or reverb. The app comes with some predefined presets such as bass, hall reverb, and concert hall reverb to help you add some common effects with a single tap. Like most other apps, AudioDroid lets you share your edited audio files from within the app.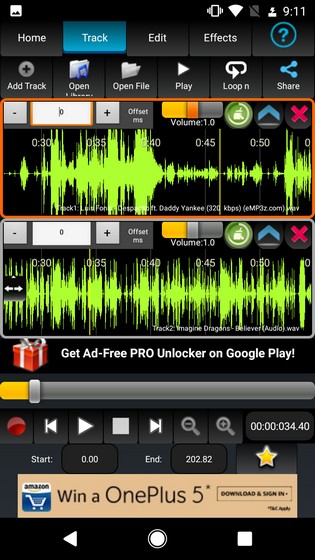 Most features of the app are included in AudioDroid. However, to get the audio effects, you'll have to buy AudioDroid Pro which costs $2.99.
9. Ringtone Maker
If you are not looking for a high-tech editing app, then Ringtone Maker should have enough features to meet all your requirements. With the basic features like copy and paste, fade in and fade out, and volume adjustment, this app is a great option to create custom ringtones, alarms, and notification tones. You even get the option to set the ringtone from within the app. As of now, you can edit MP3, FLAC, OGG, WAV, AAC (M4A), and 3GPP/AMR audio files. Being a free app, Ringtone Maker comes with ads. However, these can be removed by buying its pro version that costs just $0.99.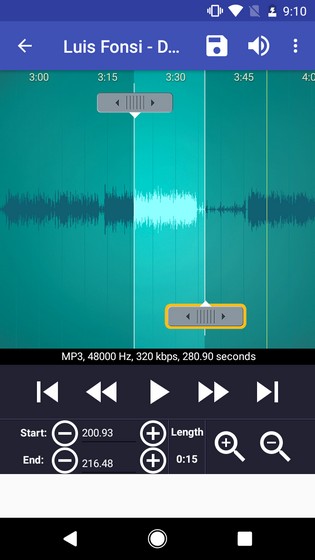 10. MP3 Cutter and Ringtone Maker
Like Ringtone Maker, MP3 Cutter and Ringtone Maker comes with the basic editing functionalities. You can use this app to create ringtones, alarms, or notification tones. The start and end times of the audio can be set manually for precise timing. If you want, you can even record your own audio for editing. Personally, if I want to set a particular part of a song as my phone's ringtone, this is the app I use.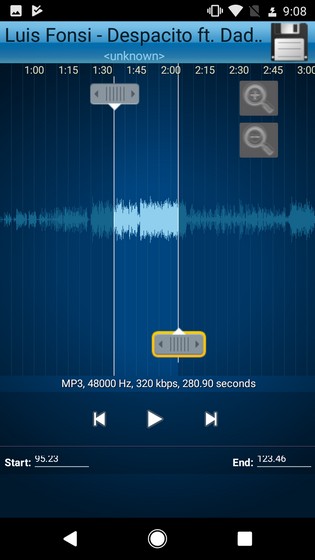 Install: (Free)
SEE ALSO: 10 Best Audio Editing Software
Which Audio Editing App Are You Using?
You may need an audio editing app on your Android device for a variety of purposes. They could range from something as simple as clipping a part of an audio file to create a ringtone to something as advanced as mixing different files and adding effects. Whatever your requirement may be, there is an app just for you. And now that you know the best audio editing apps that you can download on your Android device, which one did you go for? Do let me know in the comments section below.
---
Load More