Skins in Minecraft come in all forms, shapes, and styles. Some players use them to disguise themselves, while others use the skins to reflect their personality. Your choice for installing a custom Minecraft skin can be different, but it has to be a good one. Building upon that, we are bringing you the most popular category of skins today, and that's the best Minecraft girl skins you can use in this sandbox game. The skins on our list are easy to use, and you can apply them on both Minecraft Java and Bedrock editions. Thanks to the collaborative community around this game, all of these skins are free to use. Many of these girl skins are from popular TV shows, movies, and anime, so your friends can recognize them instantly. Meanwhile, others are already popular in the multiplayer community of Minecraft. Whatever you choose, the skins on our list will surely help you gain popularity on all Minecraft servers. So, without further ado, let's explore the 15 best Minecraft girl skins you can get your hands on.
Best Minecraft Girl Skins in 2022
Before diving into the list, make sure you are using the official version of the game only. Online stores are filled with Minecraft fakes. These skins will only work on the official versions. You can use the table below to jump to specific skins as per your interest.
1. Nezuko Kamado from Demon Slayer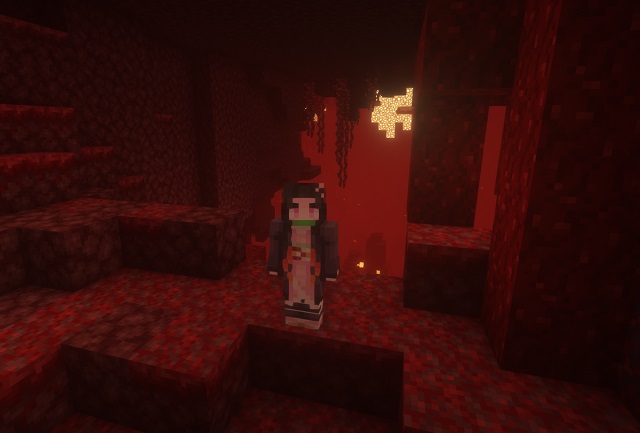 Let's start strongly with a character from one of the most popular anime series. Nezuko Kamado from the Demon Slayer anime series is a fan-favorite character. Adorning a traditional Japanese dress, it is a popular Minecraft girl skin among online players. This skin presents Nezuko in her demonic form with iconic pink eyes and bamboo wrapped on her mouth. Even though it's in pixelated form, her character design is hard to miss. Not to forget, the level of detail in costume and hair design is unmatched.
Download Nezuko Kamado Skin
2. Sakura Haruno from Naruto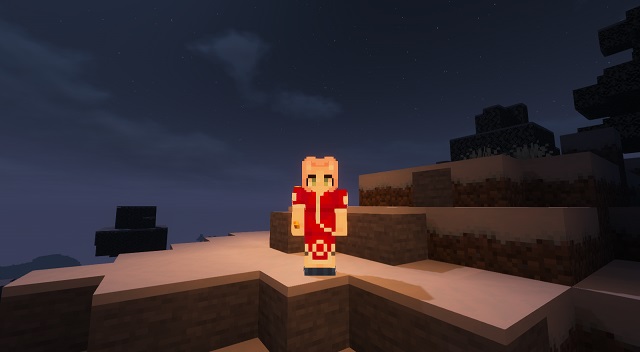 Continuing with the anime spirit, we have another popular character. Sakura from Naruto is an evergreen character that anyone can easily recognize if they have seen the anime series. This skin focuses on Sakura's default ninja-style costume. A particular thing you will notice is the shorter hair of the character that fits well with the Minecraft body shape. As an anime fan, the creator has paid homage to a turning point in the series with this major detail.
Download Sakura Haruno Skin
3. Billie Eilish
Next on our list of best girl skins in Minecraft is Billie Eilish. If you are into music or active on social media apps like TikTok in general, you surely know her. This young American music artist is capturing hearts all across the world. And well, her Minecraft skin attempts to do the same. Focusing on her costume from the song "No Time to Die", this Minecraft skin is iconic. It captures her hairstyle, clothes, and overall aesthetic very well.
Download Billie Eilish Skin
4. BTS Minecraft Girl Skin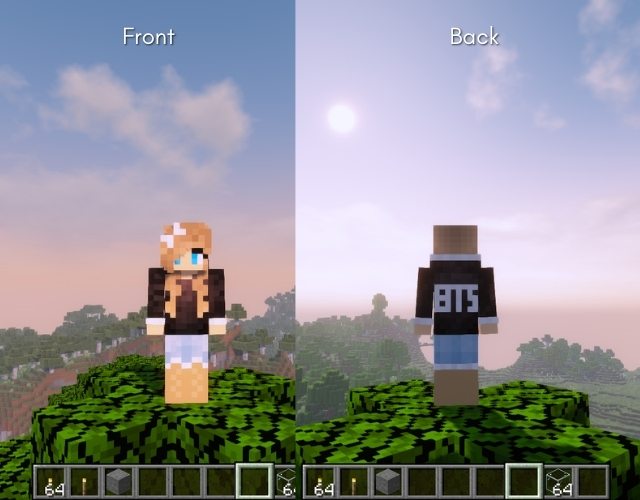 In 2021, no discussion around music can be complete without the K-pop group BTS. This Minecraft skin pays tribute to them. It portrays a member of the BTS ARMY with the group's logo on the back of a black hoodie. Beyond that, this skin is subtle in its portrayal. The blue eyes and bow on the head make it stand out well. But it surely is going to capture the attention of other BTS fans on a server. So, if you are a BTS ARMY too, you shouldn't skip over this skin.
Download BTS Girl Skin
5. eGirl Minecraft Skins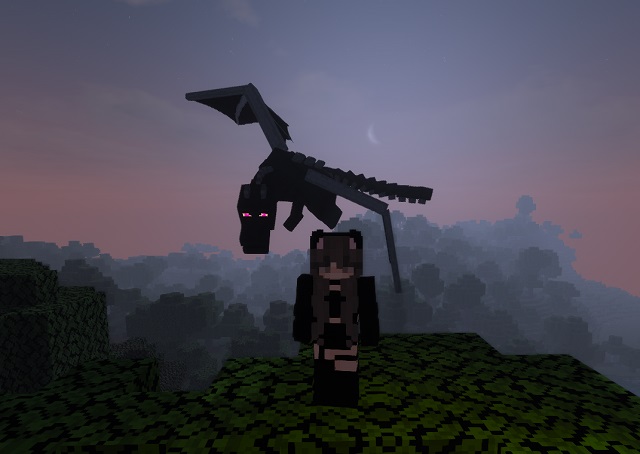 Next up, we have a collection of the best eGirl skins for Minecraft. All of them follow a similar aesthetic but vary in execution. You get the same hairstyle with various variations of it. Some of these adorn costumes, while others are purely around gaming. If you are looking for goth aesthetics in the best girl skins for Minecraft list, this collection will be ideal. Some of these even have special details like headphones and hoodies in them.
Download eGirl Skins
6. Female Creeper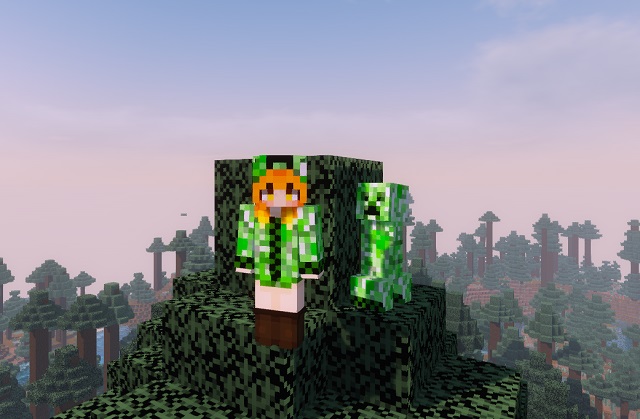 Now, let's try moving close to the world of Minecraft. The next skin is a direct tribute to Minecraft itself. Instead of adding female elements to the original creeper skin, this takes it to another level. We have a female character adorning what appears to be a creeper-style costume. Other than the unique texture, you can even notice the Creeper's mouth on it. If you want to see how it looks next to an actual Creeper, you can get it right away.
Download Female Creeper Skin
7. Zombie Girl Skin
The current Minecraft roster doesn't offer a lot in terms of diversity for Zombie mobs. This skin tackles that by providing us with a female zombie. The skin's color scheme is inspired by the in-game drowned zombie. Unlike the creeper skin, this isn't like a costume. We have a skin here that feels like a new mob in itself. Its aesthetic fits well with the existing in-game design.
Download Zombie Girl Skin
8. Pikachu Girl Minecraft Skin
Next, we have a rather cute Minecraft girl skin, and it's a Pikachu-themed skin. The design and color combination in itself is adorable. And to push it further, it also has additional details like pointed ears and Pikachu's tail on its back. However, another point worth noticing here is that the skin also has an HD version available. If you have Minecraft mods that support HD skins, it can come in handy. This is a popular skin among Pokemon lovers that play Minecraft.
Download Pikachu Girl Skin
9. Elsa from Frozen
Now, we have a skin inspired by the popular Disney movie Frozen. Elsa's character doesn't come with any ice powers (not even with some of the best enchantments in Minecraft) but still looks amazing in cold Minecraft biomes. This Elsa skin has the character's blonde-almost white hair. It adorns the light blue, almost cold sea-like costume and eyes. Plus, the minor color variations in the character's dress make it an interesting choice for a girl Minecraft skin. If you are a fan of Disney movies or simply want to be the queen of ice, you should check out this skin.
Download Elsa Skin
10. Pink Cat Girl
Skins like this are commonly seen in many multiplayer servers. This particular girl skin sports pink clothes with cat ears on the character's head. And as is the case with some of the most popular Minecraft skins, you also get blue eyes. Unlike most skins, this one also focuses on the flow of the hair, creating proper edges and curves on both sides. The skin's theme feels a little odd in most biomes, but it fits right into the online multiplayer system of Minecraft.
Download Pink Cat Girl Skin
11. Scarlet Witch
Giving a nod to the Marvel universe, this skin is inspired by Wanda Maximoff. It is a replica of the Scarlet Witch costume from the TV show Wanda-Vision. The skin has powerful vibes like her original character. Then seeing it in Minecraft's blocky style also makes it adorable at some level. The scarlet clothes match well with the headgear and golden hair. Once you enter the Nether portal, you will notice how well the costume fits within the Nether dimension. If you are a marvel fan, don't miss out.
Download Scarlet Witch Skin
12. School Girl Minecraft Girl Skin
Toning down the power vibes, we have one of the cute Minecraft girl skins. This one has a pink-haired character wearing a school uniform. The character is complete with a school blazer, sweater, tie, and even a matching skirt. And to top it off, the creator has added ribbons to the character's hair. There are several school uniform-themed skin for Minecraft, but only a few look good like this one right here.
Download School Girl Skin
13. Kawaii Panda Girl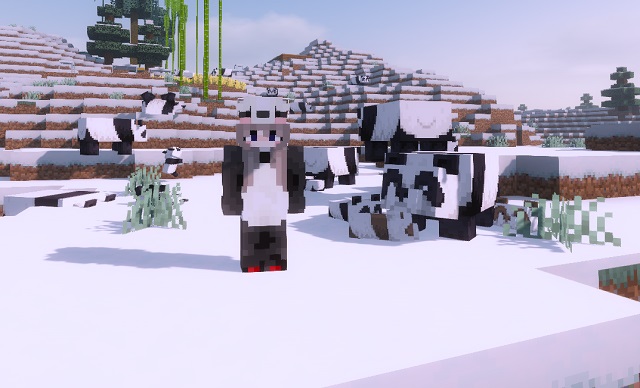 The term "kawaii" in Japanese stands for cuteness. And this skin is all about being Kawaii. We have a girl character wearing a cute panda costume. You can see the iconic features of the panda as well as the person beneath the costume too. The artist has paid great attention to the details. Our character is wearing red boots creating another human element in skin other than the peaking face. The colors used in it are almost the same as the original Minecraft Pandas, so the skin fits well with the game.
Download Kawaii Panda Girl Skin
14. Lara Croft Minecraft Skin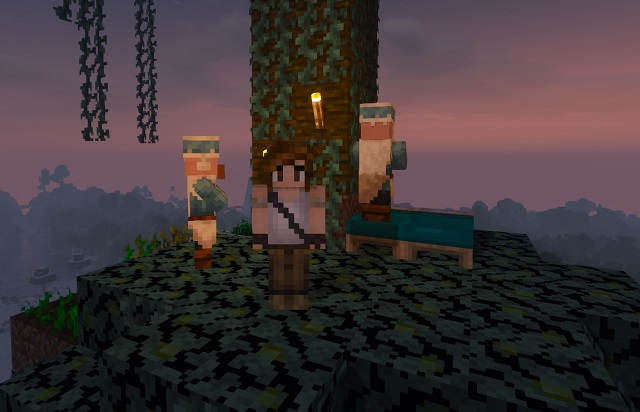 Our next entry on the best Minecraft girl skins list is an all-time popular video-game character. If you have heard of or played Tomb Raider, you must know who Lara Croft is. This skin takes inspiration from the classic Lara Croft costumes and presents us with an explorer version. The skin is complete with detailed clothing, including an iconic lash wrapped around her body. If you are a fan of Tomb Raider or want to understand it better, get this skin right away.
Download Lara Croft Skin
15. Demon Sarvente Skin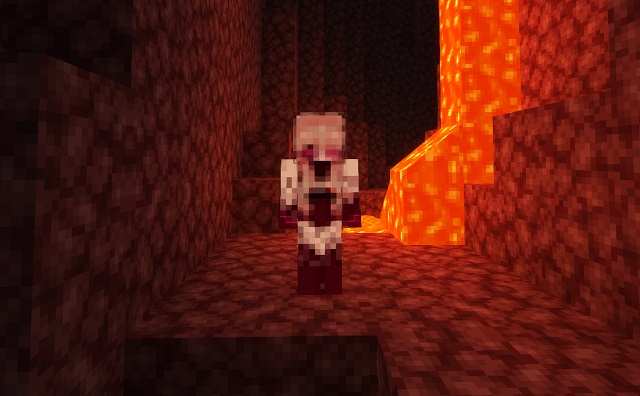 The final entry on our list is a scary one. Demon Sarvente is a character from Friday Night Funpedia mods and is popular in many online communities. This demonic character has a white and maroon costume, along with pink colors and scary pinkish eyes. The skin also features the character wearing a headphone over her head. If you are looking for a scary Minecraft girl skin, look no further.
Download Demon Sarvente Skin
Top Minecraft Girl Skins You Should Try out
So that's pretty much it. Go ahead and download the best Minecraft girl skins for your game right away. Java Edition players can push the quality of these skins further by installing Optifine in Minecraft, which enables players to use shaders and improve the lighting conditions in-game. Doing so will make your newly installed skins have more textures and look their best. Meanwhile, Bedrock players already have access to RTX in Minecraft, which is more than enough for a high-quality visual experience. Coming back to the list, our chosen skins are all celebrated across the Minecraft community. But if there's any other skin that we should add to this list, do let us know in the comments section below. Meanwhile, you can push your customization further by installing Forge to use Mods in Minecraft. Many mods will even let you modify skins and textures of mobs and other entities.
---
Load More