In terms of graphics, Minecraft Java Edition seems to be struggling since the Bedrock edition got RTX support. However, thanks to modders like the creators of Optifine, we have a few reliable solutions. We will explain how to download and install Optifine in Minecraft to improve graphics in the game. For gamers still confused about the RTX availability, find out more differences between Minecraft Java vs Bedrock Edition to understand the situation better. With that out of the way, let's overcome the graphics differences and figure out how to install Optifine in Minecraft Java.
How to Install Optifine in Minecraft (2021)
Optifine is one of the most popular Minecraft mods that once was initially focused on improving performance. Now, it's one of the most effective solutions to optimize the overall game graphics without compromising on the FPS. Once installed, we will also detail the best settings you should use to make your Minecraft worlds look beautiful. Though, let's not jump ahead of ourselves and understand how it works first.
What Does Optifine Mod Do in Minecraft?
Optifine isn't only a custom add-on or mod for Minecraft; it's a combination of several mods and optimization settings. It helps you run shaders as well as optimizes texture or resource packs enhancing the overall visual experience of Minecraft. Even without shaders, it offers various graphical improvements. We can install Optifine directly over our game to make it available as a separate profile in our launcher. Or, we can install it using Minecraft Forge. You will find both of these methods below.
Minimum Requirements to Run OptiFine in Minecraft
Minecraft players love the creators of Optifine because it literally has no minimum requirements other than the game itself. If you have a lower-end PC, you need Optifine to make sure you get a minor FPS boost and an overall smoother gameplay experience. As for medium- and higher-end PC gamers, having Optifine is an initial step to go to the next level of graphical experience.
Basically, anyone looking to improve their Minecraft's graphical performance can use Optifine as long as they have a working version of the Minecraft Java Edition. As of 2021, there is no news of an official Optifine for the Bedrock edition of the game.
How to Download OptiFine for your Minecraft Version
Before you even visit the download page, make sure you know the Minecraft version you are running on your PC. Checking it is fairly simple. You only need to launch your game, and you will see the version number at the bottom left corner of the screen.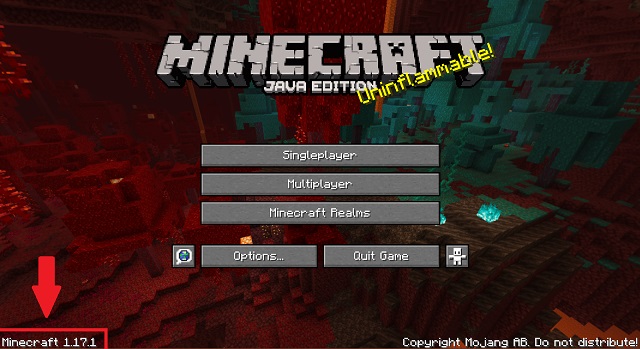 Now that you know the version of your Minecraft installation, check out the steps to install OptiFine right here:
1. Go to the official Optifine downloads page, where you will see Optifine for all the available versions of Minecraft. If you can't find the version you are looking for, you can click on the "show all versions" link located at the bottom of the downloads page. Once you find the version you are looking for, click the "Download" button or use the (Mirror) link for an alternate download path in case of any problems.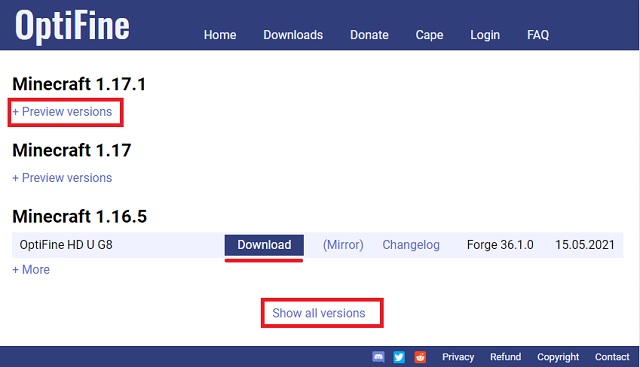 2. After clicking on the download button, you might see a skippable ads page. Don't click on anything on that page except the Skip button at the top right corner. It will show up after 5-10 seconds.
3. Once you skip the ad, you will be taken to a download page where the file download is merely a click away. As soon as you click on the download button on this page, the file will begin downloading.

4. Because the installer is a Java (.jar) file, the browser might warn you about the file being a potential virus. You can rest assured that it's not as we have scanned it ourselves and thousands of users are using Optifine daily. Click on the "Keep" button to save the file.


How to Install OptiFine in Minecraft
As soon as the download finishes, feel free to double-click and open the file. It will open in the Java compiler as an installer. If you face any trouble opening the file, you can head to the FAQ and error section of the article to find a solution.
1. Once you open the Optifine installer, it will automatically detect where your game is already installed. If it doesn't, click the ellipsis (three dots) icon to locate it manually. If everything feels right, click on the "Install" button.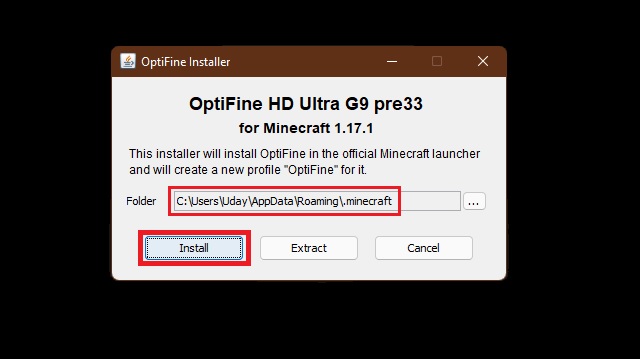 2. As soon as you click on the Install button, it will only take a few seconds to install the Optifine Minecraft mod. Click on "OK" to close the installer. With that, Optifine has been installed successfully on your PC.

This is the method you can use to install Optifine without any pre-installed mods in your Minecraft version.
3. Now, you can open your Minecraft launcher, and you will find Optifine pre-installed in there. To select it, click on the "downward arrow" next to your profile name, select Optifine from the list, and click Play.
If you are using any pre-installed mods in Minecraft, you might want to install Optifine through Forge. Here's how.
How to Install Optifine with Forge in Minecraft
The process here is almost identical to installing Optifine without Forge, so you don't have to worry about a lot. Make sure you have installed Forge. If not, follow our handy guide on how to install Forge to use mods in Minecraft. If you are not interested in the Forge-based installation, skip to the next section of the article.
1. Make sure you have downloaded Optifine for your version of the game, as explained above. First, copy or move that file in the "Mods" folder inside your Minecraft folder. If you are unable to locate it, paste this address – %appdata%\.minecraft\mods in your Explorer address bar or in the Run window that you can access through the Windows keyboard shortcut (Win + R).

2. Then, double-click to open the installation file. Here, instead of clicking on install, click on the ellipsis (3 dots) icon next to the installation location. It will open a new window, where you can select the installation location for Optifine manually.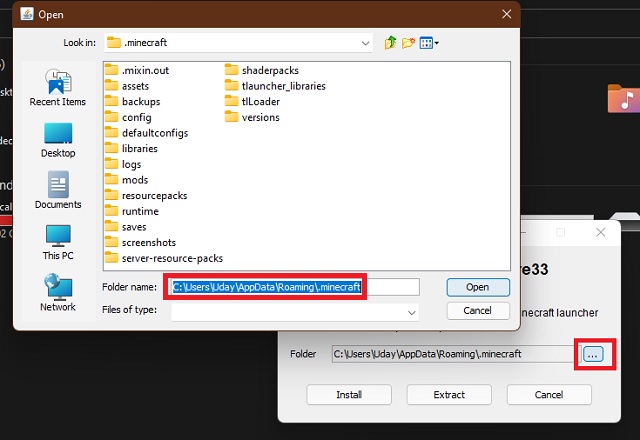 3. You need to go to the shaderpacks folder in the Minecraft directory. You can either reach the Shaderpacks folder with ease as it might be right in front of you if you have installed the game in the default location. If not, you can paste the following location in the Folder Name text field – %appdata%\.minecraft\shaderpacks, and click on Open.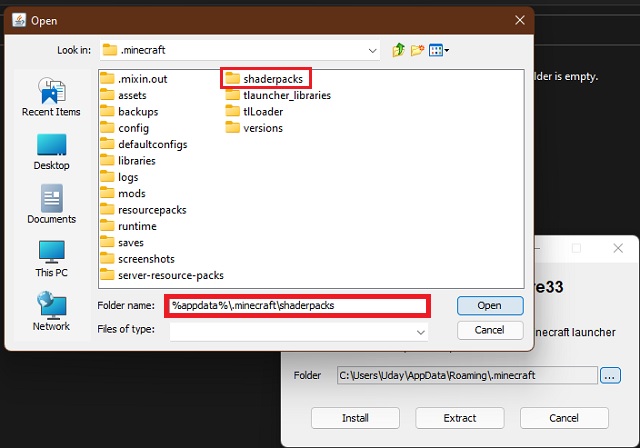 4. Once you have the new location selected. Click on the "Extract" button instead of the "Install" button to save Optifine in Minecraft Forge. Once the installation is complete, you can click "OK" to close the window.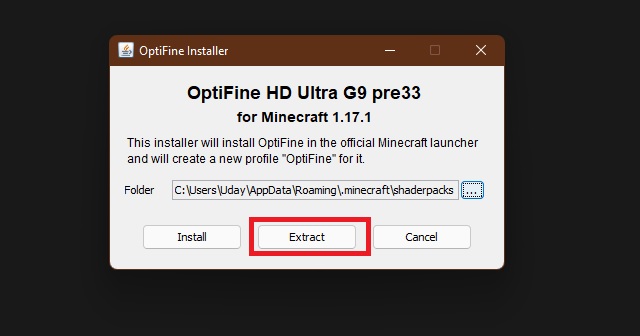 5. Since we have installed Optifine as a mod, it will run like any other mod in Minecraft. You can open your game with Forge, and Optifine will work automatically. All the extra steps of installing Optifine in the shaderpacks folder also ensure compatibility with any other shader packs that you might use.
Best Graphics Settings for OptiFine Mod in Minecraft
If you want to make sure that OptiFine has been installed properly, run Minecraft and check the Video Settings. You can find them by clicking the "Options" button present on the home screen. Then, select "Video Settings".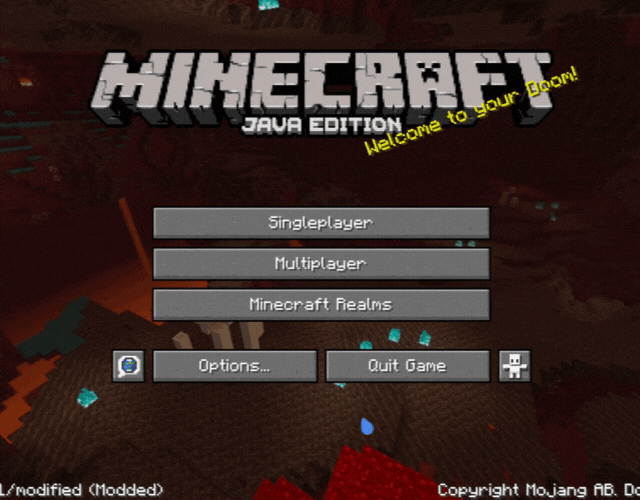 Here, you will see many more options than the regular Video settings page, including options for shaders, animations, details, etc. Now, coming to the best settings for your game will be highly dependent upon your system.
Usually, OptiFine adjusts its capabilities automatically to run Minecraft smoothly while providing the best graphics on any specifications. If you are looking for a good balance between gameplay and graphics, keep using the default settings and enjoy 30-60 FPS even with a lower-end PC. Here's a quick comparison of default OptiFine settings with regular Minecraft graphics:
The most obvious thing you will notice is the improved quality of the sky and lighting in it. Next, you can see that the water, as well as the lava, looks smoother with Optifine. Finally, the bunch of tree leaves now have gaps to see through them – just like the real world. The difference doesn't feel major but it certainly can optimize your gameplay experience.
If you are someone with a PC that has the capabilities to push the graphics to their edge, OptiFine also supports shaders. You can download them online and place them in the %appdata%\.minecraft\shaderpacks folder. Now, how much of a difference can these shaders make in Minecraft? A lot, apparently. See for yourself:
The ones we used in this test are called Chocapic13 Extreme Shaders. You can look for more that suit your taste. We officially can't get RTX on Java edition, but with the right shaders, we can narrow the gap with ease. The differences are night and day.
Most noticeable is the lighting. You can't notice the torch in the first image (above), but shaders make them so prominent. The distance-based lighting, texture quality, shadows, and overall coloring of the scene feel more realistic. You can see the effect it has on the water and lava in the screenshot below: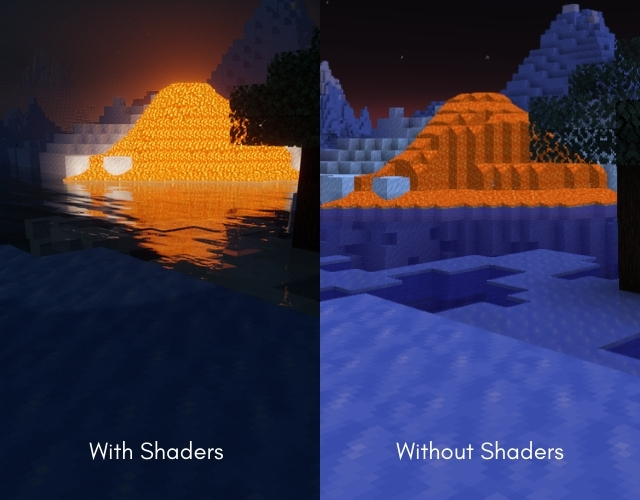 Best Minecraft OptiFine Settings for High FPS
Best Graphics Settings for Minecraft OptiFine
If you are not looking for the best graphics, getting good performance out of OptiFine is easy. What you need to do is press ESC while you are in-game and go to the "Video Settings" option. You can also press the "Options" button on the home screen and select "Video Settings". Now, duplicate the settings shown below: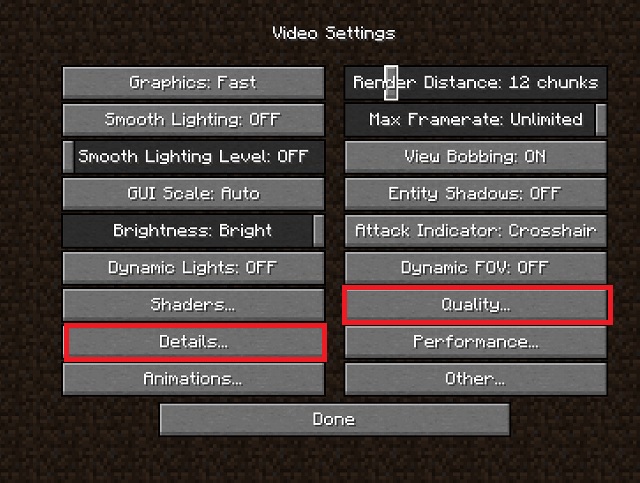 We have set the Graphics to Fast so that the game automatically smoothens the experience. However, the Smooth Lighting & its Levels are Off because they take a lot of GPU power to function. Render distance can be reduced even further, but 8-12 chunks are playable while giving you a more than good graphics experience. The max framerate can be maximum, but you won't see the effect beyond your monitor's capabilities. If you have something like the Samsung Odyssey gaming monitors, you will definitely notice the difference.
You can also turn off Entity Shadows to reduce graphical load even further. GUI Scale, brightness, and bobbing don't have a drastic impact on GPU so you can change them as per your personal preferences. Finally, turn off dynamic lights and dynamic FOV to finish the best FPS setup that you can use even without OptiFine.
Best Quality/ High FPS Settings for Minecraft OptiFine
Our work here isn't done yet. Next, head to the Quality Settings by clicking on its name, as highlighted in the screenshot above. Please note that changing the quality settings will make your game restart a lot, but it's a normal process, so you don't have to panic. These quick restarts won't impact your open worlds. As for the settings, here's what we are going to use: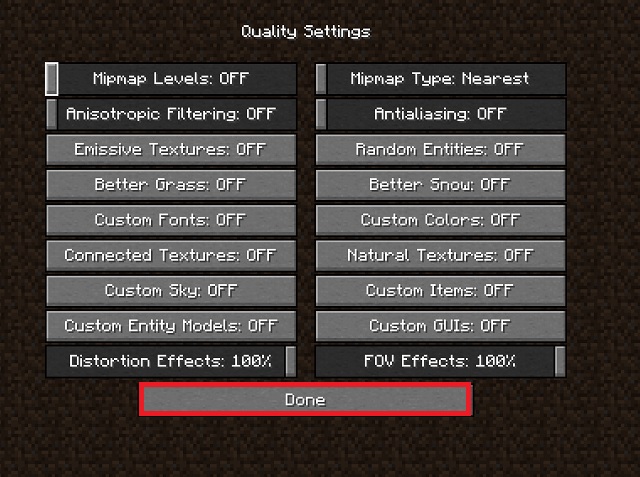 First of all, you need to turn off Mipmap levels and set their type to nearest. Next, you need to turn every single option OFF from Emissive textures to Custom GUIs. This might feel a bit extreme, but doing so will improve your FPS like nothing else – even on the lowest specs PC. You can choose distortion effects and FOV effects as per your preference. Don't forget to click on "Done" to save the settings. All of these changes made with OptiFine for Minecraft will result in higher FPS on your PC.
Details Settings for Minecraft OptiFine
You need to be a little more thoughtful with the details settings as they can impact the overall experience of the game. These options won't affect performance as much as the quality settings, so please feel free to practice personal preferences. What the best FPS requires are the following: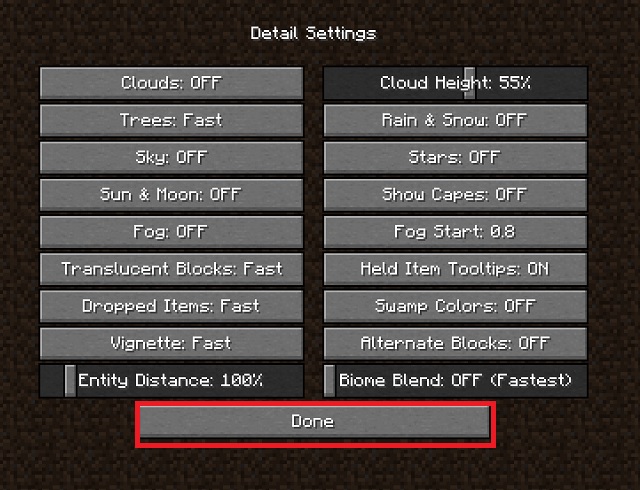 Make sure that all the options that are not a slider have values as either OFF or Fast. You can keep cloud height, held items tooltips, and fog start in any form as they usually don't impact your performance. The entity distance or the distance at which you can see mobs should remain between 75-125% to maintain gameplay even with performance in mind. Biome blend has to be off for the fastest performance. Click "Done" to save the settings.
With that, we have optimized Minecraft for the highest FPS, the difference between the regular Optifine Minecraft and FPS optimized one are quite noticeable: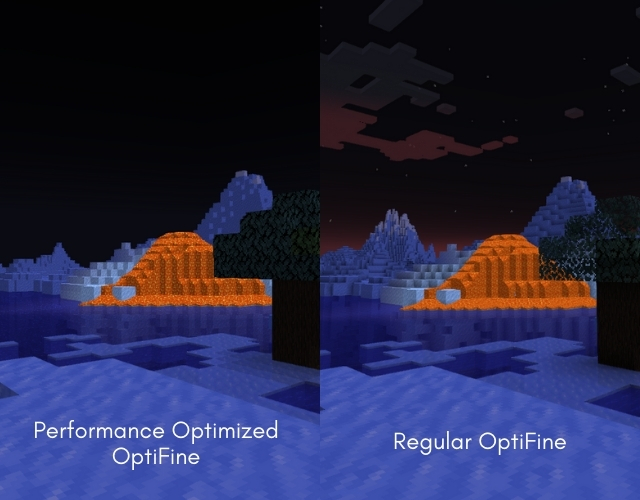 On a quick glance, the differences aren't prominent. If you look closely, though, you will start noticing the difference. There are no details to the sky or even to the textures that are distant like the ice mountains on the left. The tree leaves are back to being opaque blocks, but the FPS did shoot up to 600+ on the Optimized version in our testing.
The game should be running bug-free in most cases with OptiFine enabled, but if you are using it with other mods, you may face some issues. If you face any major game-crashing problems, the best solution is to remove OptiFine until you figure out a solution.
How to Uninstall Optifine from Minecraft
Before you begin the removal process, make sure to close the Minecraft launcher and the game. Then, follow these steps below to remove Optifine from Minecraft:
1. Open the folder where you have installed Minecraft by right-clicking on its shortcut and choosing "Open file location". Alternatively, you can type the following in your explorer's address bar or use the Run command (Win + R): %appdata%\.minecraft\

2. In the Minecraft folder, delete the optifine.jar file from the following locations:
.minecraft/mods/
.minecraft/versions
.minecraft/shaderpacks
As shown in this screenshot, there might be multiple versions of Optifine installed on your PC. You can go ahead to delete them all if you want to or just the ones you feel could be causing the error.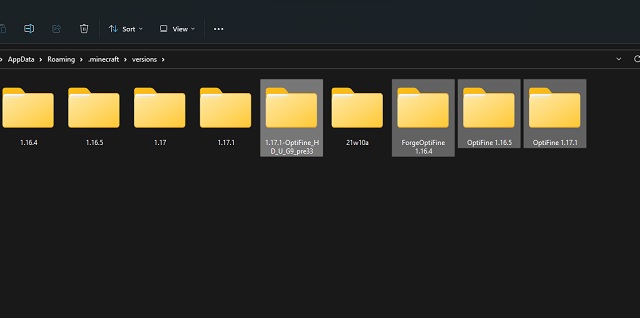 3. If you can't find the files in any of these folders, it will still be fine as long you don't delete it in any of these folders where it can be present. To delete the files, select them and use the shift + delete keyboard shortcut to remove them permanently.
Once you start the game again, Optifine or its settings will no longer be there. For the ones thinking that uninstalling the game might be an extreme solution to fix the errors, we have some easy fixes to common errors below.
Minecraft OptiFine: FAQs & Potential Errors
JNI Errors
You can face this error as soon as you try opening the OptiFine.jar installation file or while opening Minecraft, or even while adjusting the in-game OptiFine settings. The solution to all these JNI errors is exactly the same. You need to manually update the Java on your PC by downloading it from this link.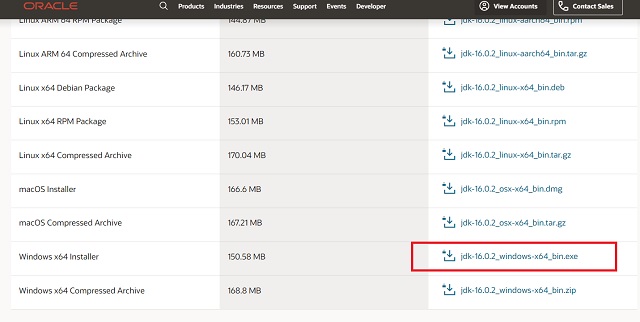 Performance Errors
If you feel that your game is lagging or that the FPS is way lower than what it should be, chances are that either you are using an incompatible version of OptiFine or your settings aren't optimized. We have covered how to find the OptiFine or your game version and how to optimize the game for the best FPS in this guide. You can head back to those sections to get the situation fixed.
Is Minecraft OptiFine Free?
Yes, Optifine is a free-to-use plugin for Minecraft, and you can download it from their official website. If you enjoy the improvements it brings to your game, there's also an option to donate to the creators on the same website.
Is Minecraft OptiFine Safe to Use?
As long as you are using OptiFine that is downloaded from their official website and not beyond your GPU's capabilities, it is safe and mostly bug-free.
Is OptiFine Legal in Minecraft Speedruns?
As it's only a game graphics and performance enhancer, it's fair and legal to use it in speedruns. It doesn't give you any more additional benefits than a new GPU.
Does Minecraft OptiFine Take a Lot of Space? How Much GB is OptiFine?
Surprisingly, even with the diverse options that it provides, it's smaller than most Minecraft mods. It's only a 6-8 MB download, which won't take more than 20 MBs even after multiple installations.
Can I Install OptiFine in Minecraft Bedrock?
Sadly, like most Minecraft mods, Optifine works only with Minecraft Java edition. There are a few clones of Optifine with the same name for Bedrock, but none of them are even remotely comparable. You should stick to the official Optifine and the Java edition if you want the best experience of this mod.
Improve Minecraft FPS with OptiFine Mod Today
Just like that, you have learned how to optimize Minecraft for maximum performance as well as over-the-top graphics. As it supports almost every Java version of the game, you can even run it on Minecraft Java for Chromebook. If you are curious about how the most toned-down version of the game would feel like, try to play Minecraft in your web browser to get a quick experience of the same. In case you get stuck anywhere while OptiFine, feel free to drop your query in the comments. Now, go on and start playing the most optimized and best-looking version of your Minecraft world.
---
Load More