The world of Minecraft is all about customization and standing out. But it isn't easy to come up with unique ideas in such a massive and happening community. That's why the internet has a huge collection of Minecraft skins you can download and install to personalize your in-game experience. They are one of the most common and celebrated customization options in the game. Plus, you can find skins inspired by YouTubers, superheroes, and whatnot. We even have a list of the best Minecraft skins you can use if you want to take a quick pick. As for the process, it is simple to apply downloaded skins, and the option is available in every Minecraft edition, be it PE, Java, or Bedrock. You can even use most skins interchangeably across editions. But that's a discussion for later. For now, let's learn how to download and install Minecraft skins.
Download and Install Skins in Minecraft (2022)
While referring to Minecraft skins, we will focus on the skin packs for our protagonist instead of the entities or mobs in the game. That means skins in Minecraft usually refer to the appearance of the main character, which you can customize in unlimited ways. To change other characters' skins, you will need something called Minecraft resource or texture packs, and you can check out some of the best ones from the linked article. For now, make sure you have a working version of Minecraft, and let's get started by finding a good skin for your character.
How to Download Skins for Minecraft
There are many community-based websites where you can get thousands of Minecraft skins for free. In this guide, the website we will focus on is called Skindex, and it is one of the most popular options.
1. To get started, go to the Minecraft Skindex homepage and click on any of the skins you like. We will be using the Skeleton Gamer skin for this demonstration. You can even try using the search option to look for a specific character or theme. Also, you can check our curated lists of the coolest Minecraft skins and the best Minecraft girl skins via the linked articles.
2. Once you have selected a skin, a new page with multiple options to export the skin will open up. What you want to do next is click on the "Download" button in the right menu.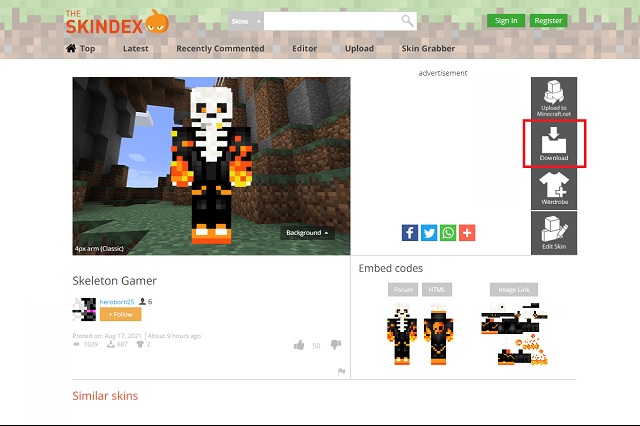 3. It will immediately download a PNG file to your computer. You will find it in your Downloads folder, and it will be a low-quality PNG file.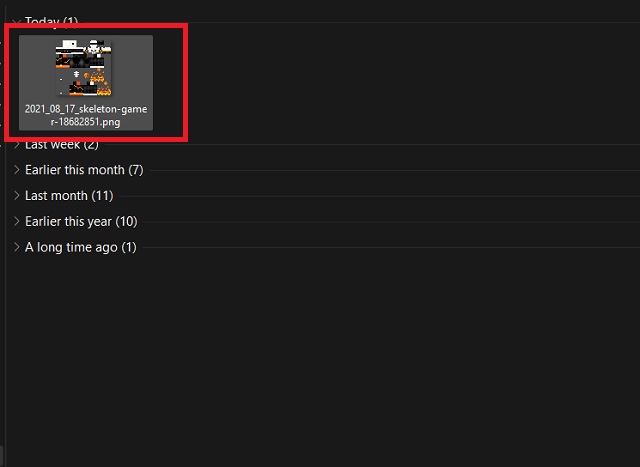 How to Install Skins on Minecraft Bedrock Edition
In the Minecraft Bedrock edition, you get an in-game skin builder. You have the option to import and even purchase skins within the game itself. To download and install skins in Minecraft Bedrock, follow the steps below.
1. Open Minecraft on your device and click the "Profile" button below your character on the right side of the home screen.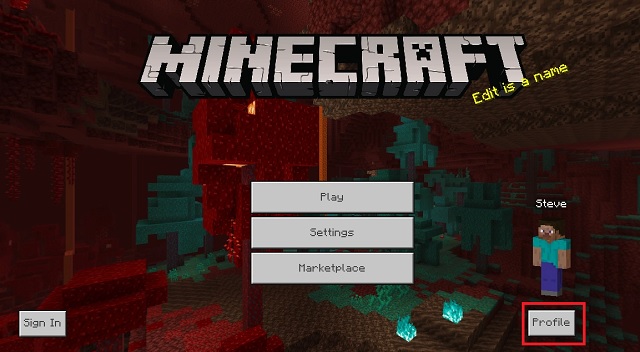 2. You will be taken to the character selection screen, where you can choose a specific character to which you want to apply the skin. Then, click on the "Edit Character" option.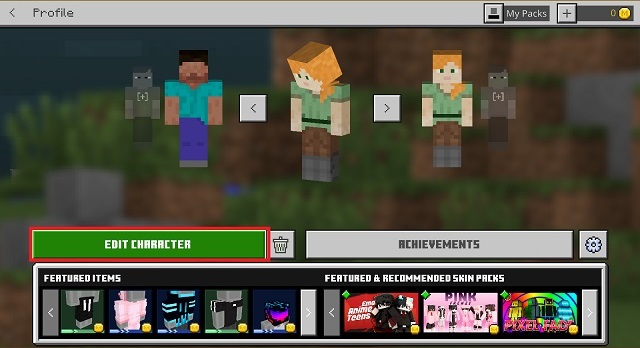 3. Now, move to the second tab on the top left to open the options of your own skins. Here, under the "Owned" section, you can click on the "Import" option, followed by "Choose New Skin".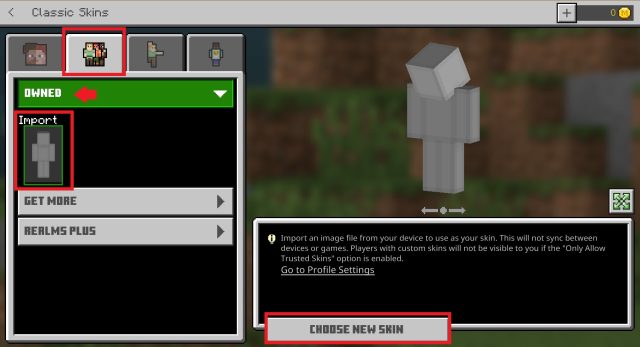 4. A Windows Explorer window will now open up. Go to your Downloads folder and select the PNG skin file. Then, click on "Open" to load the skin in the game.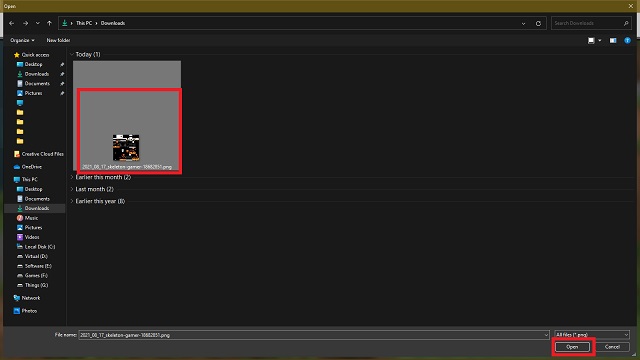 5. Choose either the classic or slim model type. The only difference will be in the width of the arms. Once you are done, your skin will be loaded into Minecraft, and you are ready to play the game with the same applied to your character.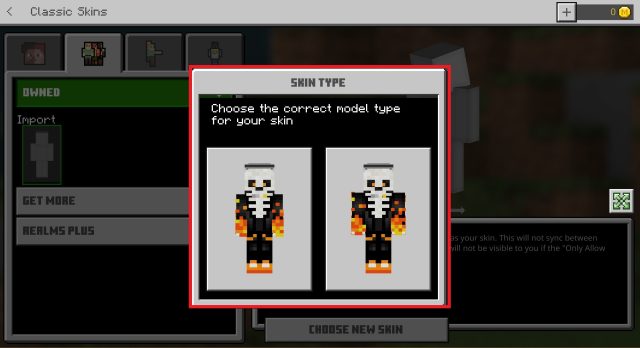 How to Change Your Character's Skin on Minecraft Java Edition
Even when you can use the same skin on any of your Minecraft versions, you will have to follow different procedures to get it installed on each of them. You can suspect different programming languages as the reason to blame, as we discussed in our Minecraft Java vs Bedrock comparison.
For the Java edition, go to the official Minecraft website and click on the "Log in" button at the top right corner. Then, you can use your Microsoft or Mojang account credentials to sign in into the website.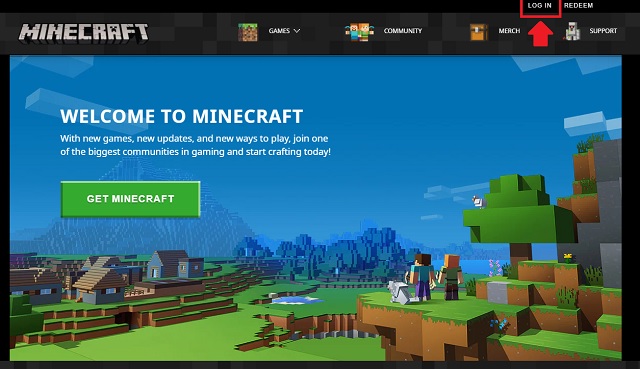 2. Now, you will see an option called "Skin" on the left menu, which on clicking will lead you to the skin uploading section. Here, you can select your model version as Slim or Classic and upload any downloaded skin. The slim model only has the character with slimmer arms and no other significant difference.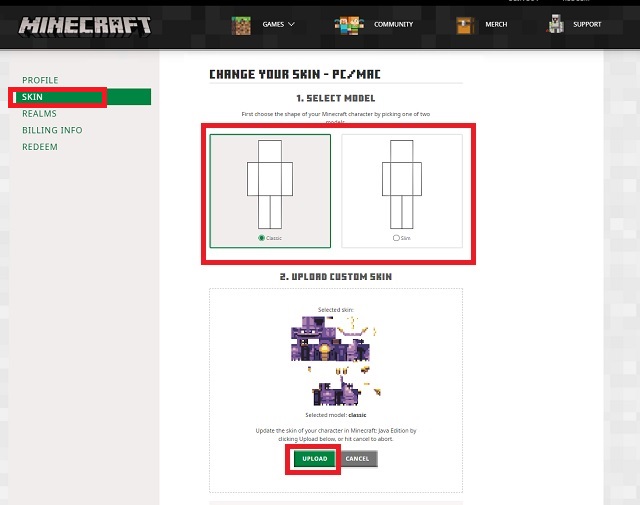 Alternatively, you can also go back to the second step of downloading skins and click on the "Upload to Minecraft" button. It is present above the "Download" button to reach this skin uploading process but quicker than before.
3. You will now be able to see the new skin on your character whenever you boot up Minecraft. The new skin might be covered by armor for some players, and you might have to remove it to properly test it out.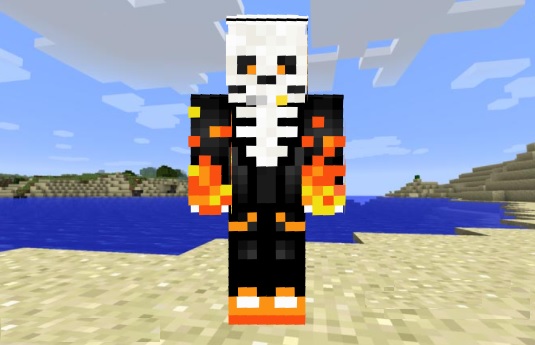 How to Change Your Character's Skin using Minecraft Launcher
If your Minecraft Java edition is running offline, the website-based process might not work for you. Thankfully, you can also download and install skins using the default Minecraft launcher.
1. Make sure you have a skin downloaded using the first section of the tutorial. Then, open the Minecraft Launcher by double-clicking on its icon on your desktop or game directory. You can also search for it after pressing the Windows key.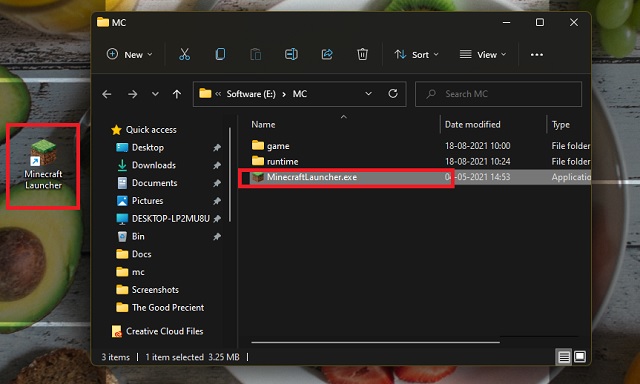 2. Once the launcher opens, don't click the play button as usual. Instead, move to the "Skins" tab at the top of the launcher. Then, select the "New skin" option by clicking the "+" sign.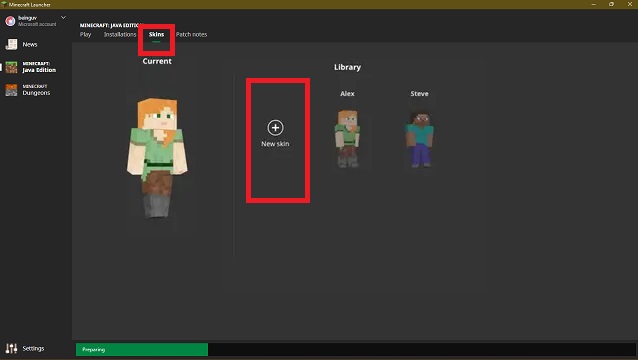 3. Now, the launcher will ask you to load your custom skin. Here, click on the "Browse" button to select your download PNG skin file. You can use the player model as classic or slim. Once your skin is selected, you can click the "Save & Use" button to apply it immediately.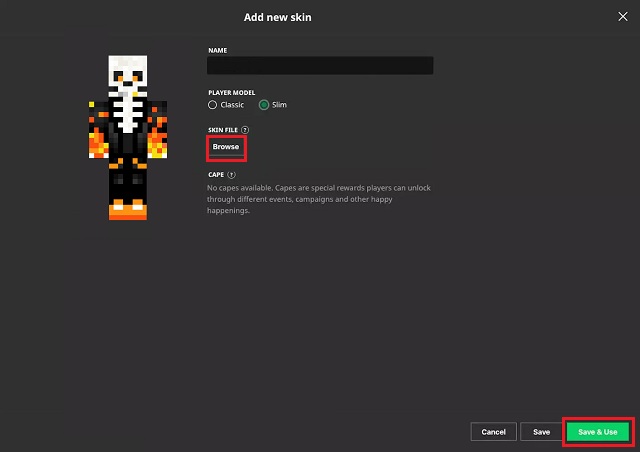 Install Skins via Minecraft Pocket Edition (MCPE) on Android and iOS
Fortunately, due to the connected Bedrock environment, the process to change or add skins in Minecraft PE for Android, Windows 10, iOS, and Fire OS is the same as installing skins on Minecraft Bedrock Edition.
You can use the Bedrock Edition tutorial earlier in this article to install new skins in the Pocket Edition of Minecraft. The major difference you will notice is that instead of the "Profile" button on the home screen, you will find a clothes hanger icon. You can click on this icon and start following the same process as the Bedrock edition of the game to change your Minecraft skin.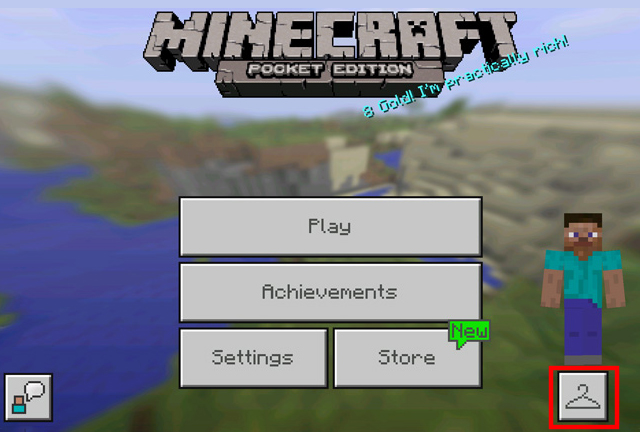 Make your Own Skin in Minecraft
There can be two ways to edit and make your own custom Minecraft skins. First, you can use the default skin as a model and edit it in any photo editing software like Photoshop. It will give you more customization options and allow you to add photos over it as well. Just make sure to save it as transparent PNG in the same resolution and dimensions as the base skin.
If you don't want a deeper level of customization for your skin, use the online Minecraft Skin Editor from Skindex, the same website that we used to download skins above. Here's how:
1. Open MinecraftSkins Skin Editor or click on the "Edit Skin" button on any skin you are browsing online on Skindex. You will also see the Editor option on the top menu bar of the site.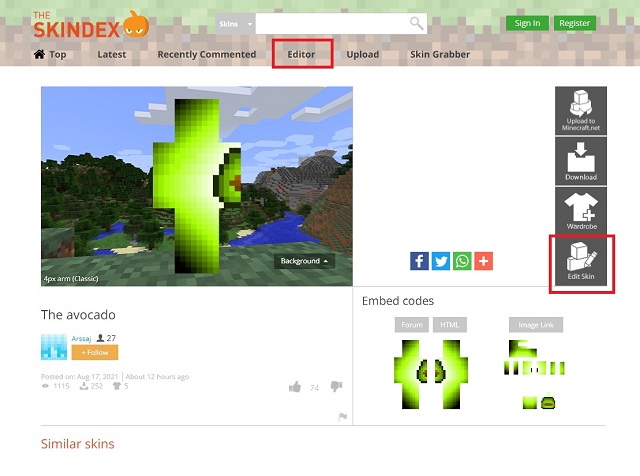 2. Now, you will be taken to the Skin Editor, where you can use a simple brush and coloring tool to fill the boxes to create a Minecraft Skin. The editor would feel like the most basic version of MS Paint.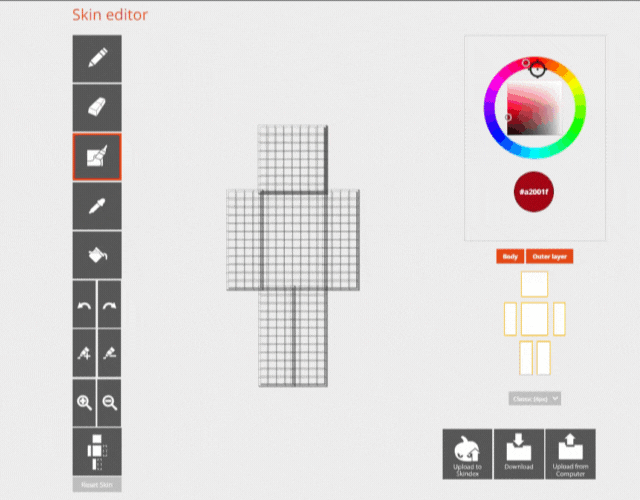 3. Once you are done editing the skin, you can select the Model as Classic or Slim and click on the "Download" button. You can apply it to your character in the same manner as any other downloaded skin. Alternatively, you can also upload your skin to Skindex by clicking on the "Upload to Skindex" button. It'll let you share your creation with other Minecraft players that use this website.
4. You can then load your self-made skin in the game and even edit it later on Skindex or just classic photo editors as per your preferences. If you want more information on how to make your own Minecraft skin, we have a detailed guide published and linked right here.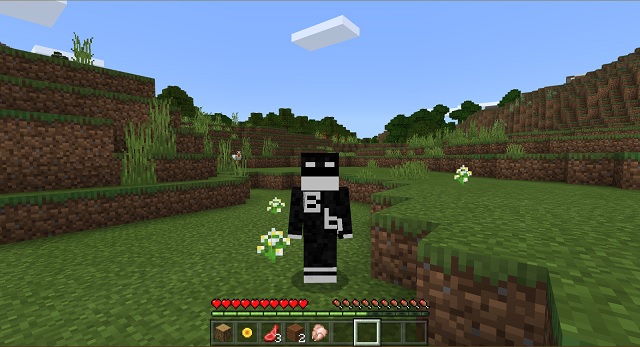 Frequently Asked Questions
Q. Is Skindex safe to use?
Yes, all that you are downloading from or uploading to the Skindex website are only images of skins. It's completely safe and regularly used by thousands of Minecraft players.
Q. Can I buy Minecraft skins?
Minecraft Bedrock edition has a built-in marketplace where you can get skins from Mojang and their partners. Though, you can get similar skins and many more online for free too.
Q. Can skins get you banned?
Depending upon the rules of specific servers, wearing inappropriate skins can get you banned. Inappropriate skins are the ones that include content related to terrorism, racism, sexual appeal, etc.
Q. How to get capes with Minecraft Skins?
You can purchase skins with capes on the Bedrock edition's marketplace. There is currently no way to obtain a cape on the Java edition, but there are several mods that you can try to achieve a similar impact.
Q. Do bedrock skins work on Java?
Technically, you can use the same PNG skin file in Bedrock or Java editions. But since Bedrock has extra geometrical layers to their skins, you might not see the expected results when you inter-use the skins. Though, using the same skins on different game editions won't cause any serious problems.
Q. How to see my character in 3rd person in Minecraft?
You can press the "F5" key on your keyboard to change your perspective in the game. It will let you see your installed skins from different angles. You can press the button again to go back to the original view.
Q. Where can I get Minecraft skins from?
The most popular option to get skins in Minecraft is Skindex, but here are some other alternatives that you can check out:
Google Play Store or Amazon App Store (Android)
iOS App Store
Official Minecraft Marketplace
Apply Your Own Custom Skins in Minecraft
You are now ready to download and install skins in Minecraft. There are several rare ones from Avengers to Mario that you can try looking for. If you don't find anything you like, you can always try making your own Minecraft skin. But don't forget to share these skins you make with the readers in the comments below. You can also share them with the massive community on some of these amazing Discord servers for Minecraft. As for those looking for a new experience beyond the skins, try these best sandbox games like Minecraft. Now, go ahead and start installing new Minecraft skins.
---
Load More