Despite having a comparatively small form-factor (5.4″ screen size), iPhone 12 mini packs a solid punch. Be it the OLED display or the top-grade camera or the much-talked-about Ceramic Shield, the iPhone has got the specs to make its presence felt. Having just lined up the most loved cute cases for iPhone 12/12 Pro and 12 Pro Max, I thought your pretty compact smartphone deserves the same treatment. So, if you want to style your smartphone while also offering it the desired shield against accidental damage, these are the 10 best cute cases for iPhone 12 mini.
Best Cute Cases for iPhone 12 mini You Should Buy
What sort of cases do you wish to buy for your iPhone 12 mini? Are you willing to go for a clear case with plenty of glitters floating around or a sleek case with a beautiful floral pattern? I have compiled this roundup of the top cute iPhone 12 mini cases keeping in mind different tastes.
So, finding a more suitable companion for your compact iPhone shouldn't be a big ask. With that said, let's get going!
1. Speck
Flaunting eye-catching glitter crystals, Speck has got everything covered to be a nice companion for your iPhone 12 mini. Made of PC material, the case has a slim yet highly protective design. The company touts that it can withstand up to 13 feet drops, which makes it more than capable to keep your compact smartphone secure.
Moreover, the Speck clear case also features a raised lip to guard the 5.4″ OLED display and the dual-camera setup against scratches. However, what makes it different from other cases is the ability to resist bacteria which helps it disinfect your iPhone. Though the seems quite expensive $45, it has got the features to prove its worth.
Buy from Amazon: $44.95
2. OtterBox Symmetry Clear Series
Yet another premium iPhone 12 mini cute case that has got a safe spot in this lineup is OtterBox Symmetry Clear Series. Featuring the wall-flower graphic, the case has got a sleek profile that pairs pretty well with the iPhone.
Symmetry Clear Series has a compact yet exceptionally protective construction that can endure shock with ease. Moreover, the beveled edges further enhance the protection factor by offering the needed shield to both the touchscreen and the cameras.
Courtesy of the soft-touch finish, the case also feels comfortable in the palm. Long story short, Symmetry Clear Series is a top-notch elegant case for iPhone 12 mini and you must give it serious consideration if you want to embrace style without sacrificing protection.
Buy from Amazon: $49.95
3. Sonix
Sonix is well-known for producing top-of-the-line cute cases for the iPhone. And this offering for the iPhone 12 mini looks spot on to make a stunning pair. What separates it from many other designer cases is the ability to amp up elegance without leaving protection behind. Yeah, you got that right!
Sonix claims that the case can survive up to 10 feet drops. That means in most cases this case can keep your smartphone safeguarded from impact and scratches. Protection aside, the case has a compact form-factor and features neat cutouts for comfortable access to all the ports.
On top of all, Sonix case also comes in a wide range of designs to let you choose a more suitable match for your iPhone. Overall, it's one of the most loved cute cases for iPhone 12 mini.
Buy from Amazon: $35
4. i-Blason Cosmo Series
If you want to present your smartphone with a fashionable case with a marble design, i-Blason Cosmo Series could be a hot contender. The case has a sleek and form-fitting profile that wraps around the iPhone 12 mini snuggly.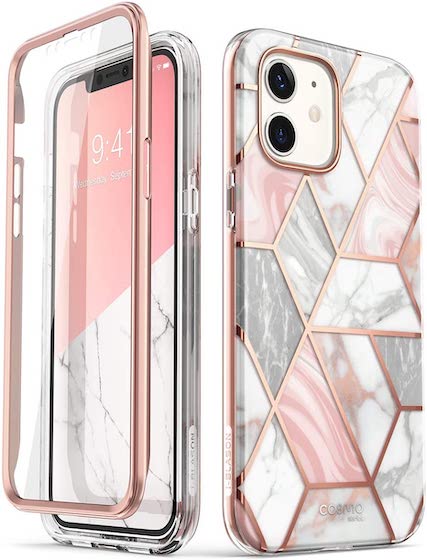 Even in terms of protection, the case is touted to withstand up to 10 feet drops. Besides, the addition of raised lips further empowers the safeguard against impact and scratches. So, you can rely on this marble case to keep your smartphone shielded from accidental damage.
With the rubberized sides, it also offers the needed grip so that the device doesn't slip off. And thanks to the built-in screen protector, it also provides the necessary protection to the expensive 5.4″ OLED display.
Buy from Amazon: $19.99 – $21.99
5. Coolwee
It's the gorgeous floral design that has compelled me to pick Coolwee in this roundup. And I guess, if you also have a penchant for floral design, you would find it equally appealing. The case is made of German TPU material that's incredibly soft and features 3D glitter metallic lace.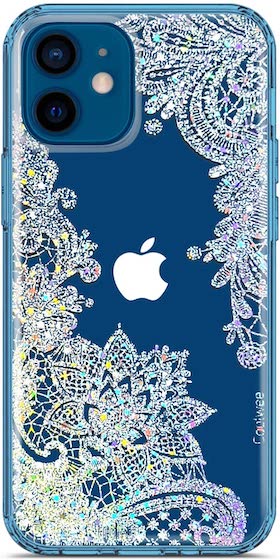 Notably, the case has a 2H scratch-resistant coating to fight out scuffs. Besides, it also shields the dual camera and touchscreen against scratches with raised bezels. As for protection from drops, you can trust Coolwee to endure the minor impact. Lastly, you can choose this cool iPhone 12 mini designer case in two colors: crystal lace and crystal peacock.
Buy from Amazon: $11.99
6. VePret
Exhibiting a pretty design, VePret is a beautiful clear case with plenty of embedded glitters and flowers. With a glowing profile, the case makes a strong statement. Due mainly to the TPU material, it is quite soft and flexible. Therefore, installing and removing the case is never a big deal.
Talking about protection, VePret can live up to the task when it comes to absorbing minor shock and also thwarting scratches. The beveled edges help it safeguard the 5.4″ OLED display and the dual-camera as well. That's not all, VePret also comes in three color variants like pink, yellow, and blue to let you choose a befitting suit for your iPhone 12 mini.
Buy from Amazon: $9.99
7. Caka
If you are on the lookout for a comparatively affordable glittering case, Caka could be one of the better picks. Thanks to the presence of liquid and glitter that move freely, the case is designed to shoot attention. As for protection, the hybrid construction (PC and TPU) promises to deliver 360° safeguard to the compact iPhone.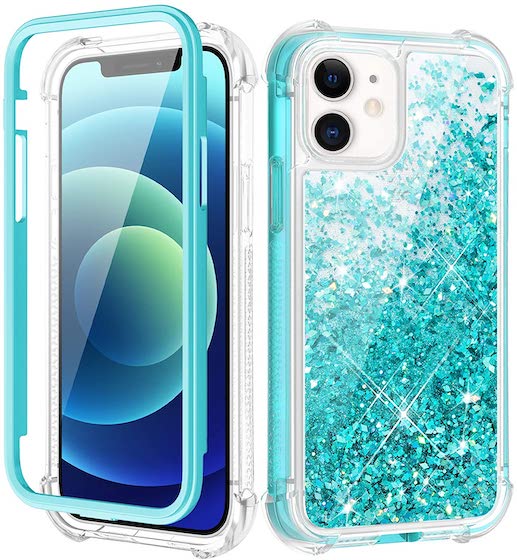 While the soft TPU helps the case absorb shock, the hard PC endows the needed strength to resist wear and tear. Notably, the company also offers a built-in screen protector to shield the 5.4″ OLED screen against scratches. What's more, you can choose this glowing iPhone 12 mini case in multiple colors including teal, purple, daisy, and more.
Buy from Amazon: $15.99
8. ZHIYIWU
There are multiple reasons why you should consider a nice-looking ring holder case like this one from ZHIYIWU. First and foremost, the case can let you securely hold your iPhone 12 mini so that the device won't slip off. Whether you are shooting videos, snapping photos, or just glancing through your tweets in the balcony, the ring holder can play a vital role in keeping your device steady in your hand.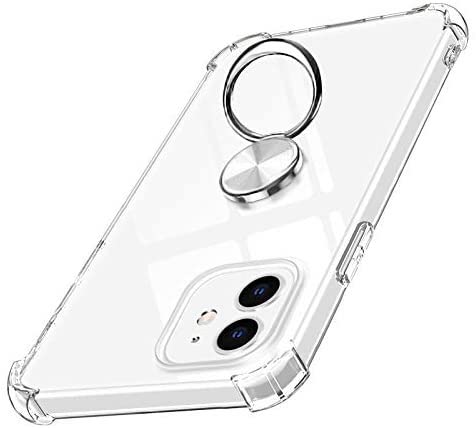 The second, the ringer holder also works as a useful stand to let you place your smartphone in vertical or horizontal orientations for a convenient hands-free media watching or video-calling experience. And third, it also supports magnetic car mounts to let you securely hold your iPhone in the car. Considering these features, ZHIYIWU is a top-notch accessory for iPhone 12 mini.
Buy from Amazon: $12.99
9. DISNEY COLLECTION
Should you wish to add some fun elements without cutting down the cuteness, DISNEY COLLECTION would be worth having a look. Made of TPU material, the case features a semi-transparent design to let you flaunt your iPhone. And with the Minnie mouse cartoon pattern, it raised the fun quotient.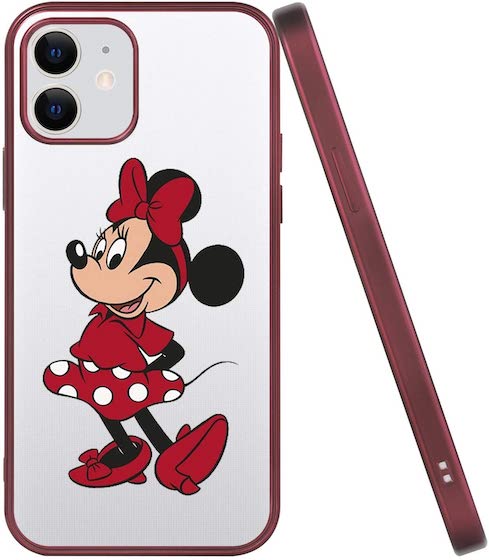 Another notable feature of this case is the electroplated edges that make DISNEY COLLECTION case appear luxurious. Beyond design, it can also live up to the task as far protection is concerned. With the raised edges, it makes sure the display and the cameras have trusted protection from scratches.
Buy from Amazon: $14.99
10. Lex Altern
Last but not least, Lex Altern is a good-looking case that makes a form-fitting pair with the iPhone 12 mini. Made of eco-friendly TPU material, the case has a soft-touch finish that provides a secure hold.
The colorful design enhances its look and feel, while the pronounced buttons offer tactile feedback. Despite having a slim-factor, the casing can withstand low-volume impact thanks to the impact-resistant corners. On top of all, Lex Altern comes in a ton of colorful variants to help you choose a vibrant looking suit for your device.
Buy from Amazon: $12.75
Top iPhone 12 mini Cute Cases Lined Up for You
So, these are the most loved cute cases designed for iPhone 12 mini. It's always better to embrace style while still having the needed safeguard against shock and ugly scuff. That's why I made sure to choose cases that let you enhance the elegance factor without endangering the protection from accidental damage.
By the way, which one of these cases has won your iPhone 12 mini? It would be cool to know your favorite cute case. Besides, I would also appreciate it if you let me know the cases that deserve to get a mention in this roundup.