In the wake of dreading Coronavirus, taking extra measures to sanitize things that come in your contact has become the new normal. Any laxity in this regard is like playing in the hands of the pandemic. According to a sensational study conducted by Australia's national science agency CSIRO, the virus responsible for COVID-19 can survive up to 28 days on smooth surfaces such as glass found on phone screens and plastic banknotes at 20 degrees celsius. Alarmed by this grave report, I thought it's apt to look for the best phone screen disinfectants and wipes which you can buy to prevent the pandemic.
Best Phone Screen Disinfectants and Wipes to Buy
A long time back, a study had found that a cell phone is 10 times dirtier than a toilet seat. That means you need to be more focused on disinfecting your phone than most other things in your life.
Fortunately, there is no dearth of phone screen disinfectants and wipes in the market. However, not all of them do what they claim to. And this is where this meticulously compiled roundup can prove to be quite helpful in letting you find the right cleaner.
1. SANITECH
Touted to clean up to 99.99% of harmful bacteria and viruses in just 30 seconds, SANITECH deserves a close look. Notably, it is EPA approved, odorless, and eco friendly unlike many other phone screen disinfectants in the market.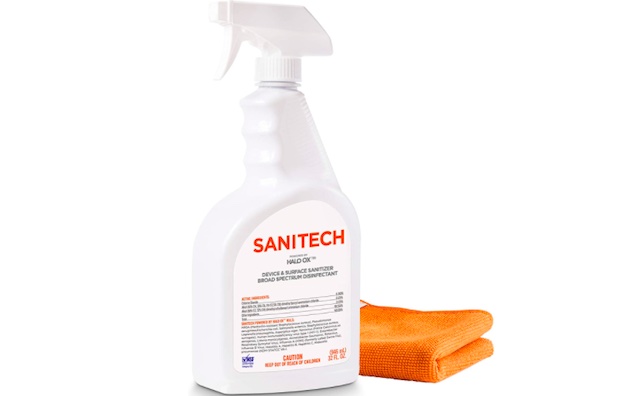 Another notable feature of SANITECH is the ability to work on all screens and hard surfaces. So, whether you want to disinfect your smartphone, TV, or computer, it can live up to the task with the needed efficiency.
Priced at $15, it includes a 32oz bottle and a 14″x14″ microfiber cloth to let you sanitize your iPhone, Android, or any other device. Considering these notable features, I think SANITECH is one of the best phone screen disinfectants in the market right now.
Buy from Amazon: $14.99
2. Windex
If you are looking for high-quality phone screen wipes, Windex is the one I would recommend you to check out. You can use this anti-static cloth to remove dust, smudges, and other unwanted things from your phone screen.
Being quite soft and smooth, it doesn't scratch the screen. So, you shouldn't worry about scuffs destroying the entire screen of your device. Made of things like wipe, ethanol, decyl, glucoside, and water, it's also eco-friendly.
Priced at $15.57, Windex comes in three packages which make it a reasonable deal.
Buy from Amazon: $15.57 (pack of 3)
3. Screen Joy
Screen Joy screen cleaner and microfiber cloth are fully equipped to let you keep your phone screen bacteria-free. The screen cleaner can be used to clean the screen of not only smartphones but also tablets, TVs, laptops, and even eyeglasses.
As for the microfiber cloth, it's quite soft and anti-static. Being smooth to the touch, it works well in getting rid of unwanted stuff from the screen. And yes, it also doesn't leave any scratches behind. Notably, the 10×10″ microfiber cloth is washable so that you can reuse it.
Buy from Amazon: $14.99
4. iCloth
Another phone screen cleaner wipe that has caught my attention is iCloth. What stands it apart from other ordinary wipes is the aerospace-approved pre-moistened fabric which is incredibly soft. As a result, it can clean the phone screen with precision – without leaving any scuffs behind.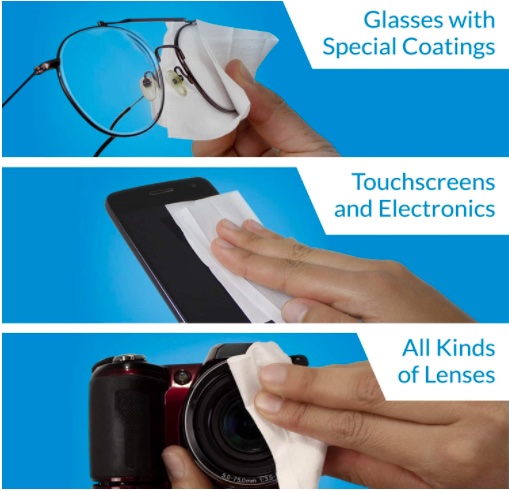 Ammonia and ethyl alcohol-free screen cleaning system ensure there is no harm to the phone screen. The wipe has a low moisture level which makes it a reliable bet for smaller surfaces. Notably, the low moisture level plays a vital role in offering streak-free shine.
Though the $20 price tag may seem a touch expensive, iCloth wipes have got the quality to live up to the expectation.
Buy from Amazon: $19.99
5. PhoneSoap 3
Should you wish to go for a highly-rated smartphone sanitizer, PhoneSoap 3 can make for a strong case for multiple reasons. First and foremost, the UV light phone disinfector sports a pretty compact form-factor which makes it quite portable. So, you can comfortably carry it anywhere you want.
Second, PhoneSoap 3 features two germicidal UV-C bulbs that are capable of eliminating up to 99.99% bacteria and germs. And third, it's designed to accommodate both small and large screen devices like iPhone 11 Pro Max and the behemoth S20 Ultra.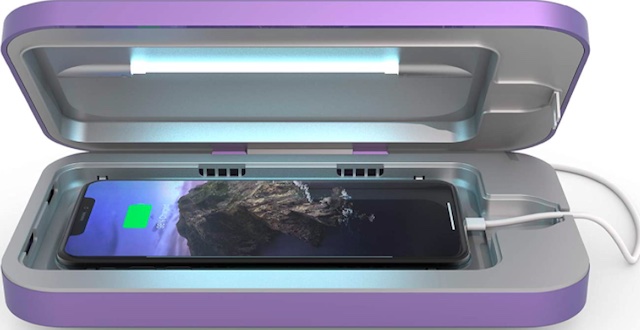 What's more, PhoneSoap also features one USB port and one USB-C port to let you power up both Android and iPhone devices. Keeping in mind these features, the $80 price tag seems reasonable.
Just in case you find the $80 price tag a bit too much for your budget, I would recommend you to have a look at HoMedics ($59.99) and Homecode UV phone disinfectors.
Buy from Amazon: $79.95
Best Phone Screen Disinfectants and Wipes in India
For the folks looking for reliable phone screen disinfectants and wipes in India, here are a couple of top bets.
6. EGUARD
EGUARD is a multi-purpose phone screen cleaner. I mean you can use it to not only disinfect your phone screen but also sanitize your laptop, tablets, and remotes. As it automatically evaporates in 30-40 seconds, you don't need to wipe. EGUARD comes in two variants: 150 ML and 500 ML. While the 500 ML variant is priced at ₹ 450.00, the 150ML variant is available for ₹225.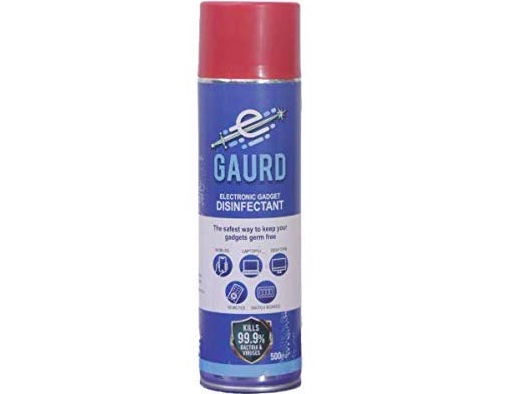 If you are looking for cheaper alternatives, Bacto-V (₹180) and Zeiss (₹378) would be worth checking out. Despite being priced slightly low, they are very effective in getting rid of germs and bacteria. 
Buy from Amazon: ₹ 450.00
7. BodyGuard
Last but not least, BodyGuard is one of the best wipes for cleaning the phone screen. The wipes are completely alcohol-free and soft to the touch. As a result, they can clean the screen neatly without damaging the screen.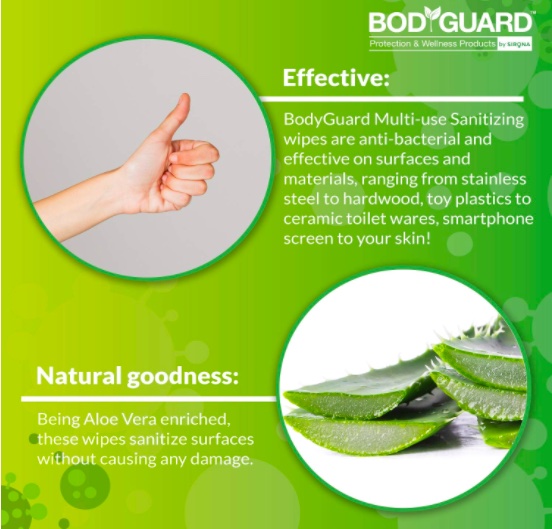 Apart from being quite effective in cleaning the phone screen, the anti-bacterial wipes can let you clean even stainless steel, hardwood, and plastic things. Notably, the wipes have dermatologically tested which makes it skin-friendly. That means you can use them to even sanitize your hands.
Buy from Amazon: ₹ 109
Top Phone Screen Disinfectants and Wipes to Buy
So, these are the top wipes and disinfectants which you can use to clean your phone screen. Now that you have got a reliable cleaner or wiper, make the most of it to prevent your smartphone from being infected by harmful bacteria or germs.
But before you get into the groove of your usual chores, let us know the disinfectant or wipe that has caught your attention. Besides, also let us know the name of any other disinfectants that deserve a mention in the above roundup.