iPhone 12 mini is my favorite iPhone to launch to date. It is powered by the latest A14 bionic processor, sports the new design, and is small enough to be easily used by one hand. I love small phones, and this is perfect for me. The latest iPhone 12 mini also gets nearly the same OLED display that is on the Pro models. That means you are getting better contrast and deeper blacks. And if you want the display to remain pristine, you should slap a screen protector on it. To make your work easier, I have listed the best iPhone 12 mini screen protectors that you can buy right now.
Best iPhone 12 mini Screen Protectors You Can Buy
You can click on the table of content below to see the list of all the screen protectors included on this list. You can also click on the name to move to the corresponding screen protector.
1. Spigen Tempered Glass Screen Protector
Spigen makes some of the best screen protectors for iPhones, and it has released its Glas.tr screen protector for iPhone 12 mini. The screen protector uses tempered glass with 9H hardness which can easily handle minor impacts and keeps scratches and scuffs away.
There's also an oleophobic coating on the top that prevents fingerprints and smudges, thus keeping the display clean and responsive. The screen protector comes in a pack of two with an installation frame that makes the installation process a breeze even at home.
Buy from Amazon: $11.99
2. iPhone 12 mini Amplify Glass Antimicrobial Screen Protector
A while back, one study found that the smartphone's screen is dirtier than toilet seats. And a recent study discovered that Coronavirus can survive for 28 days on a smartphone screen. Both these studies prove that we need to clean our smartphones' screens regularly using phone screen disinfectants.
But let's be fair, no one is going to follow a regular cleaning schedule. And that's why you should install the Amplify Glass Antimicrobial screen protector by OtterBox on your iPhone 12 mini. It uses the first EPA-registered antimicrobial glass that defends your phone screen against both damage and unwanted microbes. The antimicrobial coating remains active throughout the life of the screen guard and keeps killing the microbes 24*7.
Yes, it's a bit costly but it also removes the headache of cleaning your screen regularly.
Buy from OtterBox: $49.95
3. FLOVEME for iPhone 12 Mini Screen Protector
The screen guard from FLOVEME comes in a pack of three, which makes it an affordable choice for iPhone 12 mini owners. It uses a 0.5 mm thick tempered glass that can easily handle drops and falls. The tempered glass also has 9H hardness that keeps the scratches and scuffs away.
There's also a protective hydrophobic and oleophobic coating that protects your screen from fingerprint marks, liquid residue, and smudges. It comes with an installation guide, allowing you to install the screen protector without any bubbles. It is also compatible with most iPhone 12 mini cases, so you can use both a case and screen protector without any issues.
Buy from Amazon: $11.99
4. Luckymore Compatible with iPhone 12 Mini Screen Protector
Another good tempered glass screen protector for the iPhone 12 mini is the Luckymore screen protector. It features an open-edge design that covers the main display but leaves the edges exposed, so you can even use heavy-duty cases without any problems.
The tempered glass used here is highly responsive and sensitive and brings high clarity and transparency. That means you won't have any problems while using the device or viewing media. Like others, it also has a protective hydrophobic and oleophobic coating that prevents fingerprints and oil stains.
Buy from Amazon: $9.99
5. OEAGO Glass Screen Protector
The OEAGO glass screen protector uses an ultra-thin tempered glass which measures in at just 0.33 mm. Thus it not only ensures protection but also maintains the original viewing quality and touch-response of the display. There's also an oleophobic and hydrophobic coating on top, which prevents the display from getting dirty.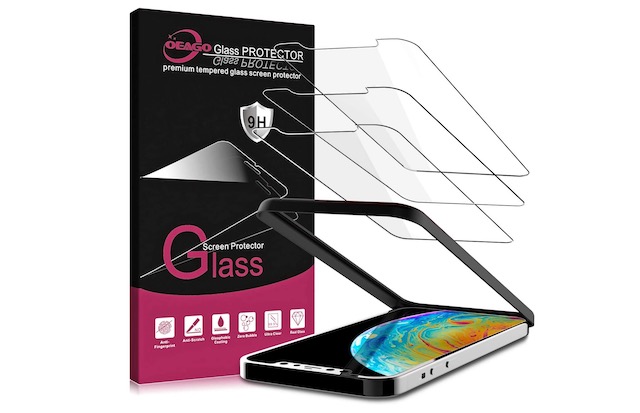 One unique feature of this screen protectors is that it can self-heal smaller scratches thanks to its use of plasma spray and auto-adsorption technology in the construction of the screen protectors. The glass can also repel air bubbles, so you will have an easier time while installing this screen protector. Finally, it doesn't leave any residue when removed, so you won't have to clean the display before charing the screen protector.
Buy from Amazon: $10.99
6. QHOHQ Privacy Screen Protector
The QHOHQ privacy screen protector is for people who don't look people snooping on their phone when they are using it. When installed, the screen protector drastically reduces the viewing angles and allows only the person who is directly looking at the phone to see the content. That means people standing or sitting beside you won't be able to see what you are doing on the phone.
Note that while you will be able to see the phone screen directly, it will slightly decrease with viewing quality. The decrease is not noticeable when using the phone for texting or calls, but you will notice it when watching content.
That is a price you need to be ready to pay for gaining privacy. Talking about the glass, it uses tempered glass with 0.3 mm thickness, so you are getting all the protection that you need from it. It can easily handle drops and repents scratches. It even brings a glass protector for the camera bump at the back, thus protecting the camera lenses. This is a nice package, and you should check it out.
Buy from Amazon: $12.99
7. OtterBox Alpha Glass Blue Light Screen Protector
If you experience eye-strain when using your iPhone 12 mini, then maybe you should buy this blue light filter screen protector. It's made by OtterBox so you know you are getting top-notch protection. The ultra-thin tempered glass is made using advanced fortified material technology to withstand drops, impact, and daily wear.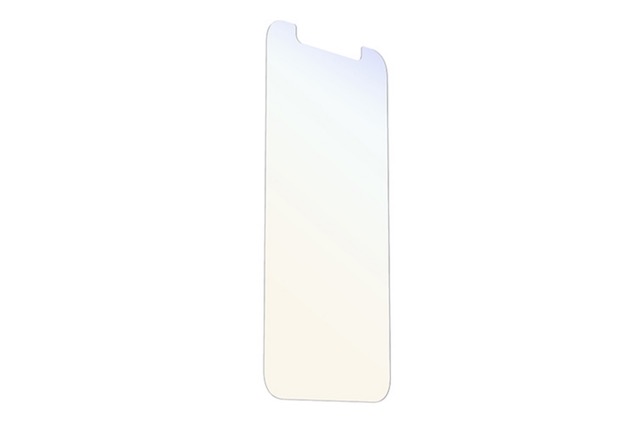 The blue light filter coating on the glass ensures that your eyes are protected against harmful blue light waves. So, even when you are binging on shows for hours, you won't feel any major discomfort in your eyes. The screen protector comes with an installation guide so you can install it at home. Considering it's a costly screen guard, this is appreciated. Anyways, if you want to prevent the harmful effects of blue light, you should check it out.
Buy from Otterbox: $44.95
8. PULEN for iPhone 12 Mini Screen Protector
If you are looking for the cheapest screen protector for your iPhone 12 mini because you break them a lot, check out the PULEN screen guard. At just $5.99, you are getting three tempered glass screen protectors. The glass has 9H hardness, so it can easily handle drops and scratches.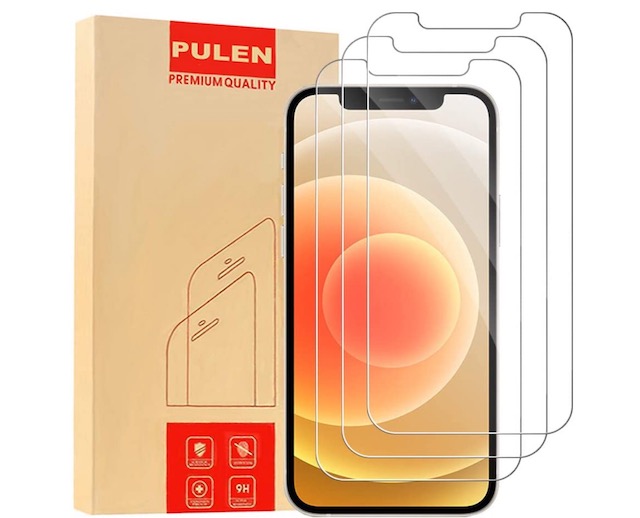 It uses an adhesive which ensures bubble-free installation and doesn't leave any residue when removed from the display. It also has all the usual features, including both oleophobic and hydrophobic coatings for keeping the display clean, high-transparency for better viewing quality, and more. If you want something cheap, this is the one to get.
Buy from Amazon: $5.99
Best Screen Protectors for iPhone 12 Mini
In the article, I have mentioned several types of screen protectors at all price points. Whether you want an affordable screen guard or a premium one that has anti-microbial properties, you can find it on this list. I have also included a privacy screen protector for people who hate snooping.
So check out the list and let us know which screen protector you want to buy. Also, don't forget to read our coverage on iOS 14 so you can use your brand new iPhone 12 mini with all the new features.