As the leaks suggested, Apple launched four new iPhones this year with iPhone 12 mini, being the new kid in the lineup. As a fan of small smartphones, I am in love with this device. It's the same size as the iPhone SE 2 but brings a 5.4-inch edge-to-edge screen that looks gorgeous. The small size also ensures that even when you put a case on it to protect the device, it won't become unwieldy. And to make your life easier, we have listed the best iPhone 12 mini Cases that you can buy in 2020.
Best iPhone 12 mini Cases to Buy in 2020
To cover our bases, we have included all types of cases in this list. So whether you want a leather case, clear case, hard-shell case, or slim case, you will find it here. If you are also buying the pro sibling, you can check out our list of best iPhone 12 Pro cases by clicking on the link. With that said, let's get to the list, shall we?
1. iPhone 12 mini Silicone Case with MagSafe
One of the new features coming with the iPhone 12 mini along with all the other iPhone 12 models is the new MagSafe connector at the back that not only enables faster wireless charging but also magnetic accessories attachment. And one of my favorite attachments is the new silicone case.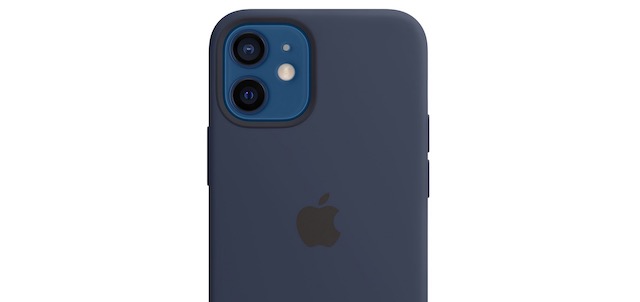 The case is as always premium, like every other iPhone accessory made by Apple. It's available in eight different colors, including plum, navy, green, and more. My favorite is the deep navy color which will go nicely with the Blue variant of the iPhone 12 mini. I also love that the case seems ultra-thin. It will keep the overall compact design of the iPhone 12 mini intact.
I love this case and consider it to be one of the best cases you can buy for your brand new iPhone 12 mini. If you want a clear case, you can also look at the MagSafe clear case from Apple.
Buy from Apple: Silicone case ($49.00) / Clear case ($49.99)
2. Mujjo Full Leather Wallet Case for iPhone 12 mini
One of my favorite case makers is Mujjo. The company makes excellent leather cases for iPhones, and they have just released a plethora of cases for the new iPhone 12 models, including the iPhone 12 mini, iPhone 12 Pro, iPhone 12, and the iPhone 12 Pro Max. There are two kinds of cases.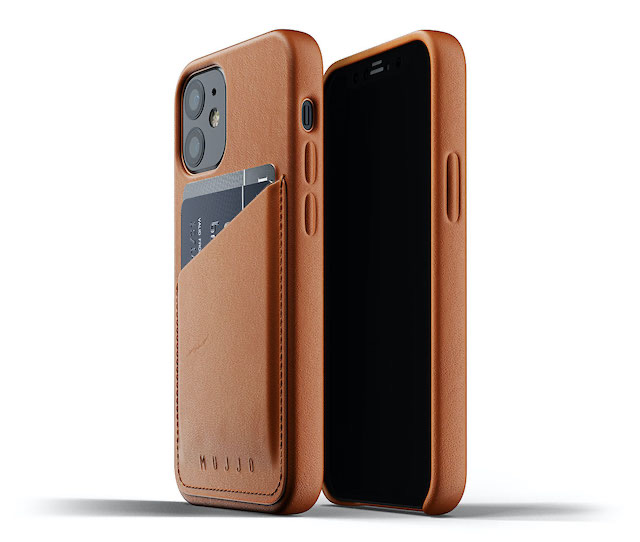 One is a simple leather case, while the other comes with a small wallet at the back that can hold a few credit cards and some cash. It is available in multiple colors, including blue, black, green, and tan. My favorite is the original tan case. It uses real leather, hence develops a patina over time. I recommend this to anyone who is looking for a leather case for the iPhone 12 mini.
Buy from Mujjo: $48.47
3. iPhone 12 mini Defender Series Pro Case from OtterBox
OtterBox makes the best cases for bringing enhanced protection to your devices. Usually, I don't like to put on OtterBox cases as they are quite bulky. But, it's not a problem with iPhone 12 mini as it's a small phone. So, even with the OtterBox Defender case on, the phone will not feel unwieldy. The case will provide ample drop protection and will easily thwart scratches and scuffs.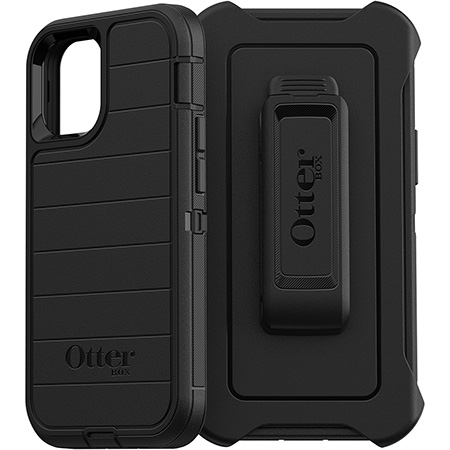 Another benefit of the Defender case from OtterBox is that it comes with a silver-based antimicrobial additive that helps inhibit microbial growth and defends the case exterior against many common bacteria. This, together with a good phone screen disinfectant, will ensure that your iPhone is always clean.
Buy from OtterBox: $69.96
4. Spigen Liquid Air Armor Designed for Apple iPhone 12 Mini
Protection should not come at a cost, and if you are looking for an affordable yet protective iPhone 12 mini case, you should buy the Spine Liquid Air Armor case. First of all, it is thin, form-fitted, and lightweight, and I love its in-hand feel. Second, it incorporates an anti-slip matte surface in its construction that brings fingerprint-resistance and enhances the grip.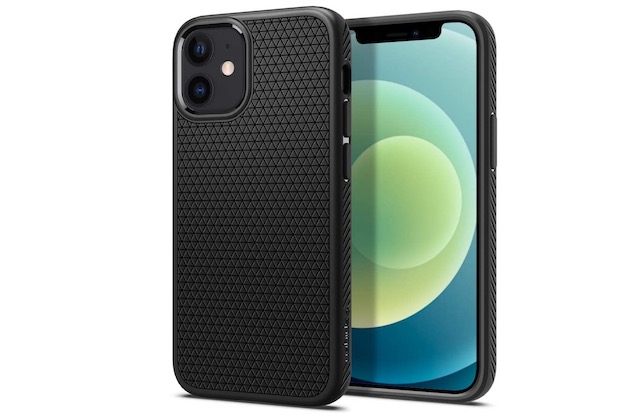 The Liquid Armor case brings military-grade protection, thanks to its Air-cushion design that is excellent at absorbing shock. Spigen cases also offer clicky buttons, a point that not many case makers give adequate attention. And finally, the case looks cool which is always a bonus.
Buy from Amazon: $12.99
5. Caseology Nano Pop for Apple iPhone 12 Mini
Another case-maker whose products I enjoy is Caseology. The company makes excellent cases that are both beautiful and protective. Their Nano Pop case that I am featuring here has a durable protective layer of silicon on the outside with a soft lining on the inside.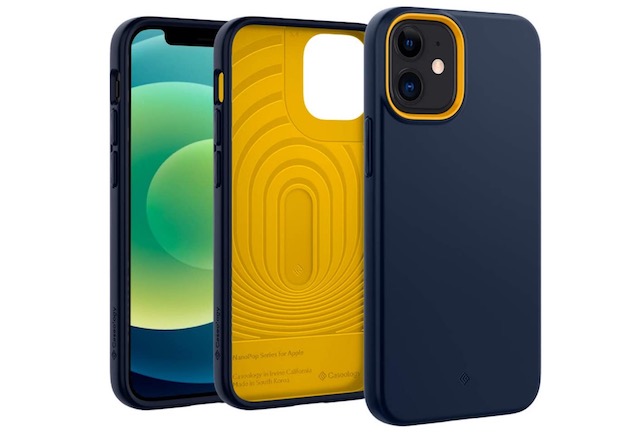 It ensures that the case not only protects your iPhone 12 mini in case of drops and falls but also that the case material itself doesn't scuff or scratch the glass. The material also enhances the grip-ability of the iPhone. It's available in a variety of vibrant colors and costs under $15.
Buy from Amazon: $13.99
6. ESR Metal Kickstand Case
If you consume a lot of media on your iPhone or take a lot of video calls, the ability to do those things in a hands-free way is a must-have feature. And that's where the ESR Metal Kickstand case can help you. It's a clear case that lets you show off the brand new design of the iPhone 12 mini while protecting it at the same time. That said, the level of protection won't be in the same league as the OtterBox case or the Spigen case.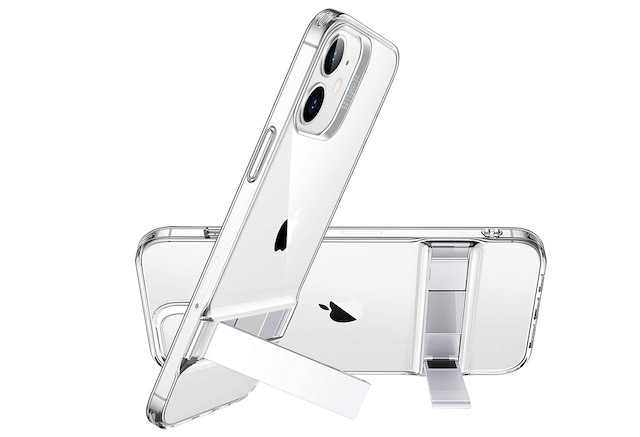 It's for people who are looking for a slim case that brings enough protection to handle small drops. All that said, the USP of this case is the built-in metal stand that lets you use the iPhone 12 mini hands-free both vertically and horizontally. So, whether you are taking video calls or binge watching shows on Netflix, you won't have to tire your hands while doing it.
Buy from Amazon: $15.99
7. Thinkart Shockproof Glitter Phone Case
If you prefer designer cases, try out the Thinkart shockproof glitter case for iPhone 12 mini. The case uses premium rubber material that can absorb shock resulting from falls and impact and protect your device. It also enhances the grip-ability of the phone. It will be less likely that you will drop the phone in the first place.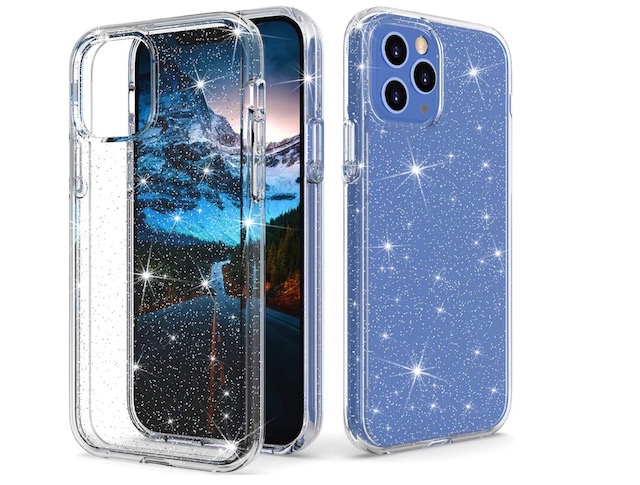 The case uses a clear design with sprinkled glitter inside the rubber itself, giving it a sparkly look. It will certainly make your case shine in the right lighting conditions. I also love that it includes raised lips around the camera and the front screen, which helps prevent scratches and scuffs. And you are getting all this at quite an affordable price.
Buy from Amazon: $10.99
8. S-Tech iPhone 12 Mini Case with Buil-in Wallet and Kickstand
The S-Tech case for the iPhone 12 mini is unique, and I have not seen many cases like this before. It's kind of a reverse folio case that only covers the back of the device but still brings the features associated with folio cases, including a built-in wallet and a kickstand.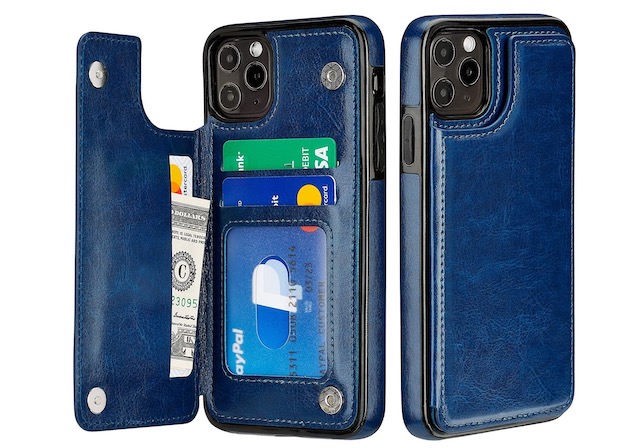 The wallet has several slots allowing you to easily carry pictures, money, license, medical cards, and credit cards. You can open the wallet flap and use it as a stand for consuming media in landscape mode. And while it's not using real leather, the PU leather used here is of high quality. It's worth checking out.
Buy from Amazon: $15.77
9. iPhone 12 Mini Case by totallee
No one makes thin cases like totallee, and the company has released its cases for the entire lineup of iPhone 12 series phones, including the iPhone 12 mini. The totallee cases are available in multiple colors, and my favorite is the frosted white one. Not only this case lets me show off the new design, but it also rejects fingerprints and keeps the phone clean.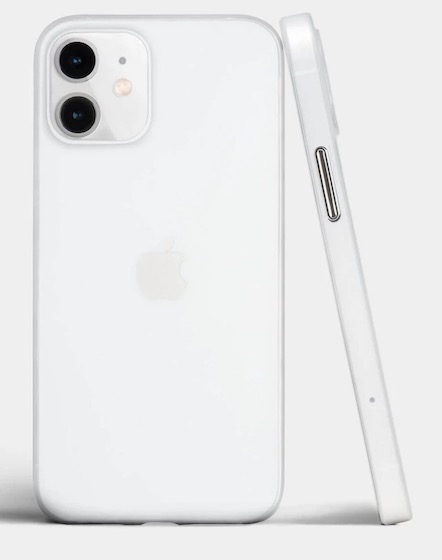 The case can easily protect the iPhone 12 mini from scratches and scuffs and can even handle some minor drops. But don't go expecting extra protection from this case. This case is for people who love minimal and ultra-thing design. It's so minimal that the company doesn't even include any branding on the case. If that's something you like, click on the link below to check it out.
Buy from totallee: $35
10. CAFELE iPhone 12 Mini Case
The final case on this list is a thin and light case that provides ample protection thanks to the use of a shock-absorbing TPU bumper. The case has a rigid back that protects the back glass plate. It has passed the military-grade drop test by SGS, enduring 26 drops from a height of 6 feet. So, you know your phone will be safe inside this case.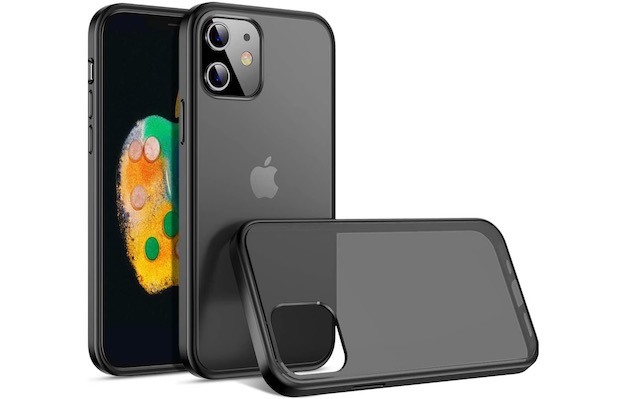 There's also a 1 mm raised lip around the screen and the camera to prevent daily scratches and scuffs. The case is easy to install thanks to the flexible bumper, and it fits the phone like a glove. It also offers clicky buttons, which is something I appreciate in a case. Overall, it's a good iPhone mini case, and you should check it out.
Buy from Amazon: $11.69
Buy the Best Cases for iPhone 12 mini
That ends our list of the best iPhone 12 mini-cases that you can buy right now. As promised, I have included cases for all use-cases. Whether you love clear cases, protective cases, folio cases, or leather cases, you will find at least one case here that will meet your demands. Check them out and let us know which case you chose for protecting your iPhone 12 mini.