With SSD prices hitting all-time lows, there's no good reason not to ditch mechanical hard drives for good. That's especially true if you are a gamer, given the massive performance gains offered by solid-state drives in terms of read/write speeds. So if you're looking to improve your gaming performance and reduce load times on your PC, take a look at the best budget gaming SSDs (M.2 PCIe 4.0 NVMe and 2.5″ SATA III) you can buy right now.
Best Budget Gaming SSDs You Can Buy in 2021
For this article, we have only considered internal drives because we want you to use the SSD on the go instead of carrying it separately. If you need an external SSD, check out our list of the 5 best external SSDs you can buy. We also haven't considered add-in cards, which are only compatible with desktops with a spare PCIe x4, x8, or x16 slot. They are typically more expensive than other form-factors. That said, let's check out the best budget gaming SSDs (M.2 PCIe 4.0 NVMe and 2.5″ SATA III) you can buy in 2021.
Note: Check your laptop's user manual to find out what types of SSD it supports. 2.5″ NAND Flash SATA drives are typically not as fast as PCIe M.2 SSDs, but the vast majority of computers, including both laptops and desktops, support them. They're also cheaper and faster than mechanical HDDs and are hence the safer choice if you're unsure about compatibility.
Best Budget Gaming 2.5″ SATA III SSDs
SATA may not be sexy anymore, but it is far from dead. For folks on an ultra-tight budget, SATA III will continue to march on in the form of low-cost SSDs, which currently offer the best balance between price and capacity. While NVMe PCIe M.2 2280 is the future, it will be a long time before the pricing difference between the two technologies subsides enough to consign SATA to the bins of history.
1. Samsung 870 EVO
Possibly the ultimate benchmark in affordable consumer SSDs, the Samsung 800-series has long been a favorite for gamers, 3D designers, and DIY enthusiasts alike. The 870 EVO has top-notch performance, solid reliability, and compatibility with a wide range of systems, including many older platforms from Intel and AMD. It maximizes the SATA interface limit up to 560MB/s sequential read and 530MB/s sequential write speeds.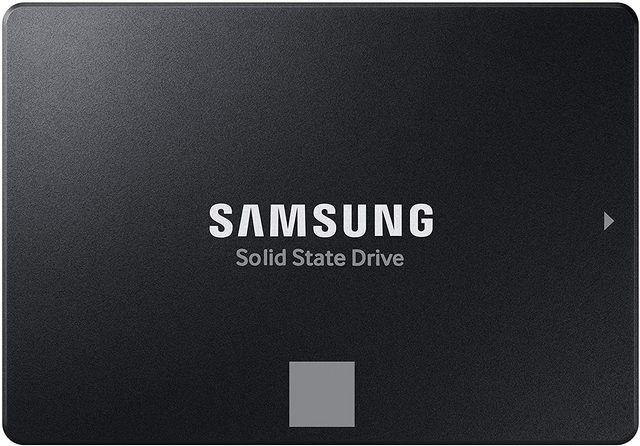 It is also super reliable, with Samsung claiming up to 2,400 TBW (Terabytes Written) under a 5-year limited warranty. Overall, if you're looking for a super-affordable, super-reliable, and super-fast 2.5″ SATA III SSD, look no further than the Samsung 870 EVO.
2. Western Digital WD Blue SN750
Another popular hard-hitter, the WD Blue SN 750, offers sequential read speeds up to 560MB/s and sequential write speeds up to 530MB/s. The company claims a reassuring 1.75 million hours MTBF (Mean Time Between Failure) and up to 600 TBW for enhanced reliability. In terms of price per GB, it is one of the most affordable 2.5″ SATA III SSDs you can buy, especially in larger capacities.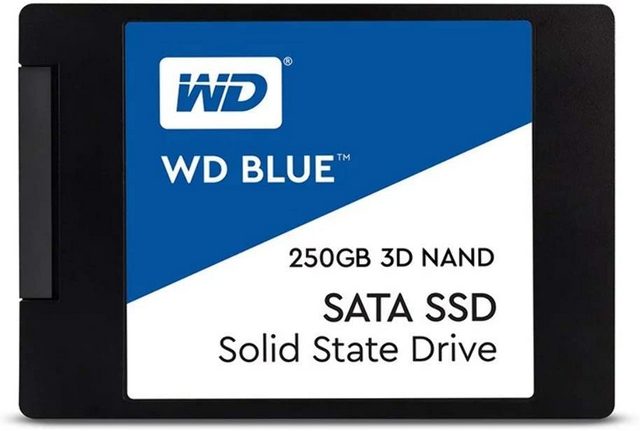 What's more, it also reduces active power draw by up to 25% compared to previous-gen WD Blue SSDs. That means you can work for longer hours before having to recharge your laptop.
3. HP S700 Pro SSD
HP might be better known for its laptops and computer peripherals, but it also makes some high-quality and affordable solid-state drives. A case in point is the S700 Pro, which offers high performance for a low asking price. It is based on the 3D NAND technology and comes with an advanced wear balancing algorithm for higher durability @ 0.6 DWPD (Drive Writes Per Day). It also offers up to 2 million hours MTBF and up to 650 TBW for enhanced reliability.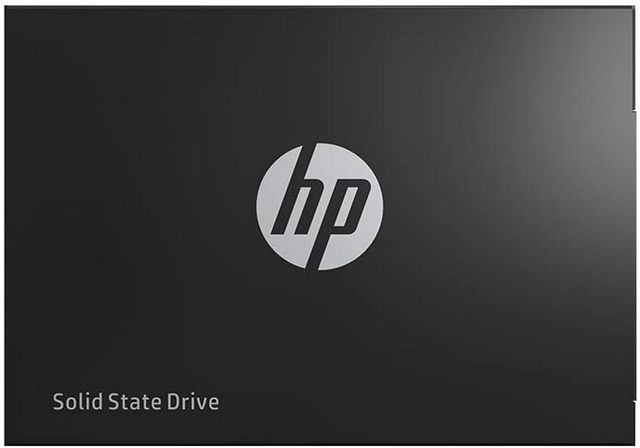 The HP S700 Pro also comes with higher-order LDPC error correction for high-speed parallel decoding and real-time error correction to ensure data integrity. It is compatible with a wide variety of notebooks, ultrabooks, all-in-one computers, and embedded platforms.
4. SK Hynix Gold S31
The world's second-largest semiconductor maker, SK Hynix, is a renowned South Korean brand. It supplies DRAM and Flash memory chips to leading PC and smartphone vendors around the world. Like their RAMs, their consumer SSDs also hit the sweet spot between performance and affordability. The Gold S31 featured here brings sequential read speeds up to 560MB/s and sequential write speeds up to 525MB/s.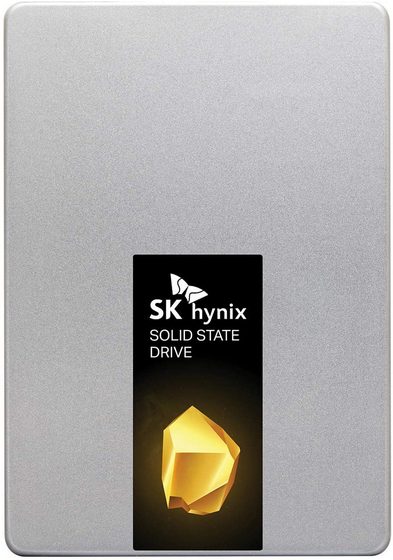 It is powered by the company's in-house 3D NAND, controller, and DRAM, which means you should expect super reliability. The company offers up to 1.5 million hours MTBF and up to 600 TBW, thus, ensuring your peace of mind.
5. Kingston A400
The Kingston A400 SATA 3 SSD offers read and write speeds up to 500MB/s and 450MB/s, respectively. It also comes with shock and vibration resistance, making it ideal for notebooks and other portable devices. The A400 is available in multiple capacities, ranging from as low as 120GB up to 1.92TB, to offer you enough storage for Windows apps, games, videos, photos, and more.
Kingston A400 is not the fastest SSD, but we have included it in the list specifically for those on a shoestring budget looking to upgrade from a traditional mechanical 7200RPM HDD. The Kingston brand name also means that you should not have any reliability issues in the long-term.
Best Budget Gaming PCIe M.2 NVMe SSDs
We have mostly chosen PCIe 4.0 SSDs here because they are significantly faster than their 3.0 counterparts and are only slightly more expensive in terms of $$ per GB. With Intel's Rocket Lake-S also supporting the new standard, PCIe 4.0 SSDs are likely to be more commonplace in the coming months. That said, we will still list a couple of PCIe 3.0 drives for those on an absolute shoestring budget or working with an older computer.
1. Western Digital WD Black SN750 (PCIe Gen3 NVMe)
The WD BLACK SN750 is the PCIe Gen3 version of what could be the best M.2 NVMe PCIe Gen 4 SSD in the market right now, the SN850. It delivers top-tier performance for gaming, 3D graphics rendering, and 8K video editing. It's also one of the best options for folks looking to upgrade from their older 2.5″ SATA model. Keeping in line with its 'affordability' theme, the SN750 doesn't come with a built-in heatsink, but that doesn't hurt the SSD's performance.

It offers sequential read/write speeds of up to 3,100MB/s and 1,600 MB/s, respectively. It also comes with the WD BLACK SSD dashboard with a gaming mode that improves game performance.
2.
Samsung 970 EVO (PCIe 3.0 NVMe)
Powered by Samsung's in-house V NAND technology, the NVMe interface (PCIe M.2 2280) of the 970 EVO SSD offers enhanced bandwidth, low latency, and power efficiency ideal for tech enthusiasts, gamers, 3D modelers, and 4K content designers. The SSD supports sequential read and write speeds of up to 3,500MB/s and 2,500MB/s, respectively.

It also comes with seamless cloning and file transfers with Samsung's proprietary SSD management software, Magician. The 970 EVO also doesn't have a built-in heatsink but incorporates what the company calls a 'dynamic thermal guard' to monitor and maintain optimal operating temperatures.
3. Sabrent Rocket (PCIe 4.0 NVMe)
Sabrent is a relatively new entrant to the world of PC hardware and has quickly become a favorite among DIY enthusiasts. This particular model, the Sabrent Rocket, comes with the NVMe M.2 PCIe Gen4 x 4 interface and offers sequential read/ write speeds of up to 5000 MB/s and 2500 MB/s, respectively. It doesn't come with a built-in heatsink, but the manufacturer recommends using one, especially with PCIe 4.0 motherboards, to avoid thermal throttling.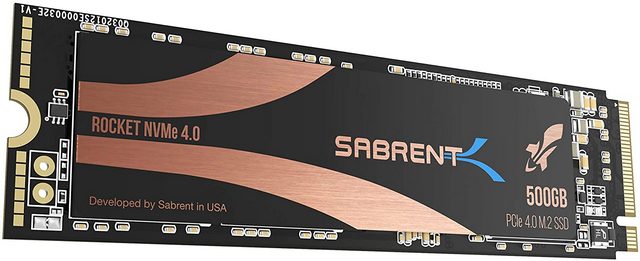 Software support includes Advanced Wear Leveling, Bad Block Management, Error Correction Code, and Over-Provision. It also comes with a customized Sabrent version of Acronis True Image for easy cloning.
4. Corsair Force Series MP600 (PCIe Gen4 NVMe)
The Corsair Force MP600 M.2 2280 SSD comes with a high-speed Gen4 PCIe x4 NVMe M.2 interface and is based on high-density 3D TLC NAND flash memory. It provides extreme storage performance, with sequential read/write speeds of up to 4,950MB/s and 2,500MB/s, respectively. It also comes with a built-in heatsink for better heat dissipation, making it possibly one of the best value-for-money offerings in its class.
The Corsair MP600 also promises extreme longevity with a rating of up to 850 TBW. If you're looking for extreme performance without breaking the bank, the Corsair MP600 is the SSD you should pick.
5. Seagate Firecuda 520 (PCIe Gen4 x4 NVMe 1.3)
One of the most expensive M.2 SSDs on our list, the Seagate Firecuda 520 offers peak performance with maximum sequential read and write speeds up to 5,000MB/s and 4,400MB/s, respectively. It has an MTBF of up to 1.8 million hours and a TBW rating of up to 2,800TB, making it one of the most durable, high-endurance SSDs on our list. It is ideal for gaming rigs powered by the latest Ryzen chips and creative pro workstations.

Blazing Fast Solid State Drives That Redefine Value-for-Money
In this article, we have listed a bunch of different solid-state drives based on different technologies and with different form factors. From super-affordable 2.5-inch SATA III drives to blazing-fast M.2 NVMe PCIe 4.0 SSDs, there's something in it for everybody depending on your needs and budget. So go ahead, take your pick from our list of the best budget gaming SSDs, and let us know which one you chose and why.
Meanwhile, if you're looking for ultra-fast storage options, check out how you can turn the excess RAM in your computer (laptop or desktop) into an SSD by creating a RAM Disk in Windows 10. Also, if you're in India, check out our list of the best laptops with SSD you can buy. Finally, check out our guide on how to speed up your Windows 10 computer to ensure that your PC isn't being bottle-necked by software constraints.
---
Load More