Computer-Aided Design (commonly referred to as CAD) has become an integral factor that moves the world forward. CAD lets you design everything from tiny pieces of electronic equipment to large buildings, dams, and more. Naturally, CAD programs have become expensive as most professionals use them to design things. And if you are a student or a freelancer, buying expensive CAD software becomes a distant dream. But there is nothing to worry about as we have curated a list of the top 12 free CAD software that are as good as the paid ones. So without any delay, let's check out the best free CAD software in 2023.
1. FreeCAD
FreeCAD, as the name suggests, is a free and open-source CAD software, and it's a top choice among both beginners and professionals. If you are well-versed in CAD modeling basics, then this software would be the best pick for you. An educator or programmer can also get the best out of FreeCAD, given its multi-purpose behavior and intuitive interface.
Despite being a free tool, the UI of FreeCAD is almost on par with professional CAD software. It also packs in a ton of features. Probably the most significant feature of FreeCAD is the Parametric Model. It lets you go back and edit your actions so that you get the best results. The software also has a modular architecture, enabling you to install plug-ins for additional features you need.
In addition, from an advanced user's perspective, its ability to be implemented into an app through Python modules makes it quite useful. Additional features of FreeCAD include the Robot Simulation module that helps you study the movement of robots, a rendering module for exporting your project into external renderers, and more. To sum up, if you are looking for free CAD software for beginners, then FreeCAD is an excellent choice. I would say, even professionals can use it given the tools and features it packs.
| Pros | Cons |
| --- | --- |
| Completely free | Can be a little unintuitive |
| Offers a plentiful selection of tools | |
Visit Website (Free)
2. Tinkercad
Suppose you're at your friend's home and get a call to design a simple 3D Model. Now, your friend's PC does not have any CAD software installed in it, but you do have a powerful internet connection at hand. In such cases, you have a solution in Tinkercad. It is an online solution for 3D Digital Designs. The best thing about Tinkercad is that it does not require any previous experience, and it's free to use.
The program is not as feature-packed as other CAD software. But, if you want a simple platform to design models, especially for 3D printing, then Tinkercard is the best solution out there. Also, Tinkercard is part of the Autodesk family, so you get all kinds of integration and file format support.
The thing I love the most about Tinkercad is that it entices youngsters into learning CAD. It might not seem like a compelling prospect to young audiences, but the lectures are fun-filled. There's a lot to learn here. You can learn 3D design, electronics design, code blocks, and more. There are even tutorials on how to create Minecraft models.
There's a gallery where you can find what other users are designing and sharing. Some other features of Tinkercad are integration with 3D Printing services, support for HTML5, and a powerful geometry library. Tinkercad is a great online platform to start learning CAD, and it is the perfect CAD software for 3D printing. More so, when the service does not cost you a dime.
| Pros | Cons |
| --- | --- |
| Free | Doesn't support 2D to 3D modelling |
| Easy to use even for relative beginners | |
Visit Website (Free)
3. LibreCAD
Unlike other CAD software in this list, LibreCAD is a 2D modeling software for Windows, macOS, and Linux. It is an open-source and free CAD software that you can use for both personal and commercial use. LibreCAD uses some of the libraries from another CAD program called BRL-CAD.
It offers interactive geometry design, ray tracing for rendering and analysis, a benchmark suite, and more. You can create geometric 2D designs, circuit boards, mathematical figures, etc., in a highly customizable interface, which is nice. Further, it supports both DWG and DWF file formats, so you can easily import your saved projects from AutoCAD or other CAD applications.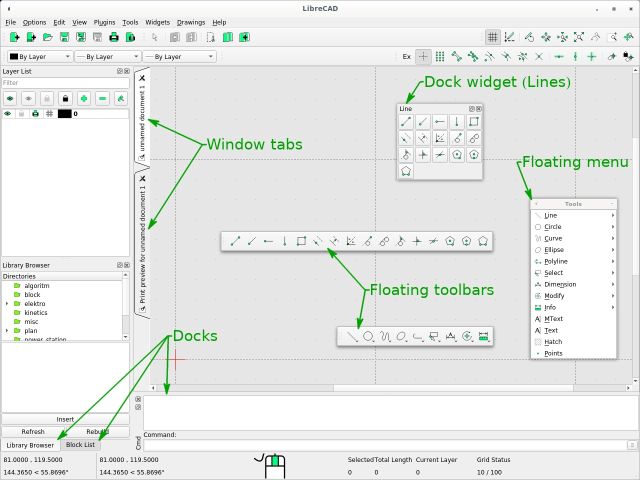 Moreover, you can export your 2D design in DXF, SVG, and PDF formats. LibreCAD has support for plugins as well, so you can add advanced tools just by installing a third-party plugin. If you are looking for free CAD software for beginners interested in 2D modeling, LibreCAD is the best program out there.
| Pros | Cons |
| --- | --- |
| Completely free | Can be a little unintuitive |
| Offers a plentiful selection of tools | |
Visit Website (Free)
4. OpenSCAD
If you are okay with using a textual description language to create 3D CAD Objects, you may find OpenSCAD to be an effective free CAD Software. There are several scenarios where you might need such an interface, especially when you are in a professional field. You will have to be as specific as you can when you model things, and you can find how useful OpenSCAD is in such cases.
The software comes with an extensive document that tells you about the parameters to be kept in mind when you give descriptions. It offers an impressive level of documentation that will help in the long run, especially if you are just starting out.
The user interface is developer-centric, so you can go with OpenSCAD if you are okay with it. OpenSCAD is available for Windows, Linux, and macOS devices. Developers say that they find OpenSCAD excellent for designing, as they don't have to deal with menus or shortcuts, but pure code. However, this means that the software is not for beginners. If you are just starting with CAD, this is not for you.
| Pros | Cons |
| --- | --- |
| Open source | Can be a little unintuitive |
| Great for people from a programming background | Challenging to design complex shapes |
Visit Website (Free)
5. Solid Edge Community Edition
Solid Edge by Siemens is a 2D/3D parametric CAD software tailored for mechanical engineers. While Solid Edge is a premium software with a price ranging up to $480 per month for an all-inclusive package, there's a free version that goes by the name Solid Edge Community Edition. This edition is intended for makers and hobbyists and comes packed with features like automated drafting, exploded view creation, animation, advanced rendering, and simulation.
Unlike Fusion 360 which appears towards the end of this list and does not allow local storage, Solid Edge Community Edition is installed completely on your computer. In terms of ease of usage, I'd rate Solid Edge on a moderate level as you would need prior experience with CAD software or must know the intricacies of 3D modeling to get a grip on the tools.
Solid Edge's Command Finder interface makes it easy for first-time users and you can easily design parts, assemblies, and sheet metal using the software. There are two major limitations of this free CAD software as compared to its premium counterpart- you cannot open files created in the community edition in the licensed version of the software and 2D drawings are watermarked.
| Pros | Cons |
| --- | --- |
| Industry-standard tools | Steep learning curve |
| Local storage allowed | Watermarks in 2D models |
Visit Website (Free)
6. ZBrushCoreMini (Earlier Sculptris)
ZBrushCoreMini is another free CAD Software that focuses on 3D Sculpting & 3D Modelling. It is made by one of the industry leaders named Pixologic. The tool has a professional User Interface and can be learned by anyone in a shorter time period, given that you know the basics of creative designing.
There are several features here that are very helpful when it comes to designing. For instance, there is support for both ZBrush navigation & standard-level navigation.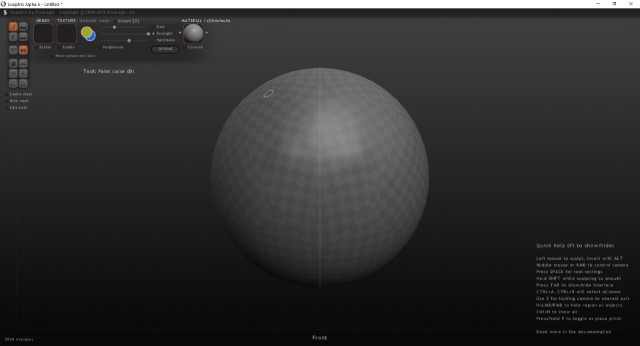 ZBrushCoreMini even offers support for plug-ins, using which you can extend features and productivity. Plus, there are some sculpting and designing-oriented features, which you can find on the official site. This CAD software is available for macOS and Windows with a system requirement of 1 GB of RAM or more.
Other noteworthy features of Sculptris include the GoZ button, which lets you transfer your mesh to ZBrush, Dynamic Tessellation, Immersive Interface, Projection Painting, and more. To sum up, if you are on the lookout for free CAD software for beginners, then ZBrushCoreMini is a great pick. Also, it can do 3D printing pretty well.
| Pros | Cons |
| --- | --- |
| Great for high-poly, detailed work | Steep learning curve |
| Customisable brushes | Zbrush's perspective view isn't the easiest to use |
| Features like noise sculpting, sculpting layers, etc. | |
Visit Website (Free)
7. SketchUp
SketchUp is a professional-grade software used for 3D Modelling in several industries such as interior design, architecture, engineering, video game design development, etc. As you may have guessed, SketchUp is a paid tool, but it offers a free tier for personal users and students. The free service, however, is only available on its web platform.
You can design 3D models, render them, and save your project in DWG format. One of the noticeable additions of SketchUp includes its open-source library of model assemblies and 3D Warehouse, a large enough collection of 3D models uploaded by other users.
Also, as it's a tool developed using Ruby, there's support for extensions as well. The Extension Warehouse of SketchUp is an essential feature for those who need enhanced productivity. Further, if you want to use its native app, you can check out SketchUp Pro, available for a 30-day trial. So, there's plenty of time to check it out before you buy it.
Overall, the free web version of SketchUp is an excellent tool for both beginners and professionals. If Tinkercard turns out to be too rudimentary for your needs, then Sketchup would be the perfect alternative as it offers advanced tools without many limitations on the web.
| Pros | Cons |
| --- | --- |
| Relatively easy to use | Doesn't offer as many features as pro-grade tools |
| You can directly download 3D models from the 3D Warehouse | |
| Can be used to create 3D walkthroughs | |
Visit Website (Free for personal use, Paid plans start at $119/year)
8. Fusion 360
For the unaware, Fusion 360 is a CAD software developed by Autodesk. It is available free of charge to make computer-aided design accessible to students, creators, and even hobbyists. As such, it's one of the best apps for students as well. Fusion 360 stresses on building the concepts first, making it an excellent tool for learning. You will have to go through all the basics of 3D Design and Modeling, Simulation, Generative Design, and more.
The best part about Fusion 360 is that you can do everything in one place. You can create 3D designs, render complicated mechanical structures, design custom toolpaths, run simulations, collaborate through the cloud, and more.
In addition, if you expand your project in the future, you can move it to CAM or CAE software seamlessly. That's awesome, right? Apart from that, you can also unify design elements from different projects, create a prototype, and even manufacture on a single platform.
That's the best part about a program powered by Autodesk. All in all, Fusion 360 is one of the best free CAD software, and if you are a beginner in this field, then this tool is going to be your trailblazer.
| Pros | Cons |
| --- | --- |
| Easy to learn and use | The user interface isn't the best |
| Supports transferring updated geometry to existing geometries | |
Visit Website (Free for personal use, Paid plans start at $495/year)
9. Vectary
If creating 3D designs is your priority, Vectary is a free CAD software that you can utilize. It is not software per se because it allows you to create designs on an online platform that is free to use. Vectary offers a 3D asset library with ready-made elements that make it easy to model designs. There is no coding involved and the floating menu is a boon for beginners who want to train themselves for building 3D models. The designs can be shared with others using a shareable link on the tool. It is to be noted that the free online CAD platform allows only up to 25 projects.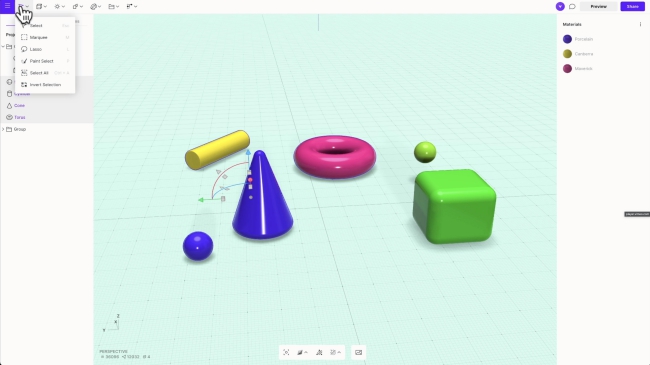 What makes Vectary shine in its league is the support for Metaverse and augmented reality for creating projects. Available for Windows, macOS, ChromeOS, and Linux, Vectary can export files in more than 60 file formats including USDZ, GLTF, and FBX. Since it is available online and has an intuitive interface, Vectary becomes the easy-to-use CAD tool for educational purposes.
| Pros | Cons |
| --- | --- |
| Intuitive user interface | Not available offline |
| No coding required | |
Visit Website (Free)
10. AutoCAD
When it comes to 3D Modelling, AutoCAD does not need much introduction since it has been an industry standard for many years. It's a premium program, but you can get this CAD software for free through a one-year student license. If you did not know, AutoCAD is also part of the Autodesk family, and it is super expensive, such that no student can afford it. However, the company also knows that if students cannot use AutoCAD, they won't learn it. And that will hurt sales in the future when those students become graduates and professionals.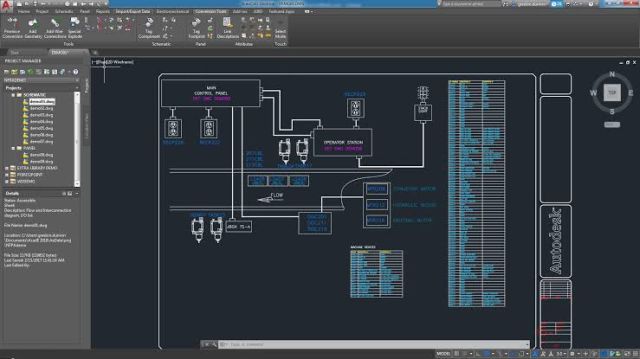 In its student version, you get all the features of AutoCAD. When compared to the $200-per-month plan of AutoCAD, this student version is indeed superb. You can create complex assemblies, and a variety of metal designs and simulate them within the program. The range of advanced tools and pallets on AutoCAD is unbelievable.
Further, AutoCAD has a wide enough range of documentation made available, which you can use to know the basic & advanced features of the tool. So if you are a student, I would highly recommend you go for AutoCAD as it's free and brings tons of features.
| Pros | Cons |
| --- | --- |
| User friendly software | Very expensive |
| Pretty much the industry standard for CAD work | Steep learning curve |
Visit Website (Free for students, Paid plans start at $1690/year)
11. Onshape
Onshape is modern-age CAD software that is known for its excellent design repository and assemblies. Unlike other software programs that are standalone desktop applications, Onshape is a cloud-based design platform. You can create complex solid and surface models just from a browser and without any fear of losing your design progress.
As Onshape is a web-based platform, all your actions are saved to the cloud instantly, thus, safeguarding you against data loss. In computer-aided design systems, the loss of design progress is a big concern as your project expands over time. Other than that, Onshape comes with three main design tools: parts, assemblies, and drawings.
You can create highly structured and detailed assemblies from its unique database of architecture design. Moreover, for drawing purposes, you can easily import DWG, DW, or DXF files if you were working on Autodesk before.
Now, you must be thinking that Onshape is a premium software and an expensive one at that, so why are we recommending it? The software is available to students, educators, and hobbyists at absolutely no cost. So, what more do you want? A capable cloud-based software with all the modern tools for your design needs. In a way, Onshape is one of the best free CAD software right now.
| Pros | Cons |
| --- | --- |
| Portable software since it runs on the cloud | Difficult to use for large (especially architectural) projects |
| Supports multiple file types | |
Visit Website (Free for students, Paid plans start at $1500/year)
12. nanoCAD
While nanoCAD is not entirely free, it is a lot cheaper than its competitors. And that is why I have included it in this list. It is an inexpensive CAD software, which offers advanced tools for drawing and creating 2D and 3D designs.
It does not matter which industry you belong to– architecture, manufacturing, or mechanical engineering– this tool offers you all the drafting and drawing extensions. The best part about nanoCAD is that it's completely compatible with the DWG file format. So in case, if you want to move your project elsewhere in the future, this feature will have your back.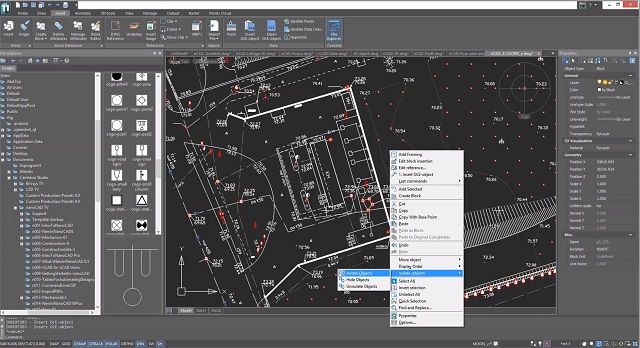 Further, nanoCAD brings several end-user APIs, which you can use to automate complex CAD designs. It can help those companies who regularly create similar products without going through the grinding drafting phase.
Also, nanoCAD is an offline application. So those who like working on a desktop program will appreciate its appearance and classic toolbar design. To sum it up, if you are willing to pay a one-time fee of $180 instead of paying a monthly or yearly subscription, then nanoCAD is an excellent option.
| Pros | Cons |
| --- | --- |
| Comparatively more affordable | Only available on Windows |
| APIs can be used to automate complex designs | |
Visit Website (Free trial for 14 days, Premium software available at a one-time fee of $180)
Frequently Asked Questions
1. Is there a free AutoCAD program?
There are a lot of free CAD software out there, as you can see on this list. Moreover, if you're looking specifically at AutoCAD, even that is available to students for free. So, if you have a student email ID, you can get started with using AutoCAD completely free right away.
2. Is FreeCAD really free?
Yes, FreeCAD is a completely free CAD software that's really powerful and feature-rich, which is why it's our top pick for this list as well. The software brings support for plugins and more, all for free.
3. Is there a cheaper alternative to AutoCAD?
AutoCAD is the industry standard for CAD software, but it's very expensive at $200 per month. However, there are a lot of affordable and even free AutoCAD alternatives that we have covered on this list such as FreeCAD, among others. Moreover, AutoCAD can be used for free by students.