Samsung has announced a new storage device today, and this is the company's latest high-performance T9 Portable SSD. Check out the specifications, features, pricing, and availability below!
Samsung Portable SSD T9: Specs & Features
The Samsung T9 SSD features a USB 3.2 Gen 2×2 interface, and with compatible devices, it will deliver high-performance speeds of up to 2000 MB/s, as claimed by Samsung. These fast read and write speeds result in increased productivity, thanks to the quick transfer of files. Samsung claims a 4GB video file can be transferred in ~2 seconds on this SSD, which is incredibly fast!
With a maximum capacity of 4TB, this SSD offers ample storage and fits the requirements of content creators. It is available in 1TB and 2TB variants as well. In addition, the Samsung T9 SSD offers a luxurious and rugged design with a rubberized exterior, providing a grippy texture. It also features 256-bit encryption to secure your data, and weighs just 122g making it super portable.
This offers a five-year warranty and is durable with drop resistance of up to 3 meters. It also comes with the company's dynamic thermal guard technology that effectively maintains the transfer speeds of the SSD while preventing overheating. The SSD can be managed with the Magician Software. It is cross-compatible with Windows, macOS, smartphones, tablets, gaming consoles, and high-resolution cameras, and plugs in via a USB-C port. The full specifications of the SSD have been provided below: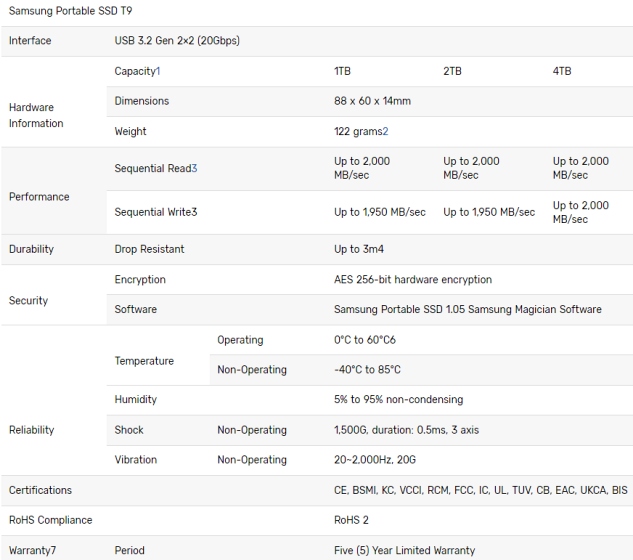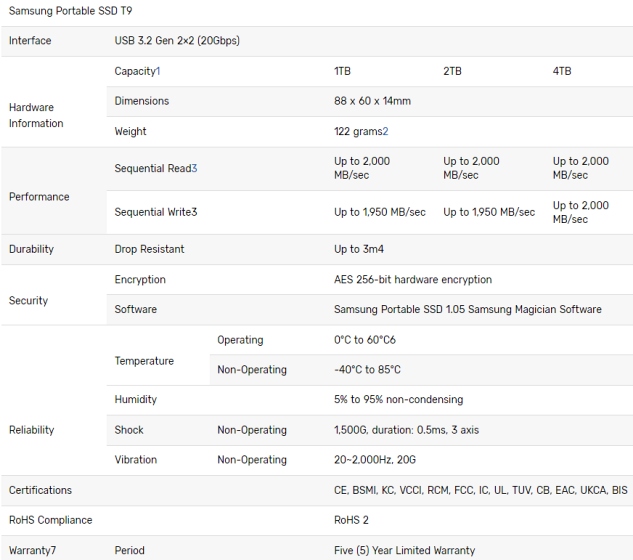 Samsung Portable SSD T9: Price & Availability
The Samsung Portable SSD T9 is priced at Rs 12,799 for the 1TB variant. This SSD is available in 1TB, 2TB, and 4TB capacities with the higher-capacity variants costing more. Talking about the highest-end 4TB variant of the T9 SSD, it costs Rs 33,599. The company has confirmed that it will be available via Samsung retail stores, other consumer electronic stores, and online markets.
---
Load More