While the Apple Watch 6 was a notable upgrade and definitely one of the best smartwatches to buy, it did not bring any new standout features. However, the story is going to be different this year. The upcoming Apple Watch Series 7 is rumored to introduce a significant upgrade both in terms of design and performance enhancements. So if you are yet to take an in-depth look at all the leaks and rumors pouring in, read on to catch up with Apple Watch Series 7 release date, price rumors, new features, exciting leaks, and more.
Apple Watch Series 7: Everything You Need to Know (2021)
Going by the rumors, Apple is getting ready to launch some of the long-awaited Apple Watch features later this year. That includes a refreshed design, blood sugar monitoring, improved sleep tracking, and more. But, will all these rumored features become a reality? Will Apple Watch 7 use a mini-LED display like the M1 iPad Pro 2021? Well, only a deep dive can let you discover the right answers.
Apple Watch Series 7 Release Date
Apple took the difficult decision of splitting the Apple Watch and iPhone 12 launch events last year. While the former arrived right on schedule in mid-September, the iPhone 12 series was delayed until October. The circumstances in 2020 were way different than 2021, and we expect the company to return to its usual mid-September hardware launch cycle.
If Apple follows the long-running tradition, the all-new Apple Watch Series 7 will launch at the much-awaited September hardware event alongside the upcoming iPhone 13 series. Just like its predecessor, Apple Watch 7 will also be available for purchases in several countries around the world.
Apple Watch Series 7 Price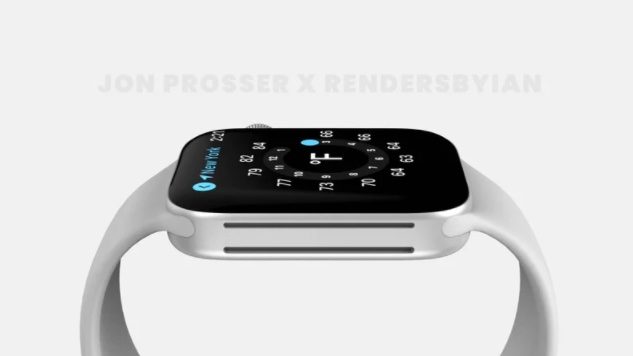 Apple has kept the pricing of the Apple Watch steady for the past few years. And I don't see any major reason why the Cupertino giant won't uphold the same pricing this year as well. Although there have been no price leaks, the Apple Watch Series 7 is likely to carry a starting price tag of $399 for the entry-level Wi-Fi model. The price of the top-end variant with Wi-Fi + cellular support will cost you upwards of $500 in the US.
Apple Watch Series 7: Features (Rumored)
Brand New Design with Flat Edges
After several years, Apple Watch is all set to embrace a brand new design. The Cupertino giant last introduced a major design upgrade with the Apple Watch Series 4 back in 2018. The consecutive models have since carried forward the same design with minor improvements here and there. That's about to change with the Apple Watch 7.
Noted Apple analyst Ming-Chi Kuo had reported back in 2019 that Apple Watch would get a new design in 2021. And now, another reliable tipster Jon Prosser has revealed more details about the design of the upcoming smartwatch. The tipster has showcased the renders purported to be of the Apple Watch Series 7.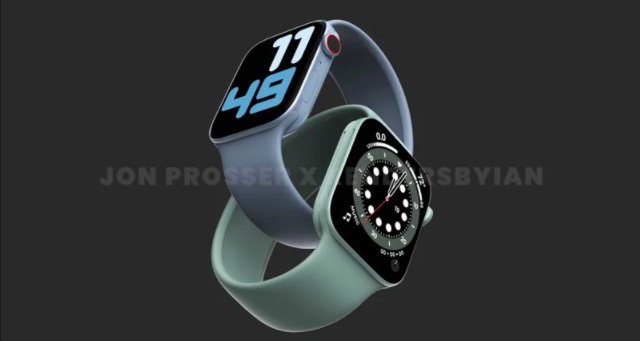 The new Apple Watch Series 7 sports much flatter sides that give the Apple Watch not only a more modern look but make it look like the iPhone 12 series, iPad Pro, and M1-backed iMac as well. Though the display size is likely to remain the same, leaks suggest that Apple will introduce a new green color option.
[Update on 15 June] Yet another report from Bloomberg claims that Apple has tested thinner display borders for the Apple Watch Series 7. That could mean that the Apple Watch Series 7 will come with thinner display bezels. Moreover, the report also mentions that Apple is testing a new lamination technique that will bring the display closer to the front cover of the watch.
[Updated on 15 June] Ultrawide Band in Apple Watch Series 7?
There are also reports suggesting that the Series 7 will come with the Ultrawide Band functionality that launched with the iPhone 11 originally. It remains to be seen what functionality Apple is aiming to enable on the Apple Watch with the ultrawide band, but hopefully we'll get more details as we near the launch.
MicroLED Display or Not?
Apple is planning to equip the future Apple Watch models with a MicroLED display, thanks to its higher brightness, improved color gamut, and power efficiency. However, that is not going to happen until next year or 2023, according to reports. That means the Apple Watch 7 will continue to have an OLED display just like its predecessor.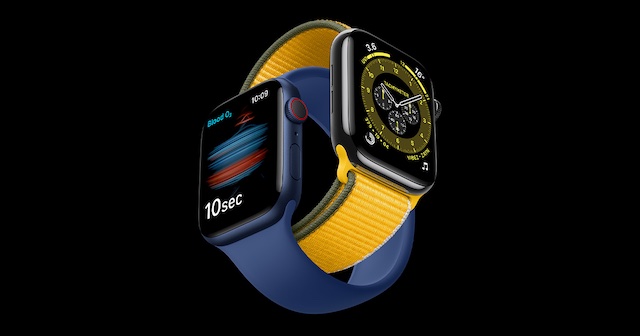 Apple has reportedly invested $330 million in Epistar (Taiwan's top LED producer) to manufacture MicroLED displays. As compared to OLED and LCD panels, MicroLED is thinner and more energy-efficient. In terms of power consumption, the MicroLED display uses one-tenth of the power used by an LCD, and it comes close to the OLED display on the color saturation front.
That's not all. MicroLED also boasts a higher dynamic range, much faster update rate, top-tier brightness, and wider color gamut. And that's what makes it one of the most-awaited Apple Watch features.
New Rugged Apple Watch "Explorer Edition"
Apple is planning to launch a rugged and more shock-resistant smartwatch alongside the Apple Watch Series 7. Internally, this variant is often referred to as Apple Watch "Explorer Edition" and will target adventurers and extreme sports athletes, according to Bloomberg's Mark Gurman (a reliable source for Apple-related matters).
"The product would have the same functionality as a standard Apple Watch but with extra impact-resistance and protection in the vein of Casio's G-Shock watches," says the report. Further, the rugged Apple Watch will be similar to Casio's G-Shock watches in terms of offering additional shock and impact resistance, adds Gurman.
Apple had launched a Sport version of the original Apple Watch model. Later, however, the Cupertino giant ditched this model due to the lukewarm sales. So it would be interesting to see the fate of the Apple Watch Explorer Edition.
Blood Glucose and Alcohol Monitoring
Another major addition to the Apple Watch Series 7 could be the blood glucose monitoring technology designed for managing conditions such as diabetes. As per a report from ETNews, the upcoming Apple Watch will feature blood glucose monitoring via a non-invasive optical sensor. For those uninitiated, measuring blood glucose levels (also known as blood sugar levels) is crucial for managing conditions such as diabetes.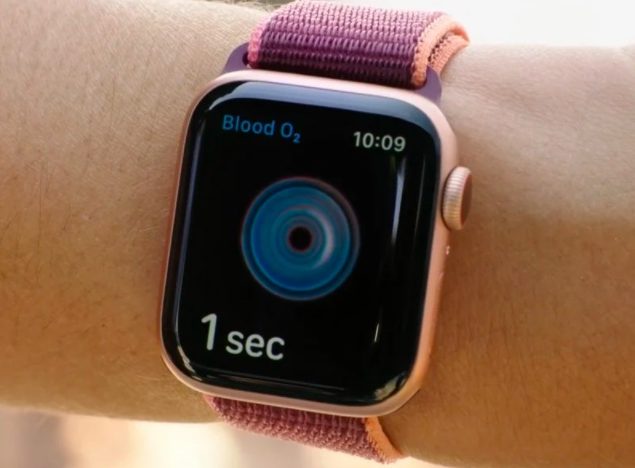 It's worth pointing out that measuring blood glucose generally requires using an implanted continuous glucose monitor (CGM) or testing a drop of blood in a blood sugar meter. However, Apple's rumored blood glucose optical sensor is said to be a skin-top continuous monitoring solution that works without an implant. Reports suggest that the Cupertino giant has already secured patents for blood glucose monitoring and is currently focusing on enhancing the reliability and stability of the technology.
Moreover, an SEC filing by UK-based startup Rockley Photonics has revealed that Apple is one of its largest customers. And while there are no details for the sensors supplied to the Cupertino giant, the startup's technology allows for non-invasive monitoring of blood glucose levels, body temperature, alcohol, and more.
All we can do right now is wait and watch if these features arrive with the Apple Watch Series 7 or not. But one thing is clear, the next Apple Watch will come with the latest watchOS 8. That means it will definitely bring features like sleep respiratory rate tracking, the new Portrait Photos watch face, support for smart home accessories, and all the redesigned apps and changes, including the new Music app that lets you share playlists with people straight from your Apple Watch.
Apple Watch Series 7: What We Expect to See
Touch ID Support
Recently, Apple received (via Patently Apple) a patent for a Touch ID button for Apple Watch. As per the report, the Apple Watch may use biometric identification for several purposes, including app authorization, device unlocking, payments, and more. We know this is wishful thinking, but a Touch ID sensor on Apple Watch 7 could be a huge step towards bolstering security.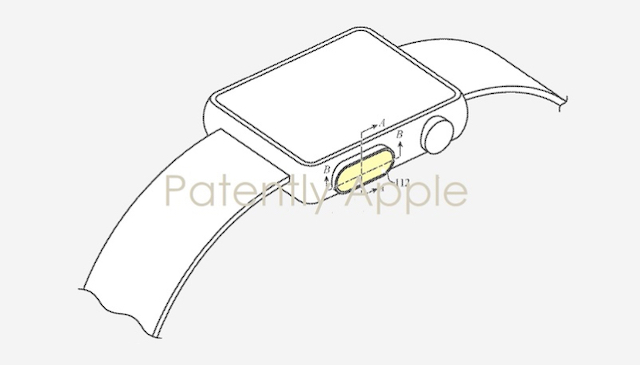 New S7 Processor & Improved Battery Life
[Updated on 24 June] A new report from DigiTimes (via Macworld) is claiming that Apple will use a new double-sided packaging technique for the S7 processor in the Apple Watch Series 7. This should result in a smaller SiP, and make more space for a larger battery, or extra sensors in the next Apple Watch.
Every year, Apple introduces a new processor for the Apple Watch. Going by this trend, Apple Watch Series 7 will come with a powerful S7 processor that will amp up both the speed and efficiency of the smartwatch.
As for those wondering, will Apple increase the RAM or storage capacity on the upcoming Apple Watch? Well, there is no clarity about it right now. Considering the Cupertino giant bumps up the storage and RAM capacity every 2to 3 years, I guess this year's Apple Watch may have more RAM and higher storage capacity.
Apple Watch Series 6: 32GB Storage/1GB RAM (2020)
Apple Watch Series 5: 32GB Storage/1GB RAM (2019)
Apple Watch Series 4: 16GB Storage/1GB RAM (2018)
Apple Watch Series 3: 16GB Storage/768MB RAM (2017)
Apple Watch Series 2: 8GB storage/512MB RAM (2016)
Apple Watch Series 1: 8GB storage/512MB RAM (2016)
Original Apple Watch: 8GB storage/512MB RAM (2015)
If our prediction turns out to be right, the lower-end models may have 1GB RAM and 32GB storage. The top-tier variants may have 2GB RAM and 64GB storage. Talking about the battery life of the Apple Watch Series 7, there are no reports about that either. So, we will have to go with the guesswork with it as well.
In comparison to rivals like Galaxy Watch 3 (around 2 days of battery life), OnePlus Watch (14 days of battery life), and others, the Apple Watch Series 6 offers lesser battery life. Keeping in mind the cut-throat competition, the Cupertino giant won't want its famed smartwatch to lag behind. So, it seems obvious to expect the upcoming Apple Watch to have improved battery life. Apart from this, we have also compiled a long wishlist of watchOS 8 features and hardware upgrades we would love to see in the upcoming Apple Watch.
Stay Up-to-Date with Apple Watch Series 7 Leaks and Rumors
So, that's all about Apple Watch 7 features, specifications, and leaks making rounds on the Internet. If all the rumored features become a reality, the upcoming Apple Watch will be one of the biggest upgrades in a long time. As the launch of the smartwatch is still a long way away, more exciting leaks and rumors will come to light in the coming weeks. To help you keep a tab on all the rumors, we will keep on updating this post with the latest information. So bookmark this page and stay tuned for more details. By the way, what are your expectations from Apple Watch 7? Feel free to share your thoughts in the comments section below.