Sporting a 20 percent larger display with enhanced brightness, IP6X dust resistance, faster charging, and a stronger crack-resistant front crystal, Apple Watch Series 7 has the specs to warrant attention. Add to that the handy QWERTY keyboard and much-improved watchOS 8 software experience, and the Apple Watch 7 remains unmatched in the smartwatch market. Now, if you have pre-ordered the smartwatch, you would be looking for the best Apple Watch 7 bands for a matching fit. If that's the case, check out this roundup of the best high-quality bands and straps designed for the new Apple Watch 7.
Best Apple Watch 7 Bands and Straps (2021)
While some users prefer classy-looking leather bands, others find sporty silicone straps and breathable nylon loops more appealing. Not to mention, stainless steel bands with a metal clasp also have a decent fan following.
When it comes to buying accessories for a wearable device like Apple Watch, you have to be picky. You have to consider not only the smartwatch but also personal preference along with specific use cases. Luckily, there are a boatload of Apple Watch 7 bands and straps on sale in the market, so getting one that can fit comfortably to your wrist isn't a big ask.
Official Apple Watch 7 Bands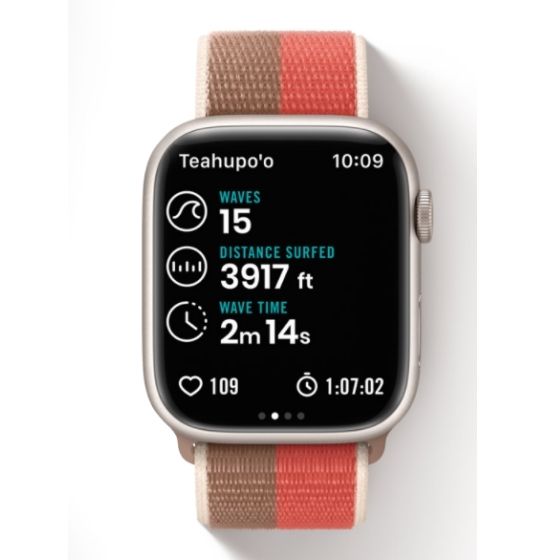 Pros:
Top-grade material
Beautifully crafted
Comfortable to wear
As always, Apple has come up with a wide variety of straps for the new Apple Watch 7. So, if you are searching for premium Apple Watch Series 7 bands, make sure to consider these official bands.
Should you prefer a beautifully designed band with a sleek profile, Solo Loop could win you over at the very first glance. If you want a more comfortable strap, the Braided Solo Loop would be an even nicer pick. However, if you wish to go for a sporty design, Apple's highly popular Sport Loop, carved out of breathable nylon material and features an adjustable hook-and-loop fastener, would be a great choice.
Of course, these Apple Watch 7 straps come at a higher price tag, but you can't go wrong given the top-grade material and finish.
Fullmosa Genuine Leather Band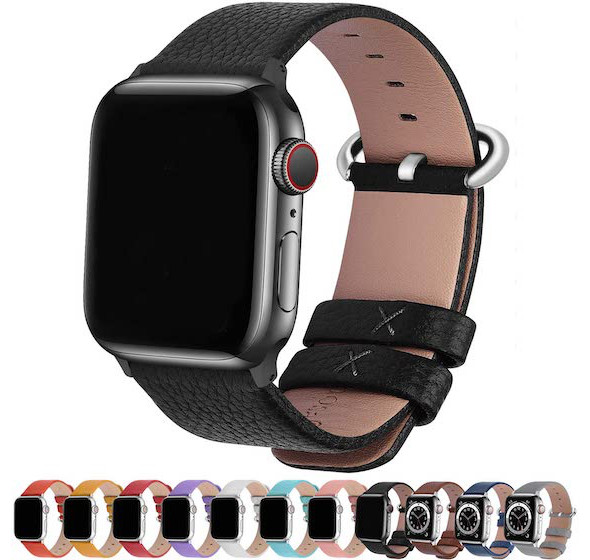 Pros:
High-quality cowhide leather
Neat craftsmanship
Stainless steel buckle
A variety of color variants
For folks who admire rich leather texture, Fullmosa's genuine leather strap appears to be a strong contender in this roundup. Courtesy of the high-quality cowhide leather along with the neat craftsmanship, this Apple Watch 7 strap features a pro-looking design. And with the ageless leather texture, the band feels more comfortable to wear.
The stainless steel buckle and the round tail design further enrich the appearance of this band. Moreover, the strap features 9 precise cut holes so you can adjust the band to fit your wrist. Priced at $15, the Filmosa leather Apple Watch band comes in more than 10 colors to let you pick a matching pair for your wearable.
Spigen Modern Fit Band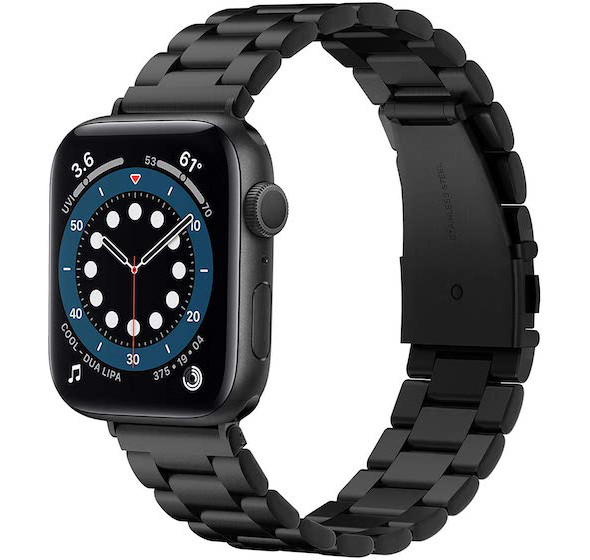 Pros:
Modern-looking design
High-grade stainless steel
Sturdy metal clasp
If you are looking for a handsome-looking Apple Watch 7 band, this offering from Spigen is worth checking out. Made out of high-grade stainless steel, the Modern Fit watch band features a good-looking design. The brushed finish adds more shine to its profile. Being fully adjustable, the band offers a convenient fit.
Furthermore, the Spigen Modern Fit band features a metal clasp for secure closure. As for the colors, you can pick this band in multiple variants, such as silver, black, and rose gold. Priced at around $21 (for both the 41mm and 45mm variants), it deserves to be rated as one of the finest stainless steel bands for the Apple Watch 7. 
Swhas Silicone Watch Band [14 Pack]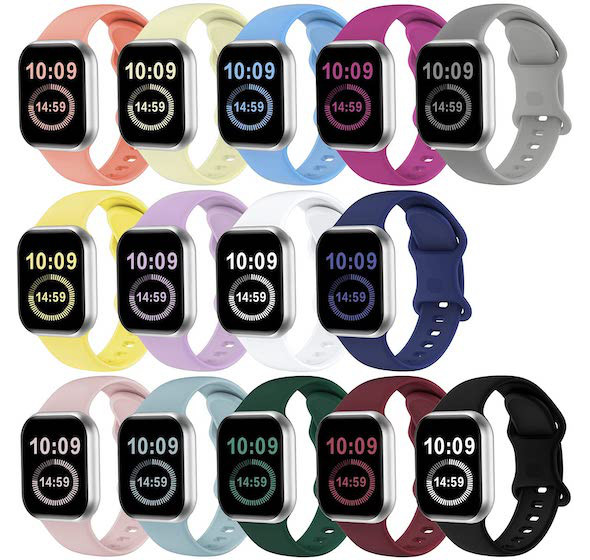 Pros:
Impressive sporty design
High-quality silicone material
Sweatproof
Swhas has come up with high-quality sporty bands for the Apple Watch 7. Made out of pretty smooth silicone material, the band features a lightweight and sophisticated design. And since it's sweatproof, you can comfortably wear it for long hours.
The band features metal lugs that enable it to lock onto the smartwatch securely. Thanks to the adjustable holds, you can comfortably fine-tune the length to fit your wrist. On top of all, Swhas is offering the most value-for-money deal on this list. You get 14 silicone bands for the Apple Watch Series 7 (41mm for $25.99 and 45mm) in a wide range of colors for under $30.
Coobes Genuine Leather Band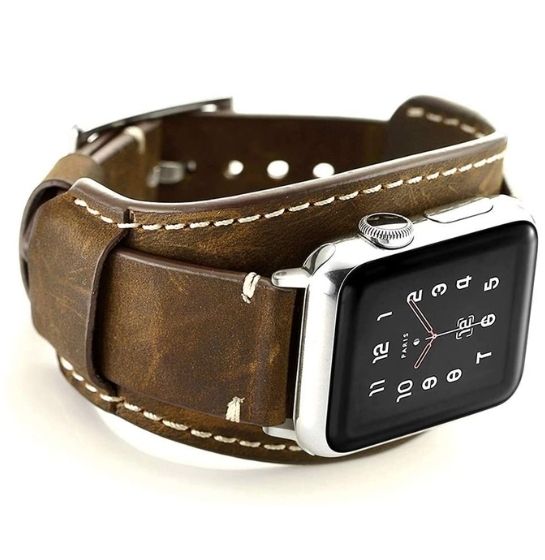 Pros:
Vintage profile
Horse/ cow leather
Durable stainless steel buckle
Cons:
Could scratch easily
Stitching may come loose
Featuring a vintage profile, Coobes genuine leather band is designed to give a professional look to your Apple Watch 7. Made of horse/ cow leather, this leather band looks quite durable. The visible stitching adds an aesthetic touch to its profile. Besides, the stainless steel buckle ideally complements the leather strap.
Additionally, Coobes leather band features strong lugs that allow it to lock onto the smartwatch securely. And with the precise holes, you also get the flexibility to adjust the band for a comfortable fit. Lastly, you can choose this vintage leather band for Apple Watch 7 in four colors – black, brown, green, and coffee.
Brigtlaiff Nylon Apple Watch 7 Band
Pros:
Stretchable nylon material
Skin-friendly, breathable
If you are fond of stretchable nylon bands, chances are you would love to get Brigtlaiff's offering for the Apple Watch 7. The band is made of skin-friendly stretchable nylon material. For additional comfort and durability, it's interwoven with silicone threads.
As the strap is breathable, you can comfortably wear it for hours without any issues. I wouldn't be surprised if you make it your go-to band during workouts. Featuring durable lugs, the band is designed to lock to the smartwatch. Even better, Brigtlaiff Apple Watch 7 stretchable nylon band is priced at $16 and comes in a plethora of colors. Hence, you can't get a more befitting strap for your all-new Apple Watch at an affordable price point.
Witzon Elastic Solo Loop
Pros:
Breathable nylon material
Skin-friendly, comfortable
Sweat-resistant
Cons:
Stitching could be better
Are you searching for a reasonably good nylon band at a low price point? If yes, Witzon's stretchable nylon band could be a safe bet at just $6. Made of fabric woven nylon material, the strap is super comfortable to wear. And with the adjustable buckle, it also offers the needed flexibility of full adjustment.
The elastic braided strap is skin-friendly and can also resist sweat. Thus, you can wear it all day long without having to face irritation issues. Furthermore, the Witzon strap features lugs on either side for secure locking. When you consider all these notable features, the $6 price tag seems low compared to other nylon bands.
SUPCASE Unicorn Beetle Pro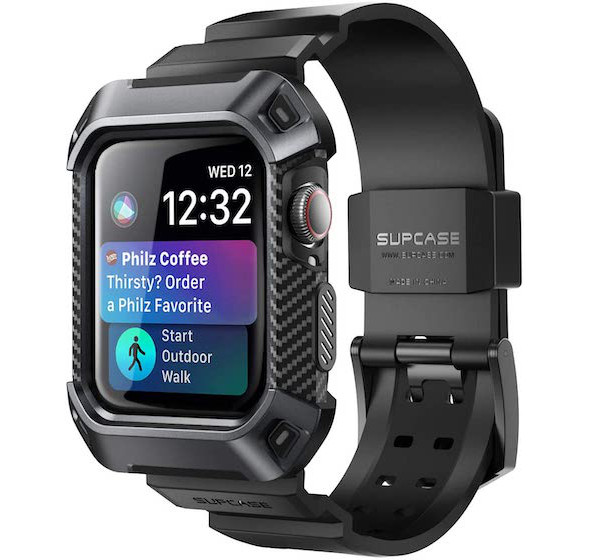 Pros:
Shock-absorbing design
Offers protection to the screen
Durable band, precise cutouts
If ultimate protection for your Apple Watch 7 is on top of your mind, you shouldn't miss out on the SUPCASE Unicorn Beetle Pro. This is a rugged Apple Watch 7 case that comes bundled with a durable strap. Featuring a shock-absorbing bumper, it has been designed to provide enhanced safeguard to the smartwatch against shock and accidental drops. 
What's more, the Unicorn Beetle Pro also features raised edges to provide an extra layer of safeguard to the Watch 7's screen. Thanks to its precise cutouts, the case offers hassle-free access to both the Digital Crown and the side button. The band is also in sync with the impact-resistant profile of the case. Notably, you can buy this heavy Apple Watch 7 case with a band (available for both 41mm and 45mm variants) in a variety of colors. 
Maledan Silicone Bands [6 Pack]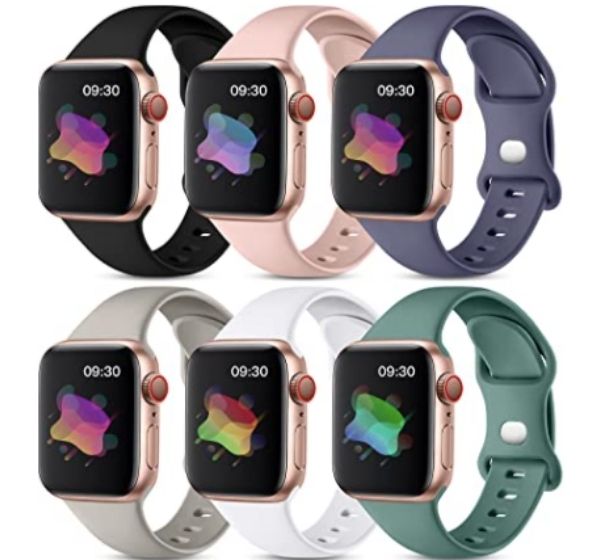 Pros:
Smooth silicone finish
Lightweight, skin-friendly
Waterproof
If you are someone who prefers to have some extra silicone bands at your disposal, Maledan's 6-pack silicone bands at just a $14 price tag should resonate with your preference. These bands feature a lightweight design and securely pair with the Apple Watch, courtesy of the durable lugs. They are skin-friendly and can also keep sweat away to ensure irritation doesn't bother you.
Another feature worth taking note of is a sturdy buckle with hassle-free closure. For more flexibility, it features several precise holes. And when you couple these features with several color options, Maledan silicone bands seem to be a great choice. Overall, this is definitely one of the best Apple Watch 7 straps in the market right now.
iiteeology Stainless Steel Band
Pros:
Made of stainless steel
Brushed finish
Sturdy adapters
Cons:
Lacks better micro-adjustments in size
Last but not least, iiteeology's modern-looking metal band could be a dashing companion for your Apple Watch 7. Made of high-grade stainless steel, the band gives an executive touch to your smartwatch. The brushed surface further enhances its appearance.
At just 2.0mm thickness, the band sports a slim profile and provides a secure fit with a sturdy new built-in connector. Moreover, you have the option to choose from among 10 colorways, including space gray, yellow gold, jet black, and more.
Choose From These Amazing Apple Watch 7 Bands
So these are the best Apple Watch Series 7 bands and straps you should check out if you have pre-ordered the smartwatch or planning to over the coming weeks. As always, the market is flooded with a wide range of bands for the new Apple Watch. While not all bands adhere to a high standard, you can always find a suitable companion at every price point – that too while keeping your budget in check. Now that you have read the roundup, what bands are in line with your preference? Do let us know in the comments below. And if we have missed out on a worthy Apple Watch Series 7 strap that deserves a spot on this list, do share your recommendations with us as well.
---
Load More