Alongside the Radeon RX 7700 XT and RX 7800 XT, AMD also announced FSR 3 at its Gamescom 2023 event. FSR 3 is a competitor to NVIDIA's DLSS 3 Frame Generation technology. It will multiply your frames like magic, and AMD has finally announced the release date, requirements, and game support for its new FidelityFX 3.0 with Fluid Motion frames technology. Let's check out all the details.
FSR 3 Unveiled By AMD: When Is It Coming Out?
FSR 3 will launch in early fall, as confirmed by the AMD spokesperson on stage at Gamescom 2023. We will likely see it launch in the upcoming weeks, i.e. sometime in September 2023.
This is in line with the recent leak of FSR 3's release date, where we discussed that the FidelityFX 3.0 technology could launch next month. And now, it is confirmed to be within the same timeline confirmed by AMD in their announcement.
FidelityFX 3.0 is AMD's in-house frame-generation technology. It leverages artificial intelligence (AI) to multiply your frames in games by inserting interpolated frames. It is similar to DLSS 3 by Nvidia (unveiled along with RTX 40 Series GPUs), which uses the on-board tensor cores of those GPUs, but we still don't know how AMD's solution works across different GPUs.
In terms of FSR 3 benchmarks, AMD showed its new technology in action in Forspoken. They also said EA's new title Immortals of Aveum and Forspoken will get patches in the coming weeks with support for FSR 3 Fluid Motion Frames technology.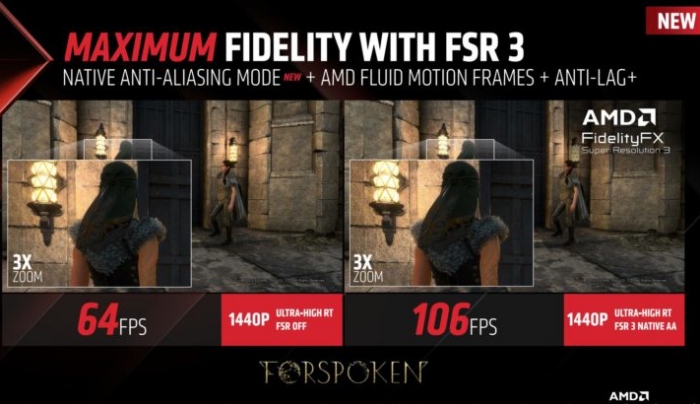 Which GPUs and Games Will Support FSR 3?
During the Gamescom announcement, AMD's Scott Herkelman further revealed that FSR 3 is working in their labs across tons of games, including the ability to play all sorts of DX11/ DX12 games. AMD also confirmed it is working with many game developers and Unreal Engine to implement a plugin in their FSR engine. So, FSR 3 adoption is expected to grow as fast as FSR 2 and 1's implementation across games.
The tech is based on an open nature just like the previous FSR 2.0/1.0 technologies, and is confirmed by AMD to work with every GPU. So, it doesn't just work with AMD's graphics cards but all graphics cards. They have also announced that it will work with gaming consoles like the Xbox Series X.
FSR 3 could maybe work even on older, slow GPUs, but it does have a 'supported' and 'recommended' suggestion from AMD. For its GPUs list, it suggests that FSR 3 will support Radeon RX 5700 and above, with Radeon RX 6000 series being the recommended one. For Nvidia GPUs, AMD suggests it will support RTX 20 series and above, with RTX 30 series and above being recommended.
FidelityFX 3.0 is coming out on 12 new games (with patches expected this fall), but the company confirmed it will have future support for 'thousands of games.'
So, how excited are you about FSR 3 coming out next month? Will your GPU support it? Let us know your thoughts in the comments below.