Though iPad Pro always had the potential to stake the claim of being a true laptop killer, never before the tablet had looked competent enough to transform that huge potential into real-life performance. If the introduction of iPadOS last year was a sign of something big to come, the arrival of 2020 iPad Pro lashed with top-of-the-line specs has sort of put the age-old debate to rest. To say the least, Apple's "Your next computer is not a computer" high-pitch has begun to sound more realistic now. But then again, you will still need to equip your iPad with all sorts of accessories, if you are planning to get the most out of the beast – both as a proficient tablet and a full-on laptop. And that's where our wide assortment of the 25 best iPad Pro 2020 accessories comes into the play.
Best 2020 iPad Pro Accessories
As is always the case post the arrival of any iDevice, accessory makers have arrived with a variety of accessories for the 4th-gen iPad Pro including impressive cases, sleeves, screen protectors, chargers, stands, and whatnot. So, it doesn't matter what forms the core of your requirements, getting a suitable accessory for the tablet remains a proverbial easy-picking. Take a glance!
Best Screen Protectors for 4th-Gen iPad Pro
Not for nothing, screen guards are known as the first line of defense. So, get one to guard the beautiful retina display against scuffs.
1. Paperlike
While there is no dearth of top-grade screen guards for 2020 iPad Pros, Paperlike is one of a kind. Yeah, you heard it right! What sets this screen guard apart is the Nanodots surface which features nanodots which play a key role in improving sensitivity. Courtesy the high sensitivity, Apple Pencil vibrates while gliding on the screen; thus you will feel like writing on a piece of paper. Whether you use Apple Pencil to map ideas or craft amazing images, this feature can be very handy for you. Aside from the high responsiveness, the screen guard also lives up to the mark when it comes to offering enhanced clarity due largely to the matte and anti-glare finish. As for the protection from scuffs and bumps, you can expect Paperlike to stand up to the task.
Buy from Paperlike: $36.59
2. ESR
For offering a complete safeguard to the retina display against nasty bumps and scratches, this offering from ESR appears to be a good choice. The tempered glass screen guard boasts 9H hardness that enables it to keep the touchscreen guarded against all hazards. Apart from protection, the screen defender also lives up to the task when it comes to offering improved transparency. As it also resists glare, you can expect to have a better viewing experience. That's not all, the company offers this screen guard in double packs at $15 which makes it one of the most affordable screen protectors for 2020 iPad Pro in the market.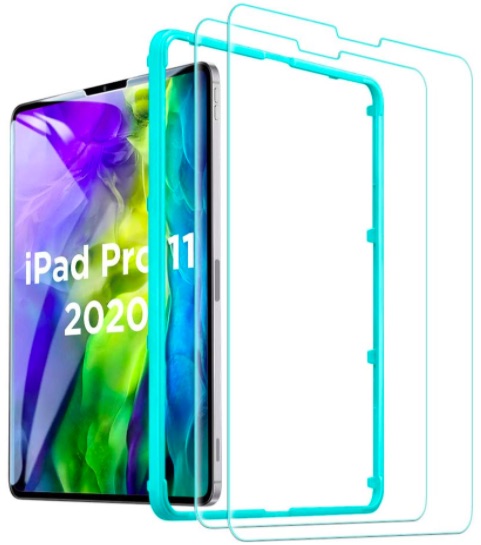 Buy from Amazon: $14.99 for both 11-inch and 12.9-inch iPad Pro models (pack of 2)
Best Cases for 2020 iPad Pro
Whether you want to amp up the style quotient of your iPad Pro or shield the tablet from shock, a case can fit into your taste.
3. Apple Smart Folio
For those looking for premium iPad Pro 2020 cases, Apple Smart Folio seems to be a great choice. Constructed from a single piece of polyurethane, the cover is strong enough to offer desired protection to the iPad without making the tablet look bulky. And with the support for auto sleep/wake functionality, the Smart Folio can also play a key role in extending the battery life of your device. What's more, you can also use the front cover to prop up your iPad Pro in multiple angles to enjoy video streaming or typing.
Buy from Apple: $79 for 11-inch and $99 for 12.9-inch iPad Pro
4. ZtotopCase
For more than one reason, ZtotopCase appears to be a complete folio case for the new iPad Pro. First and foremost, the case is made of synthetic leather and features soft microfiber lining for an additional scratch-resistance. Thanks to the durable construction, it's also quite good at resisting impact. Plus, there is a front pocket wherein you can store important documents. And times when you are not using the Apple Pencil, you can use the holder to keep the digital pen securely.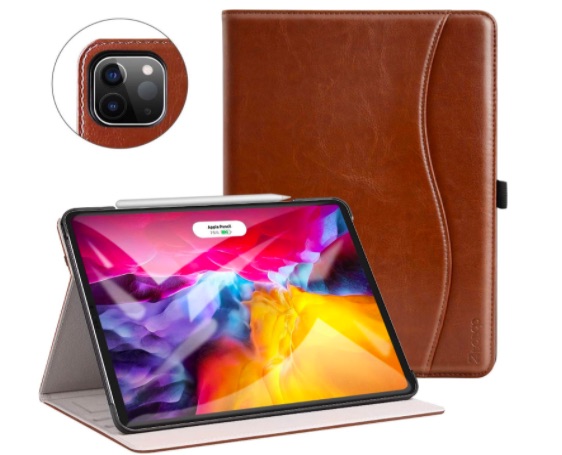 Buy from Amazon: $16.99 for 11-inch and $20.99 for 12.9-inch iPad Pro
5. ESR Yippee
Should you wish to have a sophisticated case for your iPad Pro 2020, I would recommend you to check out ESR Yippee. What makes it better pick is the tri-fold design that offers improved viewing and typing angles. Another feature worth mentioning is the support for Apple Pencil's magnetic attachment, which allows you to not only keep the digital pen securely but also power it up comfortably. In terms of protection, Yippee can safeguard your tablet both from accidental drops and scratches. Considering these specs, it seems one of the best iPad Pro 2020 covers under $15.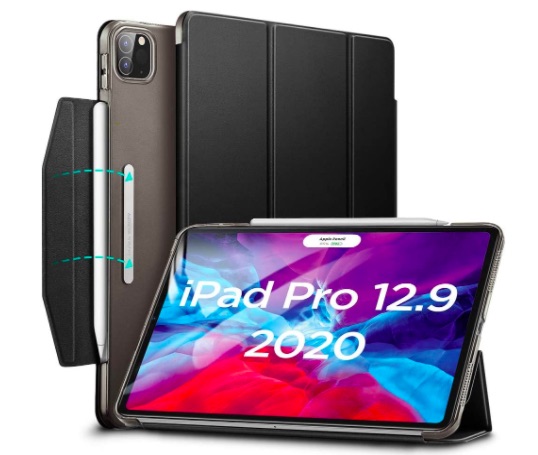 Buy from Amazon: $14.99 for 11-inch and $17.99 for 12.9-inch iPad Pro
6. TiMOVO
What about giving the iPad Pro some freedom to showcase its famed design? If you don't want to wrap the iPad into a complete case, TiMOVO can be a good-looking suit. Flaunting a clear design, the cover allows the 4th-gen iPad Pro to shoot attention with ease. Made of the soft TPU and rugged PC, the case is fully equipped to keep your tablet protected from drops. Moreover, the rubberized bumper also offers secure gripping so that you can comfortably hold your tablet.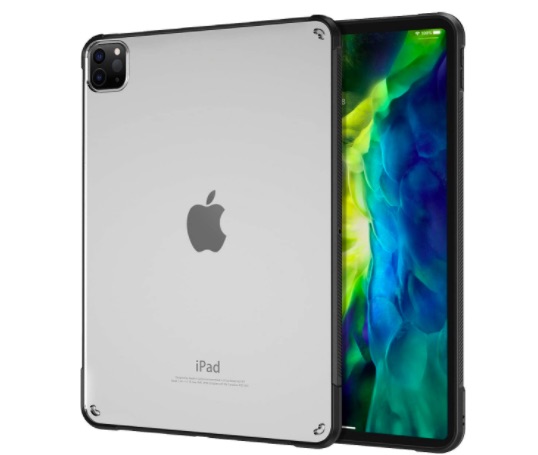 Buy from Amazon: $10.99 for 11-inch and $16.99 for 12.9-inch iPad Pro
Best Keyboard Cases for 4th-Gen iPad Pro
What's the point in having a powerful iPad, if you can't make the most of it as a full-on laptop? Get one to transform your iPad into an elegant notebook.
7. Smart Keyboard Folio from Apple
Apple's Smart Keyboard Folio has always been a top-notch keyboard case for iPad Pro. And guess what, it continues to be a premium pick for the latest iPad Pro as well. Sporting a pro-looking design, the case makes for an appreciable match for the tablet, while also offering trusted protection from scuffs and random bumps. As for the typing experience, it features a full-size keyboard with tactile keys that let you type smoothly. Moreover, it comes with the Smart Connector to pair with the tablet quickly.
Buy from Apple: $179 for 11-inch and $199 for 12.9-inch iPad Pro
8. Magic Keyboard from Apple
Without taking any credit away from the impressive pro-grade camera, studio-quality mics, and custom-designed LiDAR Scanner that makes the brand new iPad Pro a MacBook killer – let alone the old-school PCs and laptops, what has sold me out is the Magic Keyboard. Yeah, that's not an overstatement at all! Featuring a built-in trackpad, the keyboard is primed to let you get the most out of the tablet. Even better, Magic Keyboard features Apple's newest scissor keys found in the 16-inch MacBook Pro. The keys offer 1 millimeter of travel to accelerate typing.
Buy from Apple: $299 for 11-inch and $349 for 12.9-inch iPad Pro
9. Brydge Pro+
If Apple's Magic Keyboard has sent the Internet on a virtual blitzkrieg, Brydge  Pro+ is not behind in the race either. The keyboard case has got all the tools in the armory to take on the Magic Keyboard. Whether it's the nice-look design or the impressive MacBook-like keyboard with the built-in trackpad, it has checked off every essential box to warrant attention. Even in terms of offering improved typing experience, it promises to live up to the billing.
Buy from Brydge: $199.99 for 11″ iPad Pro and $229.99 for 12.9″ iPad Pro
Best Sleeves for iPad Pro 2020
If comfort and additional protection headline your priority list, give a chance to a good-looking sleeve.
10. Native Union Stow
If simplicity is your thing, Native Union Stow could appeal to your taste. The sleeve has a durable leather construction to withstand shock while ensuring it doesn't add any unnecessary bulk. Featuring a soft quilted interior, it also makes sure the iPad remains protected from scratches. Moreover, it comfortably fits the Apple Pencil and smart keyboard to help you keep the essentials secure. At $69.99, the Union Stow may seem a bit expensive, but given the notable specs, it's worth the price.
Buy from Amazon: $69.99
11. ProCase
Yet another sleeve that's worth taking a close look! As compared to Union Stow, it's affordable. Made of water-resistant material, it's strong enough to shield your 2020 iPad Pro. The soft lining interior ensures the tablet remains scratch-free. Plus, there is an extra pocket wherein you can store your cables, chargers, power bank and other essentials. On top of all, ProCase comes in multiple color options like dark grey, pink, dark blue, and more.
Buy from Amazon: $17.99
Best Digital Pens for iPad Pro 4th-Gen
To me, an iPad Pro is incomplete without a top-notch digital pen. And I bet you would be pretty much in the same boat after using a pixel-perfect stylus.
12. Apple Pencil
Do I need to elaborate on why Apple Pencil makes iPad Pro a great asset for artists? I don't think it's needed, is it? But still, I would like to pinpoint a couple of notable aspects that make it stand out. The digital pen offers pixel-perfect precision and industry-leading low latency. As a result, you can use the stylus to draw, sketch and even take notes elegantly. Furthermore, the digital pen attaches to the tablet magnetically and charges wirelessly.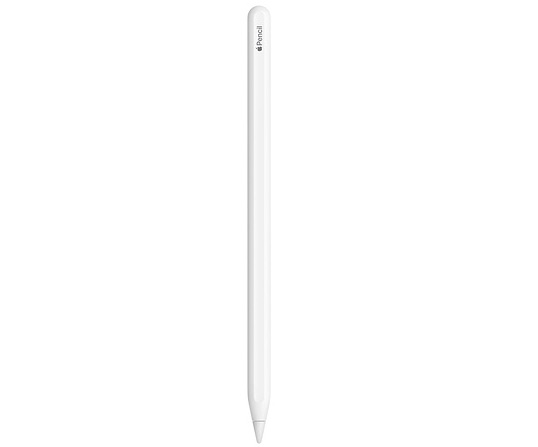 Buy from Apple: $129
13. Logitech Crayon
Though nowhere near as elegant as Apple Pencil, Logitech Crayon is a highly efficient alternative to Apple's offering. The digital pen sports a pretty compact design and comes with a pressure-sensitive fine tip that allows users to take notes and sketch images conveniently. Moreover, it also works with all the apps that support Apple Pencil. Add to that the extensive 7.5 hours of battery life and it becomes fully equipped to be a handy digital pen for your iPad Pro.
Buy from Amazon: $59.99
Best Wireless Earphones for iPad Pro
Times when you are engrossed in your work or lost into sketching, you may need super comfy earbuds to light up your mood with melodious music.
14. AirPods Pro
More or less, AirPods Pro has become the gold standard for wireless earphones. And if you want to have the earbuds that can work seamlessly with iDevices, look no further than Apple's offering. Featuring active noise cancellation technology, the earbuds deliver immersive sound. And with the transparency mode, it also allows you to hear surrounds without halting your hands-free calling or music listening experience.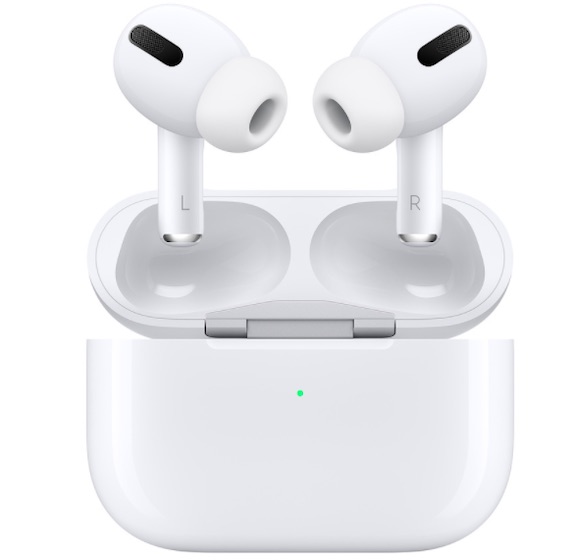 Buy from Apple: $249
15. Jabra Elite 65t
Well-known for producing top-grade wireless earphones, Jabra has long been one of my favorite accessory makers for wireless earphones. And its Elite 65t is up to the mark when it comes to delivering top-notch music listening experience. Sporting a pretty compact design, the earbuds fit comfortably in the ears. With the IP55 rating, the earphones are also water and dust resistant. What's more, Elite 65t delivers up to 5 hours of battery on a single charge and lasts up to 15 hours with the included charging case.
Buy from Amazon: $147.64
Best Power Banks for New iPad Pro
Extra juice in the tank seems like a savior during a long trip or extensive usage.
16. Charmast Power Delivery Power Bank
A high-grade power bank comes really handy during travel. If you wish to get one, Charmast could be a safe bet. Boasting a massive 26800 battery, it can power up your iPad multiple times. And with the secure charging technology, it also provides the needed safeguard to the tablet against dangers like overcurrent, overheating, and short circuit. Not just that, it also sports a pretty compact design so that you can comfortably carry the power bank.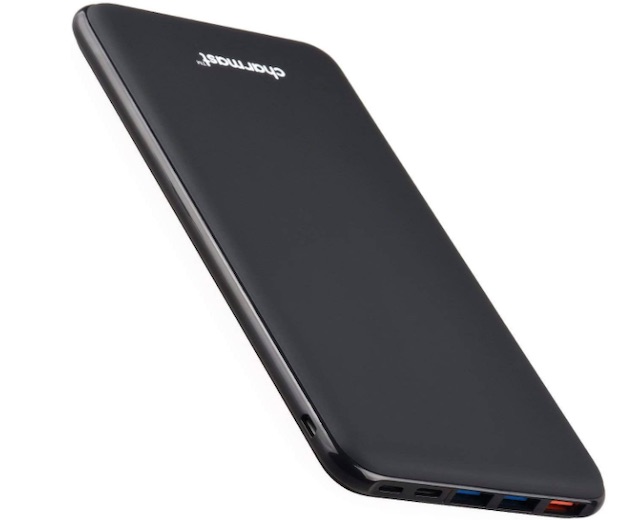 Buy from Amazon: $49.99
17. Anker PowerCore+
When it comes to efficiency, Anker's PowerCore+ has a clear edge over rivals. Packed with a huge 26800mAh battery, the external charger has got enough juice in the tank to power up your iPad Pro multiple times. With the 45W charging speed, it can juice up the tablet rapidly. Moreover, the combination of PowerIQ technology and MultiProtect safety system enables it to protect the iPad against common hazards like overcurrent and short-circuit. Considering these top-tear specs, PowerCore+ is a must-have travel companion for your iPad.
Buy from Amazon: $118.99
Other Essential Accessories for iPad Pro 2020
You never know when your needs may call for an essential accessory. Therefore, better get one so that you don't have to run for it at the eleventh hour!
18. CHGeek Docking Station
If you want to have a docking station to power up not only iPad but also other devices like AirPods, Apple Watch, and iPhone, check out CHGeek. Made of eco-friendly bamboo, it can survive bumps. Featuring a refined design, the dock can match a nice match with office environments. That aside, it also comes with smart IC technology to safeguard your tablet against short circuit and overcurrent.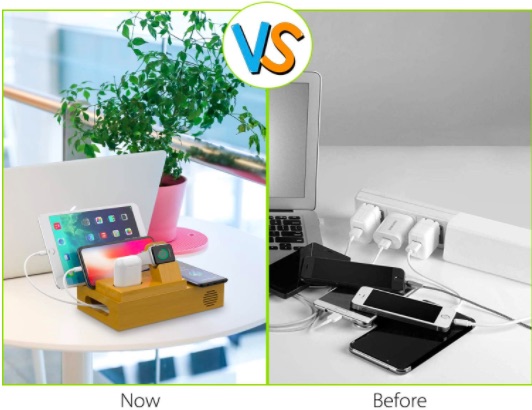 Buy from Amazon: $42.99
19. AboveTEK
This universal tablet stand (7-13-inch) deserves to find a safe spot in this roundup. Courtesy durable aluminum construction with a refined design, AboveTEK is a long-lasting companion for your device and can fit into both home and office environments. That's not all, the neck is fully adjustable, allowing you to prop up your tablet both horizontally and vertically for enhanced viewing angles.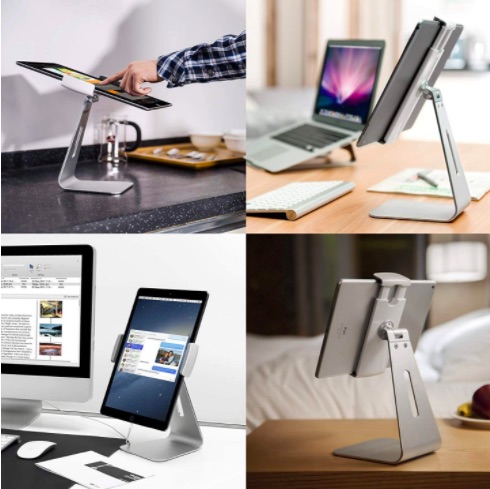 Buy from Amazon: $45
20. Logitech Pebble i345
How about getting a wireless mouse for your iPad Pro? If you wish to control your iPad using a super handy mouse, Pebble i345 has to be your go pick. You can use it to click, scroll, and control your tablet with ease. As it's lightweight, it can comfortably sneak into even in a tiny pocket. Featuring round corners and good-looking colors, it also makes a fine match with the iPad.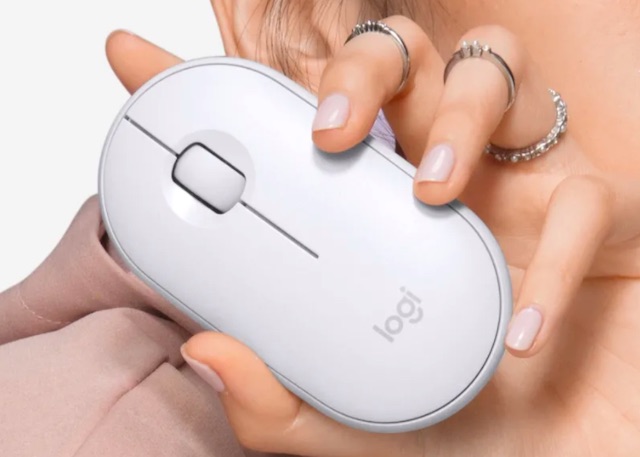 Buy from Logitech: $29.99
21. Apple Magic Trackpad 2
Well, I have chosen Apple Magic Trackpad for the folks who don't want to buy a full-fledged keyboard case with a built-in trackpad. Thanks to the four force sensors beneath the surface, it can let you control your iPad Pro with precision. Besides, the edge-to-edge glass makes scrolling and swiping convenient. What's more, Magic Trackpad comes with a built-in battery that offers a long battery life.

Buy from Amazon: $118.50
22. RAVPower Mini External SSD
If your need demands to have an efficient external SSD to take control of your photos, videos, and other important files, RAVPower's mini external SSD (1TB) could be the right pick. Boasting 540MB/s data transfer speed, it excels in transferring data at a rapid speed. Courtesy the heat sink technology, it remains cool even during extensive file transfer. As for the security of the data, it offers reliable encryption to keep all of your files safeguarded.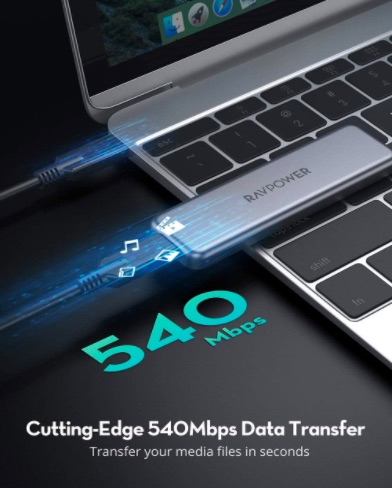 Buy from Amazon: $159.99
23. SanDisk Ultra Flair 128GB USB 3.0 Flash Drive
Claiming to transfer data up to 15X faster than the standard USB 2.0 drives, SanDisk Ultra Flair seems to be a go-to option for those who are in quest of a proficient flash drive. Apart from the impressive file transfer speed, it also allows you to password-protect your sensitive files to keep them guarded against the prying eyes. Besides, it sports a compact design with a metal casing that can resist heat and also endure shock.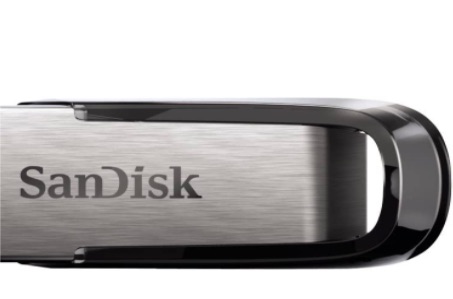 Buy from Amazon: $19.48
24. CableCreation USB-C to USB-C Cable
Times when you want to power up your iPad comfortably right from the comfort of your couch or from the back seat of your car, an extra-long cable comes in handy. And if you are willing to get one for your tablet, I would suggest you keep this USB-C to USB-C cable from CableCreation in mind. Featuring aluminum alloy shell and gold-plated connector, it's made to last long. That's not all, it also supports data transfer speed up to 480Mbps, which puts it ahead of the curve in the market.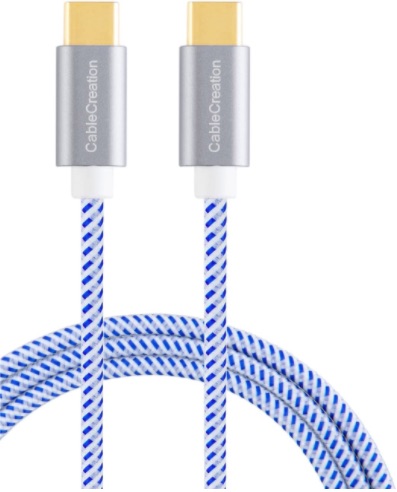 Buy from Amazon: $8.99
25. ESR USB-C to Lightning Cable
Should you want to have the flexibility of a USB-C to Lightning cable, this offering from ESR would be the right way to go. The cable is 3.3 feet long and MFi certified which makes it fully compatible to let you charge and sync data. With 480Mbps transfer speed, it's also fully capable to let you sync data at a good clip. The nylon braided design coupled with the aluminum casing makes this cable strong enough to endure wear and tear.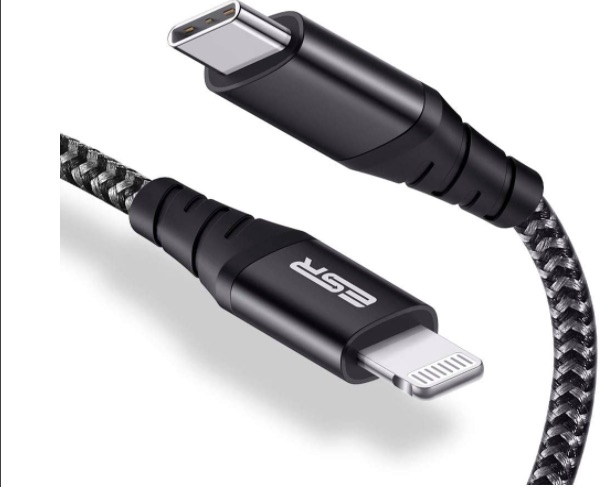 Buy from Amazon: $12.99
Choose the Best Accessories for iPad Pro 2020
There you go! So, these are the top accessories for your all-new iPad Pro. Hopefully, you have found the right asset for your iPad. But before you set your eyes over other posts, do not forget to let me know your top picks. Also, spill some beans about the ones that you think deserve to get a shot in the above lineup.
---
Load More