Even with the iPad Pro M1, the iPad Pro 2020 remains a solid choice for power users. After all, it brings almost everything you'd want from an iPad. There's Magic Keyboard, trackpad support, the new camera with LiDAR, and more. The fourth-generation iPad Pro was a truly major jump forward and it's still something a lot of people can buy. So, whether you have just bought a new iPad Pro, or you're simply thinking of finally putting a case on an old one, we've got you covered. Here are the 10 best cases for the iPad Pro that you can buy in 2021.
Note: In this article, we have primarily mentioned folio cases. If you are looking for keyboard cases then go through our dedicated article on the best 2020 iPad Pro Keyboard cases for both 11-inch and 12.9-inch models. Also, if you have the new M1 iPad Pro, you should check out our article on the best iPad Pro 2021 cases (11-inch) and best M1 iPad Pro cases (12.9-inch).
Best Cases for iPad Pro (2020) 11-inch and 12.9-inch
1. OtterBox Symmetry Series 360 Case
OtterBox Symmetry Series 360 is arguably one of the best cases for iPads and it's no different for iPad Pro (2020) models. It's a sleek case made of hard plastic, synthetic fiber, and TPU material. The case not only looks great but also offers all-around protection to the iPad. It has a versatile folio that guards the display from all angles, all the while providing multiple stands, comfortable typing and of course, hands-free viewing. The case is also scratch-resistant and comes with drop protection from all corners. The best part is that the magnets inside the folio activates auto sleep and wake feature on the iPad which is awesome. Not to mention, OtterBox is an official partner of Apple for making cases for fourth-gen iPad Pro so you can get this case without any second thoughts.
2. The Alpha Case by Zugu
If you are not aware, Zugu is another company that makes the best cases for iPads. And this time too, Zugu has brought its Alpha case for iPad Pro 2020 11-inch and 12.9-inch models. Similar to Otterbox, it's a protective case, but the body is very thin and does not make your iPad bulky in any way. It also has a magnetic stand so you can easily position the iPad at whichever angle you want. Further, the case has been tested rigorously against drops and the company claims that with the case on, your iPad can easily survive drops of up to 5 feet. And the best part is that the case looks amazing, unlike many other protective cases. So if you want a protective case without compromising on the looks then get the Alpha case by Zugu for your new iPad Pro (2020). Also, the price is a bit on the lower side in comparison to the OtterBox case.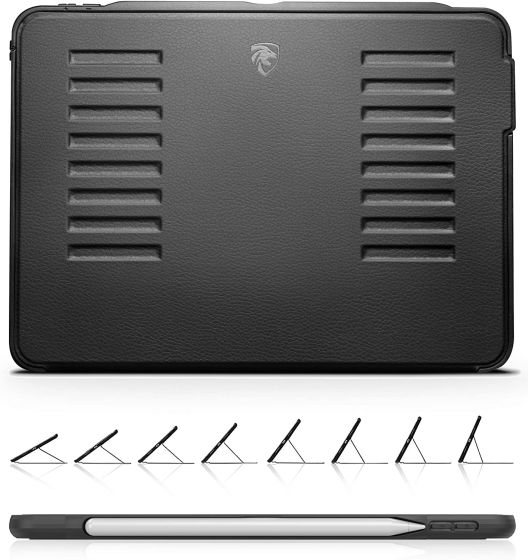 3. Apple Smart Folio Case
If you don't want a third-party case then you can always pick the ever-reliable Smart Folio case by Apple. It comes in multiple colors and has excellent quality. The case is made of a single piece of polyurethane material and protects both the front and the back. Since it's a smart folio case, the iPad wakes up whenever you open the folio cover. Similarly, it puts the iPad to sleep when you close the cover. Further, you can fold your iPad Pro 2020 in various positions and create a stand for typing, reading, watching videos and making FaceTime calls. I would say, if you have invested so much money on an iPad then you can also get the official smart folio case for extra protection.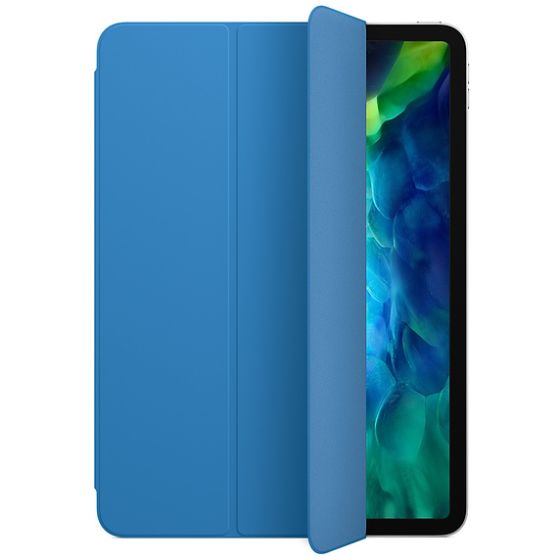 4. ESR Yippee Trifold Smart Case
Another case in this list is the ESR Yippee Trifold Smart Case which offers a ton of features at a fraction of the cost. ESR is known for making reliable screen protectors for iPad Pro 2020 so you can definitely trust them. The case comes with a trifold magnetic closure which allows you to fold the iPad in multiple ways. And the ESR case also has full Apple Pencil support which means you can use it to magnetically pair and charge the Pencil. Not to mention, it also takes advantage of auto wake and sleep mode using the magnetic fold. Simply put, if you don't want to splurge too much money on a case then I would highly recommend this ESR Yippee Trifold Smart Case for the fourth-gen iPad Pro (2020).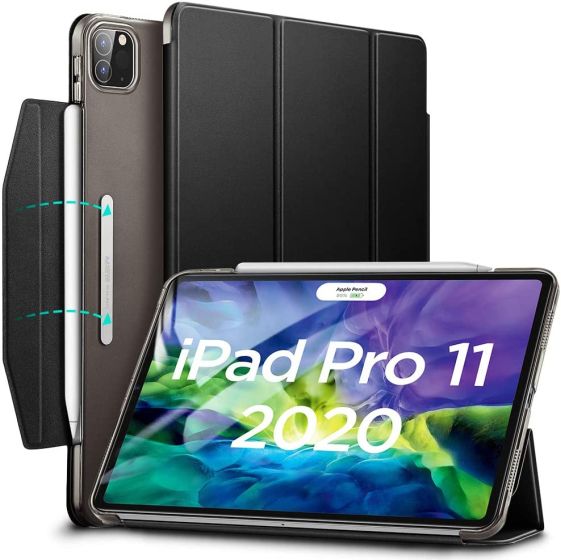 5. MoKo Magnetic Smart Folio Case
The MoKo Magnetic Smart Folio Case is very similar to the ESR case mentioned above and brings a range of features at an affordable price. So in a way, you can consider it as an alternative to the ESR case. As it's a folio case, the back and front both are covered and you can fold your iPad using the trifold stand. There is support for Apple Pencil as well as it does not cover the edges so you can magnetically attach your Pencil for pairing and wireless charging. Other than that, the case is compatible with Auto Sleep and Wake mode so that is great. Having said all of that, the best part about this case is that it's quite thin and lightweight. So if you are looking for a versatile folio case that does not add any bulk to your iPad Pro (2020) then I would strongly recommend the MoKo case.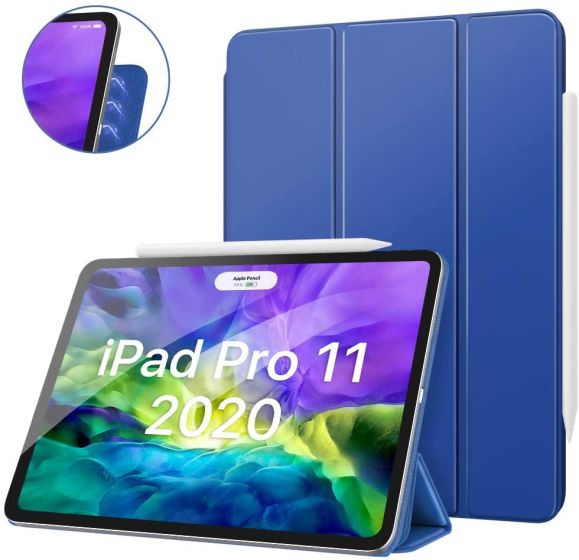 6. ZtotopCase Leather Smart Folio Case
This case is for those users who want a leather case for their iPad Pro (2020), but at the same time, do not want to give away any smart features. Thankfully, Ztotopcase has a smart folio case that comes in premium synthetic leather on the outside and soft microfiber on the inside. Sure, it's not genuine leather by any means, but at this price, you can't ask for more. Further, the leather case has been designed and polished in such a way that it can comfortably withstand scratches, drops, and dust. And for Apple Pencil specifically, the case has a cut out so you can magnetically attach the Pencil for charging and pairing purposes. Not to mention, similar to other smart cases in this list, it also has the Auto Wake and Sleep feature so there is that. Overall, Ztotopcase is an excellent leather case for iPad Pro (2020) for both 11-inch and 12.9-inch models and you can't go wrong at this price point.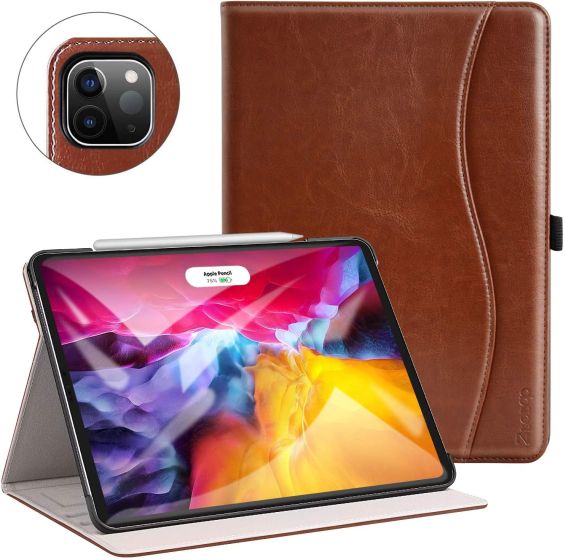 7. Soke Folio Case
Soke is another brand that has been creating some of the best cases for iPads in the past. And for the iPad Pro (2020), the company has brought a full-body protective case, but it does not mean that the case is bulky and heavy to carry. Similar to other cases, it has a three-fold mechanism and you can position your iPad at multiple angles without any issue. But that is not its best feature. The Soke Folio case has a multi-layered body which means it can absorb shock and can save your iPad from any physical damage. Basically, with this case on, your iPad will be fully protected from heavy drops. Apart from that, it also provides Apple Pencil support and is compatible with Auto Wake and Sleep mode. So all in all, get the Soke Folio Case if you want heavy-duty protection for your 4th-gen iPad Pro (2020).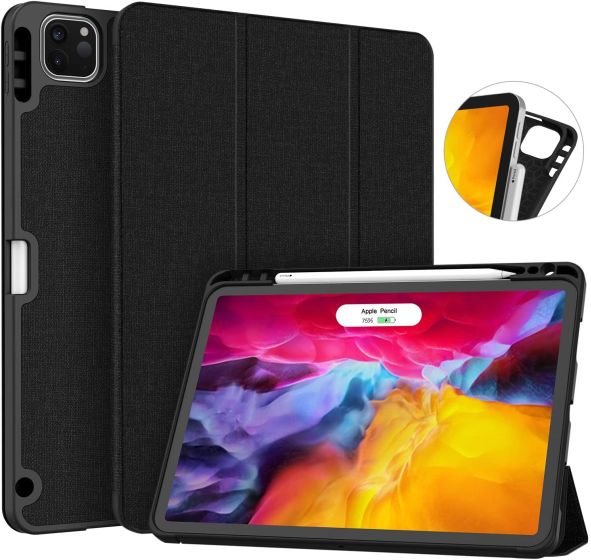 8. ESR Rebound Soft Shell Case
If you want a transparent case for your iPad Pro (2020) then ESR has you covered with its Rebound Soft Shell Case. It's a transparent case so you can show off your iPad in the classic Space Gray or Silver color. If you are bothered about watermarks at the back then worry not. ESR has created a microdot pattern inside the case to prevent any kind of watermarks on the surface. Apart from that, the case is made of rubberized TPU material which is highly flexible and offers maximum durability. The best part about a clear case is that your iPad Pro will always be slim and lightweight, just the way it should be. Further, this case has a precise cut out for Apple Pencil so that is pretty good. To put it straight, if you want a clear case for your iPad Pro (2020) then ESR Rebound Soft Shell Case is an easy pick.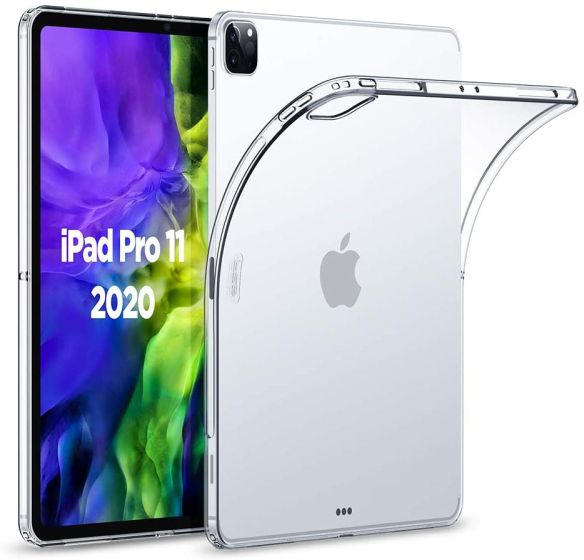 9. TiMOVO Case
Generally, users prefer a folio case for the iPad as it brings foldable stand and protects the display from abrasive scratches. However, if you are someone who wants a standard protective case for the iPad Pro (2020) then the TiMOVO case is the way to go. Similar to smartphone cases, it only covers the back which makes the iPad quite compact and easy to handle. If you are getting the smaller 11-inch iPad Pro (2020) then I would highly recommend this case. It offers a comfortable grip and maintains all-around protection from drops and scratches. The case comes with raised edges around the camera to further protect it from scuffs and dust. And the back has a clear backshell so it allows you to show off your iPad's attractive design. Considering all the points, I think TiMOVO is an excellent case for iPad and you should definitely give it a shot.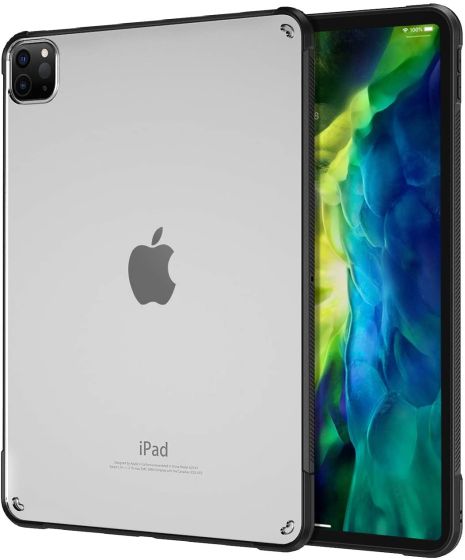 10. Supveco Case
Supveco is our final case in this list for iPad Pro (2020) and it's, unsurprisingly, a folio case. The case is very identical to other folio cases in this list but it's somewhat bulky and for good reasons. The case is quite protective and has enforced corner protection from all sides. On top of that, the case is made of premium thick TPU material which can easily survive drops without any external damage. Further, the case is precisely cut out so all your ports, cameras and speakers are easily accessible. And despite the case being heavy-duty, you can still charge and pair the Apple Pencil without any obstruction. To conclude, Supveco is a pretty good case and offers maximum protection to the 4th-gen iPad Pro. If other cases in this list don't cut for you then do take a look at Supveco Case.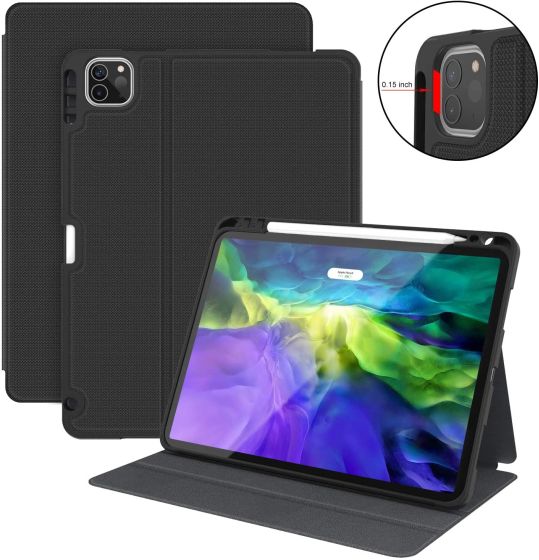 Pick The Best Case for iPad Pro (2020) 11-inch and 12.9-inch Models
So those are our picks for the best cases for the 4th-gen iPad Pro 2020. We have mentioned folio, clear, leather and TPU cases for both 11-inch and 12.9-inch models. Based on your preference, you can pick any one of them and I am sure you won't be disappointed. I would, however, recommend you to get a folio case for overall protection and extended usability. Anyway, that is all from us. If you found the article informative then do let us know in the comment section below.