Apple introduced the Apple Pencil alongside its brand new iPad Pro lineup and ever since then, both consumers and professionals around the world have been making use of the tool for a variety of creative applications. The Apple Pencil offers a lot of functionality and a unique experience, the likes of which haven't been seen in the market before. However, the Apple Pencil doesn't support all the iPad models, which means there are a ton of iPad owners who are looking for styluses similar to Apple Pencil. It also costs a lot. In case you're looking for a worthy Apple Pencil alternative, here are the top 12 Apple Pencil alternatives that you can buy in the market right now.
Best Apple Pencil Alternatives You Can Buy
1. Wacom Bamboo Fineline 3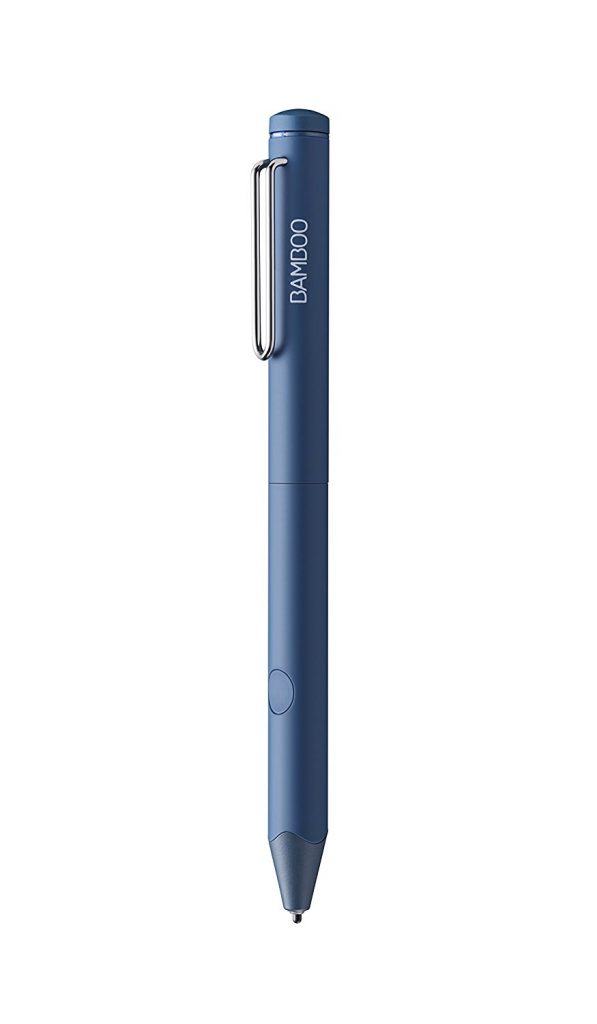 Starting off at the top of the list is the Wacom Bamboo Fineline 3, an advanced input device designed by a company that is known among artists for its amazing graphics tablets. The Bluetooth enabled Fineline 3 is compatible with a variety of iOS devices and makes use of a dedicated app available on the App Store. The smart stylus can be used for anything from taking notes to creating design on your iPad or iPhone, and it offers fine-tuned precision which makes it seem like you're using a pen on a notebook. The smart stylus has a pressure-sensitive fine tip, an ergonomic triangular design, and a soft-touch surface which makes it easy and fun to use. The stylus can be turned on or off by simply twisting the body, which also retracts the tip, ensuring longevity. The Bamboo Fineline 3 includes a long-life battery that can be charged via USB, making it a handy tool that you can keep with you at all times.
Buy from Amazon ($59.99)
2. Logitech Crayon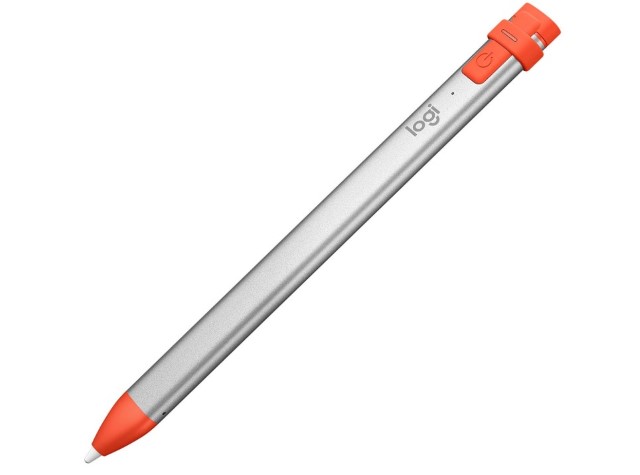 Logitech Crayon is the only Apple-approved Apple Pencil alternatives for anyone who is looking for something cheaper. Apple showcased the Logitech Crayon in its Education event which took place last year. Since it's approved by Apple, the Logitech Crayon will work seamlessly with your iPad. It also offers one of the best palm rejection experience which is far better than all the cheaper Apple Pencil alternatives mentioned in this article. The Crayon also offers an impressive 7 hours of battery life. I love that the Logitech Crayon brings tilt support which makes it easier to draw shades. That said, it lacks the pressure sensitivity of Apple Pencil. Finally, just like Apple Pencil, the Logitech Crayon supports fast charging giving you 30 minutes of usage with just 2 minutes of charge. Overall, this is one of the best Apple Pencil alternatives which is also officially supported by Apple that you can buy.
Buy from Amazon ($59.99)
3. Penoval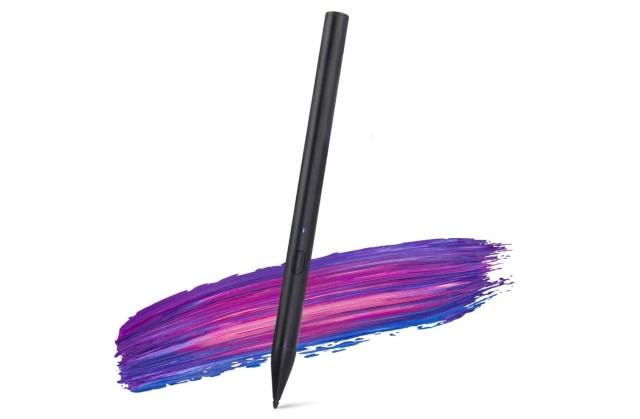 Whether you are searching for a stylus pen to take notes faster or draw images, Penoval has got you covered. What makes this digital pen so efficient is the palm-rejection technology that allows you to rest your palm comfortably on the screen and write. Besides, it doesn't require a Bluetooth connection. Simply press the power button and start your work. As for battery life, Penoval can run up to 12 hours at one charge. Moreover, it can work for one hour after just 4 minutes of charging. Speaking of app compatibility, it works with several well-known apps like Notability, Evernote, Paper, Procreate, Animation Desk, and more. Price-wise, it's a lot cheaper ($39.99) than Apple's offering.
Buy from Amazon ($39.99)
4. Adonit Pro 3

The Adonit Pro 3 is another great option that you can go for, which makes use of a precision disc instead of a fiber tip for added stability. The not-so-smart stylus doesn't offer any Bluetooth connectivity or pressure sensitivity options like the aforementioned options, so it isn't really meant for professionals, but it works perfectly well with all touchscreen devices, making it a handy tool for casual users who're looking for a basic stylus. The stylus comes with a magnetic cap, which protects the precision disc while the stylus is not in use and it has a textured grip etched onto the barrel making it really comfortable to hold. The stylus has a very unique clip to keep it securely in your pocket and it's all-aluminum build ensures that the stylus has a long life.The circular disc on the stylus is also replaceable, so you wouldn't have to worry about buying a new stylus in case it breaks.
Buy from Amazon ($29.99)
5. yoyomax

Sporting an ergonomic design, yoyomax feels like a real pen for writing and drawing. So, if you want a stylus to have a much-improved gripping, keep this one in mind. The digital pen features an aluminum frame that endows it a modern look. And with the 1.5mm fine tip, it is more responsive and offers precise accuracy. Furthermore, it doesn't need a Bluetooth connection to pair with your device. You can simply turn it on and start using it on any capacitive touch screen devices including your iPhone, iPad and even Android devices, unlike Apple Pencil that works only with iPads. And that's exactly what makes this digital pen one of the best alternatives to Apple Pencil.
Buy from Amazon ($29.99)
6. Milemont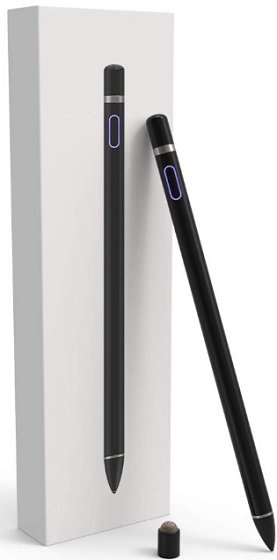 I rate this offering from Milemont very highly as it has got almost all the features to be your favorite creative tool. For starters, the stylus pen has an impressive ergonomic design that provides a better grip which enhances your drawing, sketching, and note-taking experience. Thanks to the ultra-fine pen point, Milemont offers an accurate selection without any lagging. Therefore, you can select tiny icons and click small alphabets without any hassle. Design-wise, Milemont looks quite similar to Apple Pencil and comes in two colors: black and white.
Buy from Amazon ($29.99)
7. Zspeed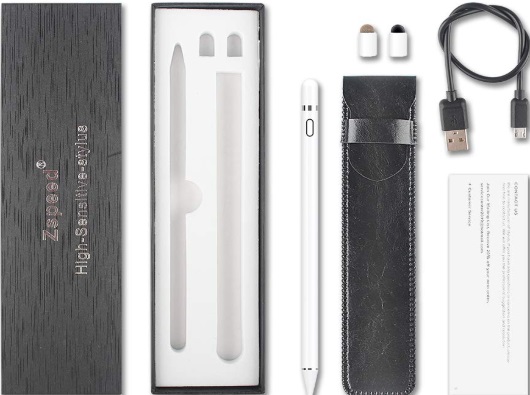 Zspeed's stylus sports a pretty lightweight and sleek design. And with the anti-slip hold, the pen feels like a real pen. Made of high-quality copper, it's strong enough to be a lasting companion for your device. The inclusion of 1.45 fine tip enhances the accuracy, enabling you to take notes and sketch with precision. Moreover, the stylus pen comes with a magnetic closure cap to safeguard the USB port against dirt and damage. When it runs out of power, you can also use the sensitive fiber mesh tip or rubber tip to get your work done. Talking about battery life, Zspeed is second to none as it can last up to 12 hours.
Buy from Amazon ($28.99)
8. Mixoo 2-in-1 Precision Tip and Fiber Tip Stylus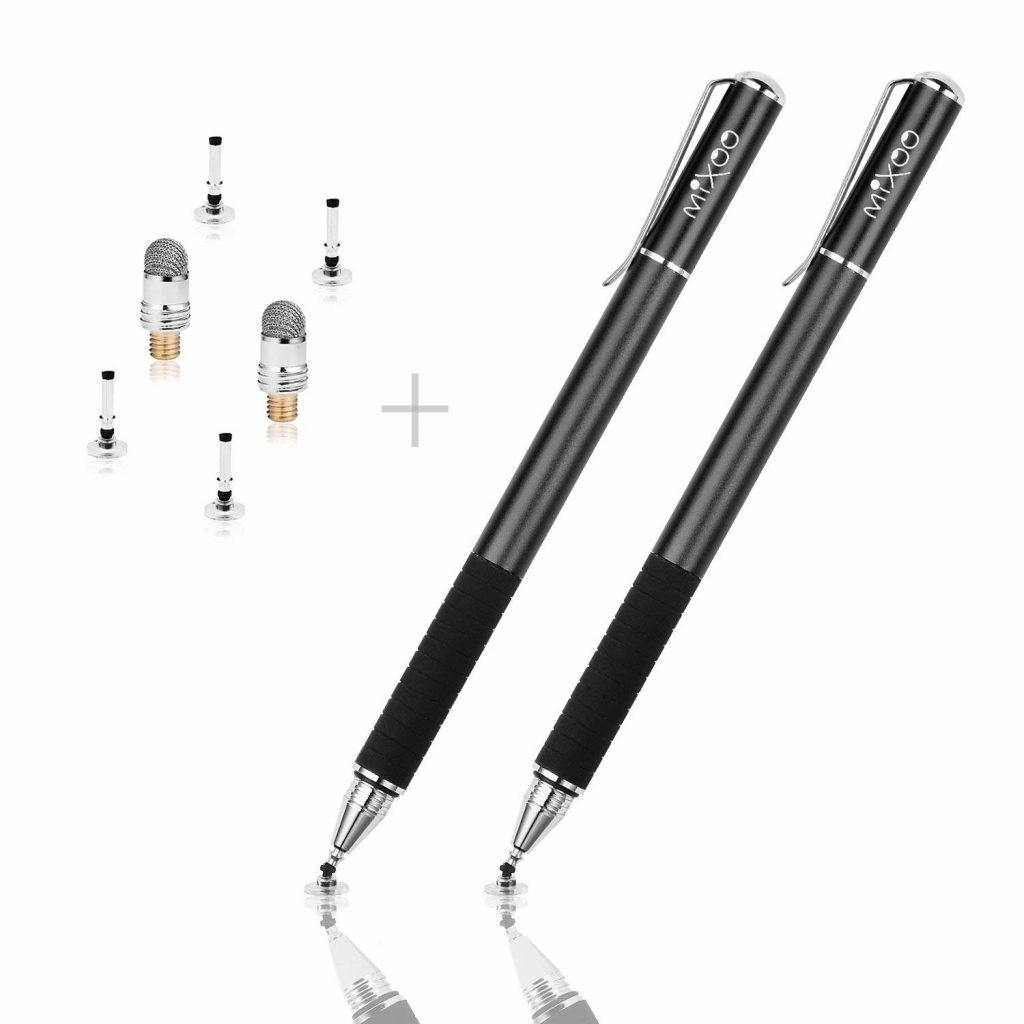 Next up, we have the Mixoo 2-in1 Precision Tip and Fiber Tip stylus which, as the name suggests comes with two types of tips. The first is a fiber tip, like the one found on the FENTAC, which offers a more smooth pen-like feel, while the other is a disc, like the one found on the Adonit Pro 3, which offers a bit more precision. Once again, the stylus from Mixoo doesn't offer any smart features and there's no pressure sensitive tip. On the plus side, however, it works with all touch screen devices, so you can get one without worrying about compatibility. The stylus also has a protective cap to keep your tip intact while it's not in use and its rubberized grip ensures that you get a good grip, enhancing the overall precision. Upon ordering the Mixoo 2-in-1 stylus, you'll receive two styluses along with 6 replaceable tips, which you can interchange according to your need.
Buy from Amazon ($14.98)
9. MEKO Universal Disc Stylus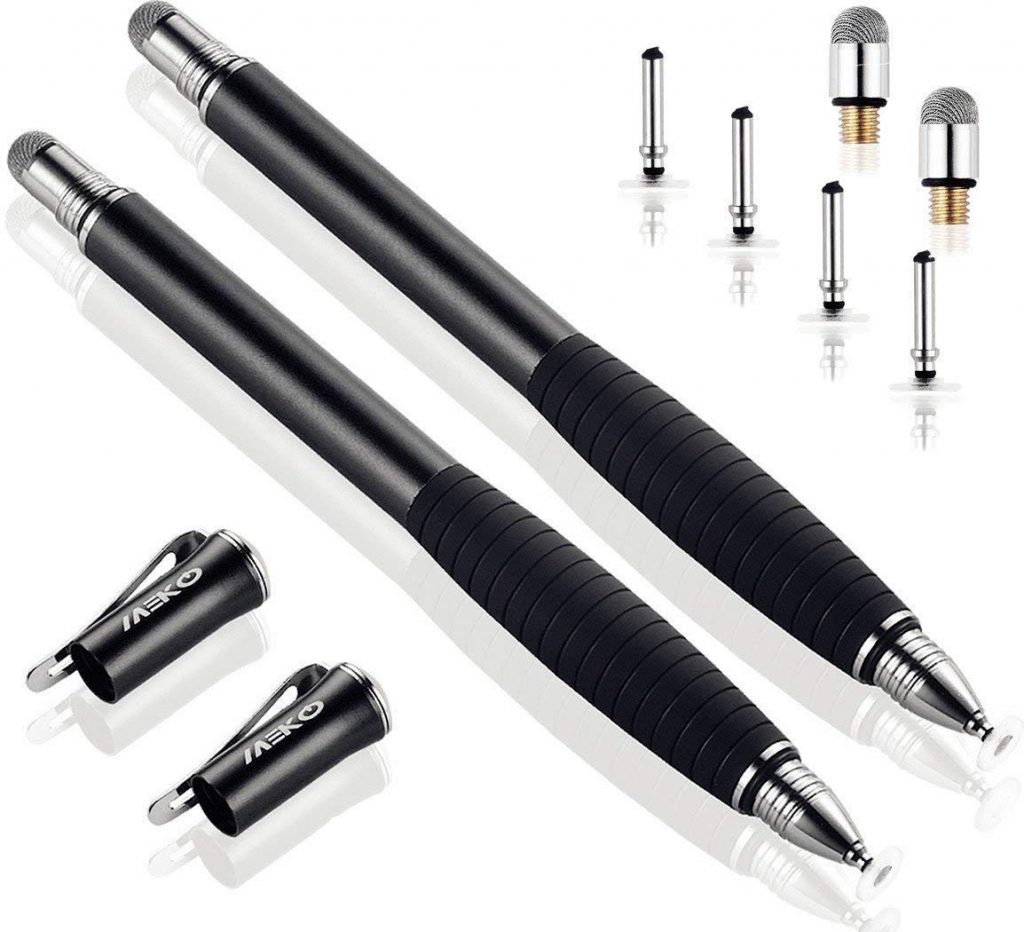 Much like the Mixoo 2-in-1 stylus, the MEKO Universal Disc stylus comes with two tip options – a fiber tip for smooth input and a disc tip for more precision. The not-so-smart stylus doesn't have any connectivity options or a pressure sensitive tip, but it works with all touch screen devices without fail. Since there isn't a whole lot of difference between the styluses from Mixoo and MEKO, your decision will primarily depend on your grip preference. Much like the Mixoo stylus, the one from MEKO has a rubberized grip, but its body is a bit on the thicker side. So in case you're someone who prefers a thicker pen, it's quite likely that you'll prefer the MEKO stylus over the Mixoo stylus. The MEKO stylus package also comes with two styluses and six replaceable tips that you can interchange as per your needs.
Buy from Amazon ($15.99)
10. Ciscle Disc Stylus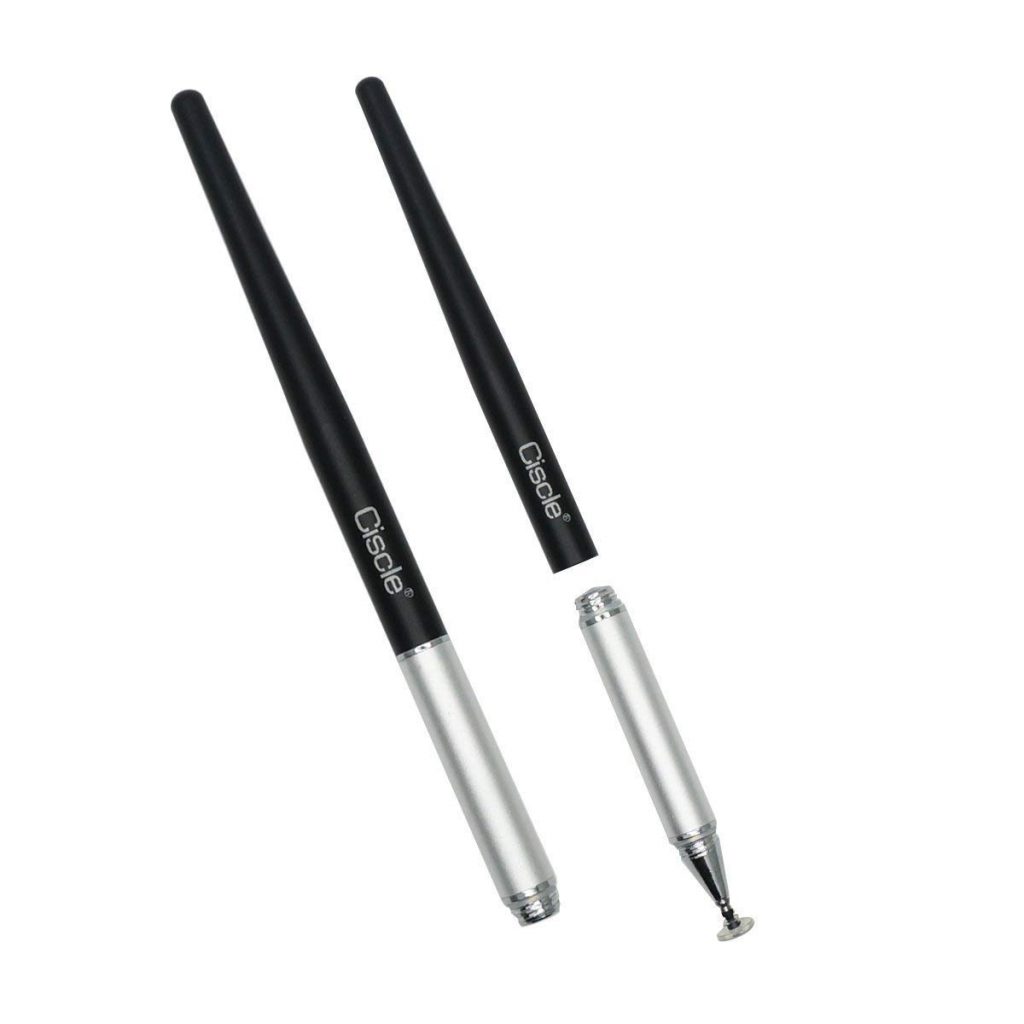 The Ciscle Disc Stylus is also a lot like the drawing stylus from CADA, as it makes use of a precision disc to offer better flexibility and accuracy in use. The stylus has no smart features and it doesn't offer a pressure sensitive tip, but it's compatible with all touch screen devices so you wouldn't have to worry about any compatibility issues. Once again, the main difference between the styluses from CADA and Ciscle lies in their build, as both styluses offers a significantly different design and grip, which cater to different people. In case you're looking for a more premium feeling stylus, then you can go for the Ciscle Disc Stylus which is made up of anodized aluminum with a smooth finish. The stylus comes with two replacement tips, so that you can easily replace them in case the tip breaks while in use.
Buy from Amazon ($9.99)
11. ChaoQ Mesh Fiber Tip Stylus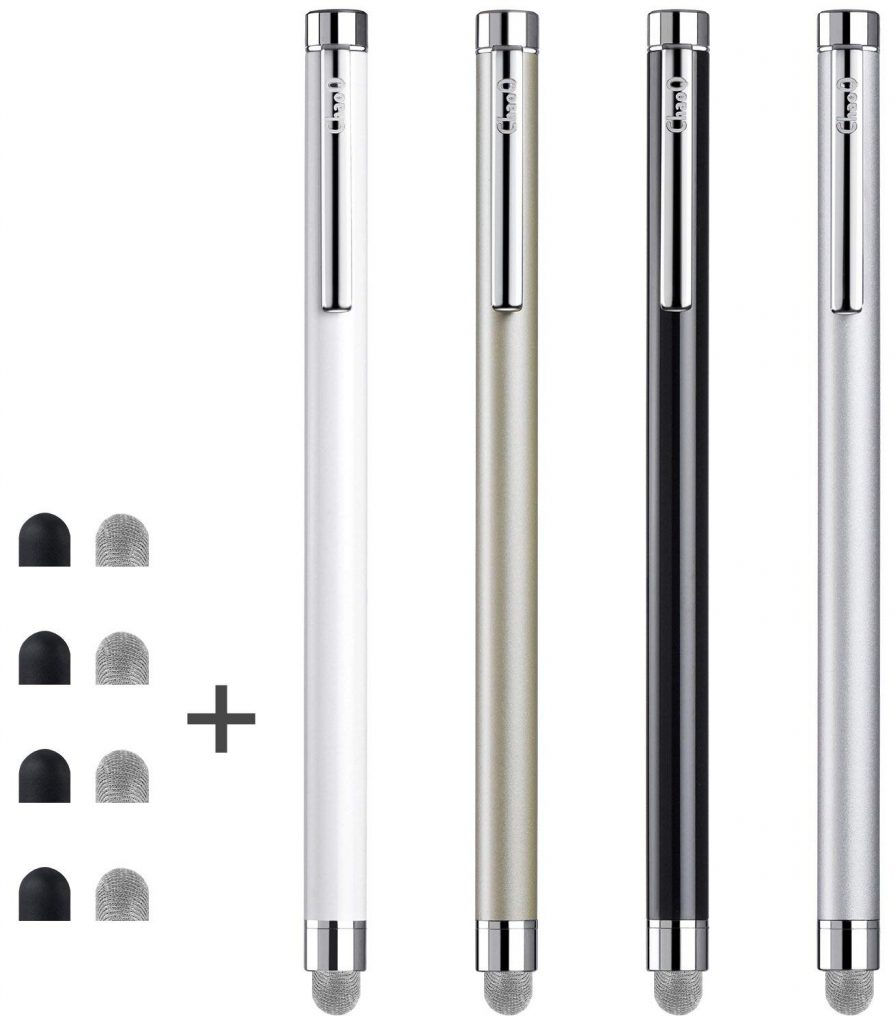 If you're not a fan of the precision disc styluses and are more inclined towards using a stylus with a fiber tip, then you can opt for the ChaoQ Mesh fiber tip stylus, which offers a more natural feel, while sacrificing on the precision aspect of the input. Once again, the fiber tip stylus from ChaoQ offers no smart features or pressure sensitivity, but it works with all touch screen devices, so you wouldn't have to worry about compatibility. The simple yet functional stylus is great for casual users who're just looking for an input device that's a bit more precise than their finger. What's really great that you'll get a pack of four styluses with eight replaceable tips, four of which are rubber tips, making it a great buy for the family or if you're too forgetful.
Buy from Amazon ($8.99)
12. Targus Smooth Glide Stylus Pen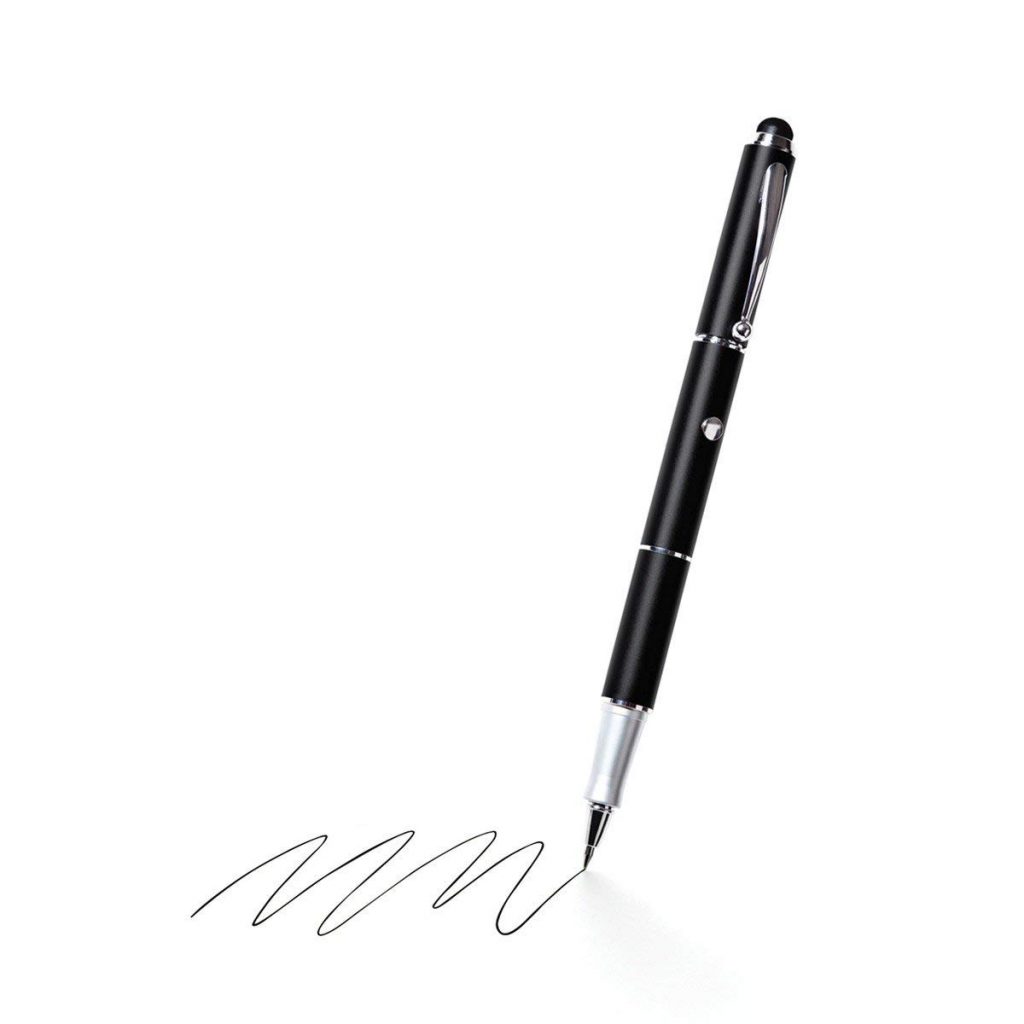 Next up is another simple stylus with a rubber tip that is compatible with all touch screen devices – the Targus Smooth Glide Stylus Pen. What's unique about this stylus, however, is that it can also be used as a normal pen, so that you don't have to carry an extra pen along with your stylus. The rubber tip glides smoothly on all glass surfaces and won't degrade as easily as disc or fiber tips, which means that you wouldn't need to replace the tip throughout the stylus' life. The pen part of the stylus, on the other hand, makes use of standard Parker ballpoint refills, which you'll be able to easily find in any nearby stationery shop.
Buy from Amazon ($8.99)
Bonus: AmazonBasic Executive Stylus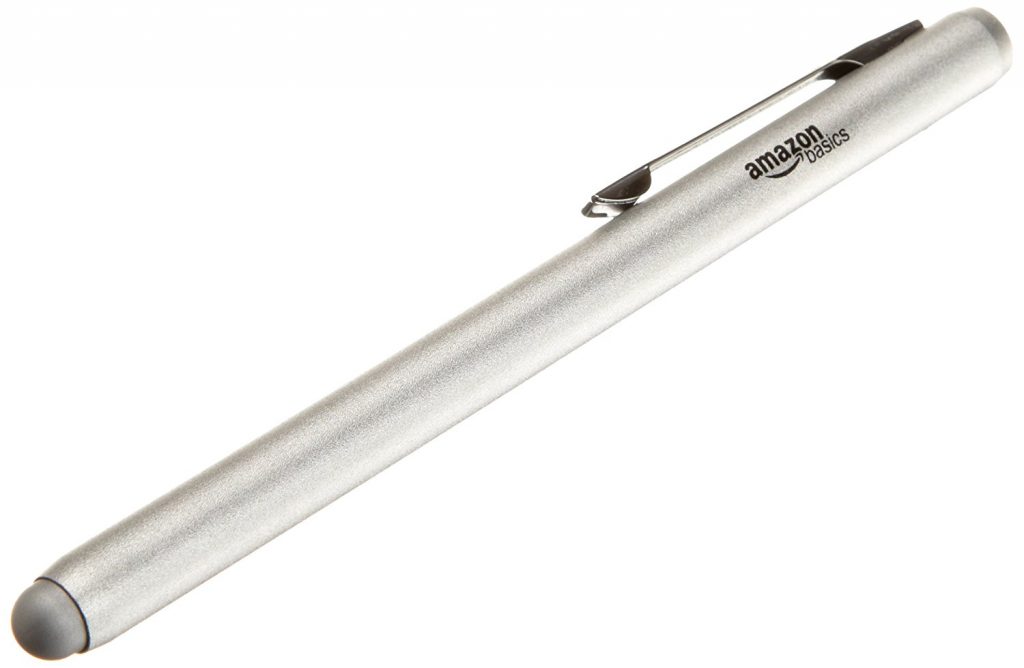 Rounding up the list is a simple yet functional stylus from Amazon itself – the AmazonBasics Executive Stylus. Much like the stylus from Targus, the AmazonBasics Executive stylus makes use of a long-lasting rubber tip which is compatible with all touch screen devices. The stylus has no smart features or pressure sensitive tip, which is quite obvious at this price point, and it doesn't even have a pen, like the one found on the stylus from Targus. The Executive stylus is a simple and straightforward tool designed for users who just want some kind of input device that's a bit more accurate than their fingers.
Buy from Amazon ($5.99)
 SEE ALSO: 10 Best Apple Pencil Accessories You Should Buy
Try These Apple Pencil Alternatives
That rounds up our list of the Apple Pencil alternatives available in the market today. While some of these options offer a ton of features like the Apple Pencil, some of them are just simple tools that you can use to interact with your touch screen devices in a more controlled and accurate way. Which of these Apple Pencil alternatives do you like the most? Do you think some of these styluses match up to the functionality offered by the Apple Pencil or does none of them even come close to the Apple Pencil experience? Let us know in the comments section below.