As expected, the brand new iPad Pro has arrived. Despite a low-key introduction courtesy COVID-19 outbreak, the iPad seems to have set the ball on a roll with a series of top-tear specs including custom-designed LiDAR Scanner, pro-grade camera and of course the support for the long-awaited trackpad. Needless to say, these specs appear to have made even the ageless MacBook Pros look old-fashioned – let alone PCs that are already struggling to match the beastly speed of the iPad. With these high-grade specs comes the responsibility to safeguard the iPad Pro. Having just wrapped up a lineup of the top keyboard cases for the new iPad Pro, I'm all set to round up the best 2020 iPad Pro screen protectors (for both 11-inch and 12.9-inch models), considering the ever-mounting repair cost of the retina display.
Best 2020 iPad Pro Screen Protectors
When it comes to offering a full-screen safeguard against scratches and bumps, tempered glass screen protectors have a clear edge over the liquid screen guards. So, we have chosen the high-grade screen defenders made of tempered glass. Boasting industry-standard hardness (9H), they are fully equipped to keep the retina display guarded against the usual suspects. Let's explore the roster to get one for your all-new iPad Pro 2020. We have also included a special screen protector for people who styluses likes Apple Pencil with their iPad Pro. With that said, let's get to our list, shall we?
1. ESR
ESR is well-known for producing strong screen protectors, and this offering seems in line with its reputation. Made of tempered glass, the screen guard is scratch-resistant and can also resist bumps. With the neat cutouts, it also doesn't interfere with the microphone and front camera. As a result, the Face ID and the microphone will continue to work as expected. Being very responsive to the touch, the screen guard also works seamlessly with Apple Pencil, allowing you to take notes and sketch images.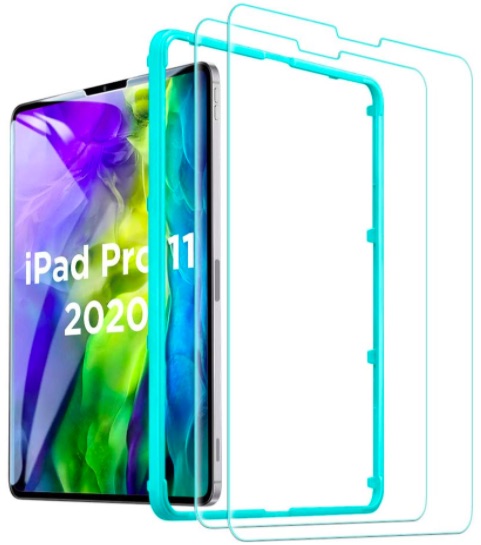 Buy from Amazon: $14.99 for  both 11-inch and 12.9-inch iPad Pro models (pack of 2)
2. Paperlike
What separates "Paperlike" from other screen protectors for iPad Pro is the Nanodots surface that features microbeads across the screen for enhanced sensitivity. As a result, the sensitive surface makes Apple Pencil vibrate slightly, giving you the feeling that you are writing on a piece of paper. Perfect for the folks who use the digital pen to take notes or sketch ideas with precision. Another front where Paperlike has an edge over rivals is the high-definition clarity that improves the viewing experience. And with the precise cutouts, the screen guard makes sure the microphone and front camera work without any hindrance. At $36.59, Paperlike screen guard may seem expensive as compared to rivals but if top-of-the-line quality coupled with high sensitivity is what you are looking, it's worth giving a shot.
Buy from Paperlike: $36.59
3. OMOTON
Featuring laser-cut dimensions, the OMOTON screen guard offers maximum protection to the iPad touchscreen, without interfering with the camera and microphone. The 9H hardness plays a key role in helping it survive both sharp scratches and nasty bumps. Another notable feature is the 2.5D rounded edges which help the screen guard fit perfectly on the screen. If you use Apple Pencil for jotting down thoughts or sketching images, you would appreciate its touch sensitivity. That's not all, OMOTON offers this screen guard in multiple packs, which make it one of the cheapest screen protectors for 2020 iPad Pro.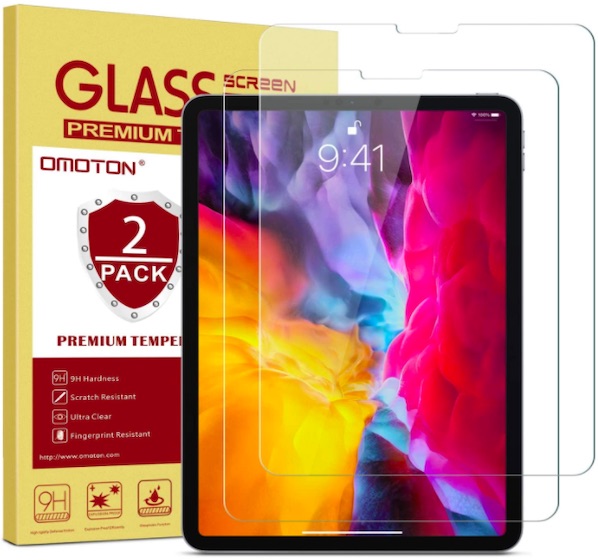 Buy from Amazon: $8.99 for both 11-inch and 12.9-inch iPad Pro models (pack of 2)
4. amFilm
Made of high-grade tempered glass, amFilm promises to offer uncompromising safeguards to the retina display of the iPad. Endowed with the industry-standard hardness, the screen guard is equally efficient both in terms of resisting against scratches and fighting out bumps. Plus, the ability to keep fingerprints, sweat, and dust also help it keep the touch sensitivity intact for long. As a result, it allows you to use your digital pen without any issue. Everything considered; amFilm is a reliable screen defender for your iPad Pro 2020.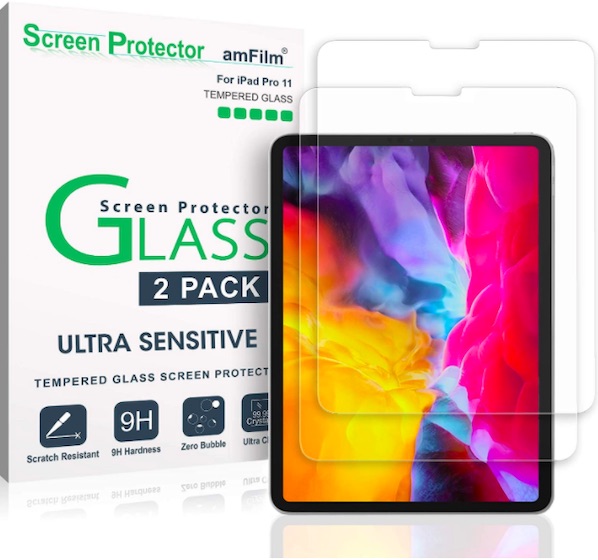 Buy from Amazon: $12.99 (11-inch) and $13.99 (12.9-inch) iPad Pro models (pack of 2)
5. Ztotop
At just 0.2mm thickness, Ztotop is one of the thinnest screen protectors for the iPad Pro 2020. So, you can expect both enhanced clarity and responsiveness while using the screen guard. But is this tempered glass screen protector just about thin design? Nope. The 9H hardness makes it more than capable to keep the touchscreen secure both against nasty scratches and accidental impact. Moreover, Ztotop is completely bubble-free, so that you can install the screen guard without any problem.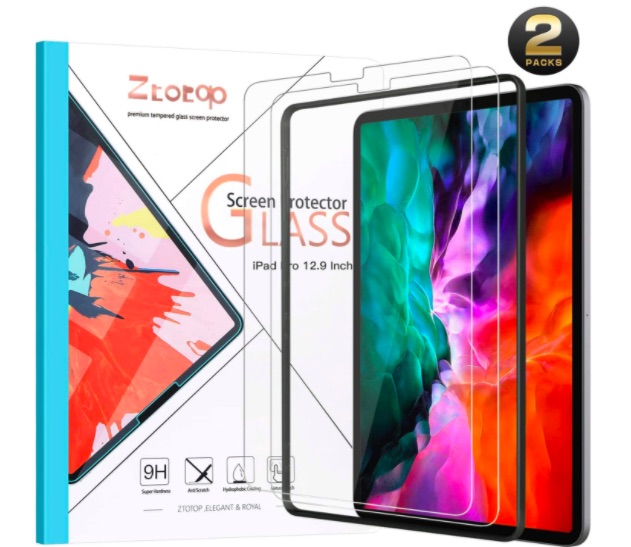 Buy from Amazon: $13.99 for both 11-inch and 12.9-inch iPad Pro models (pack of 2)
6. SPARIN
Whenever I have made a roundup of the top screen guards for iPhone or iPad, SPARIN is the one name that has never failed to find a safe spot in the roundup. What I have always found appreciable in the screen guard is the durability that offers a reliable shield against impact and scratches. Aside from trusted defense against scuffs, it has also lived up to the mark in terms of providing improved transparency. And looking at this screen guard, I can say that it has taken care of all the essential aspects.
Buy from Amazon: $10.99 for both 11-inch and 12.9-inch iPad Pro models (pack of 2/3)
7. Spigen
Though Spigen is more popular for producing reasonably good cases at an affordable price point, the accessory maker is second to none when it comes to offering highly protective screen guards. That's why I have made it a point to include its offering in this coveted lineup of the best screen guards for iPad Pro 2020. Talking about features, it has covered all the basics like neat cutouts, 9H hardness, case-friendly design and touch sensitivity to be a long-lasting companion of the iPad.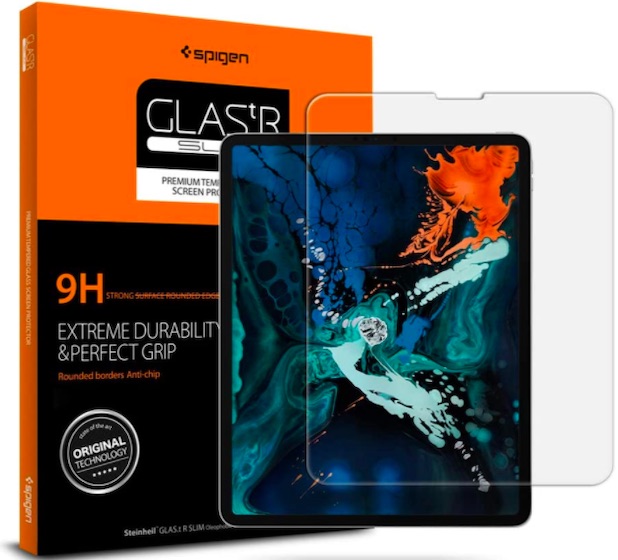 Buy from Amazon: $16.99 for both 11-inch and 12.9-inch iPad Pro models 
8. JETech
For those looking for comparatively cheap screen guards for the 4th-gen iPad Pro without compromising on the protection factor, this offering from JETech seems to be a safe bet. At 0.33 thickness, the screen guard has got a bit extra cushion to fight out shock and also endure the onslaught of scratches. Despite being a bit thicker than many other counterparts, it's up to the task in terms of responsiveness and clarity. Besides, it's also designed to case-friendly so that you can use any cover without any pain.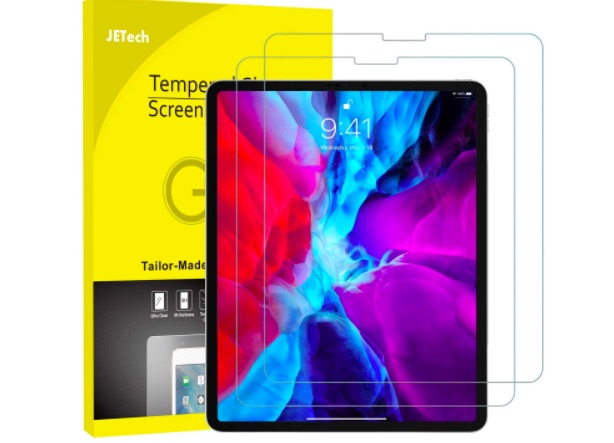 Buy from Amazon: $15.98 for 11-inch and 12.9-inch iPad Pro models (pack of 2)
Choose Best Screen Guards for Your 4th-Gen iPad Pro
Considering how the high screen repair cost, it always pays to offer uncompromising protection to the touchscreen. With these top screen guards at the disposal, I hope you have found the right screen defender for the retina display of the iPad. By the way, which one of the above screen guards has caught your eyes? Do not forget to tell us its name and also let us know the name of the screen protector that may be missing from the lineup.