Just after a period of 9 months, Apple has again revised its laptop lineup and this time, it has updated the MacBook Air with the 10-gen Intel Ice Lake processors adding an i7 variant as well. Apple has also improved the keyboard and now features a new Scissor Keyboard. In some sense, the MacBook Air 2020 has gone through a complete overhaul and now it has become an easy recommendation for anyone who wants to buy an Apple laptop. So if you are going to pick the MacBook Air 2020, we would recommend some accessories to bring protection and additional utility. Now without further delay, let's go through the list and find out the best MacBook Air 2020 accessories you can buy right now.
Best Accessories for MacBook Air 2020
1. USB C HUB (Satechi / HyperDrive / Anker)
The first accessory you must get for your new MacBook Air 2020 is undoubtedly a USB C Hub. The 2020 model comes with just 2 Type C ports and for many users, it might be inadequate. So you have two options: if you are looking for a multi-port adapter that comes with SD Card reader, HDMI, Ethernet, USB A, and other such ports then go with Satechi or HyperDrive. Both are reliable products and have excellent performance. However, if you want faster Power Delivery support then pick HyperDrive over Satechi. Other than that, if you are looking for an affordable USB C Hub that has some essential ports like USB-A, HDMI and micro SD card slot then Anker is the best choice. You can go through all three products and pick one based on your preferences.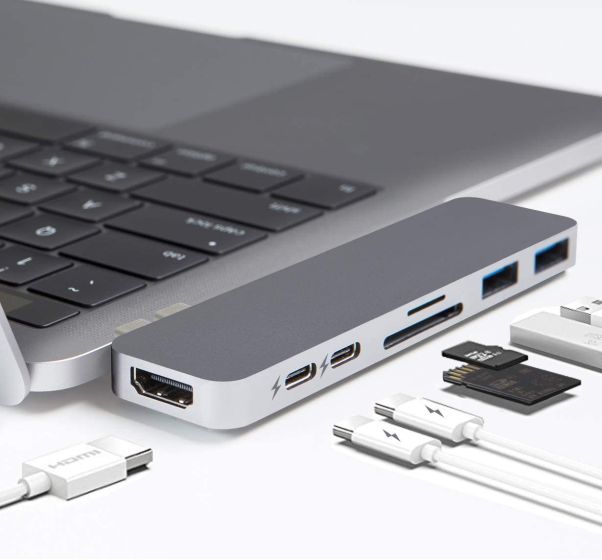 2. Twelve South Curve Laptop Stand
The second highly-recommended accessory for your MacBook Air (2020) would be the excellent laptop stand by Twelve South. It can hold your laptop at a more ergonomic height so that you don't develop any neck or shoulder pain. And the best part is that it also maintains the airflow from the bottom so it can also act as a cooling stand for your MacBook. Other than that, it has raised edge on arms which is made of anti-scratch silicone material to hold the laptop firmly. I would say, if you do a lot of desk work on your MacBook Air then a laptop stand would be a fine addition to your list of essential accessories.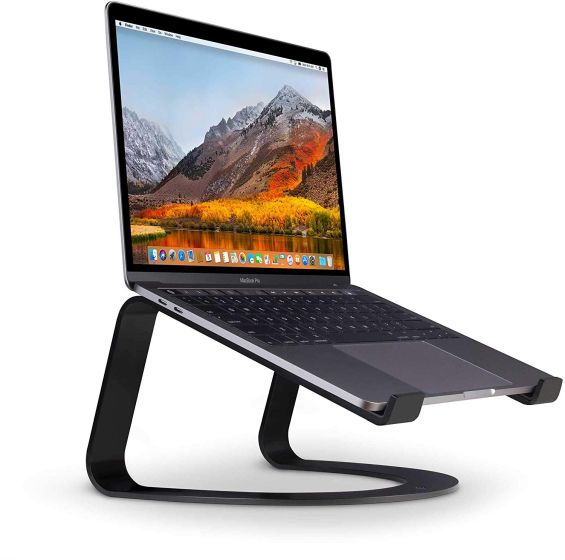 Buy from Amazon: $51.82
3. Samsung T7 SSD – 1TB
The good part about the new MacBook Air 2020 is that the base variant comes with 256GB of storage which is double the space of earlier MacBook Air models. However, some users, mainly those who do creative work would find the storage minuscule. In that case, you can get a portable external SSD by Samsung which is super fast and has plenty of storage. Apart from that, the new T7 SSD — unlike the older T5 — comes with a fingerprint sensor for added protection of your data. Simply put, if you want an external drive to expand the storage of your MacBook Air, you can't go wrong with the Samsung T7 SSD.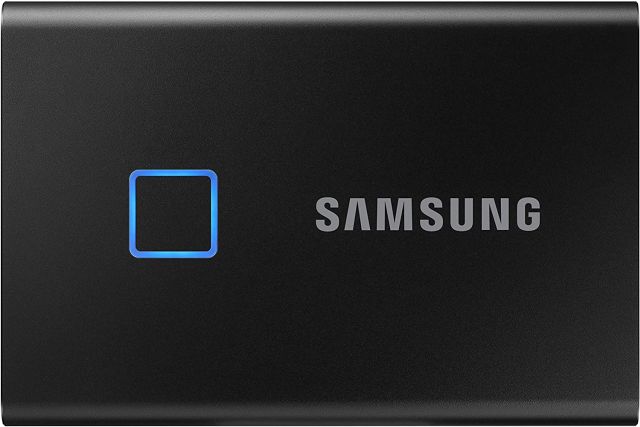 Buy from Amazon: $229.99
4. MOSISO Laptop Sleeve
If you want a cool-looking and compact sleeve for your MacBook Air 2020 then I can't recommend enough the Mosiso laptop sleeve. It not only offers a comfy look but also brings protection from all sides. First of all, you have endless color options to choose from so that is great. Secondly, the sleeve is made of water repellent polyester material so your laptop is protected from drink spills and rain. Thirdly, there is an extra pocket at the front where you can store your mouse, earphone, and notepad as well. On all the counts, the laptop sleeve seems to be an excellent accessory for MacBook Air (2020) and you should not give it a miss.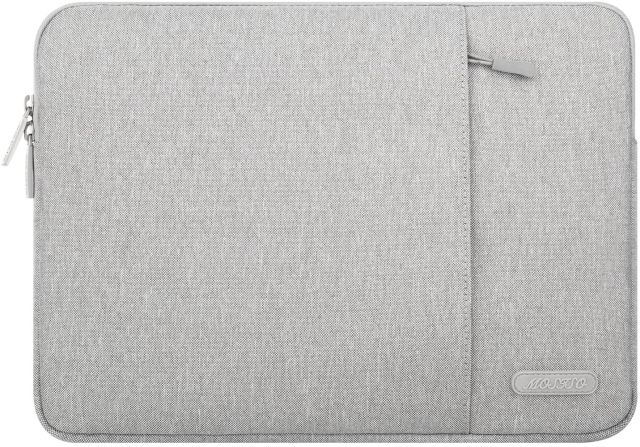 Buy from Amazon: $13.99
5. Supershieldz Screen Protector
I know, not many users like to put a screen protector on a laptop and particularly the MacBook Air 2020 which comes with a beautiful Retina display. However, if you are serious about protecting the 13.3-inch display then you must install a screen protector. Supershieldz offers a scratch-resistant and anti-glare screen protector especially for MacBook Air and it does support the latest 2020 model. The screen protector is made of high-quality Japanese PET Film so there won't be any residue left after you remove the protector. All I would say is just get this accessory to protect the display from unwanted scratches and drops.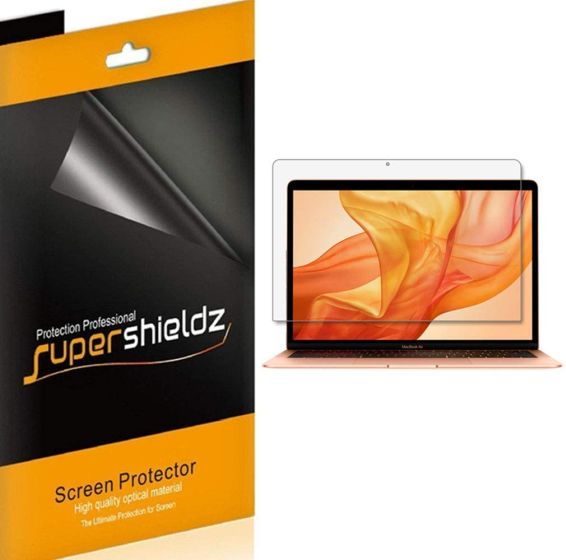 Buy from Amazon: $9.99 [Pack of 3]
6. UPPERCASE Keyboard Protector
Although Apple has improved the keyboard on the newer MacBook Air 2020 with an inverted-T mechanism — unlike the infamous Butterfly keyboard — I would still recommend you to get a keyboard protector. The protector is ultra-thin and maintains high transparency for the backlit keyboard. But the best part is that the keyboard protector does not interfere with the Touch ID sensor. So to sum up, unless you have extended Apple Care support, don't wait and get this essential accessory for your MacBook Air.
Buy from Amazon: $12.95
7. NexCase Heavy Duty Case
This accessory is for those users who don't want to take any risk against external damage on their MacBook Air. It's a heavy-duty case which means the whole exterior is covered by hard TPU material including the bottom surface. And on the inside, it has rubberized silicone so that the device doesn't get any scratches from the case. Apart from that, there is also an anti-scratch protector in the center which should protect your Mac even further. And best of all, it's a shock-proof case so you are covered against accidental drops.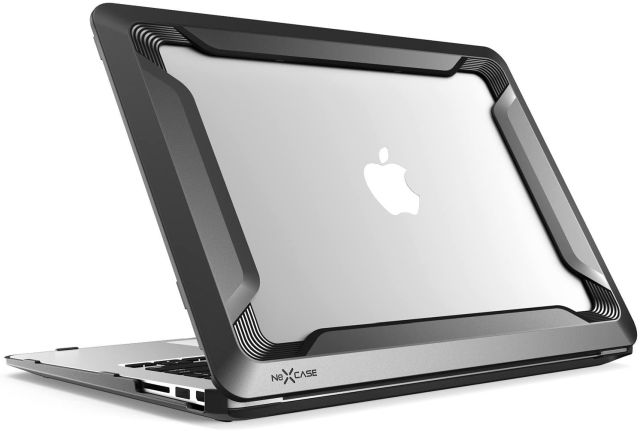 Buy from Amazon: $26.99
8. Logitech MX Master 3
If anyone is looking for an alternative to the Apple Magic Mouse to pair with the latest MacBook Air 2020 then Logitech MX Master 3 is the mouse you should pick. Of course, it's expensive, so is the Apple Magic Mouse. However, it's miles better and brings remarkable speed, precision & quiet scrolling. Among other things, it's designed very well keeping comfort in mind with ideally-placed thumb wheel and controls. You can also customize the additional buttons on the mouse based on the app you are using. Having said that, if you find it too expensive, you can go for Logitech MX Anywhere 2S.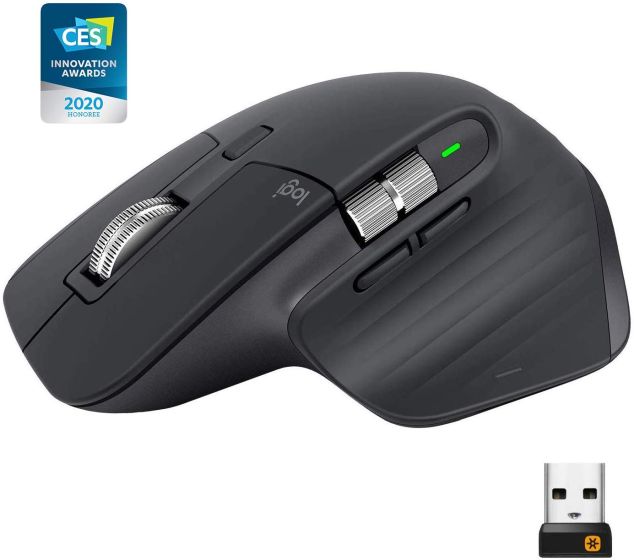 9. Apple 61W USB-C Power Adapter
As we all know, the newer MacBook Air comes with a UBS-C port for charging, but unfortunately, the power adapter in the box is only capable of 30W charging. Nevertheless, if you want faster charging on your MacBook Air 2020 then I would highly recommend this accessory which can save you a lot of time while charging. It's a 61W USB-C power adapter and can charge your MacBook Air at the same speed as the 16-inch MacBook Pro. If you are worried about voltage surge then be assured that all newer MacBooks can handle higher voltage input due to the standard Power Delivery technology. Having said that, if you find the Apple power adapter expensive then you can go for a similar 60W USB-C power adapter by Anker. Generally, I don't recommend third-party chargers for Apple products, but you can rely on Anker to deliver faster charging without any damage.
Note: Both the chargers don't come with a charging cable. You will have to buy it separately. Buy official Apple USB-C Charging Cable ($13.99).
10. Anker PowerCore+ 26800 Portable Charger
If you regularly travel to remote places where power resources are extremely limited then consider getting the Anker PowerCore+ portable charger. It has a capacity of 26800mAh and can fully charge the newer MacBook Air 2020 model at least twice. The charging speed will be below 30W which is not that great. However, you can get the latest Anker PowerCore+ portable charger which has the charging capability of up to 60W. The only caveat is that it comes bundled with another power adapter so the price is slightly on the higher side. And the power adapter is only capable of 30W charging. So to put it straight, if you don't care about charging speed then get the older one since both have the same battery capacity. Otherwise, go for the newer portable charger.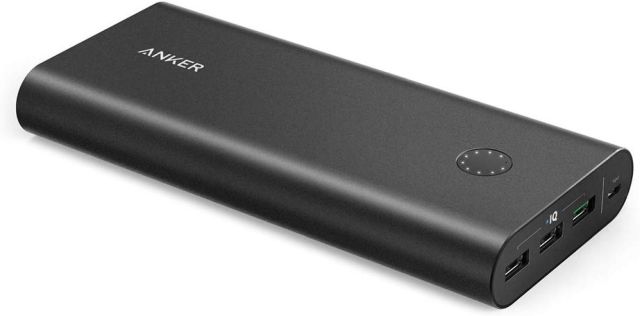 11. Power Adapter Extension Cable
Many users find the in-box power cable too short for their usage. So if you belong to one of those Mac users then you can get an extension cable for the power adapter. And the best part is that it's sold by Apple itself so you don't have to worry about the quality. It's a 1.8-meter AC extension cord and you can use it with all kinds of Apple power adapters including MagSafe, MagSafe 2, USB-A and USB-C. Further, the extension cable is compatible with power adapters that have a range of 10W to 96W so that is amazing. All in all, this extension cable is one of the best accessories you can have for your MacBook Air 2020.
Buy from Amazon: $19
12. Apple AirPods
While Apple has thankfully kept the 3.5mm headphone jack on the MacBook Air 2020, I would still recommend you to get the Apple AirPods if you are an iPhone user. Apple AirPods seamlessly work between both the ecosystems– iOS and macOS– and it brings an amazing wireless experience while using both the devices simultaneously. Further, Apple has updated the first-gen AirPods and brought the Pro version with Active Noise Cancellation (ANC) and Transparency mode. So if your budget permits, get one of these AirPods and you will be set to enjoy the wireless life on both your MacBook Air 2020 and iPhone.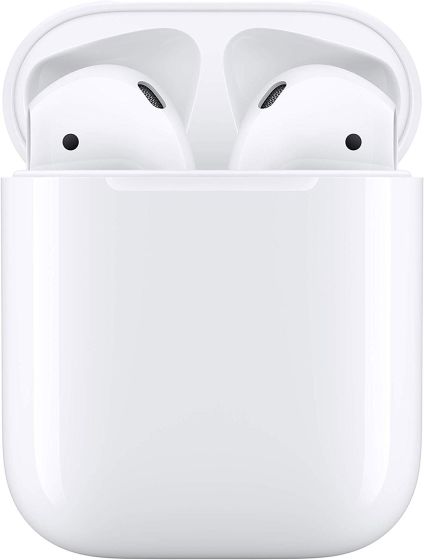 Buy from Amazon: Starts at $129
13. NewHey Leather Bag
If you want to carry your new MacBook Air 2020 in a classic look then get this leather bag by NewHey. It looks amazing in its vintage briefcase design and rugged leather all around it. The company claims that the leather is made of 'superior crazy horse cowhide leather' and that it brings water-resistant canvas for long-term use. Besides the look, it has plenty of space including 5 outer and 4 inner pockets. You can comfortably put your MacBook Air and store your bottle, cards, wallet, etc. in their right position. Simply put, the leather bag is pretty good-looking and you can get it if MacBook sleeves don't cut for you.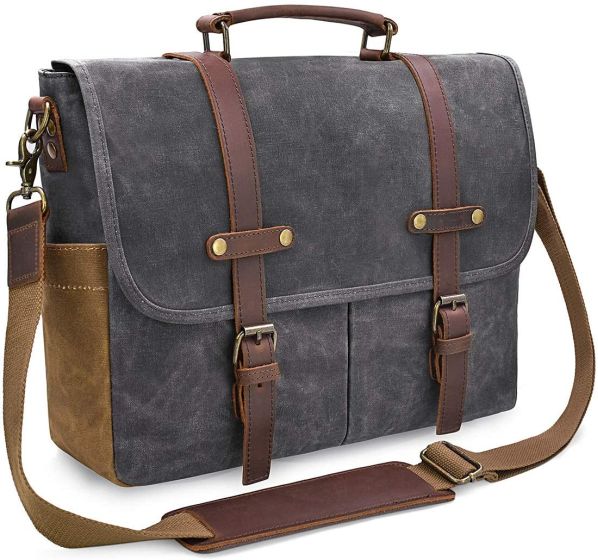 Buy from Amazon: $49.99
14. LG 27″ 4K USB-C External Display
With the new product revision in 2020, Apple has surely brought a powerful 10-gen Intel processor to the MacBook Air, but in terms of the display size, it's woefully small, especially for power users. So if you want to extend the display, I would recommend a USB-C monitor by LG. It brings 4K resolution (50-60Hz), has a wider 27-inch display size, supports HDR10 and has 99% coverage of the sRGB spectrum. That's some great specifications to accompany an Apple product, right? So go ahead and get this display to have a full-fledged Apple experience on your MacBook Air.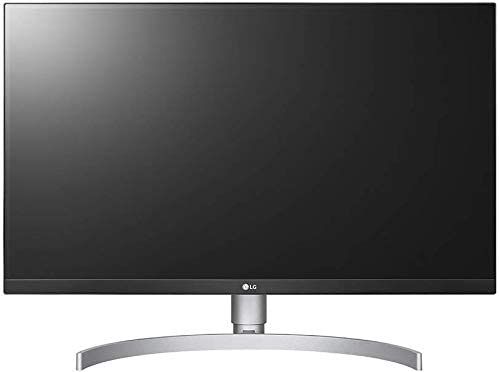 Buy from Amazon: $569
15. Gauntlet MacBook Sleeve
If you are a student or someone who is always on the move then I would highly recommend this sleeve by Gauntlet. The company has been creating some of the best sleeves for MacBooks to protect them from scratches, dust and most importantly, drops. It has rigid exterior design and padded interiors around corners and edges for enhanced protection against drops. And unlike other sleeves, this one comes with a clamshell design which means you can use your MacBook with the case on. Essentially, it protects your expensive MacBook Air all the time which is amazing. So if you want to protect your MacBook Air from any unlikely event, consider Gauntlet MacBook Sleeve an essential accessory.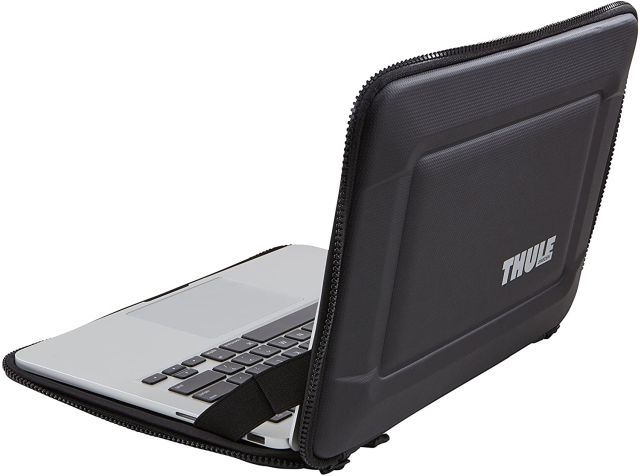 Buy from Amazon: $56.95
Get the Best MacBook Air 2020 Accessories Right Here
So that is our long list of accessories for MacBook Air 2020 that you should consider buying. We have primarily recommended products that can protect your device, enhance the look, and also extend the utility of MacBook Air to a more power-user device. Also, go through the alternative recommendations that I have provided below every product. Anyway, that is all from us. In case, we missed out on anything then do comment and let us know. We will surely help you out.
---
Load More