While Coronavirus outbreak may have prevented the 4th-gen iPad Pro from hogging the limelight at a glittering spring event, the tablet hasn't failed to impress, due largely to a series of notable specs including the pro-grade camera and studio-quality mics. Not to mention, custom-designed LiDAR Scanner that looks set to offer a great AR experience and the trackpad support that makes the iPad enviable to even high-end notebooks including the mighty MacBook Pros. Though these specs sound really impressive, the exclusion of a free keyboard case is a bit hard to explain – despite the supercomputer high pitch. But worry not, we've lined up the 5 best 2020 iPad Pro cases (both for 12.9-inch and 11-inch models) so that you can get the most out of your beast as a full-on laptop.
Best 4th-Gen iPad Pro Keyboard Cases in 2020
Although Apple's keyboard cases for the iPad Pro appear to be the go-to options, third-party offerings are no less competent. Aside from pairing elegantly with the iPad, they are also priced way lower than Apple's offerings. Thus, buying a keyboard cover that can deliver a fairly convenient typing experience at an affordable price point isn't a big deal. Let's take a quick glance at both the first and third-party keyboard covers for the 4th-gen iPad Pro to find out what they have in store!
1. Apple Smart Keyboard Folio
If you don't want to settle with anything less than a top-notch keyboard case for your 2020 iPad Pro, look no further than Apple Smart Keyboard Folio. The case looks quite identical to its predecessor for the 2018 iPad Pro. Sporting a pretty slim and lightweight design, the case keeps the elegant design of the iPad intact. Thanks to the incorporation of the Smart Connector, it connects to the iPad seamlessly. Featuring a full-size keyboard along with pretty tactile keys, the smart keyboard also offers a more convenient typing experience.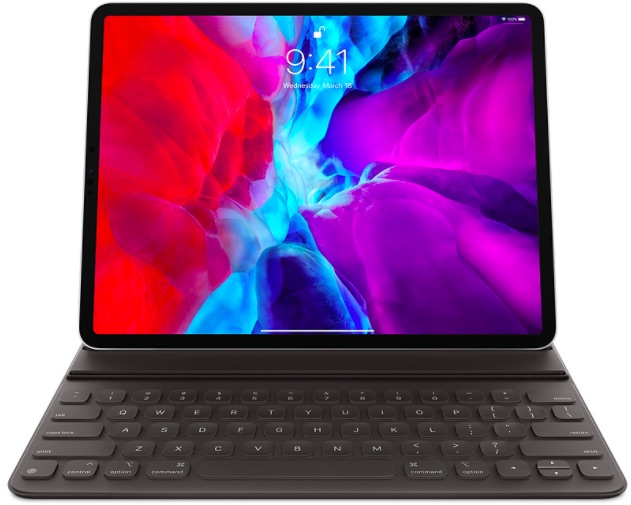 Buy from Apple: $179 for 11″ iPad Pro and $199 for 12.9″ iPad Pro
2. Apple Magic Keyboard
Just a look at Apple Magic Keyboard and you would know that it's by far the best keyboard case for the 2020 iPad Pro. Flaunting an impressive design, the keyboard cover makes for a nice-looking match with the iPad. But what makes it stand out is the built-in trackpad that's designed to make the tablet work as a full-on laptop. Not just that, the Magic Keyboard comes with Apple's newest scissor keys that are found in the 16-inch MacBook Pro. The keys deliver 1 millimeter of travel for much-improved feedback. Since they're backlit, you can comfortably type even in the dimly lit environments. As you may have already guessed, the Magic Keyboard warrants top-tear pricing that starts at a whopping $299 for 11″ iPad Pro and touches $349 for the 12.9″ variant.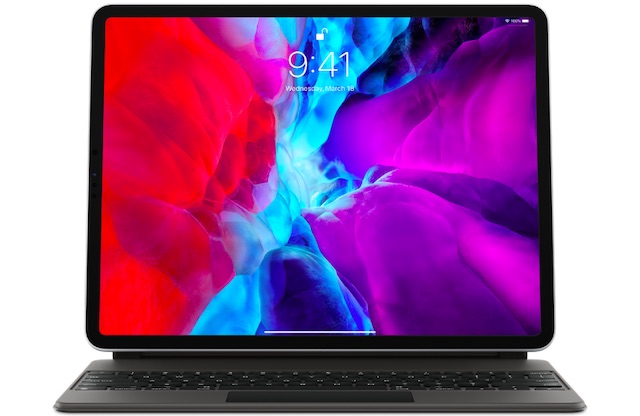 Buy from Apple: $299 for 11″ iPad Pro and $349 for 12.9″ iPad Pro
3. Brydge Pro
Should you wish to get a premium keyboard case for the 4th-gen iPad Pro without having to pay a top-tear price, this offering from Brydge Pro would be a safe bet. Courtesy the single piece of high-grade aluminum construction, the keyboard case is quite durable. The snap-on magnetic case not just makes a good-looking pair with the iPad but also safeguards the tablet against shock. Moreover, the full-size keyboard features dedicated iOS special function keys to speed up your typing experience. Not to mention, the backlit keys that come in super handy in the dark environments, allowing you to work without any halt.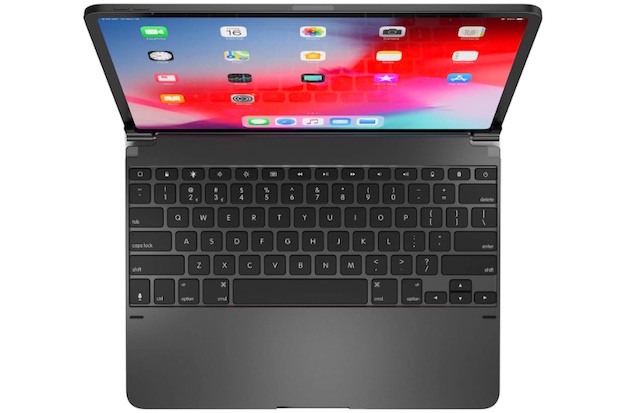 Buy from Amazon: $99.99 for 11″ iPad Pro and $119.99 for 12.9″ iPad Pro
4. Brydge Pro+
Well-known for producing top-grade keyboard cases for the iPad, Brydge seems fully geared up to take on Apple's Magic Keyboard. And just in case you are looking for an able alternative to Apple's premium offering at a slightly low price, Brydge Pro+ appears would be worth taking a look. Just like the Magic Keyboard, this wireless keyboard also comes with a multi-touch trackpad to let you transform your tablet into an efficient notebook. That's not all, the Pro+ delivers 0-180° viewing angles and 3-month long battery life which could be a big deal for many.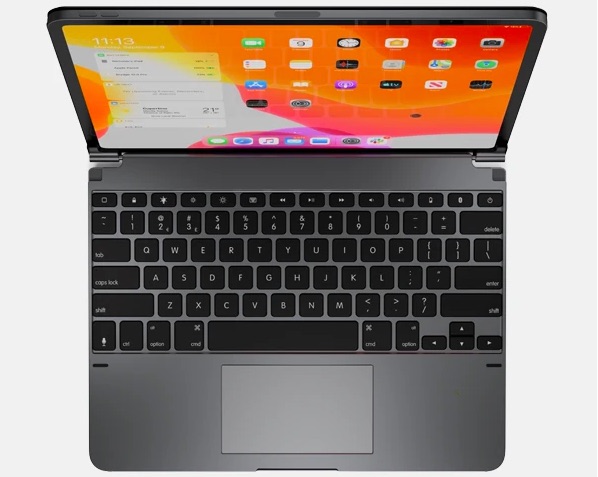 Buy from Brydge: $199.99 for 11″ iPad Pro and $229.99 for 12.9″ iPad Pro
5. Slim Folio Pro
Logitech's Slim Folio Pro seems equally efficient to take the sheen away from Apple's high-end keyboard case for the iPad Pro 2020. For starters, the keyboard case has a well-built design that makes a fine match with the iPad without adding any unnecessary bulk to the tablet. For all having a compact form-factor, the Slim Folio Pro can take on random bumps with ease. As for the keys, they are tactile and provide the much-needed feedback for a smooth-sailing typing experience. Moreover, you can attach the Apple Pencil or other styluses to attach magnetically to the iPad without having to remove the cover. Though the keyboard case doesn't include a trackpad, Logitech offers a smart mouse called Pebble i345 (sold separately at $29.99) that works with any iPad.
Buy from Logitech: $119.99 for 11″ iPad Pro and $129.99 for 12.9″ iPad Pro (will be available from April 2020)
Bonus: Jelly Comb
For the folks hunting for good yet cheap keyboard cases for the 4th generation iPad Pros, this offering from Jelly Comb is the right way to go for multiple reasons. First and foremost, the keyboard case is made of soft TPU material and comes with responsive keys that are comfortable to type. Besides, the 7-color backlight with three brightness levels ensures you don't have any problem while typing in the low-lit environments. Add to that the 650mAh battery that delivers up to 220 hours of battery life and it seems more or less a done deal for a $40-$45 price tag.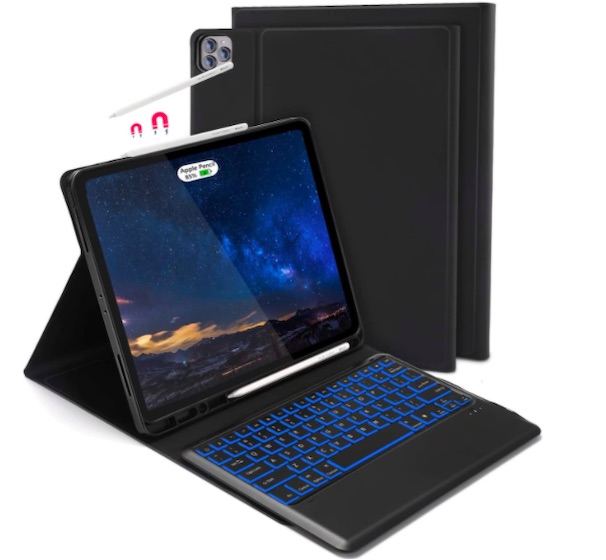 Buy from Amazon: $39.99 for 11″ iPad Pro and $45.99 for 12.9″ iPad Pro
Choose the Top Keybaord Cases for Your 2020 iPad Pro
So, these are the best 4th-gen iPad Pro keyboard cases available in the market right now. I expect more noted accessory makers to release high-end keyboard covers for the new iPad Pro soon. As and when they are out in the market, I will include them in this lineup so that your tablet always has a wide variety of options to pick from. By the way, which one of these keyboard cases have you chosen for your device? It would be great to know your top choice in the comments below.