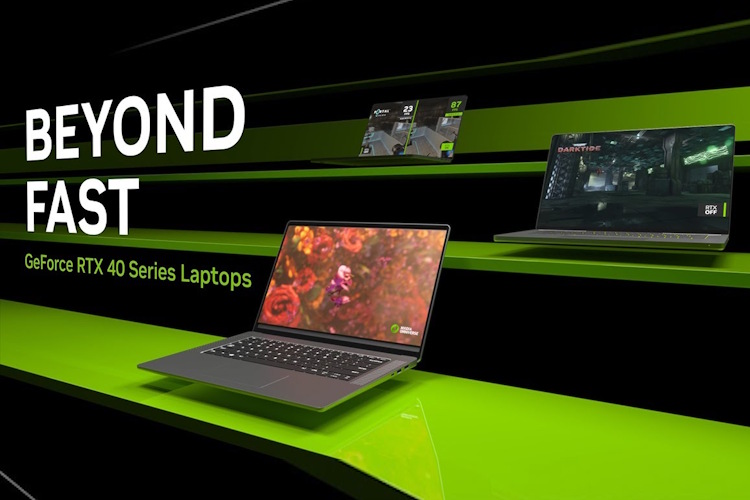 NVIDIA's RTX graphics cards offer incredible performance and a premium suite of features, making them the best choice for laptop buyers in 2023. Whether you are a student, a working professional, a gamer, or a content creator, you will find the right mix of features in some of the latest RTX laptops that accelerate performance and make handling your daily tasks a breeze. So, when you are on the lookout for a new laptop in the Diwali sales in India, do look for the Nvidia RTX logo when taking a pick. Why RTX over GTX, even in the budget segment? Let's find out, as we have discussed the key features offered by RTX laptops below:
Get Supreme Performance with NVIDIA GeForce RTX GPUs
Today, laptops with NVIDIA GeForce RTX graphics cards are available in many different form factors like thin & light, high-performance, and even content creation-focused laptops. Whichever features you want, there is an RTX laptop out there for everyone. NVIDIA RTX GPUs, for the uninitiated, use the company's Ampere and Ada Lovelace architectures, offering "world-class power efficiency and high-performance scalability."
During the sales, NVIDIA GeForce RTX laptops start from Rs 49,990, offering superior gaming performance on a budget. So, you should definitely consider RTX over other laptops with older-gen specifications. As a student, you might get a laptop today with the intention of using it for taking notes, watching movies, and other general usage. But later on, you would definitely require a laptop with higher specs for programs like Adobe's suite, MATLAB, Autodesk Maya, and Blender, depending on your curriculum.
In such cases, switching out a one-year-old with a faster one becomes necessary. Given the affordability of NVIDIA GeForce RTX laptops in 2023, you should definitely consider getting a high-performance machine today! In addition to delivering high performance in such software, you also get optimal gaming performance with features like ray-tracing with Nvidia GeForce RTX.
The Ada Lovelace and Ampere architectures used in today's RTX-powered laptops feature dedicated RT Cores and Tensor cores to speed up workloads across AI, rendering, video editing software, gaming, and more. We will discuss many other features apart from the performance benefit provided by RTX below.
We also list some sweet, eye-catching RTX laptop deals you can grab on Amazon and Flipkart right now towards the end of this post, so keep reading to find out the best laptop deals.
Enjoy the Most Realistic Graphics with NVIDIA GeForce RTX
NVIDIA GeForce RTX laptops feature ray-tracing, and this technology lets you experience the most realistic-looking graphics possible in modern gaming titles. Ray-tracing is essentially simulating the in-game reflections & shadows just like how they are supposed to look like in real life!
Today, there are numerous games that heavily take advantage of ray-tracing hardware in NVIDIA GeForce RTX GPUs, which feature 2nd-Gen and 3rd-Gen RT Cores. Spider-Man: Miles Morales from PlayStation Studio is one of the titles to support this cutting-edge tech.
Then, there are games like Cyberpunk 2077 that utilize the recently announced DLSS 3.5 and path-tracing technology. We have showcased some games with RTX support below. The graphics quality of games that support ray tracing keeps getting better and better. So, if you want to experience the best graphics that games can offer in 2023, you should buy a laptop with NVIDIA GeForce RTX graphics!
NVIDIA GeForce RTX Support AI Features: DLSS and Frame Generation
NVIDIA GeForce RTX laptops come with exclusive AI features that can further supercharge your gaming experience and AI app development. The advantages offered by DLSS (supported on all RTX laptops) and Frame Generation (exclusive to RTX 40 graphics) in games are major.
Starting with DLSS, it is NVIDIA's exclusive Super Resolution technology that provides benefits both in terms of the performance (FPS) & rendering quality of your game. DLSS stands for Deep Learning Super Sampling, and this new method of anti-aliasing has completely changed how games intrinsically render pixels – artificial intelligence-based image enhancement happens on the fly when you enable DLSS features in RTX GPUs. By utilizing the onboard RTX hardware and its AI capabilities, you can enable features such as DLSS, ray tracing, or Frame Generation in hundreds of games. For the full list, refer to NVIDIA's dedicated article here.
Talking about the Frame Generation of DLSS, it is an exclusive technology in RTX 40 Series GPUs. By taking advantage of modernized AI hardware, NVIDIA's Frame Generation technology lets you double the FPS in your games. It really is quite magical, because while RTX GPUs are already powerful more performance is always better. If you buy an RTX gaming laptop today, it probably has a high refresh rate display such as a 144Hz or 240Hz panel. DLSS 3 lets you take better advantage of a fast display in many games.
You can check out how much the NVIDIA DLSS frame generation improves the gaming experience below. As you can see here, the in-game performance of Cyberpunk 2077 jumped from a mere 22 FPS all the way to a smooth 98 FPS, which is dramatically better!
RTX Brings NVIDIA Reflex for Low Latency Support
NVIDIA Reflex is a technology exclusive to RTX laptops that enables you to get the lowest system latency. Without enabling Reflex, even if you are playing at smooth framerates, there is a noticeable improvement in terms of the input lag (delay in keyboard or mouse movement) when you have it enabled. If you play games such as Counter-Strike 2, Valorant, Apex Legends, or Fortnite, you'd desire the highest frame rates for smooth gunplay.
NVIDIA GeForce RTX laptops will give you the performance needed to perform your best in competitive games. On top of that, by enabling NVIDIA Reflex, the game feels even smoother with quicker registration of your mouse and keyboard inputs. The lower input lag provided by Reflex solidifies your competitive gaming experience, ultimately keeping it smooth even during the most intense fights.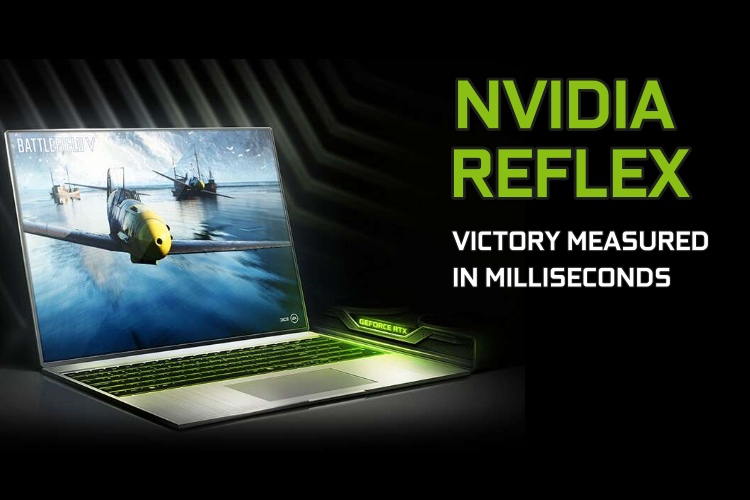 NVIDIA Game Ready Drivers Keep Everything Optimized
Imagine your RTX graphics card as a high-speed sports car. In this case, the driver's skill sets are integral to how fast or effectively the car performs. Similarly, GPU drivers that you install matter a lot when it comes to how optimized the newest games will run. Nvidia regularly rolls out Game Ready Drivers to keep its RTX GPUs optimized and add support for newly launched games like Starfield.
In the graphics card driver updates provided by NVIDIA, the Game Ready Drivers include the right optimizations for new launches that come out. These drivers come out on time when a new game is launched, so you can expect to play modern titles with the best optimization thanks to Nvidia's Game Ready Drivers.
Thanks to this, when you get an RTX-enabled laptop you can be sure about having the best compatibility, peak performance, and perfectly optimized gaming experience.
Built for Livestreaming: NVIDIA Broadcast App & NVENC Encoding
You can not only play but also stream a game at the same time without any issues using a powerful NVIDIA GeForce RTX laptop. NVIDIA has been improving upon its exclusive NVENC encoder for streaming for a while now. You get the advantages of NVENC game streaming on many RTX GPUs, and on RTX 40-Series this is even better with the inclusion of AV1 encoding, which makes the quality even better.
You can easily broadcast your games on platforms like Twitch, YouTube, or Facebook using the NVIDIA overlay, easily accessible within any game with a keyboard shortcut. You can also record your gameplay with ease and save highlights to make clips later on. NVIDIA GeForce RTX laptops have major advantages when it comes to game streaming, and the stream quality is amazing whether you're just streaming or recording the gameplay.
Streaming on NVIDIA GeForce RTX-powered laptops will not reduce your in-game performance, which has been a problem with CPU streaming in the past. Because of dedicated hardware inside RTX GPUs that is specifically made for streaming and recording, NVIDIA GeForce RTX laptops are extremely capable of streaming & recording gameplay simultaneously.
In addition to this, there is also the NVIDIA Broadcast app that has AI features to make you, the streamer, look better on camera! These features include:
Video Noise Removal: Enhance your camera quality by removing noise for a cleaner overall picture
Eye Contact (beta): Even if you are looking at your game while streaming, on the stream itself your eye gaze will be corrected so that you're directly looking at the camera.
Auto Framing: The movements of a human subject in front of the camera will be tracked, automatically keeping you in the frame at all times.
Virtual Background: You don't need to invest in a green screen anymore. You get stunning AI greenscreen effects without the need for expensive streaming or lighting equipment.
Noise & Echo Removal: This effectively cleans the input captured from your microphone and removes any background noise, static, and keyboard noises. The voice track of your stream is kept super clean.
Supercharge Your Creativity on RTX with NVIDIA Studio
NVIDIA Studio is a platform that supports aspiring artists, creative professionals, and hobbyists. It helps essentially anyone who is looking to supercharge their creativity. NVIDIA Geforce RTX GPUs are useful in many applications apart from gaming. These include 3D animation, video editing & motion graphics, photography, graphic design, and architectural software.
On the NVIDIA Studio platform, there are many features like NVIDIA Canvas and NVIDIA Omniverse. Both of these can help accelerate your creative workflows. Many creative apps today are made better, thanks to the exclusive NVIDIA GeForce RTX technologies embedded in them. According to NVIDIA, the advanced technology unlocked by the Studio platform has many benefits:
Video Editing: Edit 8K resolution video in real-time
Photography: Enhance your photos with AI, up to 5x faster
3D Modelling: Render visuals 10x faster
Best NVIDIA GeForce RTX Laptop Deals in 2023: Exclusive Discounts!
Starting at under Rs 50,000, NVIDIA GeForce RTX laptops are currently on sale with massive discounts in the ongoing Diwali sales on Amazon and Flipkart in India. We have listed the five best laptops with NVIDIA GeForce RTX graphics cards on sale right now. These laptops come with NVIDIA Ampere (RTX 2050/3050) or Ada Lovelace (RTX 40-series) architecture GPU.
| Laptop Model | Usual Price | Sale Price |
| --- | --- | --- |
| Acer Aspire 5 (RTX 2050, i5-1240P) | Rs 54,990 | Rs 49,990 (-9% off) |
| ASUS TUF Gaming F15 (RTX 4060, i7-12700H) | Rs 1,15,990 | Rs 109,990 (~5% off) |
| Lenovo LOQ (RTX 4060, i7-13620H) | Rs 1,14,990 | Rs 1,11,990 (~5% off) |
| Lenovo Ideapad (RTX 3050, Ryzen 5 6600H) | Rs 63,990 | Rs 55,990 (~12.5% off) |
| Acer Nitro V (RTX 4050, i5-13420H) | Rs 76,990 | Rs 70,990 (~8% off) |
Buy an RTX Laptop at big discounts with the above links!
Whether you want to buy a mid-range or a high-end machine, these discounts are quite tempting and make the present time a ripe one for buying a new NVIDIA GeForce RTX laptop! So, are you looking to upgrade to a new RTX-powered laptop? Let us know in the comments below.
---
Load More