After several years of wait, Apple has finally listened to the wish of iOS users who had been calling for a full-fledged Picture-in-Picture mode on the iPhone. Though Apple had introduced PiP mode on the iPad way back in iOS 9 at WWDC 2015, the company was just not willing to bring it on the iPhone — for reasons best known to it. Now that it has eventually graced the iPhone, let's dive right in to learn how you can use Picture in Picture mode in iOS 14!
How to Use Picture-in-Picture Mode in iOS 14
I know many of you may be quite familiar with PiP mode as it's been around for several years. As is usually the case, there could be more than a handful of iOS users who might not have come across this multitasking feature. So, it would be apt to get the basics out of the way first up.
What is Picture-in-Picture Mode in iOS 14?
Picture-in-Picture playback is a multitasking feature designed to let you watch your favorite video while still carrying out other tasks like browsing the web, messaging, or taking a note. Imagine a situation where you are watching an exciting flick, suddenly an important message hits your inbox.
Now, you wish to reply to the message but don't want to halt your binge-watching. Wouldn't you prefer to carry out both the tasks simultaneously? Most probably, you would. This is where the PiP mode aka floating video has a role to play.
PiP allows you to play a video in a moveable, resizable window that you can float over the apps onscreen. Thus, you can comfortably kill two birds with one stone!
iPhone Apps That Support PiP Mode in iOS 14
Right now, there are only a few apps that support Picture-in-Picture mode in iOS 14. They are – Safari, Apple TV, Podcasts, FaceTime, Music App, Home, Amazon Prime Video, and Netflix.
I guess many of you would be wondering whether the iOS 14 PiP mode is working with YouTube or not. Well, the video-sharing app does support the latest iteration of iOS, but there is a catch. As of now, Google's video-sharing platform works only through Safari. It's worth noting that only YouTube Premium subscribers can stream the audio of a YouTube video in the background on iOS.
Nevertheless, there is no need to lose sleep as Google may soon add the support for iOS 14 considering how popular the video-sharing platform is among iPhone users. So, keep your fingers crossed.
How to Enable PiP Mode in iOS 14 on iPhone
To offer a seamless experience, the PiP mode is enabled by default. So, the next time you want to browse the web while still catching up with your favorite flick, you can get started with this multitasking feature right away.
1. To get started, launch a supported app.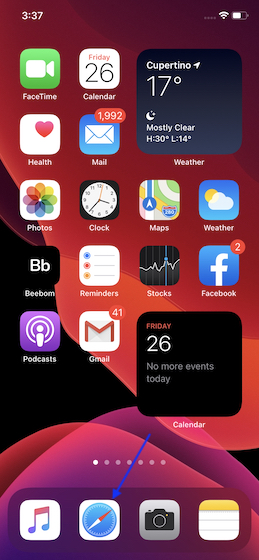 2. Now, play your favorite video. In this guide, I'm using Safari as it supports PiP on iOS. After playing the video, tap on the full-screen button.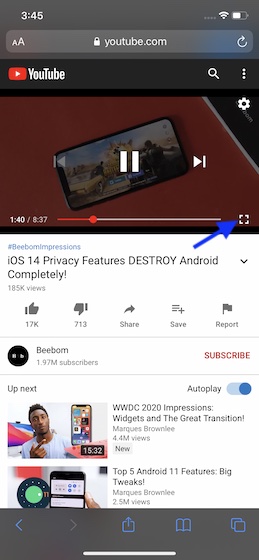 3. Most supported video apps feature a PiP button so that you can tap on it to activate the PiP mode on your iOS 14 device. Besides, the video will automatically get minimized when you navigate to the Home screen of your iPhone.
(On the Face ID supported iPhone, swipe up from the Home bar to head over to the Home screen. On the Touch ID supported iPhone, press the Home button.)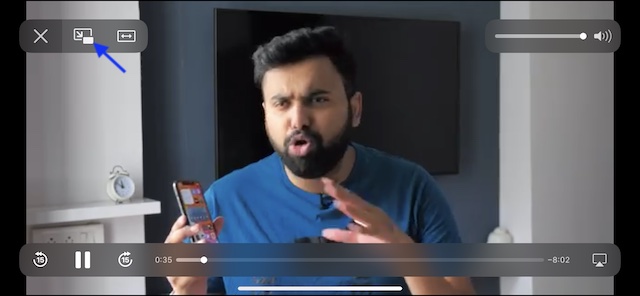 4. Now, you can drag the PiP video at the desired corners and get on with the task.
Depending on your needs, you can customize the PiP video and even hide it whenever you find it interrupting your task.
Resize Your PiP Video
Once you are in PiP mode, you can not just drag it at the desired corners but also resize it. To do so, use two fingers (pinch in/pinch out) to expand and shrink its size.
Forward/Backward and Pause the Video
While playing the video in PiP mode on your iOS 14 device, you can adjust the speed and even pause the video. To fine-tune the speed, tap on the 15 seconds forward/backward button to go back and forth. To pause the video, hit the play button. To kickstart the video, tap on the play button again.
Switch Back to the Full Screen
If you ever want to switch back to the full screen, hit the PiP mode button at the top right corner of the floating video.
Hide the PiP Video
While watching the video in the PiP mode, if you ever find the video interrupting your activity, you can easily hide it. Simply swipe the floating video to the left or right edge of the screen. Even when the video is hidden, you can continue to listen to the audio.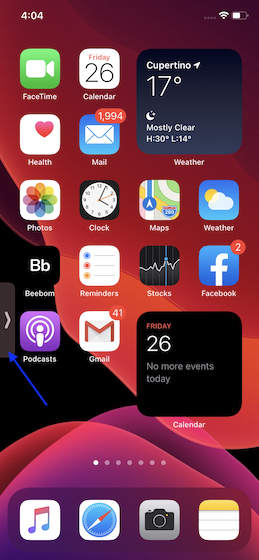 Unhide the PiP Video
At any time you want to unhide the PiP video, you can do so with ease. Just tap on the tiny handle to pop it out.
Close the PiP Video
If you no longer want to watch the video, tap on the "X" button at the top left of the floating window.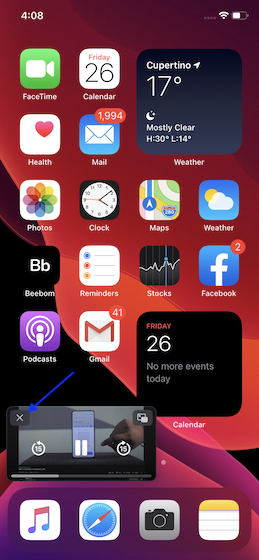 Frequently Asked Questions
How to Use YouTube Picture-in-Picture Mode on iOS?
As mentioned above, the YouTube app doesn't support PiP mode on iOS. However, you can play it through Safari. Simply, open Safari -> youtube.com -> play a video -> tap on full screen button -> navigate to the Home screen of your iOS device.
How do I Enable PiP on WhatsApp?
If you are talking about using PiP inside WhatsApp, it already works. But if you want to use Right PiP WhatsApp on home screen, currently doesn't support it. But given the popularity of this cool playback mode, we expect the messaging app to get on board once the official version of iOS 14 rolls out.
Get the Most of PiP Mode in iOS 14
So that's how you can make the most of Picture-in-Picture mode on your iOS device to enhance multitasking experience. Right now, there are only a handful of apps that support PiP playback. I, however, expect most video apps to get the support by this fall. Packed with a range of cool features like Back Tap and App Library, iOS 14 has won a lot of praise from fans. What's your take on this latest iteration of iOS? Feel free to share your valuable thoughts with us.