Apple has always taken pride in its rich ecosystem of apps for the iPhone. Talking specifically of web browsers, they've come a long way since their inception. They no longer are just a way to access the Internet but are power packed with a lot of features to enhance your browsing experience. Each web browser is built with a different motive — some focus on speed and simplicity, others on customizability and some on privacy. So, today I'll do a round-up of the 12 best iPhone browsers you can use:
1. Google Chrome
Google Chrome took the web by storm when it launched back in 2008 for the desktop. Since then, it has matured a lot and emerged as the most popular browser. If you swear by Google's ecosystem, which most of us do, Chrome can sync all your bookmarks and history across all your devices. It can also sync your open tabs if you're signed in using the same iCloud account on multiple devices, à la Safari hand-off. Chrome can also translate web pages on the fly, so you never have to worry about your foreign language anxiety (learning foreign languages can be cool, though!).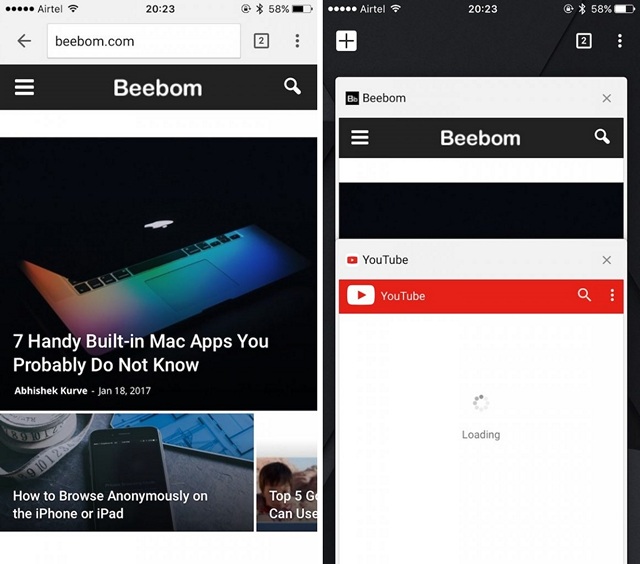 Chrome also has a pretty nice voice search feature built in, so you can search the web via your voice. The user interface is pretty slick — featuring tabbed browsing, an easy way to switch between bookmarks and history, and an incognito mode. The Omnibox doubles as an address bar and a search bar, followed by favicons of your recent websites.
If you're looking for a fast and no-nonsense alternate web browser for iOS, Google Chrome is a great option. The only feature I miss from Chrome on Android is the Data Saving Mode, which couldn't be built into Chrome for iOS due to Apple's restrictions. I also miss Reader mode from Safari/Firefox while browsing on Chrome.
Download (Free)
2. Mozilla Firefox and Firefox Focus
Mozilla pioneered the web browser revolution even before Chrome arrived on the scene. Similar to Apple and Google, Firefox allows you to sync all your passwords, history, open tabs and bookmarks across all your devices with a Mozilla account. Firefox for iOS offers all the goodness from Firefox on the desktop, like private browsing and throws in some iOS-specific tricks.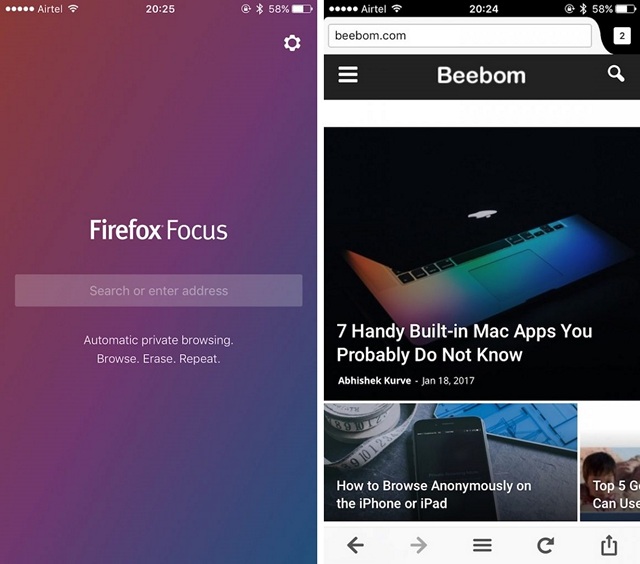 One, you can share a link from Safari to Firefox as a workaround for Apple not allowing to change default browser on iPhone. Secondly, it secures all your saved logins with TouchID. Firefox also has an inbuilt reader view, which removes all the distractions on a web page and lets you focus on the reading experience. Third, it also has a standalone privacy focused browser — Firefox Focus, which blocks any web trackers and also erases all your history.
If you use Firefox on the desktop, the decision to use it on iOS should be a cakewalk. Firefox's privacy focused browser, Firefox Focus, is pretty barebones, though. The browser literally comprises of just an address bar, sans the history, bookmarks or even tabs. It is also slower than the regular Firefox browser — but such is the trade-off you've to make to put privacy first.
Download Firefox (Free)
Download Firefox Focus (Free)
3. Opera Mini
Although Opera has a measly market share, its Opera Mini browser is loved by users worldwide. Opera boasts of the best-in-class data compression mode named Opera Turbo, which reduces the web page size by up to 50%. It also has a Opera Mini compression mode, which lets you reduce web page size to as little as 10% of the original. Sometimes, it can break the page structure, but it is beneficial for people who live in areas where Internet connection is spotty. But there's so much more to love about Opera Mini apart from the compression features.
Opera also allows syncing all your bookmarks and passwords if you sign in to Opera account. It also features a handful of themes to personalize Opera Mini. It blesses all the night owls out there, by throwing in a night mode feature. The Speed dial takes center stage in Opera Mini and allows users to swipe left and right to access history and personalized newsfeed, respectively. The 3D arrangement of tabs looks pretty good. Perhaps the coolest feature of Opera Mini is the inclusion of some great controls in the keyboard. Open any text entry field to watch it in action. It has a QR scanner built-in and a slider, which makes navigation between text a lot easier.
All in all, it's hard to find any flaws in Opera Mini. The parent company has been in this business for more than a decade and has put forward a solid web browser in the form of Opera Mini.
Download (Free)
4. Safari
Safari may seem pretty obvious on this list, as it's built into iOS. But make no mistake, Apple's in-house browser is a very capable web browser, and can leverage some of the best features of the Apple ecosystem. For instance, iCloud keychain can store and sync passwords across all of your Apple devices to avoid the hassle of typing in your passwords every time. The stored passwords are protected with TouchID on the iPhone. If you own a Mac, the hand-off feature allows you to sync open tabs on iPhone and Mac, so that you can work seamlessly.
Furthermore, if you use Apple Pay, you can easily make payments from the comfort of your iPhone. Then there's Safari's Reader Mode that brings you de-cluttered web pages and makes them easier for reading.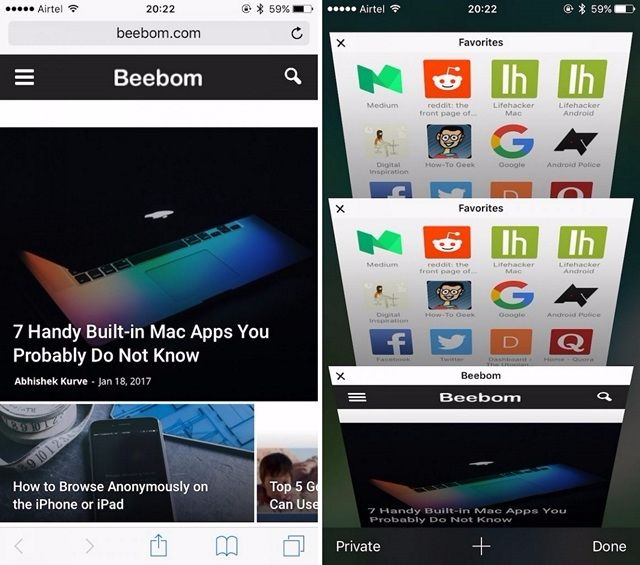 Safari, of course, is built upon Apple's design guidelines from ground up, which means that it is easy to use. Apple doesn't allow a global setting to change default apps, which means that you will encounter Safari every time you open a link from default apps like Mail.
Safari hits the nail perfectly if you're looking for all the browsing basics, leveraging other Apple services. If you're looking for fancy features from a browser, give Safari a pass and continue reading.
5. Opera Coast
Opera isn't shy when it comes to experimenting with new browsers — the Opera Neon on desktop and Opera Coast for mobile are fine examples of it. With Coast, Opera focuses on discovering new content and socializing features.
The Opera Coast does away with the traditional user interface and immerses you into a brand new tile-based user interface, navigated by gestures. It delivers new amazing content from around the world, personalized for you. It also lays special emphasis on allowing users to share to Facebook, Twitter, WhatsApp and other social networks in a neat way. Opera has also brought its signature Opera Turbo mode to Coast, so that users can enjoy faster loading times.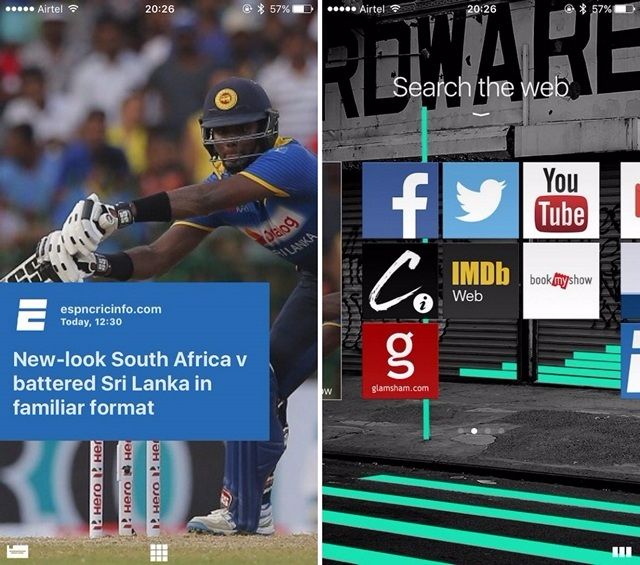 Opera Coast is definitely aimed towards a segment comprising of content consumers, and may not be well-suited for anyone looking for a powerful browser with a long list of features. There's a little learning curve with Coast, but if you like the idea of discovering new content on the Internet, you are in for a treat.
Download (Free)
6. Dolphin Browser
Long time Android users might be familiar with Dolphin browser, as it was one of the first browsers to bring gesture-based navigation. The iOS counterpart is equally capable and brings a lot of features to the table. Perhaps its headline feature, Dolphin allows you to set custom gestures to open a certain website, or to manage other Dolphin-specific features.
Dolphin Connect is Dolphin's answer to synchronize bookmarks and history. It also has an inbuilt QR code scanner and support for night mode. There's a switch to enable ad-blocking, though it's disabled by default. It supports custom themes and allows you to secure the browser start-up with TouchID. There's also a Dolphin Sonar feature, available as an in-app purchase, which lets you search, share and navigate by shaking your iPhone.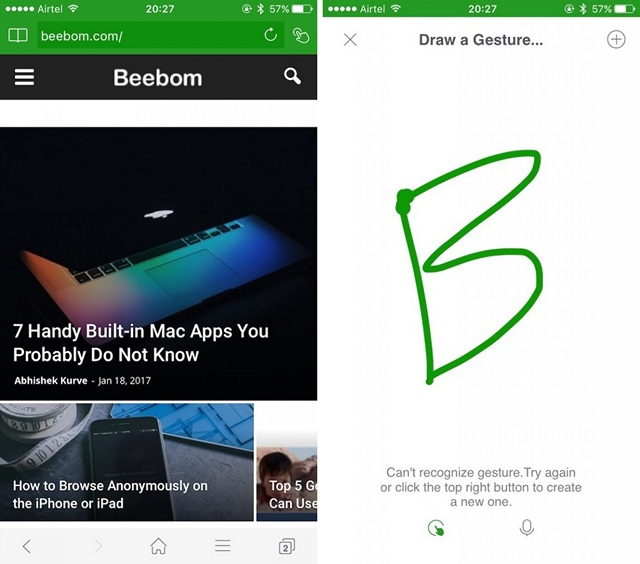 If you like the idea of drawing "F" to open Facebook and if gestures are how you roll, you should definitely check out Dolphin browser. New users may feel a little overwhelmed on first use due to lots of features but you will get used to it pretty soon. After all, it has everything that you could ask for in a mobile browser.
Download (Free, with in-app purchases)
Honorable Mentions
7. Mercury Browser: Gesture-based browsing, QR scanner, lots of customizable options, a solid download manager, data compression for faster browsing, extensions for LastPass, 1Password and Pocket.
Download (Free, with in-app purchase for Premium)
8. Puffin Browser: Data compression for improved page loading, customizable themes, private browsing, desktop-like mouse pointer integration.
Download (Free)
Privacy-focused iPhone Browsers
9. Brave Browser: Block trackers, scripts, anti-phishing and enables HTTPS everywhere.
Download (Free)
10. Ghostery browser: A lightweight web-browser which blocks all social trackers, scripts, and other general trackers. It also has DuckDuckGo as its default search engine for added privacy.
Download (Free)
Tor-based iPhone Browsers
11. Tor VPN Browser: Routes all your Internet traffic through the Tor network to bring you complete anonymity. Web sites cannot see your real IP address and cannot track down your location. You can access .onion based websites, AKA the dark web.
Download (Free, with in-app purchase for Pro)
12. Onion Browser: Onion browser also relays your Internet traffic through the Tor network for an extra level of privacy. Web sites cannot track you and of course, you can access .onion based websites.
Download (Free)
These privacy-focused browsers can also be useful to bypass censorship laws and access websites that may be banned in your country. Please note that these browsers load web pages a lot slower than regular web browsers, as they encrypt all your data over the Tor network. If you're looking for more ways to browse anonymously, see our guide on how to browse anonymously on the iPhone (and why you might want to).
SEE ALSO: How to Prioritize WiFi Networks on Mac and iPhone
Which iPhone Browser Do You Use?
As you have seen, there's no shortage of web browsers on the iPhone — whether you are looking for a customizable one or one focused on privacy. It all boils down to personal preference, really. I'd love to hear what exactly do you look for in a mobile browser and which is your web browser of choice on the iPhone. Sound off in the comments section below.