At Snapdragon Tech Summit 2021 in Hawaii, Qualcomm unveiled its new Snapdragon 8 Gen 1 SoC based on ARM's v9 architecture. If you are wondering how the new chipset stacks up against the Google Tensor chip on the Pixel 6, you are at the right place. In this article, we will compare the specifications of Snapdragon 8 Gen 1 vs Google Tensor across key aspects such as CPU, GPU, ISP, AI and ML, and connectivity.
Snapdragon 8 Gen 1 vs Google Tensor: An In-depth Comparison (2021)
After discussing the details of both the Snapdragon and Tensor chipsets across key categories, we have included a specifications table to round up everything for you. Use the table below to quickly jump between sections at your convenience.
Snapdragon 8 Gen 1 vs Google Tensor: CPU
Following MediaTek's lead, Snapdragon 8 Gen 1 is the second mobile chipset to be manufactured using the 4nm process. While MediaTek utilizes TSMC's new 4nm process node, Snapdragon 8 Gen 1 uses Samsung's 4nm process. Google Tensor, on the other hand, uses Samsung's previous-gen 5nm process.
The new cores in Snapdragon 8 Gen 1 are based on ARM's ARMv9 architecture and are as follows: You get a single Cortex-X2 core clocked at 3 GHz, three Cortex-A710 cores clocked at 2.5GHz, and four Cortex-A510 cores clocked at 1.8GHz. Meanwhile, Tensor uses two Cortex-X1 cores at 2.28GHz, two Cortex-A76 cores at 2.25GHz, and four Cortex-A55 cores at 1.8GHz.
With this configuration, Snapdragon 8 Gen 1 is likely to offer better thermals, unlike its predecessor that was infamous for heating issues. Also, we have seen reports of thermal throttling on the Pixel 6 and 6 Pro powered by the Google Tensor. The sustained performance of the Tensor chip is pretty bad, and you get substantial lag and stutters while trying to game on Google's first silicon.
Cortex X2 offers 30% performance improvement over its predecessor, while Cortex-A710 promises 30% better energy efficiency and 10% performance improvements. Cortex-A510, deemed to offer the highest performance of all ARM 'LITTLE' CPUs, offers 35% performance gains and 20% energy efficiency. Thanks to ARMv9 architecture, Snapdragon 8 Gen 1 effortlessly has an edge over Google Tensor.
Snapdragon 8 Gen 1 vs Google Tensor: GPU
The new Adreno GPU found in the Snapdragon 8 Gen 1 offers 30% performance improvement with 25% better power efficiency over its predecessor. In terms of GPU, Tensor uses a 20-core variant of ARM Mali-G78 MP20 GPU.
While we don't have the benchmark scores of the Snapdragon 8 Gen 1 just yet, Tensor scores around 6,300 points in 3DMark Wildlife benchmark test. We will update this article when we have the GPU benchmark scores of Snapdragon 8 Gen 1 and see whether it offers better sustained performance vs the Google Tensor chip.
Snapdragon 8 Gen 1 vs Google Tensor: ISP
Snapdragon 8 Gen 1 comes with the company's first-ever 18-bit ISP. It is capable of capturing over 4,000x more camera data than its 14-bit predecessor on the Snapdragon 888. Notably, the new ISP, part of Snapdragon Sight — the company's collection of camera features, captures up to 3.2 gigapixels per second. To put that in perspective, Snapdragon says the Gen 1's ISP is theoretically capable of shooting 240 12MP images in a second.
Snapdragon says the ISP is capable of capturing up to 108MP single camera footage at 30fps with zero shutter lag. On the Tensor side of things, we know that it features the HDRnet algorithm for processing Live HDR+ videos at 4K 60 FPS. And while you can record 8K HDR videos at 30 FPS and 4K videos at 120 FPS on the Snapdragon 8 Gen 1, the Tensor chip maxes out at 4K 60 FPS.
Snapdragon 8 Gen 1 vs Google Tensor: AI and ML
According to Qualcomm, the new 7th-Gen Qualcomm AI Engine found in the Snapdragon 8 Gen 1 offers 2x faster tensor accelerator and shared memory than Snapdragon 888. In addition, Qualcomm's third-gen Sensing Hub now processes more data streams. To improve AI-enabled imaging capabilities, Qualcomm has teamed up with Leica to offer Leica Leiz Look filters to recreate Leica's bokeh effect.
You also get the Hugging Face NLP that prioritizes and analyzes your notifications. Another highlight is Sonde Health's on-device AI that analyzes the users' vocal patterns to determine possible health conditions such as asthma, depression, and COVID-19. Since we can't test them just yet, we will have to wait to see if OEMs manage to leverage this feature on Snapdragon 8 Gen 1-powered phones launching in 2022.
Coming to Google Tensor, we already know that the Tensor chip unlocks cool new practical features such as Magic Eraser (which you can get on other Pixel phones), Motion mode, Live Translate, and Google Assistant voice typing.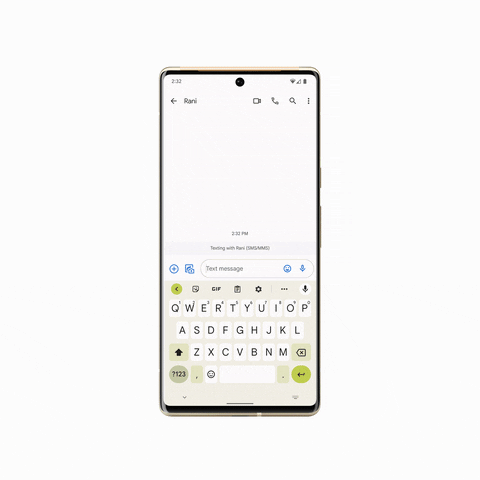 In case you're someone who cares about synthetic benchmark numbers, we already know that the Apple A15 Bionic scores better than Tensor on Geekbench ML. According to AnandTech's benchmark tests, A15 scores around 2,700 in CoreML, and Tensor lags behind at 1,739, followed by the Snapdragon 888 at 1,200 in GeekBench ML's TensorFlow NNAPI test. The improvement in Snapdragon 8 Gen 1 scores is certainly something to look out for when we start seeing Snapdragon 8 Gen 1 phones next year.
Snapdragon 8 Gen 1 vs Google Tensor: Connectivity
On the connectivity front, Qualcomm has employed the Snapdragon X65 5G modem in Snapdragon 8 Gen 1 and still leads over its rival mobile chipsets in the 5G department. Although the official product brief doesn't reveal the upload speed, it mentions that the modem is capable of offering 10Gbps download speeds. Samsung's Exynos 5123 modem found on the Google Tensor is relatively slower and offers 7.35 Gbps peak download and 3.67 Gbps peak upload speeds.
Moreover, the Snapdragon 8 Gen 1 comes with Wi-Fi 6 and Wi-Fi 6E onboard. The Qualcomm processor also comes with Bluetooth 5.2 technology support. The same is the case with Tensor as well. You have got Wi-Fi 6E and Bluetooth 5.2 support on the Exynos 5123 5G modem.
Snapdragon 8 Gen 1 vs Google Tensor: Specs Table
Snapdragon 8 Gen 1
Google Tensor
CPU
Kryo, octa-core CPU
Tensor, octa-core CPU
CPU Cores

1x 3.0GHz (Cortex-X2)
3x 2.5GHz (Cortex-A710)
4x 1.8GHz (Cortex-A510)
2x 2.8GHz (Cortex-X1)
2x 2.25GHz (Cortex-A76)
4x 1.8GHz (Cortex-A55)
Process Technology

Samsung's 4nm process
Samsung's 5nm process
Wi-Fi Version

Wi-Fi 6E
Wi-Fi 6E
Bluetooth Version
Bluetooth 5.2
Bluetooth 5.2
GPU
Adreno GPU
20-core ARM Mali-G78 MP20
Machine Learning and AI

7th-gen Qualcomm AI Engine
Tensor Processing Unit
ISP
18-bit Spectra ISP
Tensor ISP
Camera Capability
Up to 36 MP triple camera @ 30 FPS with Zero Shutter Lag
Up to 64+36 MP dual camera @ 30 FPS with Zero Shutter Lag
Up to 108 MP single camera @ 30 FPS with Zero Shutter Lag
Up to 200 Megapixel Photo Capture
50MP Zero-shutter lag
Motion Mode
Video Capability
8K HDR videos @ 30 FPS
4K videos @ 120 FPS
Slow-motion 720p videos @ 960 FPS
4K @ 60FPS on Rear camera
4K @ 30FPS on Front camera
Google HDRnet
Modem
Snapdragon X65 5G Modem
10 Gbps Peak Download speeds
Samsung Exynos 5123 Modem
7.35 Gbps Peak Download speeds
3.67 Gbps Peak Upload speeds
Snapdragon 8 Gen 1 vs Google Tensor: Did Google Make the Right Choice Switching Away from Qualcomm?
Thanks to ARM v9 architecture, we have significant improvements in the CPU segment of Snapdragon 8 Gen 1, seemingly without the heating issues that plagued Snapdragon 888. Right now, Google Tensor is in the league of other 5nm chipsets like Snapdragon 888. Since Google is not playing the numbers game and focusing on coherent experiences instead, we could expect the company to match Snapdragon 8 Gen 1's capabilities next year. While potentially offering new real-world use-cases with the Pixel 7 lineup, the Tensor 2 chip might be able to take on its Snapdragon counterpart.
The closest competitor to Snapdragon 8 Gen 1 on Android right now is the MediaTek Dimensity 9000, mostly due to the fact that both are 4nm chipsets based on the ARM v9 architecture. You should check our Snapdragon 8 Gen 1 vs Dimensity 9000 comparison to know how Qualcomm's offering fares against MediaTek's latest flagship SoC. What are your thoughts on the new Snapdragon 8 Gen 1 chip? Do you think Google Tensor 2 will be able to match the latest Snapdragon offering? Let us know your thoughts in the comments below.
---
Load More