After a series of leaks and rumors, Google has finally unveiled the Pixel 6 and Pixel 6 Pro. As expected, the Pixel 6 series comes with an in-house Google Tensor chip, which is custom-designed by Google in collaboration with Samsung. With Google's first-ever custom silicon launch, the company has joined the smartphone chipset war against Apple and Qualcomm. So in this article, we compare Google Tensor, Snapdragon 888, and A15 Bionic to see if Google can stand its ground in the raging SoC battle. On that note, let's go ahead and find out who wins between Google Tensor vs Snapdragon 888 vs A15 Bionic.
Google Tensor vs Snapdragon 888 vs A15 Bionic: A Comprehensive Comparison (2021)
In this comparison between Google Tensor, Snapdragon 888, and the A15 Bionic, we have discussed the CPU performance, GPU, ISP, AI & ML capabilities, and more. You can expand the table below and move to any section at any time you want.
Google Tensor vs Snapdragon 888 vs A15 Bionic: Specifications
Here is the specs comparison between Google Tensor, Snapdragon 888, and A15 Bionic. For a brief overview of all three chipsets, you can take a glance below:
Google Tensor
Snapdragon 888
A15 Bionic
CPU
Octa-core CPU
Kryo 680, Octa-core CPU
Hexa-core CPU
CPU Cores
2x 2.8GHz (Cortex-X1)
2x 2.25GHz (Cortex A76)
4x 1.8GHz (Cortex A55)
1x 2.84GHz (Cortex-X1)
3x 2.4GHz (Cortex A78)
4x 1.8GHz (Cortex A55)
2x 3.2 Avalanche (High-performance)
4x 1.82 Blizzard (Energy-efficient)
Process Technology
Samsung's 5nm process
Samsung's 5nm process
TSMC's 2nd-gen 5nm process
GPU
20-core Mali G78 GPU
Adreno 660
Apple-designed five-core GPU
Machine Learning and AI
Google Custom TPU
6th-gen AI accelerator featuring Hexagon 780 DSP; 26 TOPS
16-core Neural Engine; 15.8 TOPS
ISP
Google Custom ISP
Spectra 580
Apple-designed New Image Signal Processor
Camera Capability
50MP Zero-shutter lag
Motion Mode

Up to 200 MP ; 28 MP triple camera with Zero Shutter Lag ; Triple 14-bit ISPs
N/A
Video Capability
4K 60FPS on Rear camera
4K 30FPS on Front camera
Google HDRnet
8K @ 30 FPS, 4K HDR Dolby @ 60FPS, 720p @ 960FPS
4K HDR Dolby Vision @ 60FPS
Modem
Samsung Exynos 5123 modem
7.3 Gbps Peak Download
3.6 Gbps Peak Upload
Qualcomm X60 5G Modem
7.5 Gbps Peak Download
3 Gbps Peak Upload
Qualcomm X60 5G Modem (Speculated)
7.5 Gbps Peak Download
3 Gbps Peak Upload
WiFi Support
Wi-Fi 6E
Wi-Fi 6E-ready
Wi-Fi 6-ready
Bluetooth
Bluetooth 5.2
Bluetooth 5.2
Bluetooth 5.0
Google Tensor vs Snapdragon 888 vs A15 Bionic: CPU
First and foremost, let's talk about Google Tensor's CPU capability. Of late, we are seeing companies putting less focus on CPU and assigning more resources to GPU, AI, and ML co-processors. We observed the same trend during our in-depth comparison between Apple M1 vs M1 Pro vs M1 Max. And a similar trend is at play with Google's Tensor chipset as well. Right off the bat, Google is not chasing numbers with its Tensor chip and instead focused on delivering "experiences" with day-to-day tasks.
Google Tensor does pack an octa-core CPU with two power-hungry Cortex-X1 cores, but both are restricted up to 2.8GHz frequency, which is pretty unusual in the SoC landscape. Another unusual bit is that Google has chosen the older, dual Cortex-A76 core in place of the newer Cortex-A78 cores. Finally, you have the traditional four power-efficient A55 cores on the Google Tensor SoC. All of this unusual bit might sound rookie, but in an interview with ArsTechnica, the Google Silicon team explained the rationale behind this approach.
According to Phil Carmack, the vice president and general manager of Google Silicon, the idea is to choreograph the interplay between the CPU, GPU, ISP, AI, and ML co-processors rather than completing a task by putting a high-performant core into action. Google is calling it "Heterogeneous computing," where all co-processors come together to achieve a task.
For example, if you open the camera app, all processor modules are called into action for computing, scene and face detection, handling buffers, read/ write operations, and more. In this scenario, the dialed-down Cortex-X1 core works at a medium workload, consumes less power, and improves the battery life overall. The focus seems to be on providing sustained performance by allocating the task intelligently and not adversely affecting the battery life.
Similarly, Google is using the older A76 core because it offers 20% more sustained performance in the same power envelope as the A78. In computing, when a task is called into action, processors tend to finish it as soon as possible so that they can go into a lower-power state to save battery life. Google is not taking this approach. Instead, it's has utilized medium-level cores to deliver sustained performance over a longer period of time. This way, less heat is generated, and battery life is preserved on the Pixel 6 and Pixel 6 Pro.
This is corroborated by Ron Amadeo of ArsTechnica, where he recorded a 4K @ 60FPS video on the Pixel 6 for 20 minutes straight and faced no overheating issues.
Now coming to raw numbers, Google has not disclosed much about its Tensor chip except that the CPU is 80% faster than the last-gen Pixel 5. The Pixel 5, for those unaware, was powered by a mid-level Snapdragon 765G processor. With an 80% overhead, it seems Google Tensor comes close to Snapdragon 870, which is frankly not a bad standing, more so when you are promised 24 – 48 hours of battery life.
In comparison to Snapdragon 888 (~1100 single-core Geekbeench score), Google Tensor's CPU (~1000 single-core Geekbeench score) is a notch below and significantly behind Apple's A15 Bionic (~1700 single-core Geekbeench score). But again, we will have to wait for real-life tests and benchmark numbers to ascertain how well Google's approach has paid off in its SoC design.
Google Tensor vs Snapdragon 888 vs A15 Bionic: GPU
Now coming to GPU, where most of the action is happening nowadays. It seems Google has gone all-in and packed a powerful 20-core Mali G78 GPU on its first Tensor chip. To give you a perspective, even Samsung has used the 14-core Mali G78 GPU on the flagship S21 Ultra, but Google wants to have more power in its hand to drive GPU-intensive tasks and deliver a fluid and smooth experience without a hiccup.
Google says the GPU on Tensor is 370% faster than Pixel 5, which packed the decent Adreno 620 GPU. By estimation, it seems the Google Tensor's GPU will perform much better than Snapdragon 888's Adreno 660 GPU. We say this because the 14-core Mali G78 GPU on S21 Ultra already rivals the Snapdragon 888 with near-close scores. And with a 20-core GPU, Google might have a powerhouse on its hand and could certainly surpass Snapdragon 888 both in synthetic tests and real-life usage.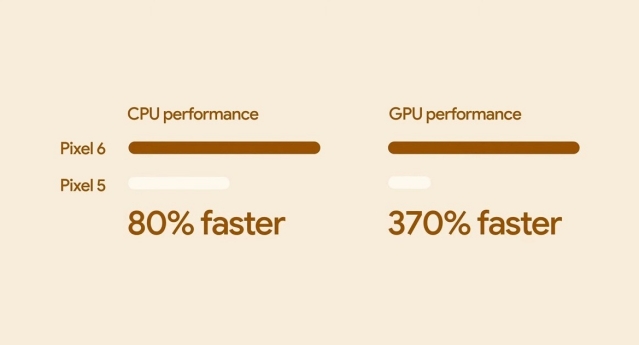 If we pit Google Tensor's GPU against A15 Bionic's custom GPU — assuming Google Tensor is better than Snapdragon 888 due to the 20-core GPU, I think it will match Apple's latest A-series mobile chip. Snapdragon 888 was already 10-15% behind the A15 Bionic, and with a beefy GPU on Google Tensor, it's highly likely we have a winner in the Android world.
Google Tensor vs Snapdragon 888 vs A15 Bionic: ISP
Google has not shared many details about its ISP, except that it can now perform computational photography on each frame of a video (touted as Google HDRnet), which is mind-blowing. And yes, we are talking about a 4K @ 60FPS video. You will be able to shoot HDR videos at 4K @ 60FPS in the signature Pixel look.
Apart from that, the ISP on Google Tensor can take a zero-shutter lag image of 50MP, which is pretty good. It can also handle two streams of cameras and produce sharp images of moving objects, a feature that Google is calling "Motion mode".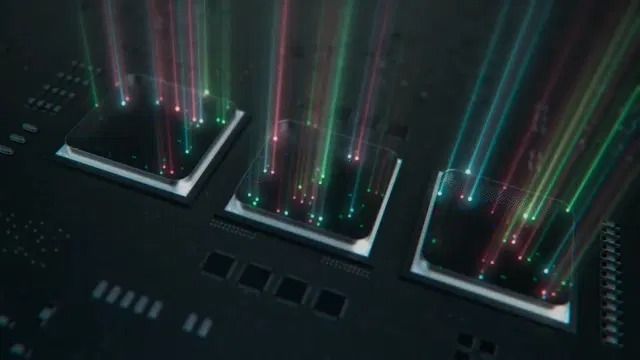 On the other hand, the Spectra 580 ISP on Snapdragon 888 is pretty powerful and can handle HDR concurrent streams from three cameras. It allows the ISP to collect more light and quickly create an image stack for a better shot. The Spectra 580 ISP can shoot images up to 200MP and record videos up to 8K at 30FPS.
Talking about the A15 Bionic, it comes with a newly-designed ISP that does a great job with Apple's computational photography features, including the new Cinematic Mode, live filters, and more. The ISP here is also capable of shooting 4K HDR Dolby Vision videos at 60FPS, which is just mind-boggling. Not to mention, the ISP can also handle ProRes RAW footage at 4K @ 30FPS.
Google Tensor vs Snapdragon 888 vs A15 Bionic: AI and ML
The Mountain View giant says that one of the major reasons for developing its own custom processor was to realize its vision of AI and ML capabilities on smartphones. Google felt that despite having all the AI smarts and advanced ML models, it was somehow unable to deliver the experience it was envisioning for Pixel users.
So Google partnered with Samsung and its in-house Tensor team to create a custom TPU (Tensor Processing Unit). In a way, TPU is the heart and soul of the new Google Tensor chip. The company wants to do more meaningful things with A, thus, improving the user experience and helping users perform day-to-day tasks with ease.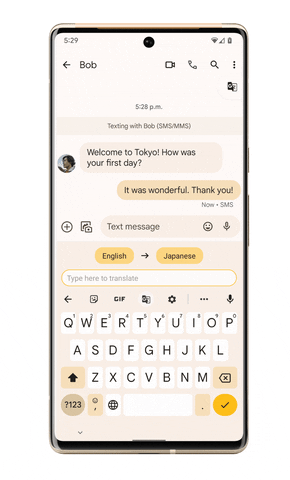 For example, the on-device translation uses an offline ML model to live translate various languages. Then, there is scene and face detection, hands-free Gboard dictation with punctuation support, Motion mode, Direct My Call feature, Tone Mapping, and a plethora of things — all powered by Google's TPU unit. There's also a new Magic Eraser feature that lets you remove photobombers or distractions from a picture with a click. And it works with not just pictures clicked on the Pixel 6 but older pictures as well.
In fact, Google can pull off HDR videos on the Pixel 6 series, thanks to the Tensor Processing Unit. We don't have the exact numbers as to how many Tera operations it can perform in a second, but going by the feature set, it seems to be a powerful one. Not to forget, Google Tensor also packs in the Tensor Security Core and Titan M2 Security chip for enhanced security, privacy, and on-device AI and ML operations (learn more about Private Compute Core via the linked article).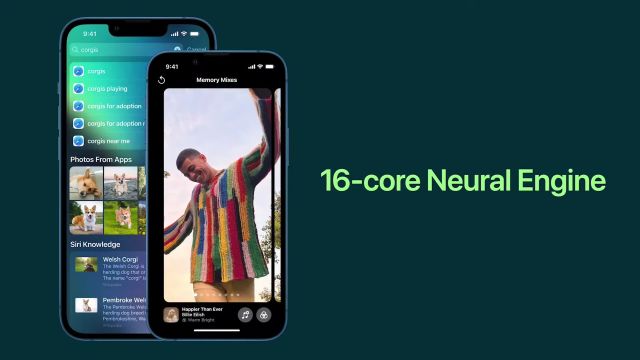 Talking about Snapdragon's 888 AI accelerator, the Hexagon 780 DSP can deliver up to 26 TOPS. Again, it's important to note that all these numbers are meaningless if you don't find features that can actually take advantage of AI and ML capabilities. This is where Google shines because it controls both hardware and software verticals.
In comparison, the new 16-core Neural Engine on the A15 Bionic can perform 15.8 TOPS. And as you may already know, Apple is also using its neural engine for a host of things, including computational photography, live filters, and more. However, when it comes to AI and ML, Google Tensor will let you taste the actual experience of an AI-driven world.
Google Tensor vs Snapdragon 888 vs A15 Bionic: Connectivity
Instead of Qualcomm's modem, Google has integrated Samsung's Exynos 5123 modem in its first custom Tensor chip. It supports both mmWave and sub-6GHz 5G networks. Theoretically, it supports download speeds of up to 7.3Gbps and upload speeds of up to 3.6Gbps. In addition, you have got Wi-Fi 6E and Bluetooth 5.2. Moving to Snapdragon 888 and A15 Bionic, both come with Qualcomm's X60 5G mode, which has a peak download speed of 7.5Gbps and a peak upload speed of 3Gbps.
The Snapdragon X60 5G modem supports both mmWave and sub-6GHz bands, along with Carrier Aggregation. You also get the latest Bluetooth 5.2 and WiFi 6E technology support on the Snapdragon 888. And the A15 Bionic comes with Bluetooth 5 and WiFi 6E. So yeah, all three chipsets are evenly matched on the connectivity front.
Google Tensor vs Snapdragon 888 vs A15 Bionic: Who Takes the Crown?
If we strictly talk about the CPU, Apple's A15 Bionic is still the reigning king, followed by Snapdragon 888 and Google Tensor. However, computing has gotten pretty complex in today's world, and there are a lot of other factors we should keep in mind before assessing mobile chipsets. I would say Google Tensor is a promising new entrant in the SoC world, and it prioritizes offering a meaningful experience rather than chasing benchmark numbers. Once we get our hands on a Pixel 6 or 6 Pro unit, we will be able to tell you more about the real-world performance of Google Tensor. Meanwhile, you can go through our comparison between A15 Bionic, Snapdragon 888, and Exynos 2100. And if you have any questions, comment them down below.
---
Load More