It isn't too long before Google formally unveils the Pixel 3 devices at its October 9 event. The two smartphones have already leaked to a great extent and Google itself has been unabashedly teasing them.
Now, after numerous leaks including official renders of the Pixel 3 and Pixel 3 XL donning official 'Made by Google' fabric covers, the Pixel 3 pair has re-emerged on the website of popular case maker Spigen. Spigen has shared not just a handful but as many as 18 options for covering up your new Pixel, and you can also buy them already. Spigen also has a tempered glass screen protector listed.
This listing also confirms the final design of the Pixel 3 phones and it's the same as what we've witnessed before. Considering that Spigen is among the top brands when it comes to covers and cases, we can assume that these are the only two phones Google will be announcing.
So if, like many others, you were expecting to be pleasantly surprised by an altogether unfamiliar device at the Pixel 3 launch, this listing will come as a dose of bitter truth. It seems that all those conspiracy theories about Google faking these leaks to keep the interest alive for the new Pixel phones are likely to be trashed for their futility and hype.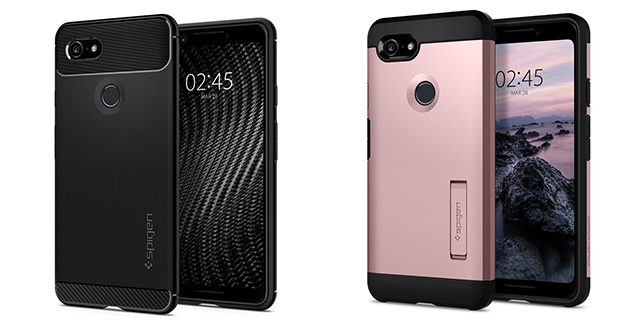 The options listed on Spigen's website start at $14.99 and go all the way up to $39.99 depending on the material used for the case as well as its style. If you're sure that either the Pixel 3 or the Pixel 3 XL will be your next smartphone, you can head over to this page to take a look at the available options and even book one for yourself.
---
Load More