Google has started sending out press invites for an October 9 event in New York, where the company is expected to launch the Pixel 3 and Pixel 3XL. The event will kick off at 11:00 AM (ET) and will also be live-streamed via Google's official channels for those who don't want to miss any announcement made at the event.
The press invite doesn't reveal anything else, but the 'I <3 NY' phrase and the numeral '3' which forms the heart emoticon is a not so subtle hint that the event will be headlined by the Pixel 3 phones.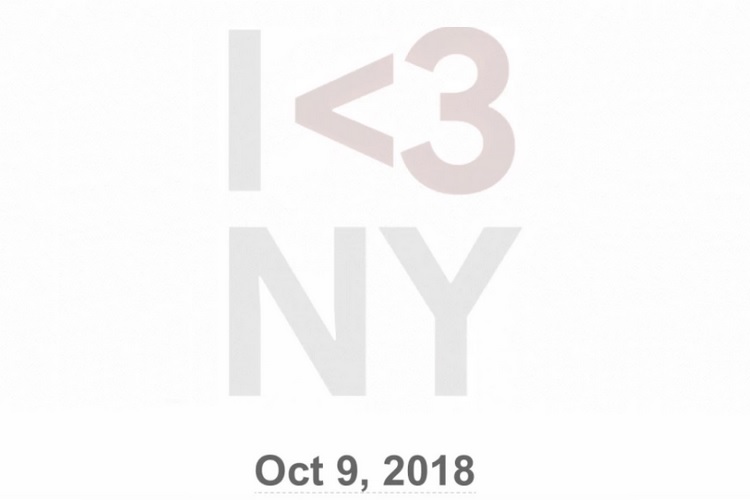 Google's upcoming smartphone duo has been leaked more times than you can count on your fingers. According to all the leaks and renders, we now know for sure that the Pixel 3 XL will feature a huge notch up front. As for the smaller Pixel 3, it won't sport a notch and will have a design similar to last year's Pixel 2 XL, however, both the devices will come equipped with dual front-facing cameras.
Back in June, high quality renders of the Pixel 3 and Pixel 3 XL reportedly based upon actual factory CAD files were leaked, giving us our first look at the Pixel 3 pair. Later in July, the white variant of the Pixel 3 was leaked again, this time with whole packaging which showed the USB Type-C Earphones.
Later leaks confirmed that the Pixel 3 pair will come with wireless charging support, and a few camera samples also made their way online. An unboxing video of the Pixel 3 XL and leaked hands-on images of the Pixel 3 made sure that only an official announcement is left to be made.
On the software side, Google's UX manager for Android (Handheld and Pixel), EK Chung, recently revealed that gesture navigation will be the only option on the Pixel 3 duo.
In the imaging department, the Pixel 3's primary selfie sensor is expected to support dual aperture, which switch between F/1.8 and F/2.2 to ensure that low-light selfies turn out to be flawless.
Also, the Pixel 3 pair is touted to come with an improved Pixel Visual Core chip, as well as a 'Super Selfies' feature. But that's about enough for the Pixel 3 pair, because the company might also launch the Pixelbook 2 at the event. So, stay tuned, and we'll bring you more details about the Pixel 3 duo in the build-up to their official announcement next month.