The long-running and well-known PC parts store Newegg has implemented ChatGPT on its website to deliver a new shopping experience to users. The most interesting addition comes in the form of an AI-powered PC Building tool. ChatGPT is a powerful AI tool that has taken the world by storm, with many companies implementing it into their apps to provide a more featureful experience for users. For instance, Bing now has ChatGPT integration in its search engine. Google has also come out with Bard AI, and here's how it fares against ChatGPT. So, let's look at what the ChatGPT implementation on the Newegg website looks like.
Newegg ChatGPT Integration: All You Need to Know
Newegg is one of the biggest e-commerce retailers in the US. It sells PC hardware, laptops, peripherals, etc. but it also sells many products in other categories such as smart home, software, toys, VR, televisions, cameras, and others. The company only recently announced that its website will start using ChatGPT to provide a new shopping experience to its customers through the following new features:
PC Builder shopping tool, which helps customers select components to build a desktop PC
Optimizing text content throughout the Newegg website
Customer service chat
Customer email subject lines
Search Engine Optimization
"We're always evaluating our e-commerce technology to ensure we're providing the best customer experience. Through testing, we've proven that ChatGPT has a practical use for Newegg based on the added quality and efficiency it creates. We deployed ChatGPT to improve content both on-site and off-site to help customers find what they want and elevate their experience," said Lucy Huo, Vice President of Application Development at Newegg.
This is clearly a major new feature of their website and sounds appealing. At the first glance, a PC builder tool powered by AI sounds like an excellent idea for simplifying the process of selecting components. But is it better than expert curation? We will look into that after we show you how to use the new PC builder tool of Newegg powered by ChatGPT.
How to Use Newegg's New ChatGPT PC Builder Tool
1. First, go to the Newegg website using the link here. Then, click on the "PC Builder" option in the top navigation bar.
2. Next, you will see the new "Build with AI" option with a textbox on the PC Builder page. In the textbox, enter related terms for what kind of PC you want to build. Since it's using ChatGPT, it can draw inferences and understand what you mean. Here, I wanted the tool to build a PC between $1000-$1500 with DDR5 RAM and ray tracing support. Once you are done entering the PC requirements, click on the "Build with AI" button.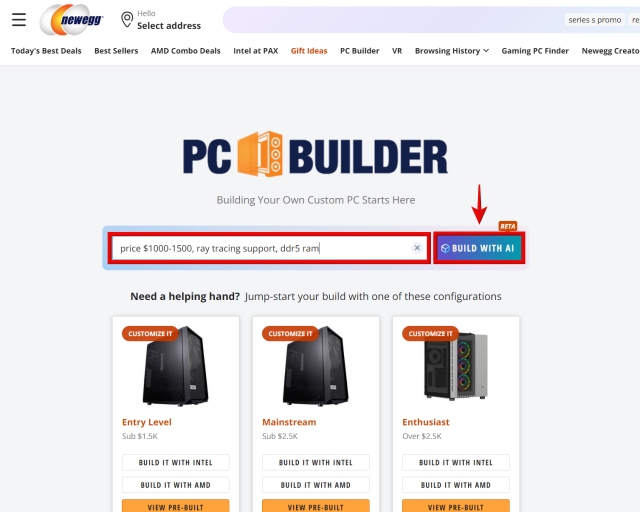 3. As you can see, Newegg's ChatGPT-powered AI PC Builder Tool has produced a few PC builds for us. All of them have DDR5 RAM as I had asked for in the requirements. At this stage, ensure that the "Compatibility Checker" is turned on. Since the ChatGPT PC building tool is in the beta stages, there's the possibility of it making mistakes right now. And well, as you will read below, it did.
Note: The ChatGPT-powered PC Builder tool of Newegg is in the beta stages and might produce results with incompatible parts. The website has a compatibility checker which we have explained how to turn on, but as an alternative, you can also use PCPartPicker.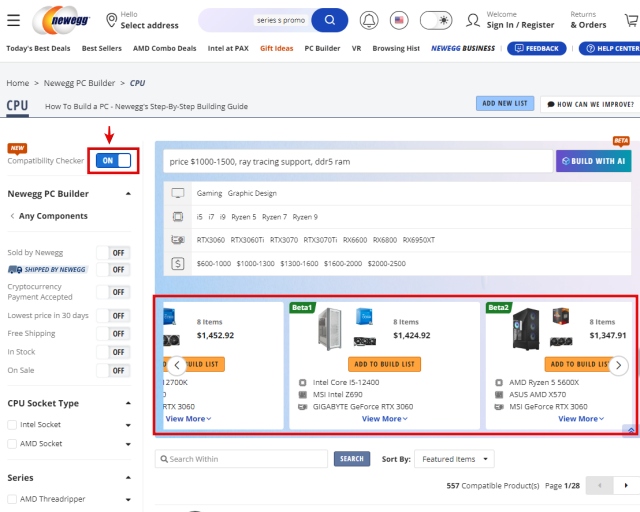 3. Here, we noticed that in the detailed parts description of the Beta 2 build, it has selected a DDR4-based motherboard with DDR5 RAM. There are a lot of differences between DDR4 and DDR5, the most important one being that they are only supported on specific boards of that RAM.
So, ensure that the compatibility checker is enabled, which will give you a warning if the components are incompatible when you view the build.
4. Once you have confirmed that the build is compatible, you can click the "Add to Build List" button. Then, click on "Add All To Cart" to proceed to check out. Another problem we noticed here was that the motherboard was out of stock, so the AI doesn't take into account the availability. Hopefully, they will make it better in the future, but till then, some level of user intervention will be needed to decide the final PC Parts list.
5. Once everything is in your cart, you can click "Secure Checkout" to place your order. It will notify you about out-of-stock parts again at this stage and ask you to remove them. So, make sure you replace the PC part which was not in stock if that happens. Again, you can use the Newegg compatibility checker or the PC Partpicker website to verify the compatibility.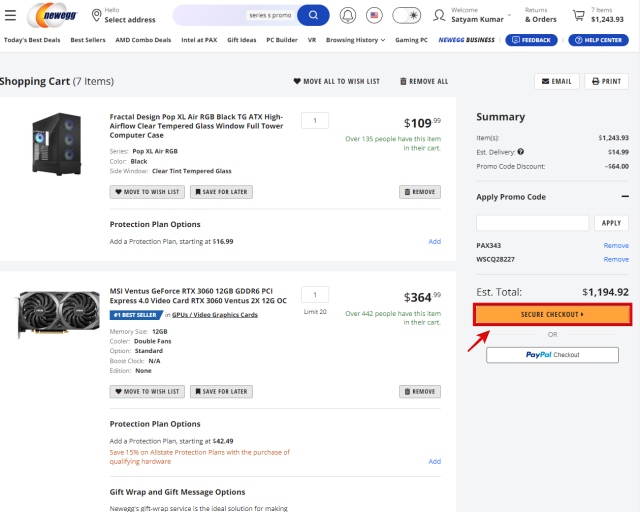 Is Newegg's ChatGPT-Powered PC Builder Tool Good?
In my experience, the ChatGPT-powered PC Builder produced decent results, and two out of three builds had parts that were completely compatible. But, it didn't match the standards of basic curation that anyone with basic PC building knowledge could do, let alone expert-level.
Not only did it select incompatible parts, but it also didn't offer anything special in terms of selecting a 'value oriented' parts selection. It did change aspects like the PC case to a more affordable one when I selected the lowest price range. But it didn't select the latest parts, as you can see in the screenshots above. Intel's 13th-Gen Raptor Lake CPUs have been out for some time now, and models ranging from the Core i3 to the Core i9 exist. It would have been better if the tool preferred building a PC with the latest parts.
To conclude, the ChatGPT-Powered PC builder tool is definitely intriguing and can help users quickly make a list of parts that could work for a potential PC build. But, it's a good idea to not rely on it and do some basic curation of the parts yourself.
Other Features Where NewEgg Uses ChatGPT
As we said before, apart from the PC Builder tool, Newegg is also using ChatGPT to improve various aspects of its website. ChatGPT will be optimizing text content on the Newegg website, which means that it will be used for product descriptions, summaries, and titles. Next, they will implement ChatGPT into the customer service chat, so that their support agents can save time as the AI can direct customers to answer their questions and help them resolve concerns through the staff when necessary.
They will also use ChatGPT for Search Engine Optimization so that it can 'generate targeted content' and improve the shopping experience of its customers. They also mentioned that the AI will be used for Customer Email Subject Lines, which means that it will read through the customer's concerns and automatically generate a subject for it based on the data.
So, what do you think of ChatGPT being used on Newegg? Let us know your thoughts in the comments. By the way, here are 12 cool things you can do with ChatGPT if you haven't experienced this AI chatbot yet.

---
Load More