Despite the stiff competition from major rivals like Amazon Prime Video, Disney+, and Apple TV+, Netflix remains the most loved video-streaming platform. And going by the massive numbers (around 175 million subscribers), it looks all set to reign supreme for many more years. Aside from featuring a boatload of highly-rated movies and TV shows, the video-streaming service has got a lot of tricks under-the-hood. So, whether you have set your sight on having a fully customized experience or wish to unlock a ton of secret codes, we have got you checked off with the 15 cool Netflix tips and tricks.
Best Netflix Tips and Tricks to Enhance Your Binge-Watching
When you have a feature-rich app like Netflix at the disposal, having the best tricks plays a vital role in boosting the video-streaming experience. Thus, I have sorted out all the best Netflix hacks primed to amp up the video-streaming game.
When you can dive straight into a specific category of movies, there is no point in digging into the entire library. Similarly, if you can lock your profile to keep the prying eyes at bay, there is no reason to worry about your privacy. Well, that's just the tip of the ice-berg as this meticulously compiled lineup of the cool Netflix tricks has got a lot more for you to explore. So, what's holding you back now?
1. Remove Watch History
Watch history is a piece of sensitive information that can tell a lot about one's personality. If you prefer not to disclose your viewing activity with everyone who has access to your Netflix account, Netflix has an option to do so. To remove an episode or movie from your watch history, head to Account -> Viewing Activity.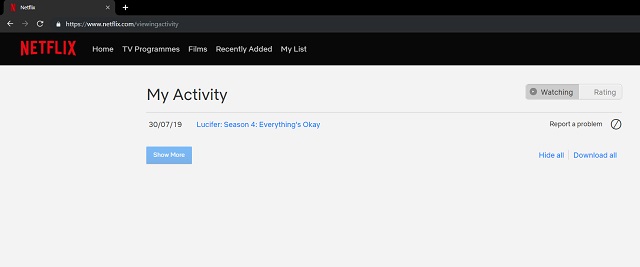 You'll be able to view your entire watch history here. Just click on the ???? icon to remove an entry from your watch history. You can also hide the entire viewing activity by clicking the Hide all button while the Download all button lets you download your viewing activity as a CSV file.
Note: If you want to remove continue watching titles from Netflix on Android, click on the link to read the article.
2. Netflix Roulette
We all have been in a situation where we're simply confused regarding what to watch next from the huge collection of content across various genres on Netflix. Well, not anymore. Netflix Roulette is a website that suggests a movie or a TV show based on various parameters like the genre you prefer, IMDB score, and Rotten Tomatoes score.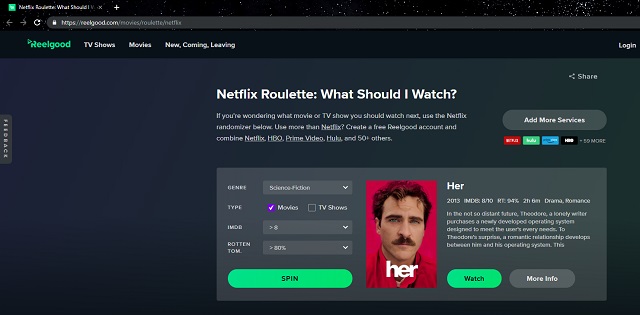 Once you visit the website, you will have to select your preferred genre, choose between Movies or TV Shows, and pick IMDB rating and Rotten Tomatoes score from the drop-down list provided on the website.
3. Tweak Subtitle Appearance
Subtitles are life savers when it comes to watching movies in foreign languages. Netflix allows users to modify the appearance of subtitles so they look less obtrusive on the screen.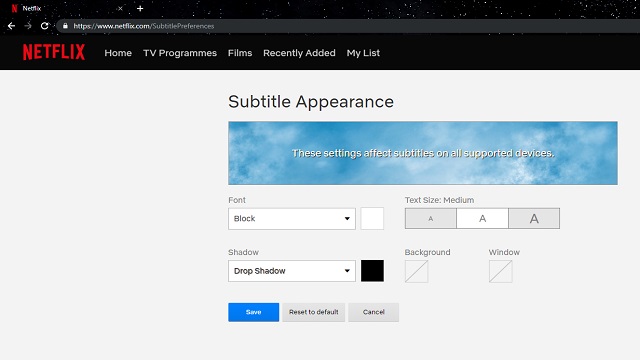 To do so, go to Account -> Subtitle Appearance and choose your desired font, shadow, text size, and background. Now, depending on your needs, customize fonts, font size, text size, background color, and more. If you want the step-by-step guide, check our article on customizing Netflix subtitles.
4. Enable Smart Downloads
Downloading your TV shows to watch when you're offline is fine but Netflix can do much more than that. With Smart Downloads, the app downloads the next episode once you're done watching the previous episode.
That's not all. It automatically removes the watched episode so you don't have to worry about managing storage on your phone.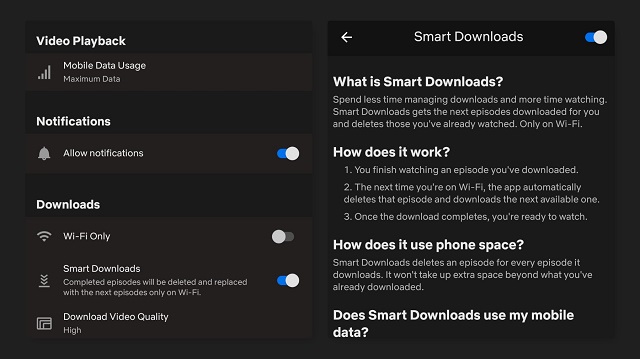 To avoid unexpected data charges, the feature is designed to work only when your device is connected to a Wi-Fi network. If you have an unlimited Wi-Fi connection, I'd recommend turning the Smart Downloads option on.
To enable Smart Downloads, open the Netflix app, tap on the Downloads, and enable Smart Downloads from the top of the section. Alternatively, you can also turn the feature on from the settings by going to More -> App Settings -> Smart Downloads.
The feature is available in the Netflix app on Android, iOS, Amazon Fire tablets, and Windows.
5. Bring IMDb Ratings to Netflix
I always check IMDb ratings before watching a movie or a TV show so that I can get a better idea regarding what to expect from the content. While Netflix does not show IMDb ratings, there is a Chrome extension named Enhancer for Netflix that brings IMDb ratings straight to Netflix.
However, this involves creating an account on their website which can be done in a single click by signing up with a Google account. After creating the account, you will be able to view the IMDb ratings on Netflix as seen in the below image.
So, those were some of the tips and tricks from us for Netflix. Do you have any similar suggestions? Tell us in the comments and don't forget to share your experience using these tricks with us.
6. Disable Autoplay 
Though I find the "Autoplay" feature very helpful as it automatically plays the next episode, I don't think everyone would like to go this way, especially the ones who prefer to have complete control over streaming. If you are among them, you would appreciate the option to disable the autoplay.
To do it, log in to your account and then click on the "Manage Profiles" option from the menu at the top right corner of the screen. Next, select the profile you wish t make changes to.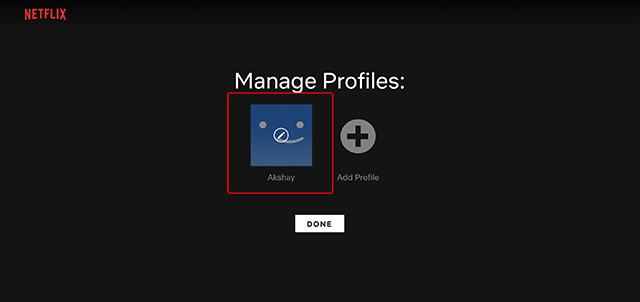 Next up, make the desired changes to Autoplay controls. In the end, make sure to click on Save to confirm the changes.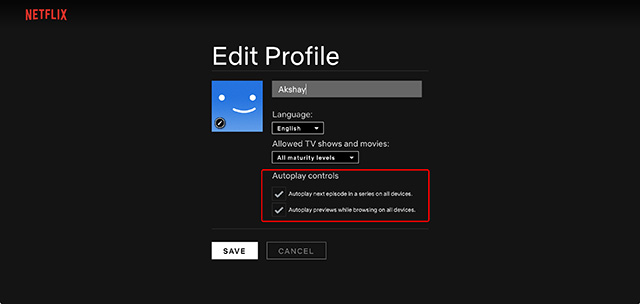 7. Use voice-activated controls with Netflix
With voice commands, you can perform several common actions faster. Perfect for the times where you don't want to fiddle with the keyboard.
When searching, browsing, or playing a TV show or movie, make sure to add the "on Netflix" to the command to make it easier for the personal assistant to perform the assigned task.
Notably, Netflix supports all the major virtual assistants including Amazon Alexa, Apple Siri, Google Assistant, and Samsung Bixby. So, irrespective of which platform you are using, you can make the most of voice commands to perform actions faster.
Here Are Some of the Supported Voice Commands Actions:
Open Netflix: Simply say "Launch Netflix" or "Open Netflix."
To browse by category, director, or actor: "Show me comedies on Netflix" "Find movies by Martin Scorsese on Netflix" "Show me movies with Brad Pitt on Netflix"
Search for a specific title, season, or episode: "Find Black Panther on Netflix." "Show me Incredibles 2 on Netflix"
Play a TV show or movie: Activate the personal assistant and then tell it the name of the show or movie you wish to watch. For instance, "Play Fast and Furious 8 on Netflix."
Control playback: To pause the TV show or movie, say "Pause." Besides, you can also" "fast forward," and "rewind" using the voice commands.
8. Use Keyboard Shortcuts to Perform Actions Faster
Keyboard shortcuts come in pretty handy when you want to perform common actions like play/pause, full screen or fast-forward fast. Netflix offers some quick shortcuts to let you enhance your video-streaming. So, if you want to amp up your video-streaming game, make sure to try them out.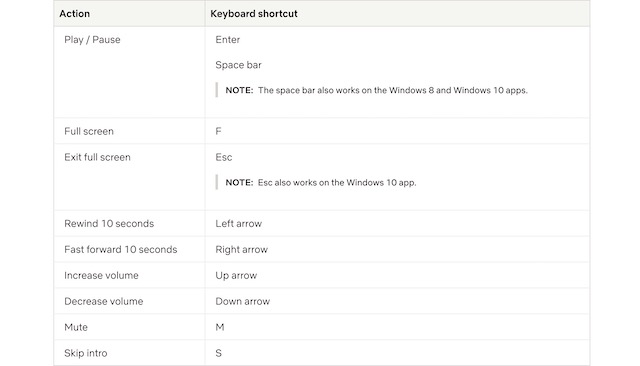 The List of Keyboard Shortcuts for Netflix:  
Play/Pause: Enter/Space Bar 
Full-screen: F
Exit full screen: Esc
Rewind 10 seconds: Left arrow
Fast forward 10 seconds: Right arrow
Increase volume: Up arrow
Decrease volume: Down arrow
Mute: M
Skip Intro: S
9. Prevent Netflix From Eating Into Your Mobile Data
It's no secret that Netflix requires a strong internet connection for streaming high-quality content. But what if you are on limited bandwidth and often find the video-streaming app eating into a lot more data than what you can afford. To manage data while streaming on phone, go to App Settings -> Mobile Data usage.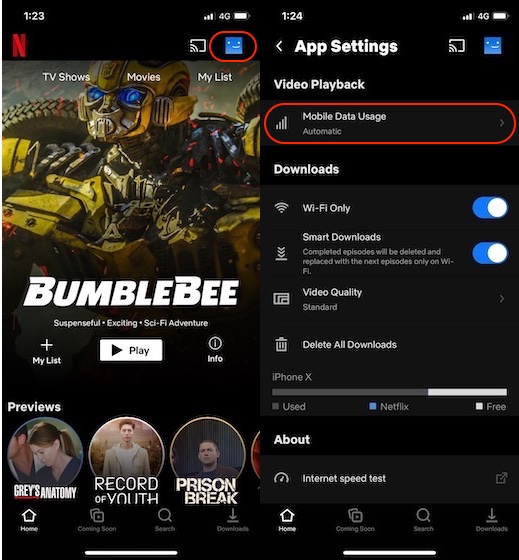 Here, select the "Save Data" option.
You can also enable the download only on WiFi option to make sure that you mistakenly don't end up downloading shows on mobile data.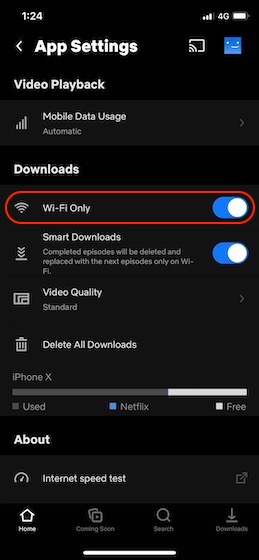 10. Try Out Netflix Beta
If you are fond of Netflix, chances are you would love to give a try to the upcoming Netflix features. The video-streaming platform allows users to take part in the beta testing program to use potential changes and all-new features before they are rolled out officially.
To get started, launch Netflix and navigate to Accounts > Test Participation. Then, turn on the switch. Going forward, you will have access to all the changes and upcoming features. If you ever want to go back to the standard experience, come back to this same setting and then turn on the switch for Test participation.
11. Get the Most Out of the Netflix Secret Codes
To me, what sets Netflix apart from the rest is a massive collection of movies and TV shows. Thus, it doesn't matter what appeals to your taste, you will always find something really hot to stream.
But have you ever dived into the huge library and found it a bit inconvenient to track down specific categories of content? If yes, you should make the most of the secret codes which let you access certain content quickly. To get started, all you need to do is head over to this page and then enter the specific number given below.
Action and Adventure
1365: Action & Adventure
8985: Martial Arts Movies
2125: Military Action & Adventure
7442: Adventures
10118: Comic Book and Superhero Movies
11828: Foreign Action & Adventure
77232: Asian Action Movies
46576: Classic Action & Adventure
7700: Westerns
10702: Spy Action & Adventure
9584: Crime Action & Adventure
43040: Action Comedies
43048: Action Thrillers
Anime
7424: Anime
452: Anime Dramas
3063: Anime Features
2729: Anime Sci-Fi
10695: Anime Horror
11881: Adult Animation
2653: Anime Action
9302: Anime Comedies
11146: Anime Fantasy
6721: Anime Series
Classic Movies
48744: Classic War Movies
52858: Epics
32473: Classic Foreign Movies
31694: Classic Comedies
29809: Classic Dramas
47147: Classic Sci-Fi & Fantasy
46588: Classic Thrillers
7687: Film Noir
53310: Silent Movies
47465: Classic Westerns
31574: Classic Movies
Drama
5763: Dramas
3179: Biographical Dramas
29809: Classic Dramas
528582748: Courtroom Dramas
7243: Sports Dramas
500: Gay & Lesbian Dramas
384: Independent Dramas
9299: Teen Dramas
11: Military Dramas
12123: Period Pieces
6889: Crime Dramas
4961: Dramas based on Books
3653: Dramas based on real life
6384: Tearjerkers
2150: Foreign Dramas
6616: Political Dramas
1255: Romantic Dramas
5012: Showbiz Dramas
3947: Social Issue Dramas
26835: Faith & Spirituality
52804: Faith & Spirituality Movies
2760: Spiritual Documentaries
751423: Kids Faith & Spirituality
384: Independent Dramas
Comedies
869: Dark Comedies
4426: Foreign Comedies
1402: Late Night Comedies
26: Mockumentaries
2700: Political Comedies
1252: Campy Movies
10944: Cult Horror Movies
4734: Cult Sci-Fi & Fantasy
9434: Cult Comedies
4195: Independent Comedies
6548: Comedies
9702: Screwball Comedies
5286: Sports Comedies
5475: Romantic Comedies
10256: Slapstick Comedies
7627: Cult Movies
8195: B-Horror Movies
11559: Stand-up Comedy
3519: Teen Comedies
4922: Satires
Children and Family
6218: Movies for ages 2 to 4
5455: Movies for ages 5 to 7
561: Movies for ages 8 to 10
6962: Movies for ages 11 to 12
10056: Movies based on children's books
51056: Family Features
11177: TV Cartoons
783: Children & Family Movies
6796: Movies for ages 0 to 2
52843: Kids Music
5507: Animal Tales
10659: Education for Kids
27346: Kids' TV
Documentary
9875: Crime Documentaries
90361: Music & Concert Documentaries
1159: Travel & Adventure Documentaries
7018: Political Documentaries
5161: Foreign Documentaries
5349: Historical Documentaries
4006: Military Documentaries
180: Sports Documentaries
10005: Religious Documentaries
2595: Science & Nature Documentaries
3675: Social & Cultural Documentaries
6839: Documentaries
3652: Biographical Documentaries
Horror Movies
8711: Horror Movies
89585: Horror Comedy
947: Monster Movies
8646: Slasher and Serial Killer Movies
42023: Supernatural Horror Movies
52147: Teen Screams
75804: Vampire Horror Movies
75930: Werewolf Horror Movies
8195: B-Horror Movies
6895: Creature Features
10944: Cult Horror Movies
45028: Deep Sea Horror Movies
8654: Foreign Horror Movies
75405: Zombie Horror Movies
6998: Satanic Stories
7077: Independent Movies
11079: Experimental Movies
11804: Independent Action & Adventure
3269: Independent Thrillers
Romance
8883: Romantic Movies
35800: Steamy Romantic Movies
9916: Romantic Independent Movies
502675: Romantic Favorites
36103: Quirky Romance
9916: Romantic Independent Movies
7153: Romantic Foreign Movies
1255: Romantic Dramas
31273: Classic Romantic Movies
5475: Romantic Comedies
Foreign Movies
32473: Classic Foreign Movies
4426: Foreign Comedies
5161: Foreign Documentaries
2150: Foreign Dramas
8243: Foreign Gay & Lesbian Movies
8654: Foreign Horror Movies
6485: Foreign Sci-Fi & Fantasy
10306: Foreign Thrillers
7153: Romantic Foreign Movies
3761: African Movies
5230: Australian Movies
262: Belgian Movies
5685: Korean Movies
1613: Latin American Movies
5875: Middle Eastern Movies
63782: New Zealand Movies
11567: Russian
9292: Scandinavian Movies
9196: Southeast Asian Movies
58741: Spanish Movies
61115: Greek Movies
58886: German Movies
58807: French Movies
5254: Eastern European Movies
10606: Dutch Movies
10398: Japanese Movies
8221: Italian Movies
10463: Indian Movies
3960: Chinese Movies
10757: British Movies
7462: Foreign Movies
29764: Art House Movies
11828: Foreign Action & Adventure
58750: Irish Movies
Musicals
1701: Music
3278: Rock & Pop Concerts
13335: Musicals
32392: Classic Musicals
59433: Disney Musicals
13573: Showbiz Musicals
52843: Kids Music
1105: Country & Western/Folk
10271: Jazz & Easy Listening
10741: Latin Music
9472: Urban & Dance Concerts
2856: World Music Concerts
55774: Stage Musicals
Sports
4370: Sports Movies
12443: Boxing Movies
12549: Soccer Movies
6695: Martial Arts, Boxing & Wrestling
12762: Basketball Movies
5286: Sports Comedies
180: Sports Documentaries
7243: Sports Dramas
12339: Baseball Movies
12803: Football Movies
9327: Sports & Fitness
Thrillers
8933: Thrillers
9994: Mysteries
11014: Sci-Fi Thrillers
9147: Spy Thrillers
972: Steamy Thrillers
43048: Action Thrillers
46588: Classic Thrillers
10499: Crime Thrillers
10306: Foreign Thrillers
3269: Independent Thrillers
31851: Gangster Movies
5505: Psychological Thrillers
10504: Political Thrillers
11140: Supernatural Thrillers
Sci-Fi and Fantasy
1492: Sci-Fi & Fantasy
6926: Sci-Fi Adventure
3916: Sci-Fi Dramas
1694: Sci-Fi Horror Movies
11014: Sci-Fi Thrillers
1568: Action Sci-Fi & Fantasy
3327: Alien Sci-Fi
47147: Classic Sci-Fi & Fantasy
4734: Cult Sci-Fi & Fantasy
9744: Fantasy Movies
6485: Foreign Sci-Fi & Fantasy
TV Shows
83: TV Shows
27346: Kids' TV
67879: Korean TV Shows
4814: Miniseries
25804: Military TV Shows
52780: Science & Nature TV
10673: TV Action & Adventure
10375: TV Comedies
10105: TV Documentaries
11714: TV Dramas
83059: TV Horror
4366: TV Mysteries
1372: TV Sci-Fi & Fantasy
9833: Reality TV
52117: British TV Shows
46553: Classic TV Shows
26146: Crime TV Shows
74652: Cult TV Shows
72436: Food & Travel TV
60951: Teen TV Shows
12. Create a Netflix Kids Experience Profile
Netflix lets you create a Kids experience profile that has a simplified look and feel. Notably, it removes direct access to account settings and plays only meticulously selected TV shows and movies that kids would enjoy.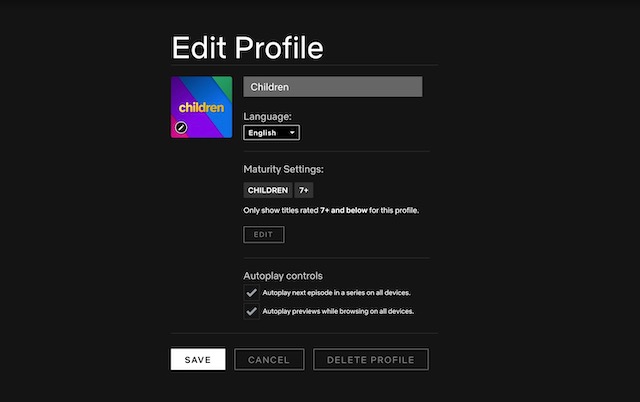 To get going, head over to your Manage Profiles page and select Add Profile. Now, give a suitable name to the profile and then select Kids. After that, choose Continue.
13. Choose Maturity Ratings
Another parental control feature that has caught my attention is the ability to choose maturity ratings. When you set a maturity rating for a profile, it will show only the TV shows and movies that fit that specific rating. If you want to have better control over the content that shows on your kid's profile, you should take advantage of this helpful feature.
Open a web browser and go to your Account page. Then, open the Profile & Parental Controls settings for the profile in question. After that, head over to Viewing Restrictions setting and set the maturity rating level for the TV shows and movies. Once you have made the changes, make sure to click on Save.
14. Lock/Unlock Profiles
No longer want anyone to access a specific profile on your account without your permission? If the straightforward answer is yes, this cool Netflix hack is for you.
Netflix lets you protect a profile with a Profile Lock PIN. To do it, open a browser and navigate to your Account page. Now, open Profile & Parental Controls settings and then select Profile lock. If prompted, enter your account password.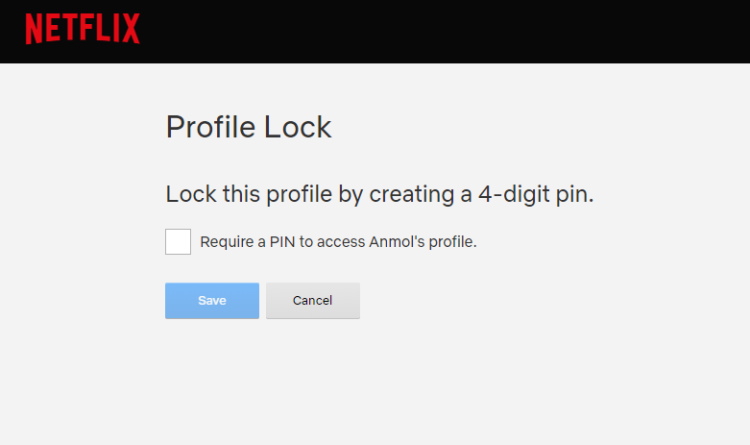 After that, tick the box to Require a PIN. Later, if you want to unlock a profile, come back to this very setting and uncheck the box. Overall, it's a great Netflix hack from a privacy perspective.
15. Stream Ultra HD Content
You can choose to stream ultra HD content if there is no concern about rapid cellular data consumption or if you have the luxury of a fast internet connection. To get started, launch the Netflix app, and go to your Account.
Then, select playback settings and choose "High" on data usage. Finally, make sure to click on the Save button to confirm the change.
Frequently Asked Questions
How do I get the most out of Netflix?
To me, the best way to get the most out of Netflix is to try out all the cool hacks like secret codes, customizing subtitles, streaming Ultra HD content, and more. And for that, look no further than this complete guide.
How do you use Netflix effectively?
The best way to use Netflix is to personalize it in keeping with your needs. Whether it's parental controls, locking the profile, or customizing subtitles, the video-streaming service has got a lot to enhance your experience.
How do I find the secret menu on Netflix?
We have mentioned all the secret menu codes in this article. You can find them in this article and use them surface hidden content
How do you get Netflix to stop buffering?
Make sure you have a strong internet connection especially while streaming high-quality content. Play a movie and pause it to let it buffer for a few minutes before you start watching.
Why does my Netflix just keep loading?
It mostly happens due to poor internet connection. If the problem continues even after you have a good internet connection, make sure it's updated to the latest version.
What speed do I need for Netflix?
It's recommended to have 3 Mbps connection for a standard-quality stream and 5 Mbps for a high-definition stream. Do note that it requires around 10 Mbps for two simultaneous HD quality streams.
Make the Most of Cool Netflix Tips and Tricks to Spice Up Your Binge-Watching
So, these are the top Netflix hacks that can let you get the most out of the video-streaming platform. Now that you have got the tricks under your radar, fine-tune the streaming app in line with your taste.
Besides, also let us know the Netflix tricks that you have found quite helpful. And if there are any other hacks worth including in this guide, do let us know that as well in the comments section below.
---
Load More