A million-dollar tip from a small-time movie buff: when you don't want your video-streaming to become boring, go for a robbery flick full of thrilling scenes. The curiosity-driven plot strapped with edgy moments will ensure that your showtime remains an exciting affair. Moreover, if you like watching action-adventure movies on Netflix, or some Netflix comedy movies, you'll be glad to know that there are quite a few heist films that are a great mix of action, comedy, crime, and drama, so the storyline remains gripping. So, if you are willing to give your taste some twist and are ready to venture into an awesome genre, now is the perfect time to pick out the best heist movies on Netflix in 2023!
Best Heist Movies on Netflix You Should Watch in 2023
When it comes to heist movies, a solid story backed by a series of twists and turns counts for more than anything else. Not to mention the killer acting and the game-changing moves that turn the table every time the plot seems to be heading in a definite direction.
As a result, you feel completely engrossed in the flick, eagerly awaiting to discover the climax. Well, I have kept these pivotal basics in mind while rounding up the best robbery movies that are streaming on Netflix. And, I'm sure you would find my collection worth having a go at. Also, while you're at it, you should brush up on some Netflix tips and tricks to make your experience even better. Enough talk, let's get into the action straight away!
Note: I can confirm that all the movies mentioned in this article are available for streaming in the USA. However, they may not be available for streaming in other countries like India, the UK, Canada, Australia, etc. To let you easily find out how well a specific movie has been rated, I have included the ratings from well-known movie rating sites like IMDb and Rotten Tomatoes. Rotten Tomatoes ratings are given in Tomatometer and Audience Score formats for those unfamiliar.
30 Heist Movies You Must Watch on Netflix
1. Snatch (2000)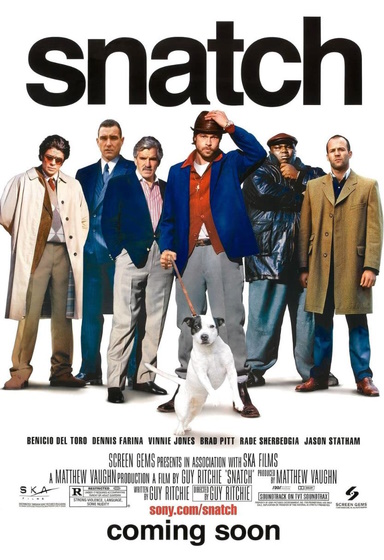 What a way to kickstart this extensive roundup of the most loved heist movies on Netflix by putting "Snatch" right at the top! Well, this British crime comedy film has been superbly directed by Guy Ritchie and boasts an ensemble cast: Jason Statham, Stephen Graham, Alan Ford, Brad Pitt, Dennis Farina, and more.
Beyond the dashing star cast, the flick is set in the London criminal world and features two seamlessly integrated plots. Hold on, I'm not going to spill more beans about the story as it might take away some charm from your streaming. So, better unravel the story yourself!
Watch the trailer here
IMDb: 8.3
Rotten Tomatoes: 73%/93%
Check out Snatch on Netflix
2. Inception (2010)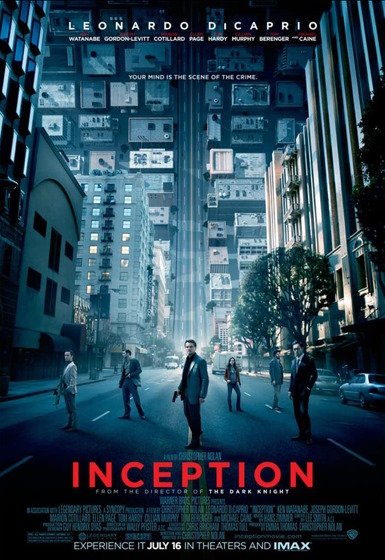 If your movie time is calling for a highly-rated science fiction action thriller, make sure to check out Inception. Written and directed by Christopher Nolan, the movie stars Leonardo DiCaprio as a killer thief who excels in stealing sensitive information by infiltrating the subconscious of his enemies.
Apart from DiCaprio, the sci-fi thriller also features Ken Watanabe, Joseph Gordon-Levitt, Marion Cotillard, Ellen Page, and Tom Hardy. Thanks to the interesting story coupled with the star power, Inception not only bagged Oscar but also became the worldwide fourth-highest-grossing movie of 2010.
Watch the trailer here
IMDb: 8.8
Rotten Tomatoes: 87%/91%
Check out Inception on Netflix
3. Ocean's Eleven (2001)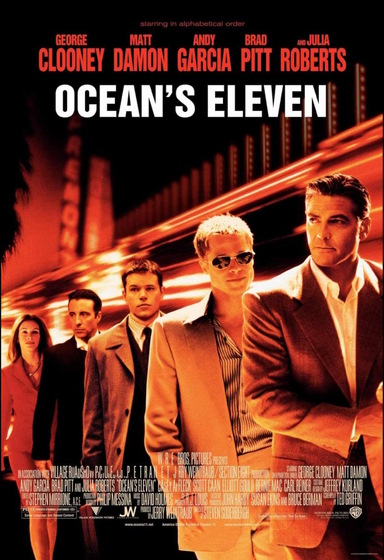 I have always loved the heist movie that can never fail to tickle funny bones. And that's why I wouldn't hesitate in calling Ocean's Eleven not only a fantastic robbery flick but also one of the best comedy movies on Netflix. The movie marks the beginning of Steven Soderbergh's Ocean's trilogy, and I'd recommend you actually watch Ocean's Twelve, and Ocean's Thirteen as well, which are also really fun and gripping heist movies.
Not to mention the star-studded cast, including George Clooney, Brad Pitt, Matt Damon, Julia Roberts, Elliot Gould, Al Pacino, and many more. I won't spoil the plot of the movie by explaining it to you, but I can definitely vouch for the quality of this heist film for sure.
Watch the trailer here
IMDb: 7.7
Rotten Tomatoes: 83%
Check out Ocean's Eleven on Netflix
4. Baby Driver (2017)
"Baby Driver" is the sort of heist-action film that you would want to catch up with time and again. Starring Ansel Elgort as a musically driven getaway driver, the movie has not only scored big at the box office but also received critical acclaim. The driver is desperately seeking a life beyond heisting with his lover Debora (Lily James). But can he ever get out of the heisting hook?
Watch the trailer here
IMDb: 7.6
Rotten Tomatoes: 93%/86%
Check out Baby Driver on Netflix
5. Hell or High Water (2016)
When you talk about one of the best heist movies on Netflix, "Hell or High Water" is the one you should never give a miss. And rightly so as this neo-western heist film has got all the ingredients to keep you on the edge of your couch.
Directed by David Mackenzie, the plot is centered around two brothers (Chris Pine and Ben Foster) who do a series of thrilling bank robberies to save their family ranch. With superb acting and a good many unexpected moves, this heist film would seamlessly carve out a safe spot in your wishlist!
Watch the trailer here
IMDb: 7.6
Rotten Tomatoes: 97%/88%
Check out Hell or High Water on Netflix
6. The Italian Job (2003)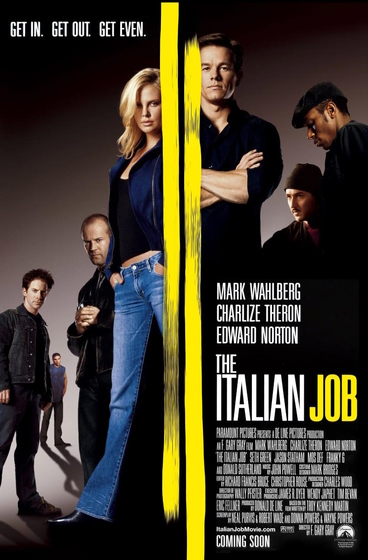 One of those movies that I recommend to everyone, as far as heist movies are concerned, The Italian Job is a must-watch for any fan of robbery flicks, combined with action adventure, and of course a bit of treachery. The movie's plot revolves around a heist job in Italy, but with a twist that takes you aback and sets up the rest of the movie. It's an amazing and interesting watch, with a cast including the likes of Mark Wahlberg, Charlize Theron, Jason Statham, and Edward Norton.
Watch the trailer here
IMDb: 7
Rotten Tomatoes: 73%
7. The Bank Job (2008)
As a heist thriller movie, "The Bank Job" has left a lasting impact. Based on the 1971 Baker Stree robbery in central London, the movie has got both a brilliant story and the much-needed thrilling scenes to hold your breath.
Jason Statham looks riveting in his avatar as Terry and performs the assigned task of robbing the bank with aplomb. Go, kickstart this flick to unwind the truth about probably the most shocking bank robbery from which the stolen money and valuables never recovered!
Watch the trailer here
IMDb: 7.2
Rotten Tomatoes: 79%/74%
Check out The Bank Job on Netflix
8. Inside Man (2006)
How long can you keep a top-notch heist thriller out of your sight? "Inside Man" excels in every aspect. The story is centered around a bank heist on Wall Street that spirals into a nerve-wracking game of cat-and-mouse. Though everything about this movie is praiseworthy, I have personally liked the acting of Denzel Washington who has starred as Detective Keith Frazier. Give it a go and I bet you would also be on the same pitch!
Watch the trailer here
IMDb: 7.6
Rotten Tomatoes: 86%/85%
Check out Inside Man on Netflix
9. The Town (2010)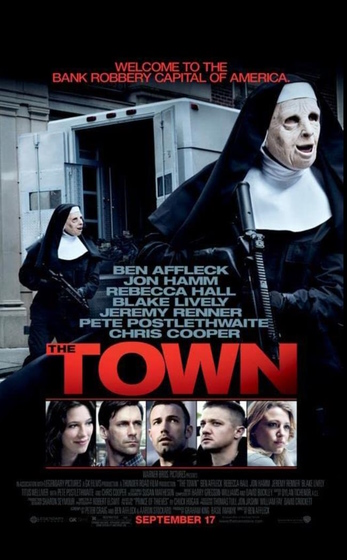 Ben Affleck has long been one of my favorite actors. And therefore, I'm really glad to include his masterclass "The Town" in this roundup. This crime thriller also features Rebecca Hall, Jon Hamm, and Jeremy Renner in significant roles. It is about a gang of bank robbers who are on their final mission to rob Fenway Park. Unravel the entire flick to know what happens to their goal and what exactly puts them in a spot of bother!
Watch the trailer here
IMDb: 7.6
Rotten Tomatoes: 92%/85%
Check out The Town on Netflix
10. Now You See Me 1 & 2 (2013&2016)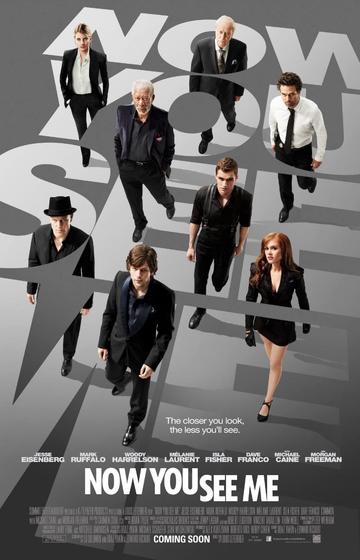 When you have a fabulous heist thriller movie vying for your attention, it wouldn't be wise to overlook it. Well, I'm talking about "Now You See Me" which has been directed by Louis Leterrier and consists of an ensemble cast including the likes of Jesse Eisenberg, Mark Ruffalo, Woody Harrelson, Isla Fisher, and Dave Franco.
The plot revolves around an FBI agent and an Interpol detective who are on the hunt for a group of illusionists who loot banks and reward their audiences with money. Will those smart illusionists ever be caught red-handed?
Watch the trailer here, Part 1 and Part 2
IMDb: 7.3, 6.4
Rotten Tomatoes: 50%/70%, 34%/53%
Check out Now You See Me Part 1 and Part 2 on Netflix
11. Reservoir Dogs (1992)
Quentin Tarantino's debut film, "Reservoir Dogs" shook Hollywood and earned a special name for QT. Therefore, all the cinephiles and even the critics started to fall in love with this man's movies. This movie's plot is as follows: The crooks who managed to escape from a botched jewelry heist start to wonder if one of them is a confidential informant. The Among Us-like situation among the criminals sure is gripping right from the start and leaves you amazed in the end.
Watch the trailer here
IMDb: 8.3
Rotten Tomatoes: 90%/94%
Check out Reservoir Dogs on Netflix
12. Fast Five (2011)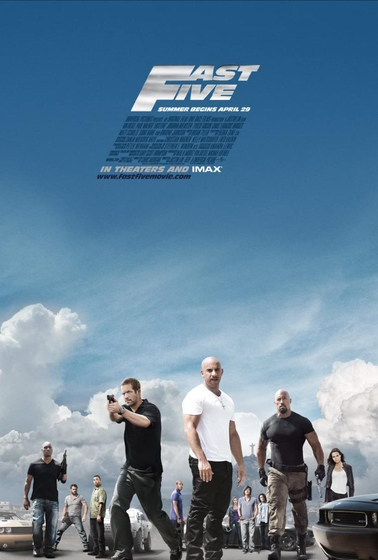 All those die-hard fans of Vin Diesel and Paul Walker, check out this heist action flick that can light up your video-streaming big time! Fast Five aka Fast & Furious 5 is set around Dominic Toretto (Vin Diesel), Brian O'Conner (Paul Walker), and Mia Toretto (Jordana Brewster) as they are all set to steal a whopping $100 million from corrupt businessman Hernan Reyes. Lashed with supersonic action and jaw-dropping moves, Fast Five will leave you spellbound. So, what's holding you back?
Watch the trailer here
IMDb: 7.3
Rotten Tomatoes: 77%/83%
Check out Fast Five on Netflix
13. Logan Lucky (2017)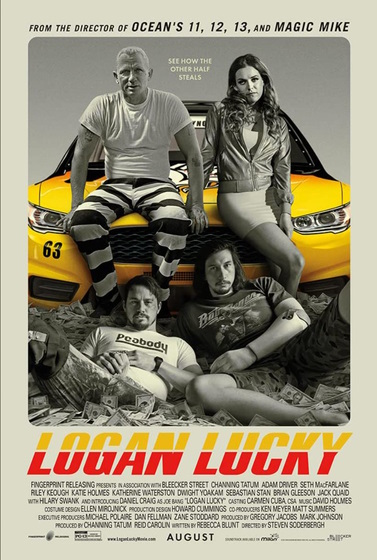 Simply put, Logan Lucky is one of the finest films of Steven Soderbergh – the living legend. The heist comedy features several notable stars including Channing Tatum, Adam Driver, Riley Keough, Daniel Craig, Seth MacFarlane, and Katie Holmes. It follows the Logan family which is hell-bent on looting Charlotte Motor Speedway by hook or by crook. Well, the only thing that stands like a rock on their ambitious plan is the clever FBI. Can the Logans deceive the FBI and rob the Charlotte Motor Speedway?
Watch the trailer here
IMDb: 7
Rotten Tomatoes: 92%/75%
Check out Logan Lucky on Netflix
14. Mission: Impossible – Rogue Nation (2015)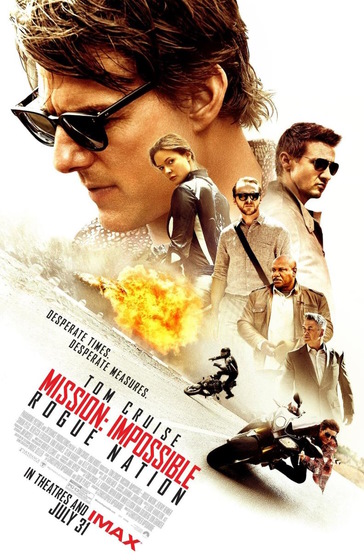 What better way to keep this lineup of the best heist movies on Netflix interesting than including one of the most popular films of Tom Cruise – "Mission: Impossible – Rogue Nation"? In this action spy film, Jeremy Renner, Simon Pegg, and Rebecca Ferguson also played key roles.
Talking about the story of this fifth installment of the Mission: Impossible film series follows the IMF agent Ethan Hunt who is on the run from the CIA after the dissolution of IMF. Again, the act of the heist itself is a subplot in this movie. However, if you love both action and heist movie genres, this is a must-watch for you.
Watch the trailer here
IMDb: 7.4
Rotten Tomatoes: 93%/87%
Check out Mission: Impossible – Rogue Nation on Netflix
15. Drive (2011)
The integration of action and drama along with an interesting story makes Drive a must-watch for folks who are in love with the heist movies. Directed by Nicolas Winding Refn, the heist flick is based on James Sallis's 2005 novel of the same name. It features Ryan Gosling in the leading role as an unnamed Hollywood stunt driver. Apart from Gosling, the film also features Bryan Cranston, Christina Hendricks, Ron Perlman, and Albert Brooks in crucial roles.
The drive received a standing ovation at the 2011 Cannes Film Festival and Refn deservedly won the festival's Best Director Award. The heist movie has been praised for its direction, cinematography, and stunning performances of Gosling and Brooks'.
Watch the trailer here
IMDb: 7.8
Rotten Tomatoes: 92%/79%
Check out Drive on Netflix
16. Rogue One: A Star Wars Story (2016)
Even though I'm not a fan of an epic space opera film, "Rogue One: A Star Wars Story" has appealed to me a lot. And it's all thanks to the fantastic story of this first installment of the Star Wars anthology series. Speaking of the plot, it surrounds a band of rebels who desperately want to steal the plans for the Death Star. While this is not a heist movie per se as the heist is basically a subplot in the movie, you are going to enjoy it a lot. A must-pick if you consider yourself a fan of epic space opera movies!
Watch the trailer here
IMDb: 7.8
Rotten Tomatoes: 84%/86%
Check out Rogue One: A Star Wars Story on Netflix
17. The Place Beyond the Pines (2011)
There is a motive behind every heist and this Ryan Goslin starter movie is quite an amazing one. The story of this movie is about a motorcycle stunt rider who decides to steal banks in order to support his partner and their infant. But this terrible choice puts him on the pedestal of impending danger. This ambitious movie is entertaining and loved by many for its perfect handling of themes like fatherhood, fate, etc. This is the second Ryan Gosling movie we have on our list and you should watch it soon!
Watch the trailer here
IMDb: 7.3
Rotten Tomatoes: 78%/75%
Check out The Place Beyond the Pines on Netflix
18. Wrath of Man (2021)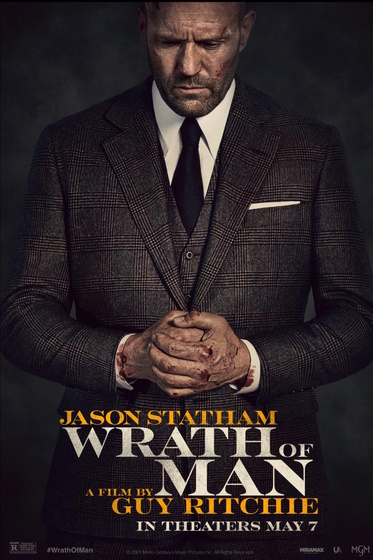 Guy Ritchie never fails to entertain the cinema-goers around the world with his movies. And that's the same with the Wrath of Man. The Jason Statham featuring movie is about a mysterious man who works in a cash-moving truck company and prevents robbers from potential robberies. Now, this is a reverse situation of a heist film as we get to see the heist from a different perspective. With that said, you should definitely check out this unique heist movie
Watch the trailer here
IMDb: 7.1
Rotten Tomatoes: 67%/90%
Check out Wrath of a Man on Netflix
19. Da 5 Bloods (2020)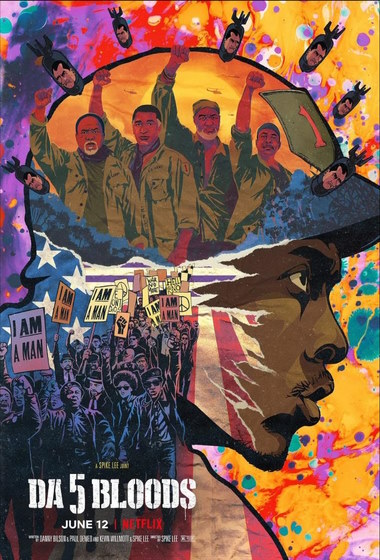 Need a treasure hunt-esque & heist story set in a war-torn country? then Spike Lee's DA 5 Bloods is the one for you. As mentioned earlier, it's about a group of veterans who must overcome the battles and challenges they face in Vietnam to collect the gold fortune left by their fallen leader. Not only the fans, but this movie was also critically acclaimed by the critics and recommended by many.
Watch the trailer here
IMDb: 6.5
Rotten Tomatoes: 92%/53%
Check out Coin Heist on Netflix
20. Triple Frontier (2019)
Is it high time to set the stage for an action-adventure film? If yes, you can bet your money on "Triple Frontier" to offer you a good dose of action, robbery, and also a little bit of comedy. As for the story, it's about a group of former special operations soldiers (led by Ben Affleck, Oscar Isaac, Charlie Hunnam, Garrett Hedlund, and Pedro Pascal) who join hands to plan a massive heist job of a South American crime lord. Find out what happens to their fate and who eventually proves to be a game-changer!
Watch the trailer here
IMDb: 6.5
Rotten Tomatoes: 72%/56%
Check out Triple Frontier on Netflix
21. Army of the Dead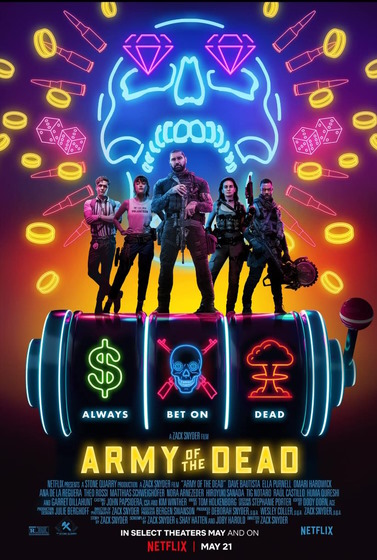 The DC movies fame Zack Snyder was back with a bang in 2021 with his Army of the Dead. Imagine a group of mercenaries planning to pull off a heist in the middle of a zombie outbreak and yeah that is the story of this movie. Making the impossible, possible always captures our attention. Zombie outbreak-based movies are nerve-wracking already and a heist on top of that is like an icing on the cake, it only gets better. Thus, grab your popcorn and enjoy the biggest heist during a zombie apocalypse.
Watch the trailer here
IMDb: 5.7
Rotten Tomatoes: 67%/75%
Check Out Army of the Dead on Netflix
22. Army of Thieves (2021)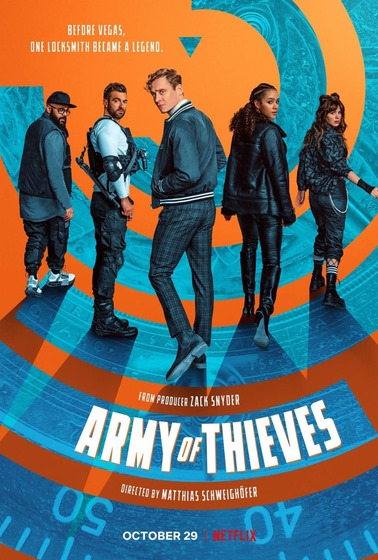 This movie's name must surely sound so familiar to you now. It's because it is the prequel to the "Army of the Dead" movie we recommended above. As a prequel, this movie takes place during the very start of the zombie apocalypse. A squad of thieves led by German safecracking expert Ludwig Dieter is on an elevated heist amidst the chaos of zombies. Just like it's sequel, this movie is considered to be entertaining by the fans. So, without a doubt, you can start this movie and enjoy your time.
Watch the trailer here
IMDb: 6.4
Rotten Tomatoes: 68%/69%
Check Out Army of Thieves on Netflix
23. Wheelman (2017)
Are you up for one of the best action movies on Netflix with plenty of high-octane moves and thrillers in between? If yes, look no further than "Wheelman". Directed by Jeremy Rush, the movie has got notable stars like Frank Grillo, Garret Dillahunt, Shea Whigham, and Caitlin Carmichael in the lead roles. This flick is about a getaway driver (Frank Grillo) who has to pull in his best shots at a time when it matters the most for his life. Discover the scintillating tale by hitting the play button!
Watch the trailer here
IMDb: 6.4
Rotten Tomatoes: 88%/66%
Check out Wheelman on Netflix
24. Red Notice (2021)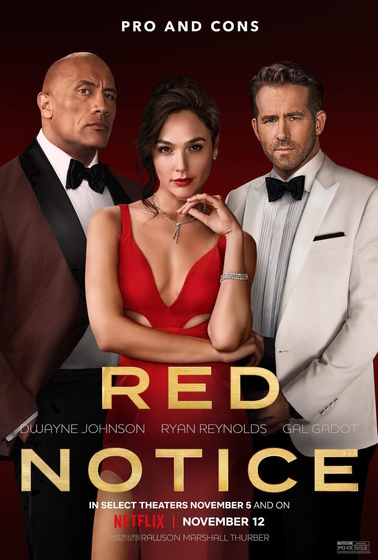 The Red Notice is one of the most hyped movies at the time of its release. While the critics didn't love it very much, it was enjoyed and loved by the audience. This movie is star-studded with Dwayne Johnson, Ryan Reynolds, and Gal Gadot. The plot of the movie is about an Interpol agent chasing down the most sought art thief in the world with the assistance of a rival thief. But things don't always spin out as we expect them to, isn't it? Even with a very bland story, the performances of these stars would keep you entertained until the very end.
Watch the trailer here
IMDb: 6.3
Rotten Tomatoes: 36%/92%
Check out Red Notice on Netflix
25. 21 (2008)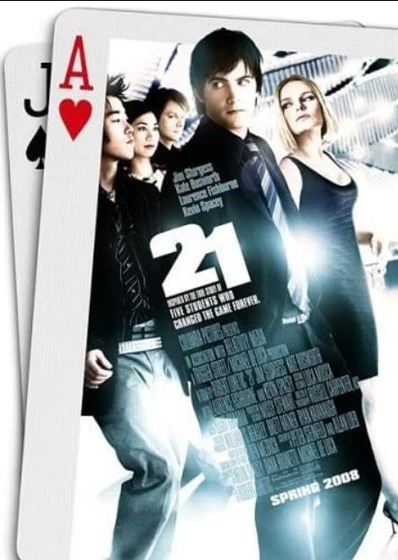 When heist and drama get together, you have an extremely intriguing robbery movie like 21. Personally, I have enjoyed watching this heist drama film for a couple of main reasons. First and foremost, the film takes a lot of inspiration from the real story of the MIT Blackjack Team as described in one of the best-selling books of Ben Mezrich – Bringing Down the House. And the second, its stars led by Jim Sturgess, Kevin Spacey, Laurence Fishburne, and Kate Bosworth have packed a solid punch.
Watch the trailer here
IMDb: 6.8
Rotten Tomatoes: 35%/66%
Check out 21 on Netflix
26. The Score (2001)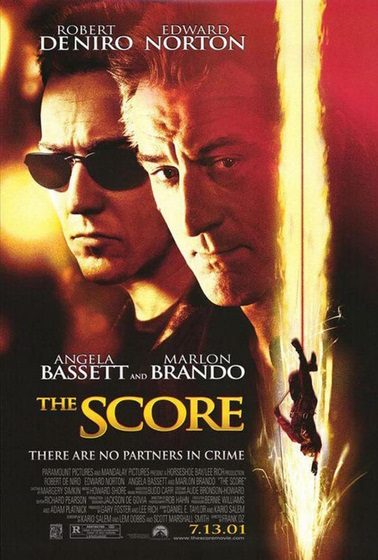 It's a series of unexpected twists along with the commendable acting by leading stars like Robert De Niro, Edward Norton, Angela Bassett, and Marlon Brando holds fort for The Score.
Directed by Frank Oz, the film's screenplay is based on a story by Daniel E. Taylor and Kario and Salem. Having been caught in a routine burglary, Nick Wells decides to say goodbye to the criminal activities finally. However, Wells is compelled to take one final score. Will he get over the line in the face of a massive challenge?
Watch the trailer here
IMDb: 6.8
Rotten Tomatoes: 73%/67%
Check out The Score on Netflix
27. Bandits (2001)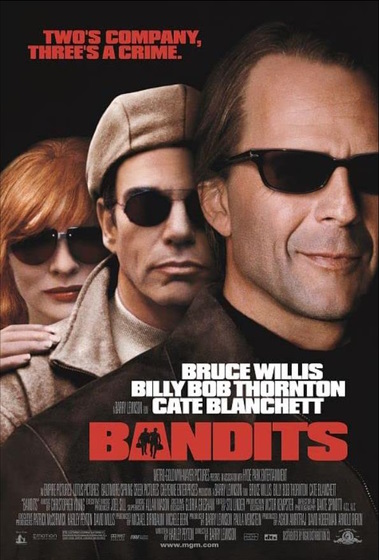 Bandits can be summed up in three simple words – Comedy, Drama, and Crime. So, if you want to stream a heist movie that could not only offer plenty of fun elements but also have the elements of drama and crime, it would be a safe bet. Directed by Barry Levinson, the movie stars big names like Bruce Willis, Billy Bob Thornton, and Cate Blanchett.
As for the plot, it follows two friends Joe and Terry who kickstart a sensational bank-robbing spree. Beyond the story, Thornton and Blanchett's performances have been highly appreciated and they were even nominated for Best Actor and Best Actress Golden Globe Awards. Long story short, Bandits can safely claim to be one of the best Netflix heist movies that are streaming now.
Watch the trailer here
IMDb: 6.5
Rotten Tomatoes: 64%/58%
Check out Bandits on Netflix
28. Small Time Crooks (2000)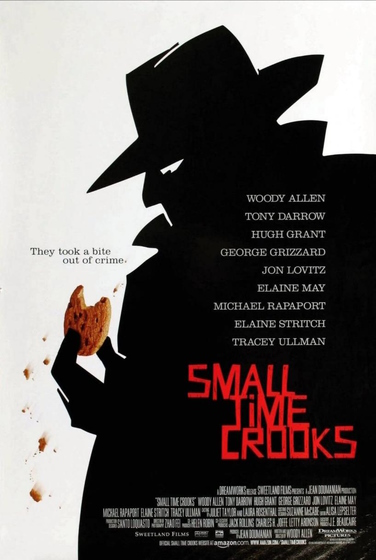 Small Time Crooks has mixed crime and comedy pretty well. If you don't want to jump into a high-octane heist thriller, this one could be one of the better picks for you. The crime-comedy film (written and directed by Woody Allen) has taken some inspiration from the 1942 comedy movie called Larceny, Inc.
Featuring proven actors led by Allen, Hugh Grant, Elaine May, and Tracey Ullman, the movie received a lot of praise from fans and critics. Moreover, Ullman even got nominated for a Golden Globe Award for Best Actress – Motion Picture Comedy or Musical, and May bagged the Best Supporting Actress citation at the National Society of Film Critics Awards.
Watch the trailer here
IMDb: 6.7
Rotten Tomatoes: 66%/57%
Check out Small Time Crooks on Netflix
29. Den of Thieves (2018)
Written, directed, and produced by Christian Gudegast, Den of Thieves is an action-packed heist movie. In some countries, it was released as Criminal Squad. Featuring a solid cast including Gerard Butler, Curtis "50 Cent" Jackson, Pablo Schreiber, O'Shea Jackson Jr., Evan Jones, Dawn Olivieri, Mo McRae, and Max Holloway, the movie proved to be a big hit (grossed $80 million worldwide) due mainly to the thrilling storyline and jaw-dropping action scenes despite receiving mixed reviews.
Den of Thieves is about an elite group of County Sheriff Deputies who are trying their utmost to prevent a gang of thieves from robbing the Federal Reserve in Los Angeles. The makers of the heist movie have also announced that the sequel is a work in progress. Overall, it's one of the coolest heist movies streaming on Netflix right now.
Watch the trailer here
IMDb: 7
Rotten Tomatoes: 42%/62%
Check out Den of Thieves on Netflix
30. Public Enemies (2009)
If there is a space for a vintage biographical crime drama film on your wishlist, I would recommend you give a fixed spot to Public Enemies. Directed by Michael Mann, the movie is a great adaptation of Bryan Burrough's famous non-fiction book Public Enemies: America's Greatest Crime Wave and the Birth of the FBI, 1933–34.
Set during the Great Depression, Public Enemies revolves around the final years of the notorious bank robber John Dillinger (Johnny Depp) as he is hunted by FBI agent Melvin Purvis (Christian Bale). Johnny Depp has looked at his killer best in the movie and his dialogues are spot on. The movie garnered positive reviews from critics and grossed $214 million worldwide.
Watch the trailer here
IMDb: 7
Rotten Tomatoes: 68%/59%
Check out Public Enemies on Netflix 
Liven Up Video Streaming with the Best Netflix Heist Movies
They say, "Variety is the real spice." And rightly so as it never lets boredom creep into your moments. That's why I would also recommend you to check out some of the best documentaries on Netflix, as well as martial arts movies, and horror movies on Netflix. Before you get into the thick and thin of the best robbery movies on Netflix, feel free to send your valuable feedback. Also, do not forget to let us know some of the heist flicks that are worth including in this roundup. Also, if Netflix is not your jam, you should take a look at some Netflix alternatives for your streaming needs.