One of the best things about Netflix is that it doesn't only feature international movies and shows but also offers a great selection of Indian movies. The catalog of Indian movies on Netflix is second to none, with the service offering some of the best movies that Bollywood has ever produced. So, if you are a Bollywood movie aficionado or want to play a movie for your family, you will find some really good options on Netflix. So, if you are looking to indulge yourself with some good Netflix Hindi movies, here are the 25 best Bollywood movies on Netflix you can watch:
Best Netflix Hindi Movies
1. The Lunchbox (2013)
Let's start our article with one of the most under-rated and a gem of a movie produced by Bollywood which is The Lunchbox. The story of Lunchbox revolves around an Indian housewife and an older man. The movie starts with a simple premise. What if the critically acclaimed Mumbai Dabbawala misplaced a lunchbox? With this simple hook, we are led into a story which is full of love, family, and emotions and takes you on a journey that you will never be able to forget. What happens you ask? Well, you will have to watch the movie to find out, won't you? The Lunchbox is one of the best Netflix hindi movies to watch.
Check out The Lunchbox on Netflix
2. Queen (2014)
One of my favorite Hindi movies of all time is Queen. The story revolves around a traditional family girl who has never set her foot out of her comfort zone and now decided to tour Europe on her own. What forces her to take this step and what happens afterward is the whole story of the movie. The movie is sad and hilarious at the same time. Kangana Ranawat who plays the lead character Rani has killed with her performance in this movie. This is one Netflix Hindi movie that you won't regret watching.
Check out Queen on Netflix
3. Manto (2018)
Manto is the life story of controversial and troubled Indo-Pakistani writer Sadat Hussain Manto. The story focuses on the artistic and censorship challenges faced by the writers while he was creating his work. The main character Manto is being played by ever awesome Nawazuddin Siddiqui and might I say it is his one of the best performances yet. The plot is gripping and will hold you till the last minute. I enjoyed watching this movie a lot and highly recommend to all Netflix viewers.
Check Out Manto on Netflix
4. Special 26 (2013)
While Hollywood is full of great con movies, it's something that Bollywood has never been able to get right, that is until Special 26 hit the theaters. Starring Akshay Kumar, the movie revolves around a con man and his team who pose as CBI and Income Tax officers to rob prominent rich businessmen and politicians who are evading tax. If you love con movies and are looking for good Netflix Hindi movies, you are going to love this one.
Check Out Special 26 on Netflix
5. No One Killed Jessica (2011)
Released in 2011, No One Killed Jessica might be quite old but the storyline still holds true. The story revolves around a girl who is trying to get justice for the murder of her younger sister. You will see betrayal, corruption, and everything else that we have come to expect from India's criminal justice system. This is a must watch who likes a good thriller movie.
Check out No One Killed Jessica on Netflix
6. Brahman Naman (2018)
If you love raunchy comedy movies, then this one is just for you. The movie doesn't boast of any A-list actors or directors but what it does pack is a tight and gripping storyline which will leave you in tears with laughter. The story revolves around a group of young men who are a part of a quiz team and are looking to lose their virginity. While this move is not for everyone, if you love raunchy comedies, you should definitely see it once.
Check out Brahman on Netflix
7. Bareilly ki Barfi (2017)
Released in 2017, Bareilly ki Barfi is a movie which will tickle your funny bones in all the right places. Boasting of a talented star cast including Ayushmann Khurrana, Kriti Sanon, Rajkummar Rao, and my favorite Pankaj Tripathi, the story revolves around Bitti who is a free-spirited small-town girl who lives her life on her own terms. What happens to her when she meets Chirag Dubey (Ayushman) and Pritam Vidrohi (Rajkumar Rao) is the whole movie. This one is an entertainment bomb.
Check out Bareilly ki Barfi
8. Pad Man (2018)
Pad Man is the real-life story of Arunachalam Muruganantham who created a cheap solution for sanitary pads aiming to help millions of women in India. The main character is played by Akshay Kumar who is excellent on screen and exceptionally displays the trials and tribulations that Muruganantham had to face in real life. Of course, there's also trademark Akshay Kumar humor to make you laugh. This is a very good movie to watch.
Check out Pad Man on Netflix
9. Mom (2017)
Mom is the last work of Bollywood superstar Sridevi who sadly passed away this year. The story revolves around a mother (played by Sridevi) who is exacting revenge on a group of boys who attacked her daughter and escape justice. While the movie follows a by the number revenge plot, the exceptional and heart-wrenching performance of Sridevi makes it worth watching. If you are a fan of her, you should definitely keep this Netflix Hindi movie in your watchlist.
Check out Mom on Netflix
10. Udta Punjab (2016)
Udta Punjab is a collection of stories which focuses on drug abuse in the affluent north Indian State of Punjab and how the youth there have been corrupted by this addiction. Not only does the movie push a social agenda but it is also accompanied by jaw-dropping performances from the likes of Shahid Kapoor, Alia Bhatt and more. This movie is not for the faint of heart so make sure you know what you are getting into before you start streaming this one.
Check out Udta Punjab on Netflix
11. Drishyam (2015)
Based on the Malyalam super hit movie of the same name, Drishyam is a story about  a man who will do anything to save his family. Ajay Devan plays the lead character and he has killed with his performance in this role. To talk more about this movie will mean that I will have to give key plot points away and I don't want to do that. Just know that this is one of the best thriller movies Bollywood has ever produced.
Check out Drishyam on on Netflix
12. Pink (2016)
Pink (2016) is a great Hindi movie on Netflix which hits on the patriarchal nature of Indian society which is ready to blame girls on each and every turn. The movie is made great by the exceptional performance of Amitabh Bachchan who plays the role of a retired lawyer who picks up practicing again to save three young women who are implicated in a crime. If you love a good crime drama, you are going to enjoy this one.
Check out Pink on Netflix
13. A Wednesday (2008)
This is one of my all-time favorite movies of Bollywood. The movie marks a height in Indian cinema which is rarely achieved. The story is about a common man who is fed up with terrorist attacks and decides to do something himself. It features two of the biggest actors of Indian cinema; Naseeruddin Shah and Anupam Kher and puts them against each other. The resulting dialogue and conversation are just jaw-dropping. A real gem of Hindi movies, A Wednesday is a must watch.
Check out A Wednesday on Netflix
14. Bahubali (2015) and Bahubali 2 (2017)
Bahubali and its sequel Bahubali 2 are probably the most hyped movies of India and deservedly so. No movie has ended on such a cliffhanger as Bahubali. The period drama featuring Prabhas has been directed by the critically acclaimed, S.S. Rajamouli. While this is not technically a Bollywood movie, it was made in collaboration with Dharma Production, and I had to include it on this list.
Check Out (1 / 2) Bahubali on Netflix
15. Dear Zindagi (2016)
I had stopped expecting good movies from Shahrukh Khan after Chennai express and I was mostly right. However, the release of Dear Zindagi changed all that. Seeing Shahrukh in a story driven plot is something of an anomaly these days and hence Dear Zindagi is a must watch. Propelled by a gripping storyline and great performances from Alia Bhatt and Shahrukh Khan, this is a movie that you don't want to miss.
Check out Dear Zindagi on Netflix
16. PK
PK is a story filled with humor and warmth. The story revolves around an alien who has come to earth but has lost his clothes along with the only device he can use to communicate with his spaceship. See Amir Khan playing this alien who is having a hard time adjusting on earth. The movie touches on various social customs and religious superstitions. This is a great Hindi movie and should be on your Netflix watch list.
Check out Pk on Netflix
17. Masaan (2015)
Masaan is yet another small budget Hindi movie which will make you believe in the power of free Hindi cinema. The movie focuses on two different stories portraying loss and how people deal with it. The story deals with complex topics of the social fabric of India and delivers a good watch along with a strong social message.
Check out Masaan on Netflix
18. Sanju (2018)
Whether you believe in the story of Sanjay Dutt portrayed in this movie or not, no one can deny that it's a great watch. Ranbir Kapoor plays as Sanjay Dutt and he is excellent. From Sanjay Dutt's voice to his body language, Ranbir has nailed everything To-a-T in this performance. The movie is also quite entertaining. If you admire great individual performance, this is a good Hindi movie to watch and it's available on Netflix so get watching now.
Check out Sanju on Netflix
19. Madras Cafe (2013)
Another great Netflix Hindi movie, Madras Cafe is an action thriller movie which showcases the journey of an Indian intelligence agent to a war-torn coastal island to break a resolute rebel group and meet a passionate journalist. The movie stars John Abraham and it is probably his best performance in any movie. He is not just a pile of muscle and shows that if given good a script, he can act too. Do check this movie out.
Check out Madras Cafe on Netflix
20. Margarita With A Straw (2014)
Another movie which showcases a great individual performance is Margarita With A Straw. The movie revolves around a young woman with cerebral palsy (played by enigmatic Kalki Koechlin) who moves to New York to study. The movie is about love and self-discovery and you are going to enjoy watching it on a weekend.
Check out Margarita With A Straw on Netflix
21. Gurgaon (2017)
A Netflix original Hindi movie, Gurgaon features an awesome acting performance from its star cast. Pankaj Tripathi is especially great in this movie. The plot of the movie revolves around kidnapping and is as gripping as a crime thriller can be. The movie focuses on human character and how mean and dark we humans can get. Oh yes, just when you start thinking it's a movie, remember that it's loosely based on a true story.
Check out Gurgaon on Netflix
22. Ugly (2013)
If Gurgaon didn't succeed in dwindling your faith in humanity, Anurag Kashayp's 2013 thriller Ugly will. You will learn how low humans can get to achieve what they want in their lives. A story of human deception, ego, and jealousy will leave your faith shattered, especially with its last scene. Be sure that you are ready for this movie as it's not for light-hearted viewers. It's available on Netflix and is a great Hindi movie to watch.
Check out Ugly on Netflix
23. Taare Zameen Par (2007)
Taare Zameen Par deals with the topic of dyslexia and how parents who don't understand their children can unknowingly ruin their lives. It also showcases the importance of a good teacher in your life. The movie is very emotional and you might drop a tear or two.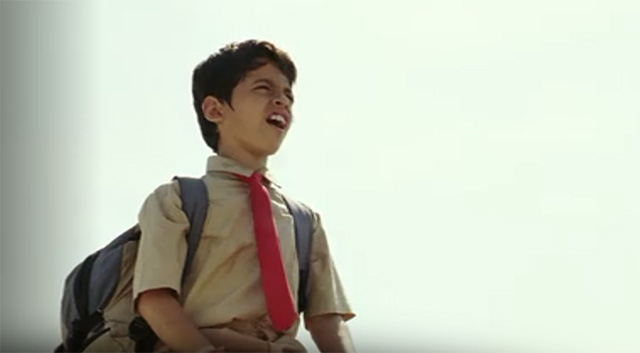 Check out Taare Zameen Par on Netflix
24. Barfi
Barfi is a story about three people who fall in love and how their life changes with each decision they make. The lead character is Burfi, played by extremely talented Ranbir Kapoor who has given one of the best performance of his career in this movie. This movie will make you reconsider society's definition of abnormal and normal. This movie is available on Netflix, and it will make you laugh and cry and entertain you in the best possible watch.
Check out Barfi on Netflix
25. Swades
Swades is one of the best movies of Shahrukh Khan. While the movie bombed on box office, it has attained a cult status among its fans since then. The movie is a simple story about an NRI who returns to India to take her nanny to America. In doing so, he rediscovers his roots and understands why it's important to stay in his own country and work for its advancement.
Check out Swades on Netflix
SEE ALSO: Netflix Download Limit: What Is It and How You Can Get Around It?
Enjoy These Great Netflix Hindi Movies
The 25 movies that I have mentioned in this list are some of the best movies Bollywood has ever produced. While there are tons of other good Hindi movies on Netflix, these 25 are the ones that you should start with. Do check out the list and let us know which is your favorite movie among them all.