Whenever presentation forays into my landscape, Microsoft PowerPoint is probably the first thing that strikes my mind. With a ton of professionally-designed templates, layouts, fonts, icons and more, it is a one-stop platform for creating, customizing, and collaborating on visual stories. With that said, PowerPoint does have quite a few age-old downsides like the not-so-clean interface and a feature set that warrants a steep learning curve.
Moreover, the service lacks the flair to engage the audience with visually-appealing templates. Not to mention, the premium cost of Microsoft Office 365 ($99.99/year or $9.99/month) that doesn't fit into everyone's budget. If these shortcomings have forced you to switch your loyalty, now is the right time to explore the best Microsoft PowerPoint alternatives of 2020.
Best Microsoft PowerPoint Alternatives (Updated July 2020)
Before taking a dive into the roundup, it would be wise to take a glance at all the PowerPoint alternatives. You can click on the link below to move to the corresponding software.
Which Presentation App is Better for You?
Remember, words alone won't do justice to your presentation. Nor will catchy videos or funky-looking images. There are three most vital aspects of an impactful slideshow presentation:
A beautifully-designed template that can invite attention and engage the audience
Well-organized layout
And more significantly, seamless presentation of ideas 
As to which presentation apps like Microsoft PowerPoint can suit your needs better. Be sure of what you need: full customization, a wide range of pro tools, seamless collaboration, or a simplified experience. Keeping in mind various demands, I have chosen the best alternatives to PowerPoint.
And I'm sure you will find at least one presentation app like Microsoft PowerPoint, which can help you create impressive visual stories for your students, clients, business partners or shareholders. So, whether you want to get feature-packed presentation software or a cheaper/completely free substitute for PowerPoint, let's find out the one that looks promising for your specific requirements!
List of Top Alternatives to Microsoft PowerPoint
1. Prezi
When it comes to full-on customization, "Prezi" has a clear edge over Microsoft Powerpoint. Featuring an ever-growing collection of a variety of templates from business and education to sales and marketing, the online presentation platform ensures you have plenty of options available all the time. Moreover, the customizable images, layouts, and charts offer you the desired flexibility to fine-tune everything in line with your needs.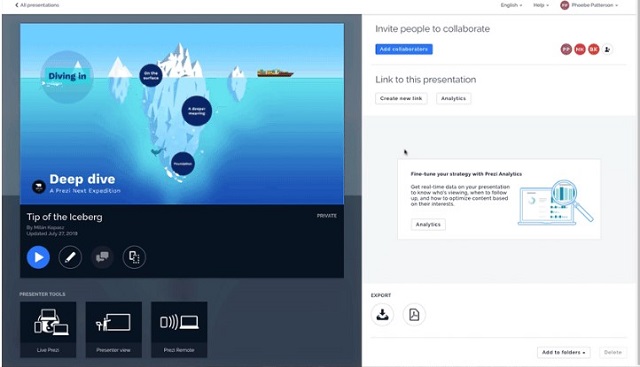 For the folks who don't want to spend a lot of hours to create presentations, they would appreciate the option to reuse a presentation. With tons of professionally designed presentations, choosing the one that can fit a specific demand isn't a big deal. In terms of smart branding, Prezi looks more effective than PowerPoint. It comes with a super handy smart branding feature that creates a nice color theme for presentations based on your brand color.
On the collaboration front, it's also equally effective, allowing you to work seamlessly with your team. And with the desktop app, you can work on your presentation even offline. As far as analytics is concerned, Prezi is highly efficient, enabling you to track viewers and have better insight so that you will be able to target the follow-up with clarity. Price-wise, Prezi is slightly cheaper than PowerPoint as it starts at just $5/month (for personal use).
Pros:
Analytics for your online presentations
Super handy smart branding feature
Great collection of templates 
Reuse a presentation
Cons: 
Importing files feel a bit slow 
Platform Availability: Windows, macOS, iOS, Android, and web  
Pricing: 14-day free trial, $5/month 
Visit: Website 
2. LibreOffice Impress
If you are looking for a highly efficient yet free Microsoft PowerPoint alternative, you would be hard-pressed to find a better bet than LibreOffice Impress. Granted, this open-source software is not as feature-packed as the former but it comes with enough tools to let you create impressive presentations.
With multiple different view modes, you can comfortably create and edit slides. For instance, the normal view mode is designed for simple editing, while the outline makes it pretty easy to outline and organize your text.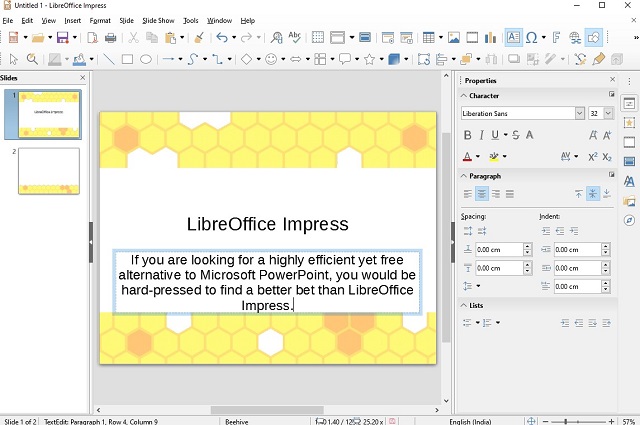 Like PowerPoint, LibreOffice Impress also features a range of drawing and diagramming tools so that you can give a preferred look to your presentation. There is also slide show animations and eye-catching effects that can add the x-factor to your creativity. One of my favorite features of this app is the 'fontworks' tool that comes in handy for creating stunning 2D and 3D images from text.
Another feature that makes Impress a worthy rival of PowerPoint is an elegant Slide Show mode that enables you to control how your slides are shown and sequenced. Long story short, it's got most bases covered to be a notable replacement for PowerPoint. And that too without costing you a single penny.
Pros:
Free and open-source
Multiple different view modes
Features a range of drawing and diagramming tools
Option to stunning 2D and 3D images from text
Cons: 
The UI looks a bit dull 
Comparatively, fewer tools than PowerPoint 
Platform Availability: Windows, macOS, Linux Android, and web
Pricing: Free
Visit: Website 
3. Ludus
If you are a graphics designer and Powerpoint simply does not cut it for you then I would strongly recommend Ludus. It's an impressive piece of software where you can let your creativity flow and make stunning presentations like artwork. The best part is that it's available on the web so it's cross-platform and can be used on any platform. If you are a beginner, don't worry as it gives you a guided tour of the basic tools.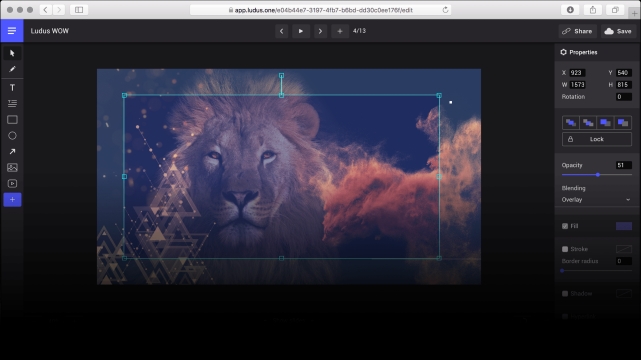 Also, you have beautiful templates at your disposal which can bring a fresh look to your story, data, or visual chart. Other than that, Ludus offers you some of the best typography assets with support for data pulling from Google, Figma, and other designer software. Not to mention, once you become a paid subscriber, you can even collaborate your presentation just like Powerpoint and Google Slides.
Pros:
Best for creative users
Impressive Typography
Available on Web; Cross-platform
Third-party tools integration
Supports collaboration
Cons:
Expensive
No offline support
Platform Availability:  Web
Pricing: Free trial for 30 days, Paid plan starts at $14.99 per month
Visit: Website
4. Zoho Show
In more ways than one, Zoho Show is very similar to Microsoft PowerPoint. Whether you are a teacher who has to create interactive slideshow presentations or a businessman who often has to come up with an interesting presentation to pitch the new products, Zoho Show is the right software for you.
If PowerPoint boasts a solid assortment of templates, Show doesn't look behind in the match up either. So, no what matter your requirement is, chances are high that you will always have a template that can give the right shape and appearance to your ideas.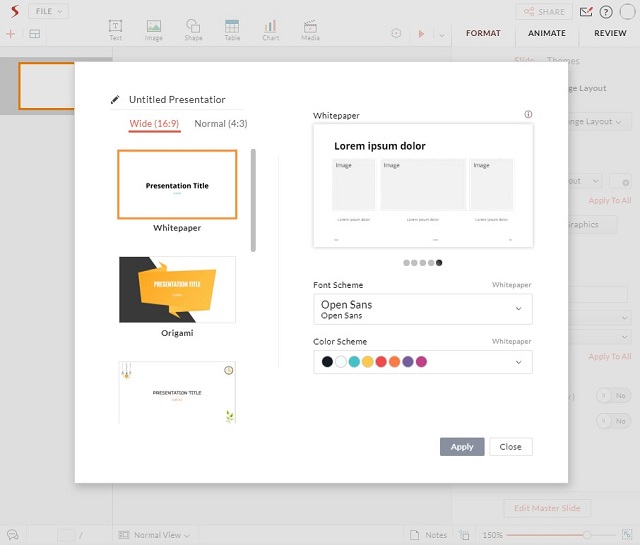 Zoho Show also works reliably in importing PowerPoint files (.ppt or .pptx). Therefore, you can use all the powerful tools of this presentation app to enhance your PowerPoint presentations. One notable feature of this service is the ability to maintain formatting accuracy, making sure there are no misplaced images or faulty margins. Aside from offering a hassle-free importing feature, the software also allows you to export your files to PowerPoint with ease so that if you ever want to go back, you won't find the process difficult.
As for animations and transitions, they can match the repertoire of PowerPoint. Even on the collaboration front, it's a very close competitor. Hence, you can comfortably invite your colleagues to edit and be able to collaborate with the needed flow. Overall, Show is a competent alternative to Microsoft PowerPoint. The best part is that it also offers a free version which is great for students and users who cannot afford to pay the high cost of Microsoft PowerPoint.
Pros:
Offers a competent free version
A solid assortment of templates
Works reliably in importing PowerPoint files
Maintains formatting accuracy
Cons: 
At times, file size restriction could become a roadblock for efficient performance.
Platform Availability:  iOS, Apple, Apple TV, Android, Android TV, and web 
Pricing: Free, $5/user/month (billed monthly ) or $4/user/month (billed annually)
Visit: Website 
5. Haiku Deck
Very few presentation apps are as elegant as Haiku Deck. Despite being feature-rich, the presentation platform doesn't involve a steep learning curve like PowerPoint. So, if you want a feature-packed yet easy-to-handle presentation software, this one can be worth giving serious consideration.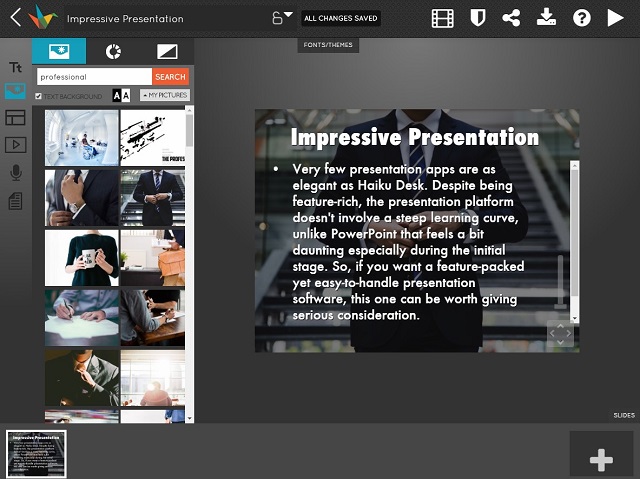 The presentation app has an intuitive user interface that offers a touch of both: simplicity and clarity. As someone who always likes to have the luxury of a wide range of templates, I must say that Haiku Desk is up to the mark in this regard. Like PowerPoint, it allows you to choose from tons of nice-looking fonts, layouts, and image filters to add some great customization into the play.
And with a library of over 40 million creative images at the disposal, you will have something unique to style your creativity. In terms of pricing, both these top-notch presentation apps are almost even-steven. Basically Haiku Deck is meant for users who want all the features of Microsoft PowerPoint in an easier to use and learn user interface. If that's you, you should check it out.
Pros:
Feature-packed yet easy-to-handle presentation software
A wide range of templates
Over 40 million creative images
Cons:  
It's priced same as Microsoft PowerPoint (Even offers higher pricing tier options)
Platform Availability: iOS and web
Pricing: Free, $9.99/month ($119.88 billed annually)
Visit: Website 
6. Google Slides
Keep "Google Slides" out of the sight at your own peril! In terms of flexibility, Google's presentation app is way better than Microsoft's offering. Even on the customization front, it's not behind either. The app offers a large collection of predefined templates so that you can create a high-quality presentation without being entangled into complexities.
You can use images, videos and even drawings to enhance your creativity. Not to mention, there are also several transitions to make your presentation stand out.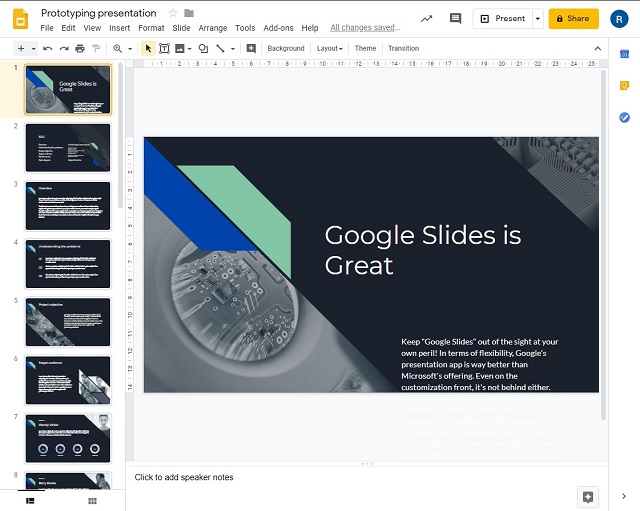 As far as collaboration is concerned, Google Slides is more efficient than its counterparts including PowerPoint thanks to the power of G-Suite. You can team up with your colleagues and friends to work effectively on a single presentation. Besides, you have control over who can edit, view and even add comments.
Another feature that makes Slides very helpful is "unlimited revision history" that offers you the flexibility to track and undo revisions with ease. Talking about price, Google provides a freemium version with basic features and the pro version is offered at $5/month (starting price) that makes it a notable cost-effective alternative to Microsoft PowerPoint.
Pros:
A large collection of predefined templates
A good roster of transitions
More efficient collaboration 
Cons: 
A few transitions don't work effectively 
Platform Availability: iOS, Android, macOS, Windows, Chrome OS
Pricing: Free, $5/user/month (as part of G Suite)
Visit: Website 
7. Visme
A top-notch presentation app like "Visme" can prove to be a boon for professionals. But what makes it a great alternative to PowerPoint is the massive roster of pro tools that can inject impressive charm to visual stories. Apart from having one of the biggest libraries of templates, the app has a solid collection of beautiful images, icons, and fonts.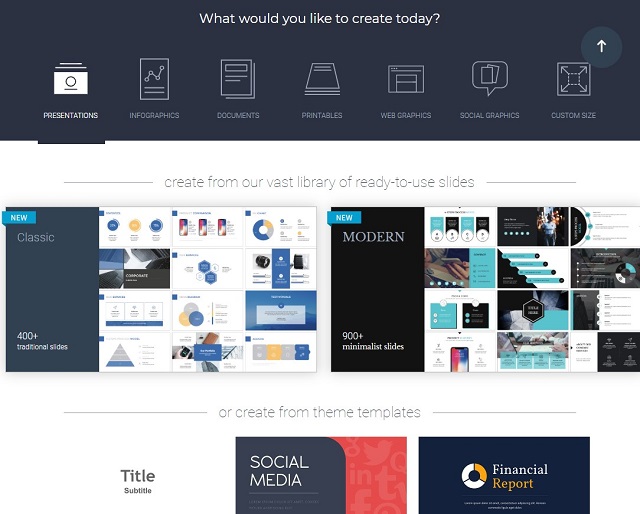 Unlike PowerPoint, Visme has a clutter-free interface so that creating a top-quality presentation remains hassle-free. Depending on your need, you can audio, video, charts, maps, and even links to make your creations look more engaging. Talking about privacy control, it offers multiple options so that you can choose to make your presentation public and fully indexable by a search engine or safeguard it using a password.
Once you have created your presentation, you can share it online or download it on your device. Lastly, Visme is available for free, unlike its more famed rival. As for the pro version, the price starts at $14/month that seems a touch expensive. But, considering the pro tools and adorable customizable, it's a fairly good deal.
Pros:
A massive collection of pro tools
Tons of beautiful images, icons, and fonts to experiment 
Privacy control
Cons: 
Pricey
Handling multi-media is slightly inconvenient 
Platform Availability: Web 
Pricing: Free, $14/month 
Visit: Website 
8. OnlyOffice
For a simplified experience, OnlyOffice has long been a reliable option. So, if simplicity is what you are searching for in your favorite PowerPoint alternative, you can't go wrong with this open-source presentation software.
The app has put more emphasis on the clean user-interface and that plays a vital role in offering a more convenient presentation creation for enterprise. Whether it's creating a quick slideshow presentation, editing the existing slides or collaborating with colleagues, it makes the whole process a hassle-free experience.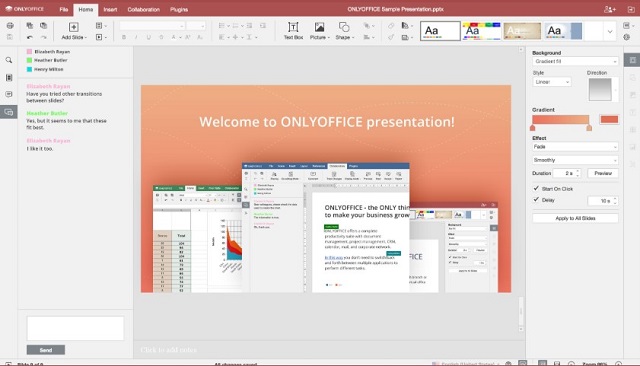 Being fully integrated with collaboration platforms including mail, CRM, projects, and calendar, OnlyOffice keeps the entire team in sync and enables them to work on the presentation with clarity. Though it lacks a plethora of templates that PowerPoint boasts, it has enough pre-defined templates to meet most demand. In terms of customization tools, I think it excels in most aspects and easily leaves its famous counterpart behind.
The app works effectively with PowerPoint presentations and can save them in PDF, PPT, PPTX, and ODP files. Another feature that can improve your productivity and also save plenty of time is the ability to apply settings in bulk. Talking about the process of making the presentation more engaging, it offers a presenter view mode that allows you to highlight main aspects and also makes it a tad easier to navigate through the entire slideshow. In this regard, OnlyOffice presentation looks more efficient than its famed rival.
As for price, OnlyOffice comes at $1200/per one server (lifetime license). Though the price may seem a bit high upfront, considering the simplified experience and seamless integration with collaboration platforms, it's a much better option for the enterprise.
Pros:
Simplified experience
Open-source presentation software
Integrated with collaboration platforms
Cons: 
Platform Availability:  Windows, macOS, Linux, Android, iOS
Pricing: 30-day free trial, $1200/per one server (lifetime license)
Visit: Website 
9. Keynote
Are you deep into the Apple ecosystem? If yes, look no further than Apple Keynote. The app excels in most aspects: clean UI, a range of high-quality presentation tools and plenty of customization options. Like PowerPoint, it also features many charts and provides several cinematic transitions.
With 30 Apple-designed themes, you can give a beautiful look to your visual story. For enhanced customization, it also offers a pretty good collection of slide layouts, fonts and style options.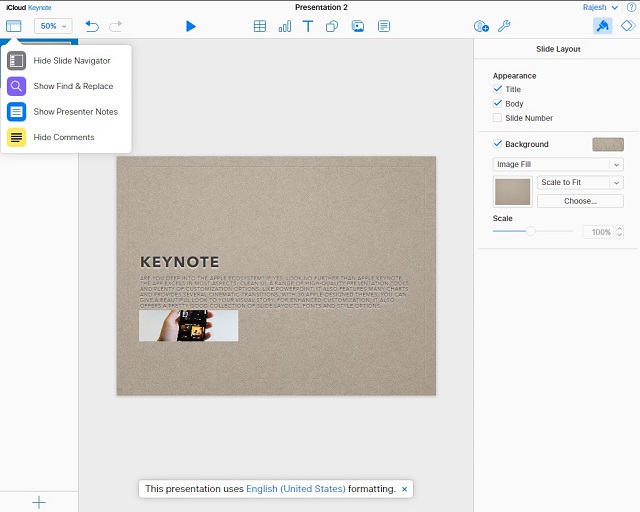 You can use Mail, WebDAV service or iTunes File Sharing to import Microsoft PowerPoint files and edit them in Keynote. In terms of text and object animations, I find Apple's offering up to the task, if not better than PowerPoint. Using animations like vanish, fade, scale, crumble, you can add more visual appeal to your creativity.
But on the collaboration front, Keynote can beat PowerPoint thanks to seamless performance. More significantly, it's available for free, unlike Microsoft's offering that warrants a high price tag. I mean. there's no doubt that it's the best Microsoft PowerPoint alternative for Apple users.
Pros:
Impressive animations 
Only 30 Apple-designed themes
One of the best collaboration experience 
Cons: 
Doesn't offer the app for Windows and Android 
Platform Availability:  iOS, macOS, and web
Pricing: Free
Visit: Website 
10. Canva
Are you in quest of a Microsoft PowerPoint alternative that can let you create a stylish presentation? I would suggest you try out Canva if your answer is in the affirmation. The app makes creating presentation absolute fun thanks to a plethora of background images, eye-grabbing templates, and filters. Furthermore, it also has a variety of grids, charts, and frames to help you add the wow factor to your presentation.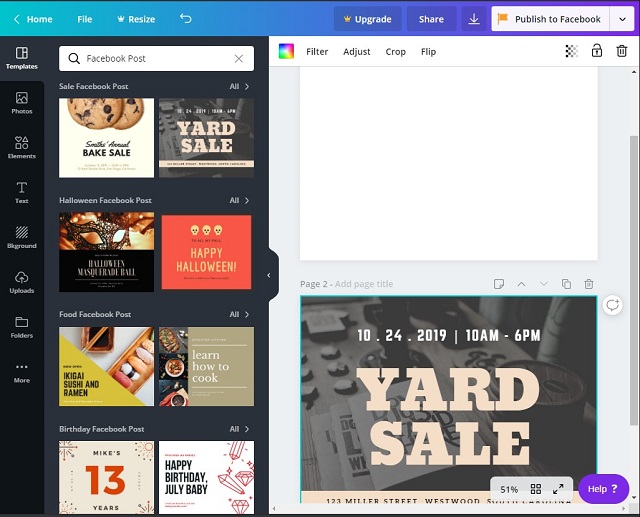 For the folks who use attractive images in their presentation, they would really appreciate the library of millions of images. And with photo filters at the beck and call, you can instantly transform the look of your pics. Besides, it also got some cool editing tools to give photographs of some adorable personal touch.
If you think that the only PowerPoint has a solid collection of fonts, you've got to take a close look at the hundreds of fonts that this app has packed with. In short, Canva is a better choice than PowerPoint for creating elegant presentations and social media graphics.
Pros:
A plethora of background images, eye-grabbing templates, and filters
Library of millions of images
Cool editing tools
Cons: 
Takes time to get a full hang of the software 
Platform Availability:  macOS, Windows, Linux, iOS, and Android 
Pricing: Free, $12.95/month 
Visit: Website 
11. SlideDog
While I have always rated PowerPoint highly for creating powerful multimedia presentations, I don't think it's the best in this regard. In my opinion, "SlideDog" has got almost everything covered to give a strong competition to Microsoft's offering and even surpass it in many aspects.
What has caught my eyes in this presentation platform is the knack to effectively combine Prezis, PDFs, PowerPoints, and other elements to create a stylish playlist.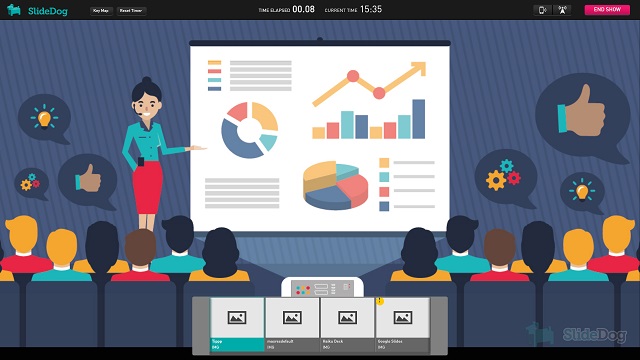 SlideDog keeps all the elements in their original formats so that they can achieve the expected result. With the live sharing feature, you can easily broadcast your presentation on your channel. All the participants will receive a link and with just a click/tap, they will start watching the presentation.
As compared to PowerPoint, SlideDog offers a more intuitive way to control presentation. Thus, you can switch between files, pause videos, change slides, and more without any complexity. Better yet, it also works pretty well in retrieving the feedback of the audience thanks to the questionnaire.
Pros:
Creating powerful multimedia presentations
Effectively combine Prezis, PDFs, PowerPoints
Keeps all the elements in their original formats
Cons: 
Feels sluggish at times 
The pro version doesn't offer a compelling price-to-value proposition 
Platform Availability:  Windows and macOS 
Pricing: Free, $99/year
Visit: Website 
12. WPS Office Free
Though nowhere near as feature-packed or versatile as Microsoft's PowerPoint, WPS Office Free is a notable substitute. Whether you are a teacher or an executive, or a student, this presentation app has got most of the bases covered to be a handy asset for you.
It's fully compatible with Microsoft PowerPoint and has support for both PPT and PPTX files. As a result, you will be able to import presentations from PowerPoint and edit them using all the tools that it has.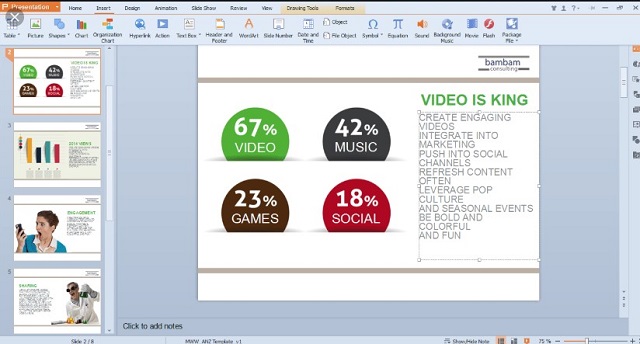 WPS Office has got more than decent formatting tools that include font styles, colors, shapes and more. Thus, giving a suitable appearance to your presentation won't be a big ask. If you want to go for a bit more customization, over 230 fonts and text effects would come into play really.
Like PowerPoint, it also features several slide styles and ready-made templates. Additionally, you can use slide transitions, animations and insert multi-media like videos, images, and audio to make your presentation more impactful. On top of all, it won't cost you a single penny, unlike PowerPoint.
Pros:
Fully compatible with Microsoft PowerPoint
Supports both PPT and PPTX files
Over 230 fonts and text effects
Cons: 
Lacks the versatility of PowerPoint
The interface should be better 
Platform Availability:  Android, iOS, Linux, and web 
Pricing: Free 
Visit: Website
Frequently Asked Questions:
Q. Which PowerPoint Alternative is Best for Your Small Business?
If you have a small business then Prezi would be my pick for the best PowerPoint alternative. And if you want something for free then LibreOffice Impress is an obvious choice. Apart from that, if you want to make creative presentations then Ludus is an excellent pick.
Q. What Can I Use Instead of PowerPoint?
There are many software — both offline and online — that offer similar level of features with excellent design tools and fresh templates. We have mentioned 12 different presentation software above so go through that and pick one.
Q. Is There a Better Presentation Software than PowerPoint?
If you are in a creative business then Ludos is outrightly better than PowerPoint. Similarly, if you throw too many data points in presentations then LibreOffice Impress allows you to use third-party tools like LaTeX, statistical graphs, and more. Basically, there are many software out there that are better than PowerPoint but it depends on the area of your work.
Q. Is Prezi Better Than PowerPoint?
While Prezi surely has got new looks and great animations, it's a tad bit harder to design presentations on Prezi than PowerPoint. In addition, Prezi's formatting options are really messy, but your experience may vary. I would recommend you to try out Prezi and see if it works for you.
Q. How do I Make a PowerPoint Presentation Without Powerpoint?
To make a PowerPoint presentation without using PowerPoint, you can use Google Slides. It's a free software by Google and allows you to save presentations in PPT or PPTX mode.
Q. Are There Free Microsoft PowerPoint Alternatives?
Yes, there are free PowerPoint alternatives. Google Slides and LibreOffice Impress are the few notable ones.
Choose the Best Microsoft PowerPoint Alternatives
There you go! Hopefully, your hunt for a free/cheaper or a more capable alternative Microsoft PowerPoint has finally come to an end. If it did, do tell us about your favorite Microsoft PowerPoint alternatives by writing in the comments section below. Also, if you want to recommend an app that's on the list, you can do that too. The comments section is all yours.
---
Load More