Google Search is much more than a search engine. It collects data from all over the internet, looks for meaningful information, stores the knowledge in its data centers, and makes it available to us in seconds. However, most Google users cannot take full advantage of Google Search as they don't know how to use it. That's why we have created this article where we are going to share the best Google search tricks that can help you get the most out of this incredible tool in 2023.
Cool Google Search Tricks to Search Better (Updated March 2023)
These Google Search tricks and tips will help you search far more easily and conveniently than ever before. These will increase your productivity in making online research, and you will get the web's information at your fingertips. You can click on the links below to move between various tricks.
1. Make Private Searches
Google in spite of its vast features doesn't seem fit for privacy enthusiasts because of tracking concerns. An alternative – Startpage allows you to make Google searches without worrying about tracking or other privacy problems. It shows searches from Google but doesn't track your IP address or your location info or such. There are many such Google alternative search engines that can help you carry out private searches.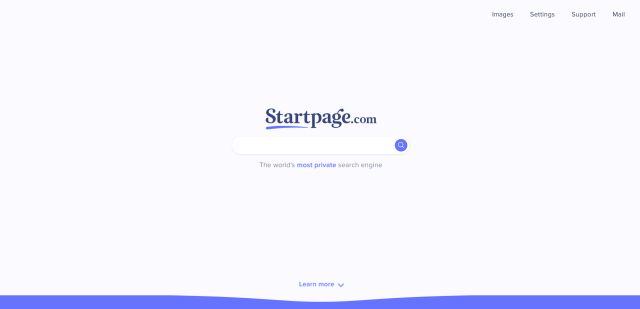 2. Customize your Search Settings
Google lets you customize search settings to tailor the search results for you. You can customize your search settings by visiting the search settings page. SafeSearch can be used to block explicit results, and you can even ask Google to speak answers to your voice searches. Moreover, you can set instant predictions, the number of results shown per page, and your language and location to get more personalized results and recommendations.
3. Search for an Exact Match
"" (double quotes) can be used to find search results with the exact match on the web. Google lists only the results having the given phrase (between the double quotes) with the same order of words as listed in the phrase. For example: searching for "I'm good" will ask Google to search only for that phrase. You will not get any related search results. This is great if you want hyper-specific search results and don't want related search results to crowd up your searches.
4. Search Within a Specific Website
"site:" lets you search within specific sites and not the whole Internet. It's quite handy if you know the place (website) for your search and saves you from going through undesirable results. For example: "site:beebom.com android 14" will list results for the search term 'android 14', but the search will list results only from the mentioned website (beebom.com) and not from the other sites.
5. Browse Offline Websites
"Cache:" can be used to browse websites that aren't online for a while due to server problems. Google keeps cached copies of the web pages browsed by its crawler, and that's why you can browse them even if their server is down as the cached pages are loaded from Google. For example: "cache:beebom.com" lets you browse Beebom.com even if it's offline.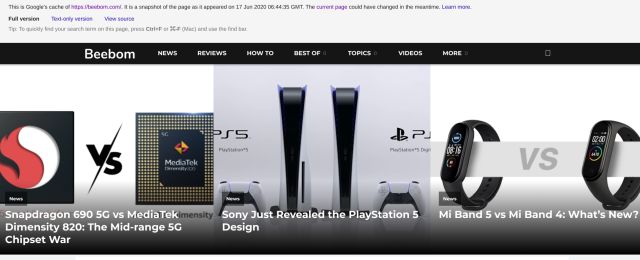 6. Turn on Google Search Dark Theme
In case, you are unaware, Google has added a built-in dark theme toggle inside its Settings page. You no longer need to use extensions like Dark Reader to enable dark mode on Google. Simply, click on "Settings" at the bottom-right corner and enable "Dark theme". That's it.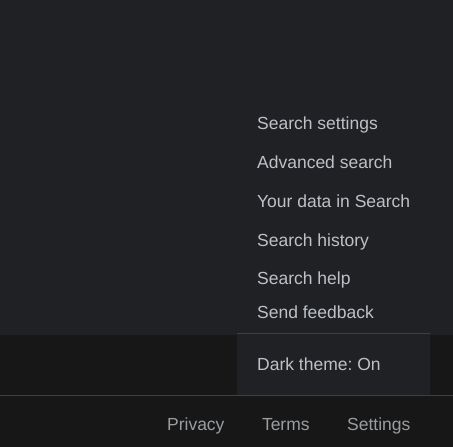 7. Find the Streaming Links
One of the best Google Search tips and tricks in 2023 is the ability to find streaming links right on the search page of movies and TV shows. You no longer have to open third-party websites to find where a show or movie is streaming. Simply search for the movie/show and it will offer you a long list of services where it's streaming or available to buy and rent.
8. Remove a Term from Search Results
If you are looking for something and a keyword keeps appearing (due to its heavy volume), you can narrow down the search result by excluding the term entirely. Simply add "-keyword" at the end of the search query and it will show you results without that particular keyword. You can check out the below screenshot to get an idea of how it works.
9. Find Specific Files
"filetype:" lets you search for specific files on the web rather than content or websites. It comes in handy when you're searching for presentations or PDFs, drawings, or other files whose extension is known. For example: "filetype:pptx greenhouse effect" will search for presentations on the given topic of the Greenhouse Effect.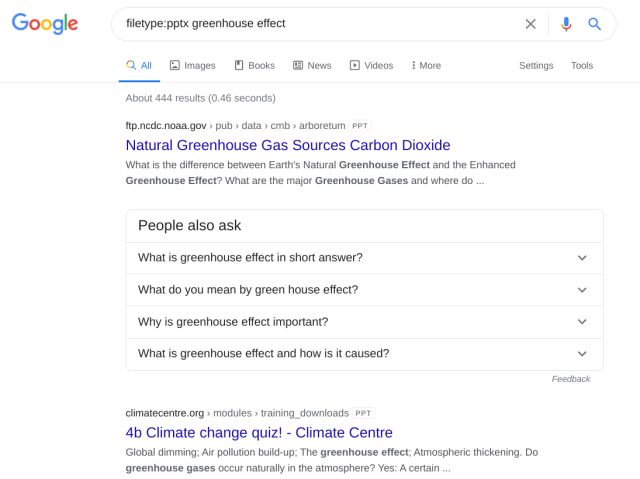 10. Make Advanced Search
Google's Advanced Search allows you to make the most of this search engine through a single page. It combines many of its search tricks, special features, and search tools under one hood. You can search using various operators, terms, file types, usage rights, languages, and regions, switch on safe search, and do much more using its advanced search feature. You can access the advanced search by clicking Settings -> Advanced search at the bottom-right of Google's homepage or directly by navigating to the advanced search page.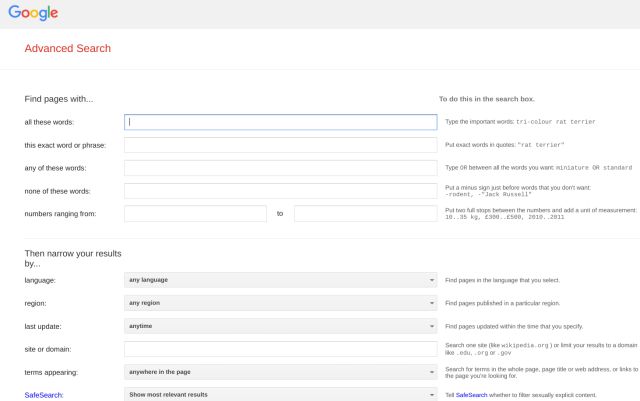 11. Download Images in a Specific Dimension
This is one of the best Google Search tips and tricks in 2023. Basically, you can search for images of a specific size and download them without the need to edit and change the aspect ratio to match your requirement. This will save you a lot of time, especially when you want to quickly grab an image of a specific dimension. You just need to add "imagesize:" and mention the dimension and you will get the desired results.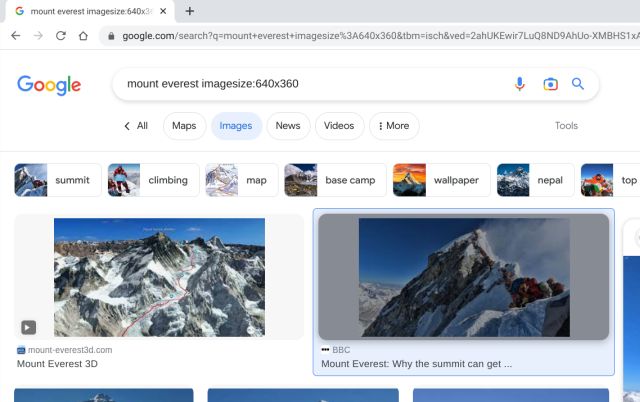 12. Download Authentic PNG Images
It must have happened that you downloaded a transparent PNG image off the internet, but you got fooled by the no-background pixel of the image. So to download an authentic PNG image from the internet, Google Search has a cool tool that filters out all the non-PNG images. Just search for an image, for example, "laptop png" and then move to the "Images" tab. Here, click on "Tools" and then open "Colors". Now, select "Transparent" and you will get authentic PNGs in the search result. That's cool, right?

13. Use the Asterisk Wildcard
This trick is quite helpful when you don't know the word, but betting on Google to find it and fill it in for you. For example, if you are having a hard time remembering a title or a book name, you can type, "crime and * *". Here, Google will fill in the term insider asterisk and will show the matching results.
14. Convert Units, Time Zones, and Currencies
"Convert" lets you convert units, time zones, and currencies from one to another. Currency rates are mostly up-to-date but should not be used as an alternative to market rates. You can use search terms such as "convert 5:30 AM GMT to IST" or "convert 5:30 AM GMT to New Delhi". Other usages include unit conversion queries like "convert 1m to cm" or "1m to cm", currency conversion queries such as "convert 1$ to pound" or "convert 1 USD to GBP" or "1 USD in pound" and more.

15. Search Flights
Google lets you search for flights from one location to another in just a few descriptors. Along with that, you get a price graph, filter options, booking links, and much more. For example: "New York to Paris flight" lets you view the flights for travel from New York to Paris.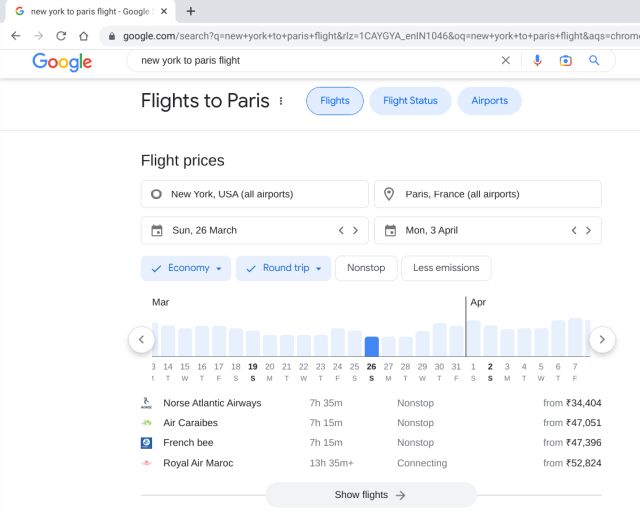 16. Check Flight Status
While we have mentioned above that you can check flight fares using Google Search, there is more to it. You can even find out your booking details by just searching on Google. For instance, if you search my "my flight status" on Google then it would fetch the booking details along with boarding gate, departure time, delay (if applicable), and more. Keep in mind, you will have to be logged in to get personalized results. So from now onwards, you don't have to check flight status laboriously. Just search on Google using this trick and you will have all the information at your fingertips.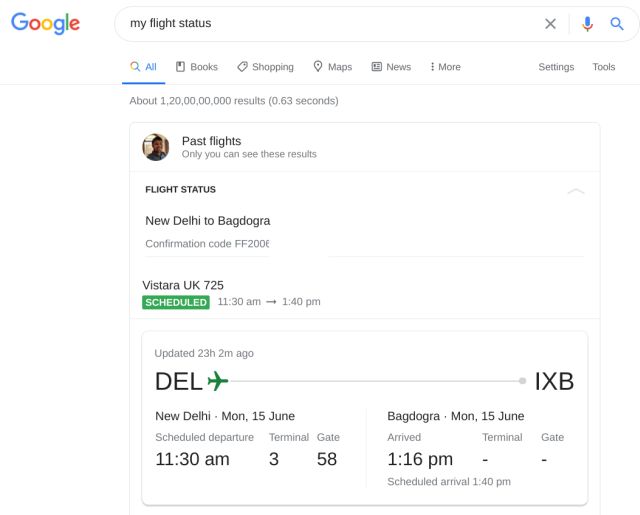 17. Find Your Public IP Address
With Google Search, you can instantly find your public IP address. Simply type "my IP address" and it will list your public IP address. It offers both IPv4 and IPv6 addresses, depending on your ISP support.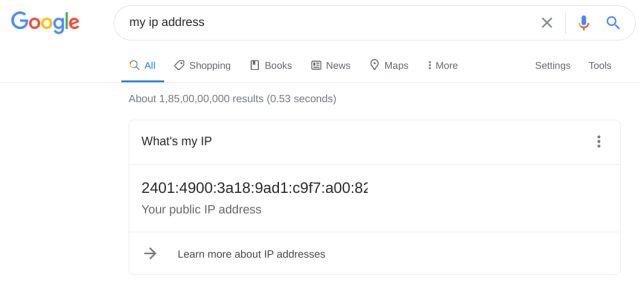 18. Get Nutritional Information
Google is smart enough to show nutritional info for food-related searches such as mango, chocolate candy, etc. The given info includes calories, vitamins, fats, etc. For example, search queries "banana" or "chocolate cake" produce nutritional information in the right pane.
19. Search Newspaper Archives
Google offers you access to digitized news content from the last several years. It has scanned and digitized old printed newspapers to make the content from old newspapers easily accessible to Internet users. For example, using the "site:google.com/newspapers Berlin wall" query will search for an article from scanned newspapers on the topic 'Berlin wall'.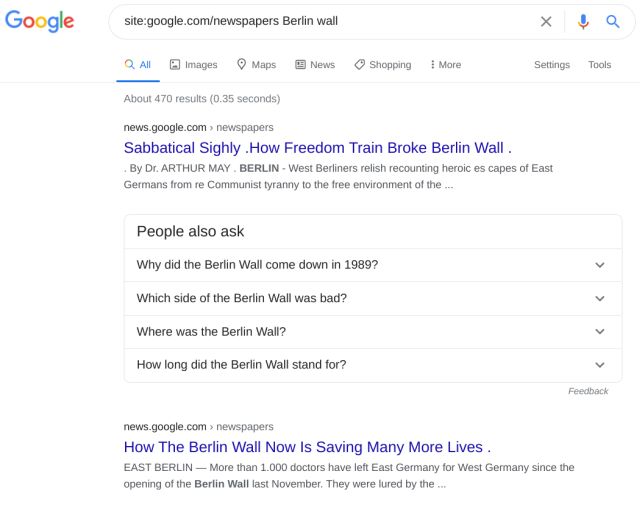 20. Find the Publication Date of a Webpage
For researchers and students, it's important to check the publication date of a webpage before citing it in a journal or a research paper. While most webpages include the publication date in their header which reflects in the Google Search page, some websites don't do that. In such cases, it becomes pretty hard to find the actual publication date of a webpage. Having said that, there is a nifty trick that allows you to find out the information.

First of all, open the webpage and then press "Ctrl+U" to open the page source. You can also right-click on any page and open the page source. Now here, press "Ctrl+F" search for "date" and go through all the matches. Somewhere, you will find any one of these parameters: "date", "dateModified", "dateUpdated", "updated", "updatedAt", and "createdAt". These variables will hold the information about the publication date of the webpage.
21. Find My Phone
If you have an Android device then Google has made it easier to locate your device just from the Google Search page. Simply, search for "find my phone" assuming you are signed into your Google account and it will instantly locate the device. You can ring your device, lock the device and sign out of your Google account and if you think, your device has been stolen then erase the device. All of this can be done right from the Google Search page.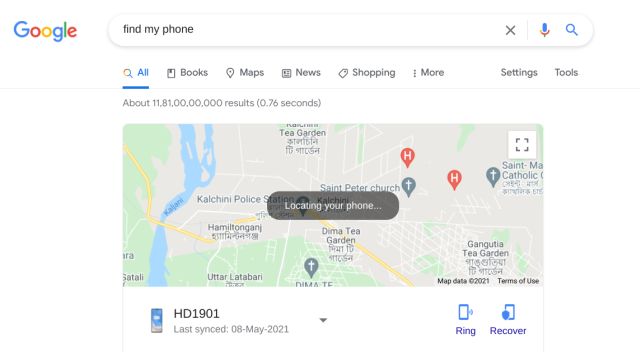 22. Set Timer
The timer command lets you set a timer using Google. It's simple enough for anyone and useful enough for various situations, such as when you want to take a mock exam, write an essay in a predefined time, or divide your time for various tasks, etc. For example: "timer" or "set timer" brings an online timer, wherein you can set the time and start it off.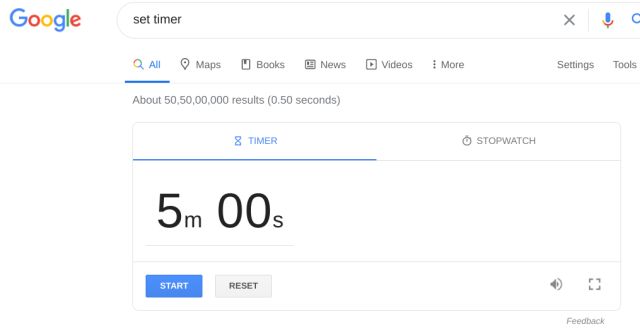 23. Utilize Collections
Google has brought a new feature called Collections where you can save favorite webpages, images, and places across the web in one place. The feature is currently available on Android devices, especially if you use the search widget in the Google app. You would find the "save" button on top of web pages. Tapping on it would save the URL to your Collections which you can find under the Google app. Further, you can also access Collections on the desktop from google.com/save. Apart from that, you can directly save images to Collections on the desktop too. Just click on the "save" button and you are done.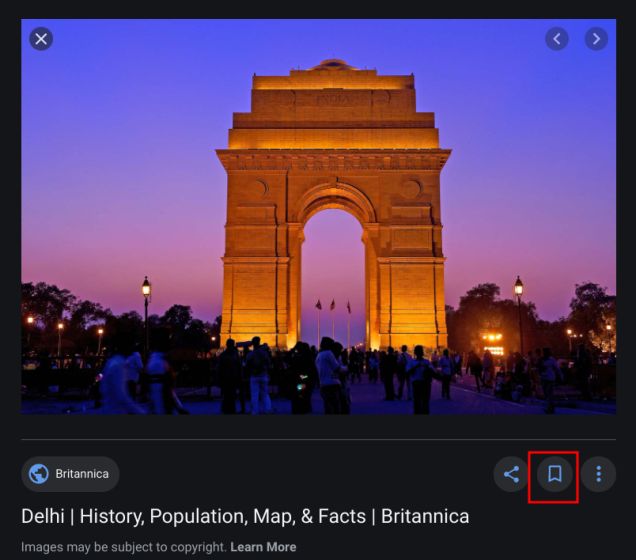 24. Google Alerts
If you want to become a pro in Google Search then you must learn how to create custom alerts based on your preferences. For example, if you are awaiting the release of Stranger Things Season 4, you don't have to search for it daily to get new information. Google offers a handy tool that delivers new articles and information to your Gmail account on a topic of your choice. You just need to enter the keyword and Google will notify you every day of all the latest developments. That's really interesting, right? You can learn more from our separate tutorial on how to set up Google Alerts.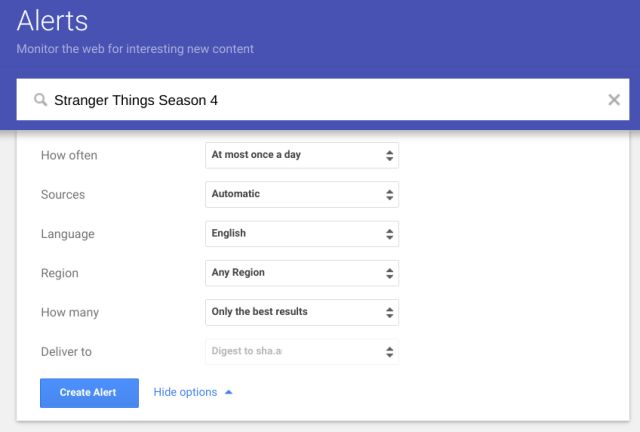 In case you are unaware, Google has quite a few hidden games right on the search page. You don't need to download or install a game. Just search for some specific keywords and you would be in the game. How awesome is that? Games like Solitaire, Pac-Man, Zerg Rush, and Tic Tac Toe are instantly available on Google Search. For your perusal, we have compiled a list of the top hidden Google games, so go through the article and you would find some of the best interactive games out there. I love playing the Snake Game in the search engine and to enhance your experience, there are several Google Snake Game mods as well.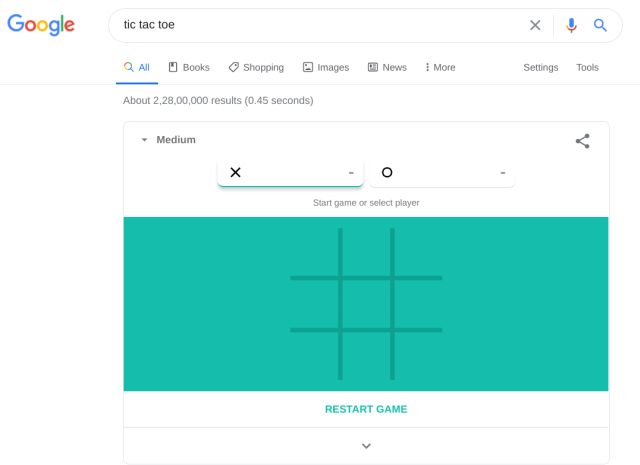 Unleash the Power of Google Search with These Tricks
As you can see, there are plenty of tips and tricks that you can use to get the best search results. Note that you don't need to remember all of them. Just go through the list of the best Google Search tricks in 2023 and see which ones fit your use case the most. Once you have decided which ones are important, use them three or four times and they will automatically get remembered. Do check these Google Search tricks out and let us know which ones are your favorite by writing in the comments section below.