After its launch, Medium quickly became a haven for publishers and readers alike. It was especially beneficial for small writers as they didn't have to spend any money to publish articles on Medium. Medium also made it very easy to create your own blog. I mean, if you start now, you can create your own blog on Medium within a few minutes. For readers, Medium meant a constant supply of quality content without having to deal with ads. These benefits quickly launched Medium into the stratosphere. However, things have changed with time and Medium no longer remains the free and ad-free paradise for publishers and readers.
Since Medium launched its subscription service, readers who want to enjoy reading on Medium without any restrictions will have to pay $5/month. While you don't have to become a paid subscriber as free content is still available on the platform, over time, I have realized that most of the writers that I follow now require me to have a premium account to enjoy their content. I understand why Medium has launched the subscription service as the company and the writers need to make money, however, not everyone can afford to pay for yet another subscription. If you are one of those Medium users who has been disappointed with Medium's move to subscription pricing, here are the 10 best Medium alternatives you can use to replace the service:
Best Medium Alternatives You Can Use
As I was researching for this article, I realized that Medium is a platform meant for both publishers and readers alike. That's why I have divided the article into two parts, and depending on whether you are looking for a reading or publishing experience, one will suit your needs more than the other:
Medium Alternatives for Readers
1. Quora
When I think of Medium alternatives from a reader's perspective, Quora is the first platform that comes to my mind. Just like on Medium, most of the content on Quora has been created by the community itself. However, unlike Medium which focuses more on long-form articles, Quora is a place where users can post questions and answers. If you are on Quora, you can post any question that you want to ask and other members will answer your questions to the best of their abilities. One of my favorite thing about Quora is that there are many well-known personalities along with learned individuals on the platform.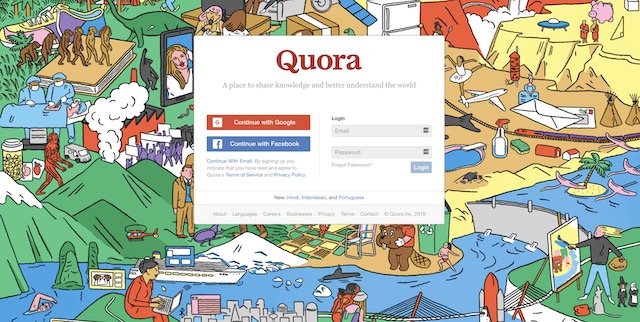 So you tend to receive answers from people who know what they are talking about. Of course, over the years Quora has become very popular which has degraded the quality of answers. However, if you carefully choose the topics and the people that you follow, you won't have to deal with sub-standard answers. Recently, Quora has also allowed publications to publish a link to their articles on the platform. That means, now you can also follow your favorite publications to get their feed on Quora. Finally, unlike Medium, Quora is completely free to use which makes it a good Medium alternative for anyone who doesn't want to pay the subscription price.
Platforms: Android, iOS, Web
Pricing: Free
Visit: Website
2. LinkedIn
If you are someone who doesn't spend much time on LinkedIn as the social networking site seems boring in comparison to something like Medium, I urge you to go back and check your feeds again. A few years back LinkedIn rolled out its publishing features which allow users to publish articles on the website. Since the introduction of this feature, LinkedIn publishing has evolved a lot with millions of users publishing their insights onto the platform. I have found LinkedIn articles to be more focused and enjoyed reading them more than the ones that are published on Medium.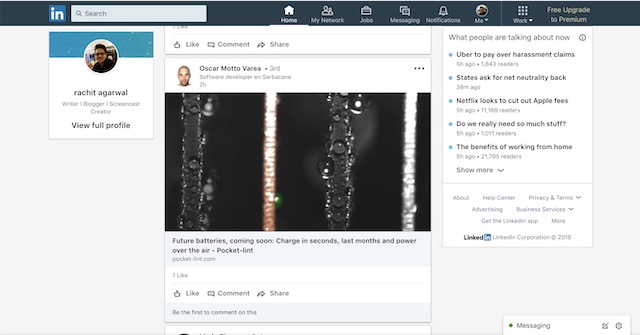 When you publish articles on LinkedIn, your original content becomes part of your professional profile. That is a very positive side effect of publishing on LinkedIn. If you publish great content, prospective job hunters will prefer your profile over the ones which don't have any published content. I mostly use LinkedIn as a reader as I love to read articles from the people I admire and follow. The content on LinkedIn is more mature and fact driven, and that's why I prefer this over any other media platform. If you are looking for a free Medium alternative, you should definitely give this a try.
Platforms: Android, iOS, Web
Pricing: Free, (premium pricing available for recruiters and job seekers)
Visit: Website
3. HubPages
HubPages is the platform which probably is closest to Medium in the way it works. Just like Medium, the content here is created by the community and consists of both short and long articles and posts. If you don't want to contribute, you can simply open the website and read the articles that interest you. One of the good things about HubPages is that a lot of writes here share stories related to their personal interests. That means you get a ton of exclusive content which you won't find anywhere else.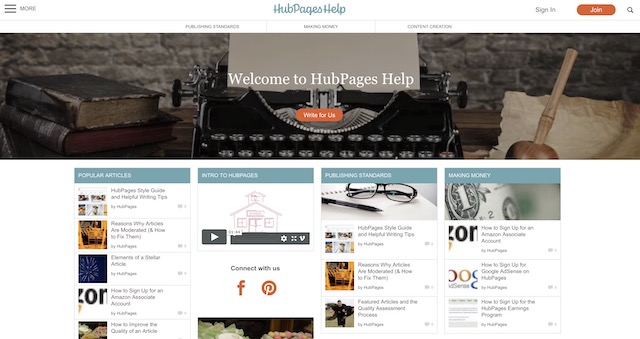 HubPages is also a platform for discussion. You can either start your own discussion or join ongoing ones where your input might be valuable. I find HubPages to be quite informative. I have found some of my most favorite recipes, answers to questions I have been struggling with, and tutorials on various topics here. HubPages is quite useful once you know how to use the platform. If you are a writer, you can also earn money by using HubPages' monetization programs. However, as mentioned on their website, don't expect to make a full-time income here.
Platforms: Web
Pricing: Free
Visit: Website
4. LiveJournal
LiveJournal is a place where people share their life stories, give advice, and exchange ideas with each other. The platform is very different from Medium where writers focus on long-form content based on their hobbies and expertise, instead, on LiveJournal, people share their personal experiences which are more intangible. Basically, LiveJournal is a big family where every family member shares his/her experiences. If you like the idea, you should definitely visit LiveJournal. I myself occasionally open the website to see what's trending and read what other people have shared. I admit that this is not a website for everyone, however, if you love to read normal people's life stories and want to share yours, click on the link below to check it out.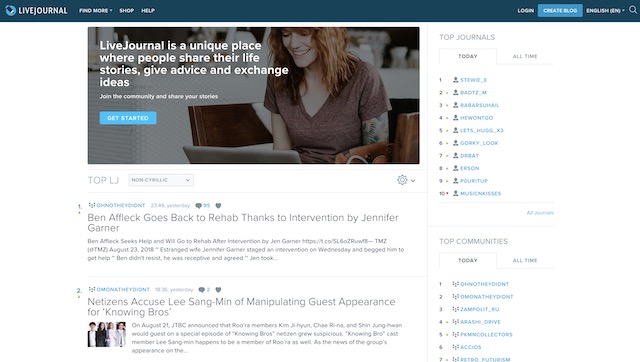 Platforms: Web
Pricing: Free
Visit: LiveJournal
5. Beam
Beam is Medium replacement for people who are interested in entrepreneurship and want to keep on top of everything happening inside the world of startups. The service aggregates content from all the major publishers around the world to keep you up to date. With Beam, you will never miss another start-up story ever. Apart from the start-up world, Beam focuses more on technology and gaming industry. You can create an account on Beam and then form your own personalized feed by selecting your sources and interests. While Beam is not a community-driven publishing platform like Medium, for people who don't want to miss out on the latest start-up news around the world, Beam is the right platform to be on.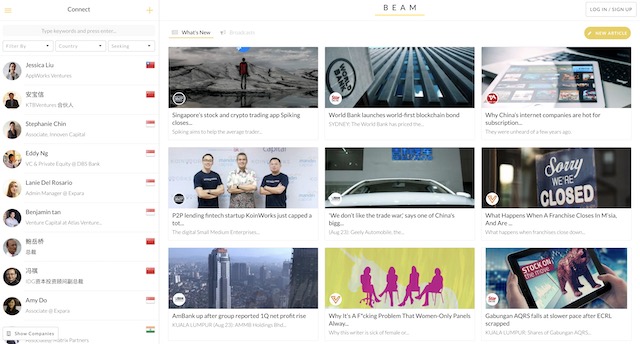 Platforms: Web
Pricing: Free
Visit: Website
Medium Alternatives for Publishers
As a publisher, Medium is great for exposure as millions of people daily visit the website. However, Medium is not great for creating your personal brand and earning money. First of all, any content that you publish on Medium is not your own. What I mean by that is that you cannot just move your content from Medium to anywhere else. Also, you don't get to have your own domain, unless you already own a domain and link it with your Medium account. The entire process is very lengthy and requires a lot of time to configure. Finally, there is no easy way to monetize your content on Medium. Firstly, there is no way you can put any ads on your blogs. Even the Medium partner program that is being offered by the company exist in only a few countries, and if you live anywhere else, you can't monetize your content, period. For these reasons, we believe that you should look at other alternatives before you go all in on Medium.
6. Ghost
One of the biggest reasons to switch to Ghost from Medium is its feature set. With Medium, you are stuck with the features that come with the interface and you can't do anything to differentiate your content from the others. With Ghost, you can manage and display your personal content the way you want to. Ghost comes with a full-blown editor which makes formatting posts a great deal more flexible than it is on Medium. Also, Ghost is fully open to being themed and modified to suit your needs and your style. That means you can create your own personal blog which is different and has its own branding.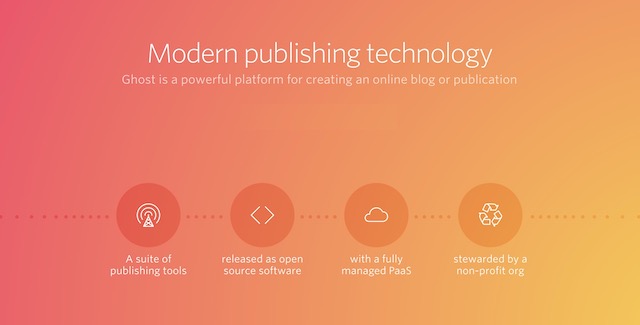 I love that Ghost allows users to choose their branding, their own design, and the way their content is displayed. When you blog with Ghost, all your content is yours and belongs to you only. That means you can do anything that you want with your content and are not dependent on the platform. Ghost also has support for advertising, product placement, sign-up forms, and more. That means you will be able to monetize your website from day one. Overall, I quite like the platform's flexibility and feature set and highly recommend this to anyone looking to create their own website.
Platforms: Web
Pricing: Starts at $29/month
Visit: Website
7. Write.as
Write.as is a very minimalistic and distraction-free writing space for writers. Do note that this is not a platform meant for users who want to create a website or a blog and rather just a place where you can get your thoughts out and publish them. The only thing you can do in the editor is put your thoughts down and hit publish to send it out into the world. The platform offers a separate reading mode for readers. The platform is for people who write just for the joy of writing. The blog is also good for anonymous writers as the service keeps minimum information on its publishers, allowing you to write more freely. This is not something I recommend to users who want to build a brand. However, if you just want to publish your thoughts and don't want to think about your privacy or your perception, Write.as is the right place to do it.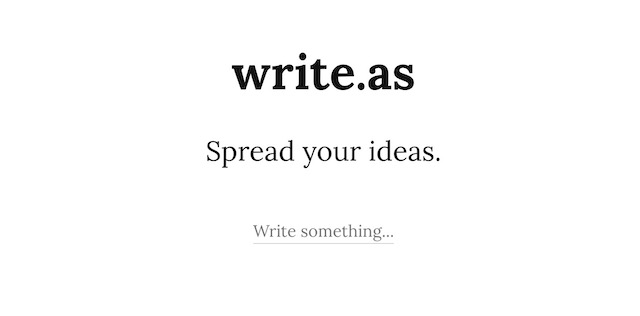 Platforms: Web
Pricing: Free
Visit: Website
8. Squarespace
Squarespace is a website builder platform which allows users to build their own blogs and website without needing any technical knowledge. I mean, you can create your entire blog with branding and everything within an hour. Squarespace takes care of everything for you. From hosting to templates to website performance, Squarespace takes away all the hurdles and lets you just create content. The best part is that you don't need any website development skill. It's easy to use and drag and drop website builder lets you build websites which look professional and beautiful. Unlike Medium, here, you will be the owner of your content and you will decide how your blog will look.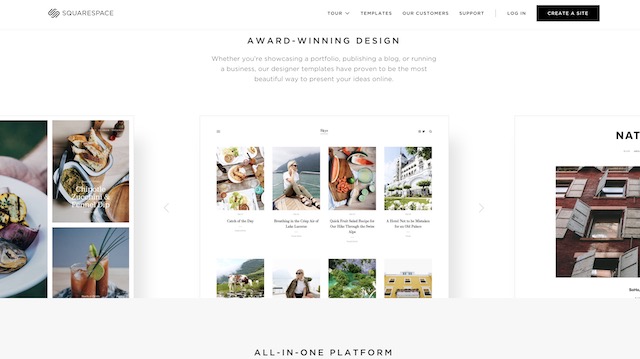 I also love its content publishing interface. The editor is easy to use and allows you to use text, images, videos, and many other types of content blocks. Squarespace also has various third-party integrations which allow you to do things link Amazon product placement, inserting affiliate links, and placing ads to help you monetize your website. If you want to make writing your full-time carrier, you should definitely take a look at Squarespace as it brings an all-in-one solution for all your publishing needs.
Platforms: Web, Android, iOS
Pricing: Starts at $12/month (billed annually)
Visit: Website
9. Wix
Just like Squarespace, Wix is also a website builder platform which allows users to create their own blog. The service comes with over 510 professionally designed templates and an intuitive and easy to use website builder. Their drag and drop tools are one of the easiest to get the hang of, allowing you to create your blog without needing any knowledge of coding. I also love the fact that blogs built with Wix are responsive which means that they look good on any device including mobile devices.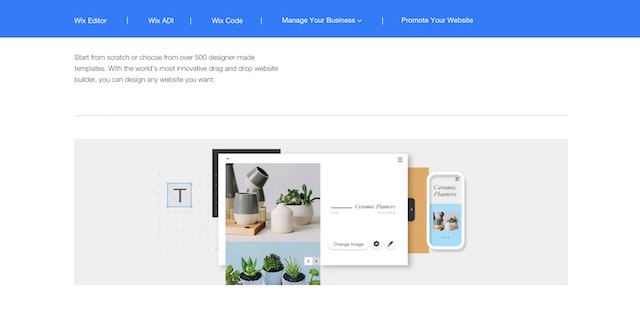 Again, Wix is good for people who have a long-term about their blog and want to own the content that they create. Unlike Medium, here, you can do your branding and decide how your website looks and behaves. You also have the opportunity to monetize your website however you want to. Whether you want to use ads, sponsors, affiliate links or what not, it totally depends on you. If you want to create a professional blog, Wix is the right place to start.
Platforms: Web, Android, iOS
Pricing: Free, premium plans start at $5/month
Visit: Website
10. Tumblr
Tumblr is a blogging platform for people who don't want to spend any time and money on creating and maintaining their own website. Do note that Tumblr functions a lot like Medium, meaning, you won't be able to easily move your content and there is no way to monetize your writing. That said, it also has the benefit of being a popular platform where millions of people have the chance to discover your content. Tumblr is also the easiest blogging platform in existence. It's crazy how simple Tumblr makes it for publishers to publish their content. Whether it's stories, photos, GIFs, TV shows, links, quips, dumb jokes, or anything else, you can post it on Tumblr. I have found that Tumblr is best for short-form content. Using this along with your personal blog is more beneficial than using only Tumblr. If you want instant access to millions of viewers and easy to publish platform, do check this out.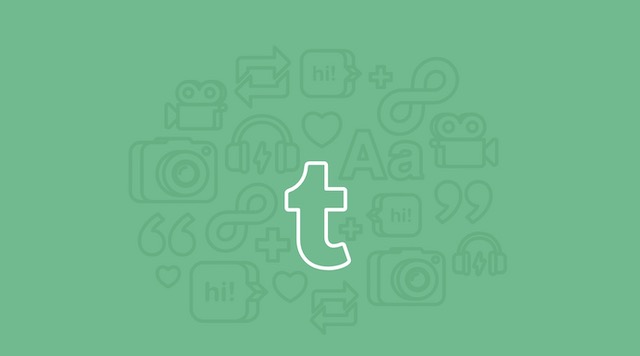 Platforms: Web, Android, iOS
Pricing: Free
Visit: Tumblr
SEE ALSO: Top 10 Squarespace Alternatives To Build Your Website
Read and Publish Content on These Medium Alternative Platforms
That ends our list of the best Medium alternatives that you can use to read and publish content. Medium is pretty unique and it is very hard to find its exact alternative. That said, there are many platforms and services out there which excel at things where Medium falters. Do check this list and let us know which platform seems the best for you by writing in the comments section below.