Kodi (previously known as XBMC), the popular media center software has come a long way since its inception more than a decade ago, thanks to its amazing community. While it's a great offering with tons of amazing features, it's not the most easy to use. For a new user, the open-source software can be a tough nut to crack but with time and right configuration, you should get a hold of it. Well, we are here to help you out with exactly that. Here are some great Kodi tips and tricks that should help you use Kodi like a pro:
1. Mutiple Profiles
If Kodi is being used by all the members in a family, it might be a good idea to create profiles for different users. Profiles are nothing but user accounts, so that you can password protect your content and favorites among other things. You can add a new profile by going to System->Settings->Profiles->Add profile. You can also change the profile name, picture, directory, lock preferences, media sources and more.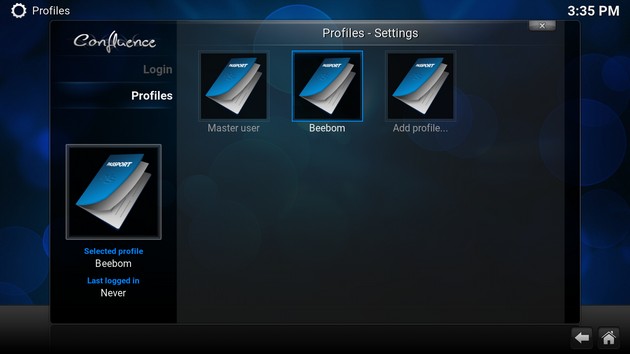 2. Use Keyboard Shortcuts
Kodi supports a number of cool keyboard shortcuts that make certain actions a lot faster. For instance, the "\" key lets you switch between full-screen and windowed mode, "P" lets you play, "F" lets you fast forward, "Ctrl + S" for screenshot capture etc. So, if you are a regular Kodi user, you must check out the keyboard shortcuts for Kodi.
3. Customize Home Screen
The Kodi home screen looks pretty simple on the outset with only a few important options like Music, Video, Programs etc. but there are options to customize it thoroughly. The customization options can be found in System->Settings->Appearance->Skin->Settings. Here you can go to "Home window" options, which lets you change what information can be seen on the home screen like weather, video, music and albums.
You can even hide the main menus like Video, Music, Programs and Pictures from the homescreen. In the "Add-on Shortcuts" option, you can add various add-ons as shortcuts in the various sub-menus we see on the homescreen for easy access.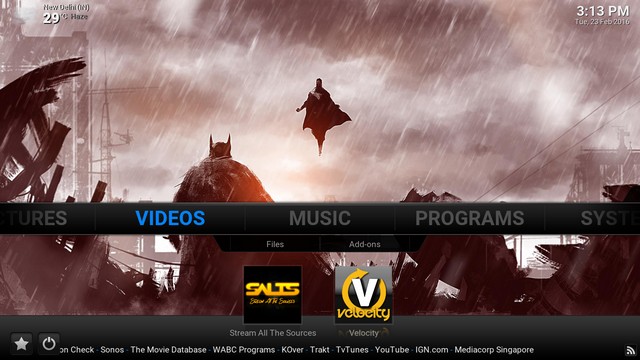 4. Add add-ons to favourites
On the Kodi home screen, you might have noticed a star icon alongside the power button. Well, that star buttons features your favourite add-ons. You can add an add-on to the "Favourites" list by going to music, program or video add-ons and right clicking on an add-on and selecting "Add to favourites". You can even add an add-on's various sub-categories to favourites, so you can easily access them right from the home page.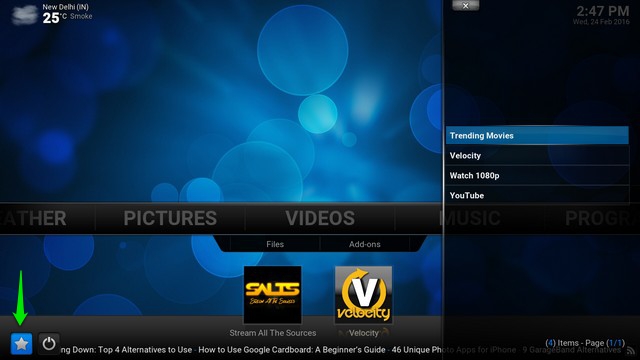 5. Change region and language
Kodi has its default language as English and region as U.S. but you can go ahead and change them easily. To change the region or language, go to System->Settings->Appearance->International and select the language you want. Once you select a language, Kodi will first download and install the language.
If you choose a regional language, the region is automatically changed. However, it's important to note that not all language packs that are listed, work on Kodi. For instance, popular languages like French, Russian etc. work but regional languages like Hindi, Chinese and more don't. Along with language & region, you can also change the character set and keyboard layout in Kodi.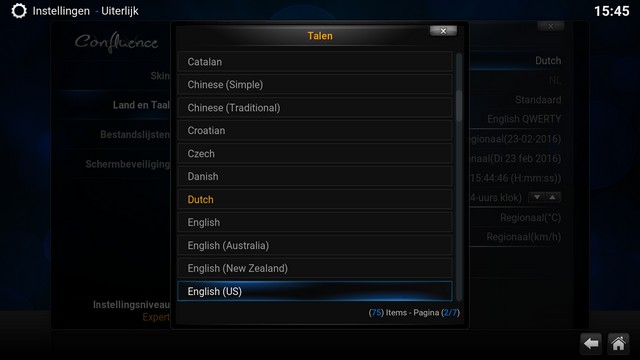 6. Change Skins
Kodi's plethora of customization options is one of the prime reasons for its popularity. One of the customization options include the ability to totally revamp Kodi's look through various skins. Kodi comes with the "Confluence" skin by default along with a "Re-touched" skin aimed at touchscreen users but you can go ahead and download tons of other cool Kodi skins.
You can do so by going to Kodi's System->Settings->Appearance->Skin and clicking "Get More" to download skins. There are skins that change Kodi's look to match Netflix or Apple TV and more. There's also ability to change a theme's font, colors, sounds and startup window.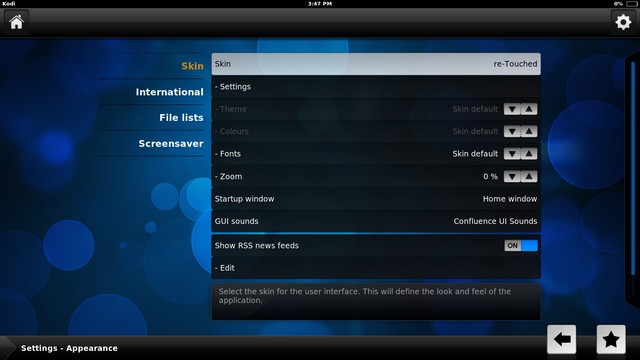 7. Set a Custom Background
Another customization that Kodi includes is the ability to change the home screen background. To set a custom background, Go to Kodi System->Settings->Appearance->Skin->Settings->Background and select "Enable custom background". Once enabled, select the background path to an image that you have on your system and you will see the image as Kodi's background.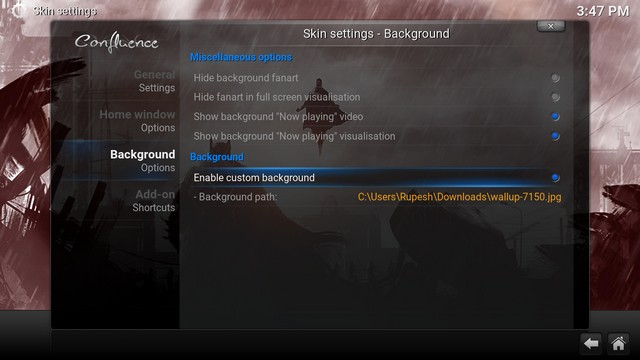 8. Set Screensaver
Kodi comes with an option to set a screensaver and you can choose among various options. You can set screensaver on Kodi by going to System->Settings->Appearance->Screensaver. You will find the various Screensavers available to set in "Screensaver Mode". By default, there are only a couple of screensavers available in Kodi dubbed "Dim" and "Black" but you can always use the "Get more" option to download more options. Every screensaver comes with its own set of options and settings, so that you can personalize it according to your needs.
9. Put display to sleep when idle
You can enable a sleep option in Kodi when your system has been idle for a certain duration to save some power. To do so, go to System->Settings->System->Power Saving and enable "Put display to sleep when idle" by setting the duration after which the display will go to sleep.
10. Enable Weather Stats
You can keep a tab on the Weather info within Kodi by enabling weather stats in Settings. To enable weather stats, head over to System->Settings->Weather and add a service for weather information. There are no weather services integrated by default and you will have to hit the "Get more" option to download a weather service from the likes of Yahoo Weather, OpenStreet Weather and more. Once a service is added, you will have to go to "Settings" below and add a location for which you want weather info for.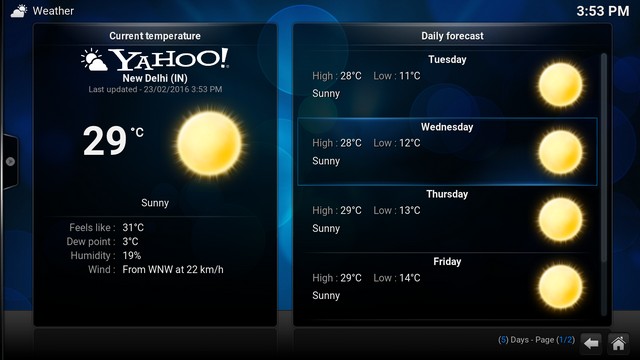 11. Choose Settings level
In every Settings page of Kodi, you would have noticed a "Settings Level" text at the lower left corner. The default Settings Level is "Standard" but if you can change it if you want to see more options. You can just click on it to change from "Standard" to "Basic", "Advanced" or "Expert". Kodi has included this to make sure that you don't get overwhelmed by the number of options. However, you can decide for yourself.
12. Disable or Change RSS Feed
You must have noticed an RSS Feed scrolling across at the bottom of the home page in Kodi. Well, that's a feed from the official Kodi page but if that bothers you, you can disable it. You can even go ahead and add a new source for the RSS Feed. To disable or change the RSS Feed, head over to System->Settings->Appearance and disable "Show RSS news feeds".
However, to edit the RSS Feed, you will have to install an add-on dubbed "RSS Editor", which Kodi will prompt you to do and it only takes a few seconds. Once added, you can add, remove or change the RSS feeds, according to your will.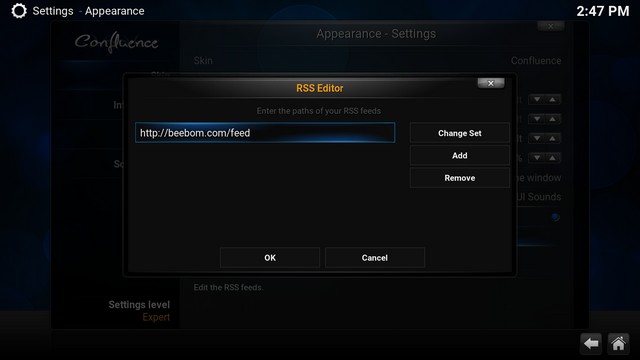 13. Remote Access

For people unaware, you can control the Kodi media player remotely through your Android device. To use Kodi from your Android device, you will have to configure Kodi and use one of the remote Android apps for Kodi. To configure Kodi for remote access, go to System->Settings->Services->Web Server and enable "Allow remote control via HTTP". Then, go to the "Remote Control" tab below "Web Server" and enable "Allow remote control by programs on other systems".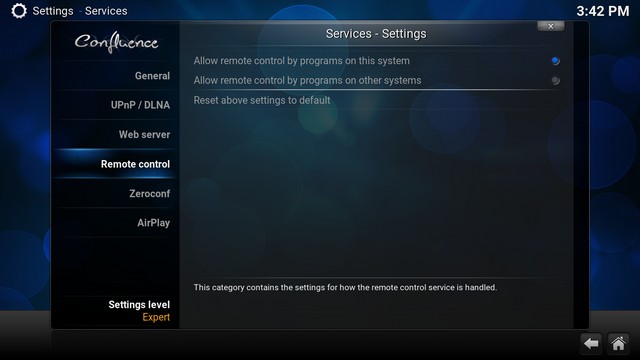 The aforementioned configuration should be good enough for Kore, which is the official Remote app for Kodi but if you want to use some other remote app like Yatse, you will have to configure some other options. In System->Settings->Services, go to "Zeroconf" and enable "Announce services to other systems". Then, go to "UPnP/DLNA" option and enable both "Share my libraries" and "Allow remote control via UPnP". This configuration should make sure that Yatse works seamlessly.
14. Browse all Add-ons
The Kodi add-ons are amazing, as they bring in diverse functionality to the software. However, if you have a lot of add-ons installed, things can get confusing. Well, you can find all the Kodi add-ons in System->Settings->Add-ons->My add-ons. Here, you will find all the add-ons, ranging from the built-in ones to the third party ones you might have installed. If you are new to Kodi, you should check out the best Kodi add-ons to install.
15. Add-on Repositories
While there are some great individual add-ons available for Kodi, there are various repositories that bring tons of cool add-ons at a single unified place. There are various popular add-on repositories like SuperRepo, Fusion etc. You can simply install one of these repositories and then install various add-ons from them by going to System->Settings->Add-ons->Install from repository.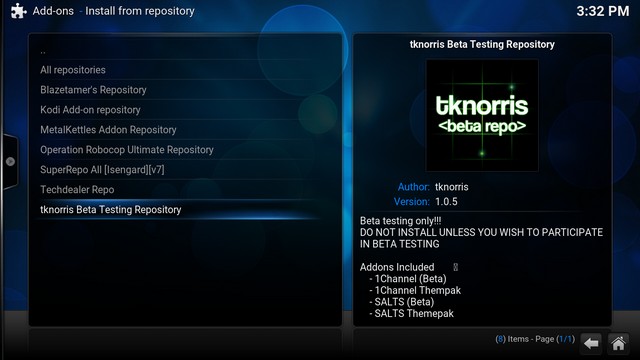 16. Set Shutdown Timer
If you want Kodi to shutdown automatically after a certain duration of time, you can use the "Custom Shutdown Timer" option. To set it, click the power button on the lower left in the Kodi home screen and then, select Custom Shutdown timer and activate the timer by adding the duration in minutes. In case you change your mind, you can also cancel it by going to the same option.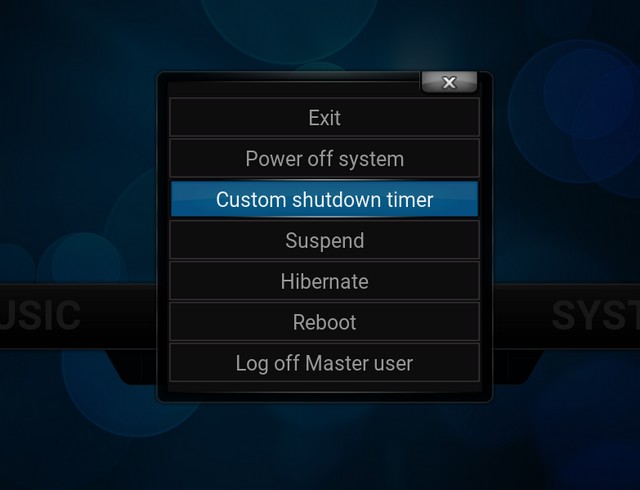 SEE ALSO: Top 5 Live TV Kodi Addons
Boost your Kodi experience with these tips and tricks
Kodi is a very powerful media center tool and these tips should make sure that you unleash its full potential. Kodi is available on almost all platforms including Android, OS X, Windows, Linux, iOS, Raspberry Pi, TVs and more, so you should give it a try if you haven't already. If we missed out on any good hidden feature that could have been a part of this list, do let us know in comments section.