We know that Kodi is an excellent application for consuming all kinds of content. However, it has limited numbers of first-party addons which don't provide the best experience especially while watching movies. There are lots of third-party Kodi addons which provide absolutely great movie watching experience. These add-ons have a massive library of movies of top-notch quality. The latency and buffering issue also remain non-existent with third-party servers. So in this article, we explore the world of Kodi beyond the official repository and bring you the best Kodi movie addons that you should use to watch movies in 2019.
Note: Many of the third-party Kodi movie addons host and stream copyrighted content. Streaming protected content is illegal and amounts to piracy. We do not encourage online piracy in any way or form.
Best Kodi Movie Addons in 2019
Here is the complete list of add-ons you can install on Kodi. Do note that, most of the add-ons are available on third-party Kodi repositories. So you will have to install the third-party repos first and only after that, you can install the required add-on. If you want to learn how to install third-party repos then follow the instructions in the linked article.
1. Maverick TV
Maverick TV is the best add-on for movies you can find on Kodi. It runs perfectly without any buffering or quality issue. Besides that, it has the largest library of movies including all the latest ones. The library of content is so huge that it's simply impossible to manually navigate through the content. To make things easier, Maverick TV has a helpful search bar and separate folders of movies divided into various categories. To name a few folders, it has 4K UHD, New Releases, IMDB Top 250, Classic Movies, etc. You can get the idea of how much video content is packed into Maverick TV. If you want to install just one add-on for movies, let it be Maverick TV.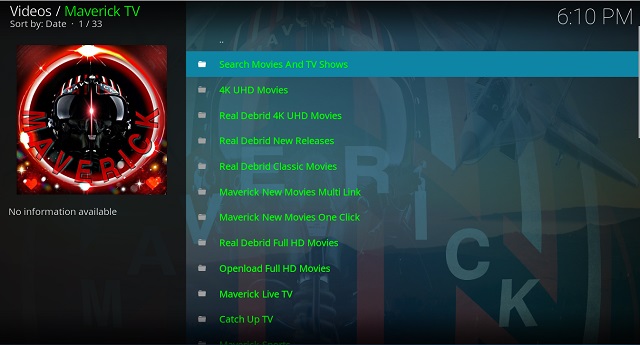 Install Maverick TV from its Repo (Free)
2. Exodus Redux
Exodus Redux is another great movie add-on for Kodi. It's exceptionally light and loads video content pretty fast. There are different folders for movies which are based on different languages, most popular movies, genre, year, Oscar winners, etc. There is a long list of categories to choose from owing to such a wide selection of content. Besides, you can get the latest movies as soon as they are released because of its highly optimized scrapper. You can even choose your favourite scrapper like OpenScrapper, Debrid, Hosters, etc. Basically, Exodus Redux is a one-stop entertainment hub for all your movie needs and you don't have to look further.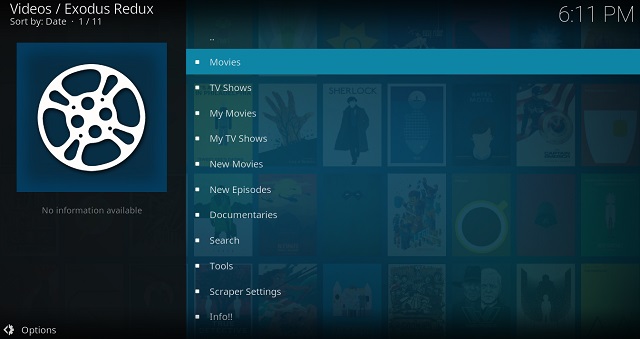 Install Exodus Redux from its Repo (Free)
3. BBC iPlayer
While BBC iPlayer add-on is not specifically for movies, it's worth the mention. It's an add-on encompassing everything BBC offers including movies, documentaries and what not. BBC has amassed a huge collection of movies under its title and you would be hard pressed to find these content anywhere else. If you are from the UK, you can install the add-on right from the official Kodi repository. However, if you stay outside the UK, you would need a Kodi VPN service to access BBC's movie catalog. In any case, you should go ahead and install BBC iPlayer add-on. You are going to love it.
Install BBC iPlayer from the Official Kodi Repository: Go to Addon -> Download Addon -> Video Addons and select and install "iPlayer WWW" addon
4. Seren
Seren is another hugely popular add-on for watching movies on Kodi. It has got tons of movies and shows under its library. Many users believe that it provides the best experience for watching movies on Kodi because of no buffering issues. There are various categories of movies to choose from: you can go by the most trending movies, by actors, recently updated movies, genres, etc. There is also a search bar so you can quickly find the movie that you are looking for. It also scraps metadata, movie banners from the web so that you get all the information you need before watching a movie. All in all, it's one of my favourite add-ons for watching movies and you should definitely check it out.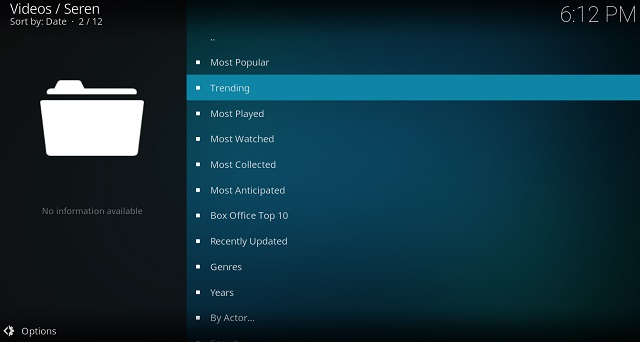 Install Seren from Nixgate Repo (Free)
5. 13 Clowns
13 Clowns is becoming one of the best Kodi movie addons because of the enormous library of collected movies. Also, the developer is quite active and keeps on updating the latest releases. It has folders of movies based on different languages, top 10 weekly movies, what movies are currently running in theaters and a lot more. Besides, the developer has a personal collection of movies, a spotlight folder where he updates his favorite movies every month. Basically, if you are looking for curated content on Kodi then 13 Clowns is an exceptionally great Kodi movie addon. Talking about the performance, it is really good with almost instant playback and no buffer issues. You can definitely give it a try, it's pretty interesting.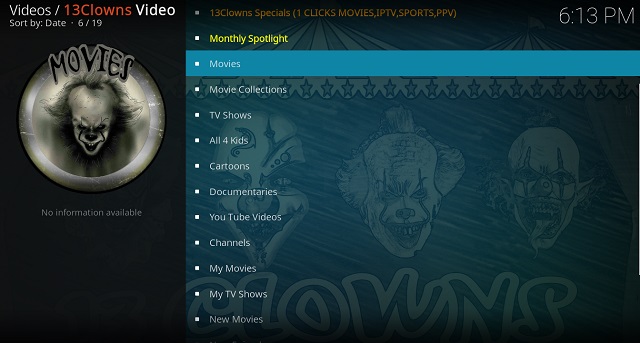 Install 13 Clowns from its Repo (Free)
6. Tempest
Tempest is a pretty old Kodi movie addon for watching movies. It has remained afloat for many years because of several features it provides along with the huge list of movies. You have the usual library of movies based on various categories, but you also have options to choose the service provider like OpenLoad, 123movies, etc. Also, you can directly stream movies from torrents and choose subtitles within the add-on. That's pretty interesting, right? Other than that, you can search for movies from the menu and can also view the trending movies users are streaming on Tempest. All in all, it's a pretty capable add-on for all kinds of movies and you might like it.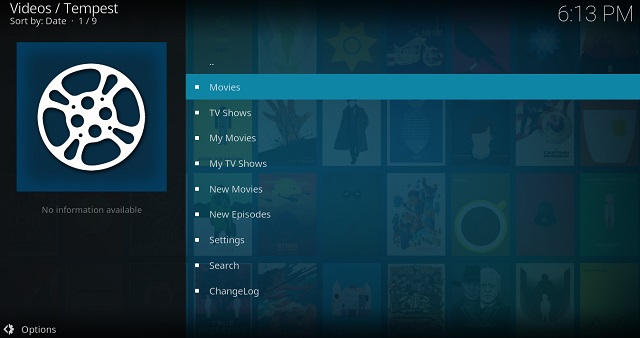 Install Tempest from its Repo (Free)
7. Nole Cinema
Nole Cinema is one of my favourite Kodi movie addons for watching movies on Kodi. It has got every title I am looking for. Nole Cinema is not visually pleasing but its interface is clean and least obtrusive. Unlike other Kodi movie addons, here the movies are divided into genres only. What I love is that there are separate folders for DC and Marvel movies in 4K resolution. Besides, there are Boxsets which lets you watch a movie series in a convenient manner. Everything is placed right there, no need to jump through hoops. The collection folder is done really well and you will find yourself binging movies one after the another. Nole Cinema is all about movies whether it's classic or recently released movie. So give it a try, I am sure it will exceed your expectations.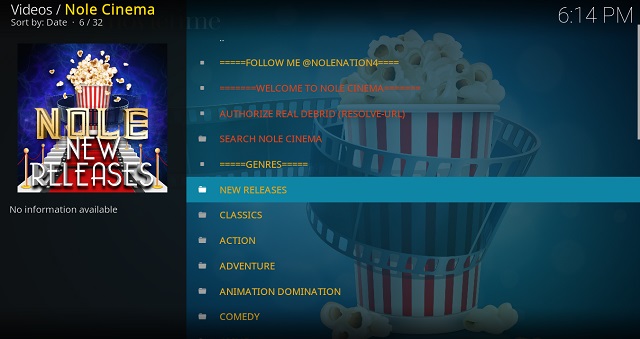 Install Nole Cinema from Ring of Saturn Repo (Free)
8. 9anime
9anime is a hugely popular add-on among users who love watching anime movies on Kodi. The add-on is pretty simple and has sub-folders with recent, popular and newest subbed anime. The subbed anime have hard-coded subtitles on the video so you don't have to look for subtitles elsewhere. Talking about the library of content, it has got massive numbers of anime movies and you would definitely find your favorite series in this add-on. Earlier, this add-on was deprecated, but the developer has started the development again and it's back in action. So if you love watching anime, go ahead and install 9anime. You will be overwhelmed with the sheer volume of anime movies and series.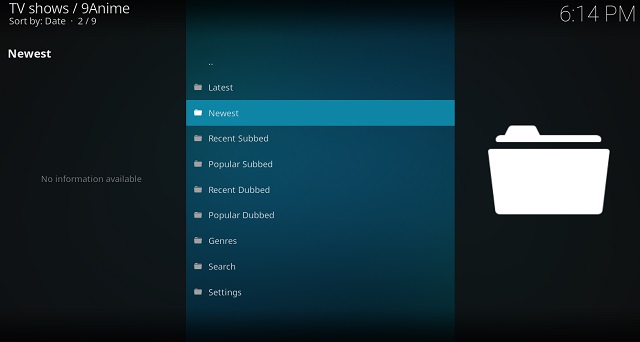 Install 9anime from DxCx Repo (Free)
9. Einthusan (For Indian Movies)
At one point, Einthusan was a rage among Indian users for watching movies on Kodi. However, after some time the project was deprecated and the add-on faded into oblivion. Nevertheless, a new team called Reasons has taken the development forward and now you can enjoy Indian movies just like before. Besides Bollywood movies, you have plenty of regional cinema as well. It has movies divided into several sub-folders like Hindi, Tamil, Punjabi, Bengali, Malayalam, etc. Inside every folder, you can search for movies or browse the catalog using year or genre. The new Einthusan add-on is really impressive and you can get back to watching Indian movies on Kodi without any issue.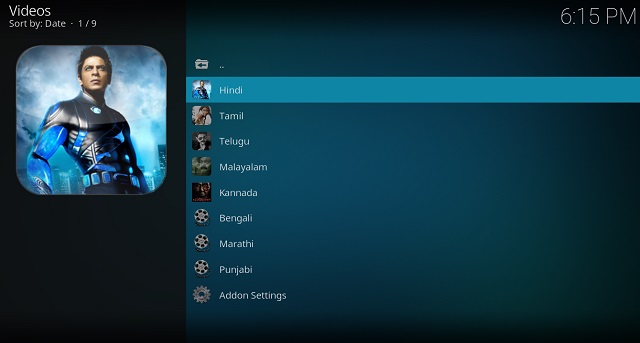 Install Einthusan from Reasons Repo (Free)
10. Destiny
Destiny is kind of a unique Kodi movie addon in this list because it has lots of other features as well. There are TV shows, Live TV and Sports, etc. But coming to movies, it has a long list of sub-folders dividing movies into several interesting categories. For example, you have a list of last 10 years of great movies then you have 20 years and so on. Also, there are categories like movies "based on real life", movies from popular studios, and of course the latest releases in HD quality. The categorization is done really well and I found it quite interesting. All this makes Destiny quite a distinct add-on and Kodi users can surely try it out. It's built on a really good idea and there are more chances of discovering new movies this way.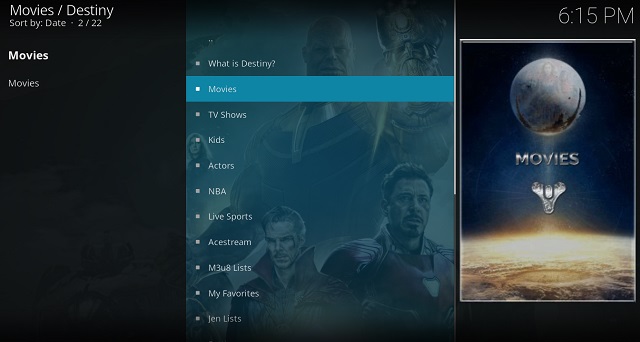 Install Destiny from Eggman Repo (Free)
11. Redemption
Redemption is another movie add-on in this list which is pretty active in terms of movie requests and uploads. The developer keeps updating the movie database on a daily basis and you can access it in a separate sub-folder. Besides that, you can access scores of movies in 4K resolution. There are a few categories like documentary, new releases where you can find movies of your choice. Also, a separate Redemption folder packs some great movies curated by the developer so you can go through that. Since the developer entertains user requests, it seeks donation to make the project possible. All in all, Redemption has a pretty large library of movies and you can give it a try.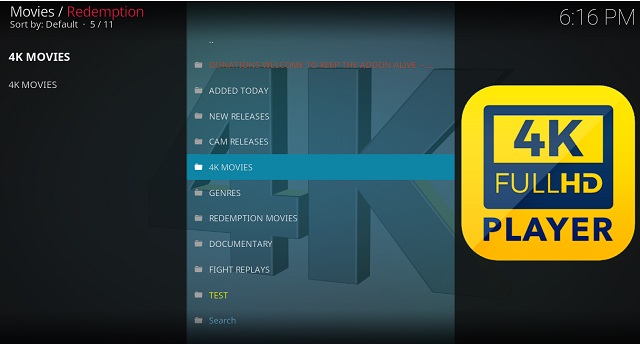 Install Redemption from CellarDoorTV Repo (Free)
12. Monster Munch
Finally, we have Monster Munch which is an unusual name for a movie add-on, but it's quite large in terms of content size. Monster Munch is in active development and works flawlessly. It has an enormous library of 4K titles which I found overwhelming. You can find almost everything in just one sub-folder. Besides, it also offers TV shows especially British television which can be a bonus for users who are from the UK. The great part is that there is native real-debrid integration within the add-on so you will be able to stream unlimited content without worrying about server-side bandwidth limitation. To conclude, it has got a massive library of movies that too in 4K. Well, you can surely give it a try and find out yourself if your favorite movies are available in this add-on.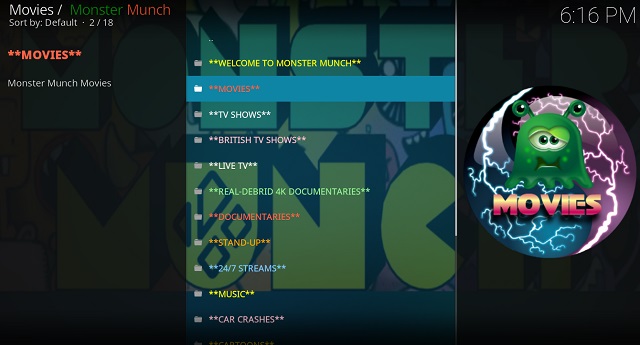 Install Monster Munch from Steptoes Repo (Free)
SEE ALSO: 20 Amazing Kodi Tips and Tricks to Boost Your Experience in 2019
Enjoy Watching Movies with These Awesome Kodi Movie Addons
So that ends our list of best Kodi movie addons. I have tried to cover all the aspects of movie watching, be it uninterrupted viewing experience or the size of a movie library. You can go through the list and see if these Kodi movie addons keep up to your expectation. I am pretty sure there is an add-on for everyone, so test out a few Kodi movie addons and choose accordingly. We hope this article helped you in finding the perfect add-on and eventually movies of your choice. Anyway, if you found the article interesting and want to see similar kind of posts on Kodi, then comment down below and let us know. Also, mention your favourite Kodi movie add-on so that we can have a look at it.