Google Chromecast is a wonderful media streaming device and while Google media apps like YouTube support the device, media center apps like Kodi don't. So, if you love watching content on Kodi and would love to stream Kodi to Chromecast, there's no native way. However, you are not totally out of luck, as there are ways to stream Kodi on Chromecast. You can do it through an Android smartphone or tablet or even your PC or Mac. There are three ways to stream Kodi to Chromecast and we are listing down all the ways, so you can choose whatever suits you best. So, without any further ado, here are the ways:
Best Method: Using an Android device running Kodi in the background
This is the best method to stream Kodi's content to Chromecast because it's light on your Android device's battery. In this method, the streaming video plays on your Chromecast device even when the device is locked, unlike the other methods we have listed below. Moreover, the video streaming on the Chromecast connected TV is flawless in this method. So, here's how to do it:
1. Firstly, you will have to install a few apps on your Android device: Kodi, LocalCast and ES File Explorer (or any file manager app that lets you view hidden files).
2. After you've installed all these apps, download this .xml file dubbed PlayerFactoryCore. Once downloaded, open ES File Explorer and go to its hamburger navigation drawer and tap "Settings". In "Display Settings", enable "Show hidden files".
3. Then, go to the "Downloads" folder and find & copy the PlayerFactoryCore.xml file you downloaded. Paste the file in Android->Data->org.xbmc.kodi->files->.kodi->userdata folder.
4. After you have pasted the file, open the Kodi app and play any video. If you have more casting apps installed, Android will ask you to choose an app, choose "LocalCast". If you don't have any casting app other than LocalCast, it will automatically load up the Kodi video you selected.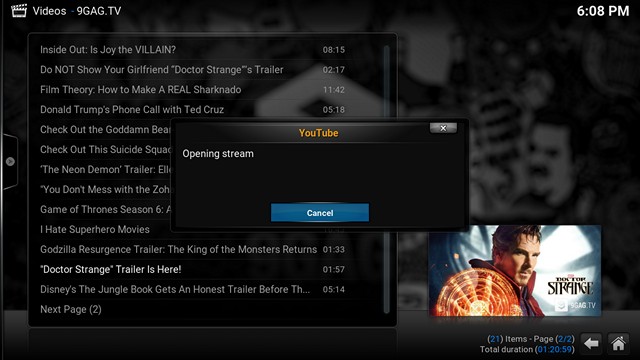 5. Then, select your Chromecast device and then hit Play, which should play your Kodi video on the Chromecast connected TV.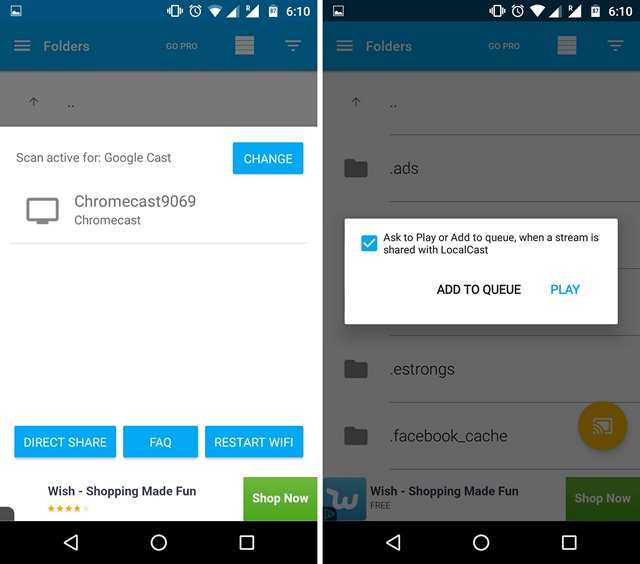 Note: To add more videos to the playing list, just use the "Add to Queue" option.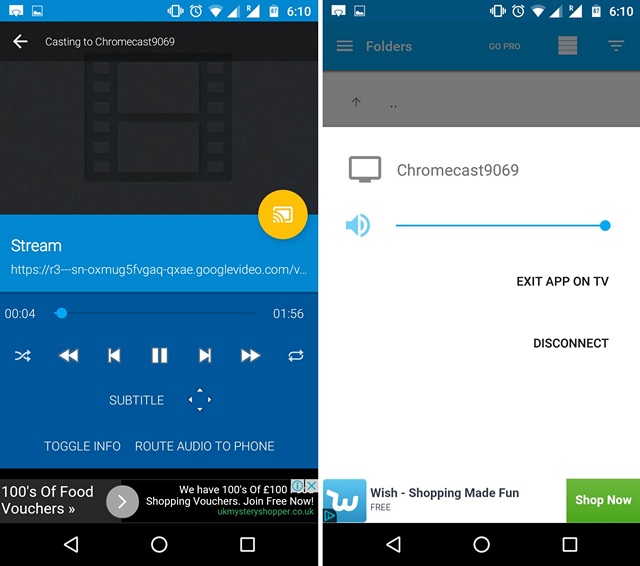 You can then easily minimize the LocalCast app and lock your Android device while watching the video with ease on your Chromecast device. Pretty easy, right?
Method 2: Using the Chromecast app on your Android device
Another very easy method to stream Kodi to Chromecast is by using the Google Cast app's screen mirror feature on your Android smartphone. Here's how you can do it:
1. You will have to install Kodi and the official Google Cast app on your Android device for this method.
2. Open the Google Cast app and tap the hamburger menu on the top left and hit the "Cast screen/audio" option. You should then get a prompt saying "Screen casting is not optimized for this device; your experience may vary". Ignore it and select "OK".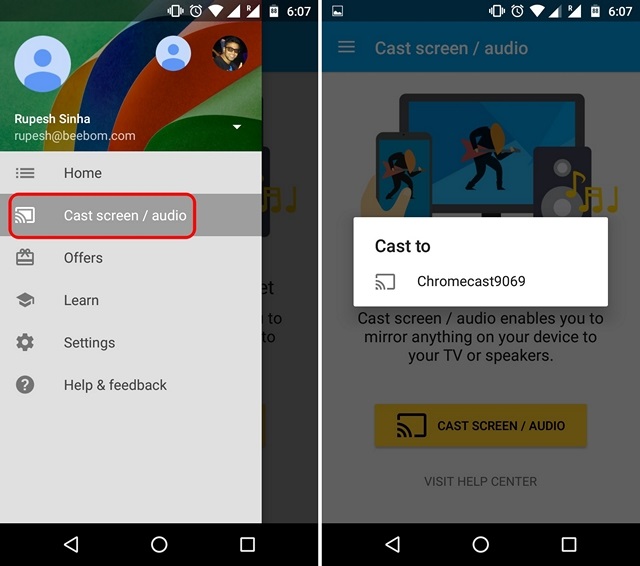 3. Then, the app will search for Chromecast devices, select your Chromecast device and your device's interface should be mirrored to your Chromecast connected TV.
4. Now, open up Kodi and play any video you want. The video should then start playing on both your Android device and your TV.
Note: While this method works and lets you stream Kodi to Chromecast, it's not really feasible, considering you can't lock your phone or take any calls or do anything for that matter on your Android device. Also, in our testing, the video playback was perfectly smooth on our Android device but the stream to Chromecast was pretty laggy.
Method 3: Using the Chromecast app on your PC or Mac
This method is very similar to the previous method, as you can use the Google Cast extension on Chrome to mirror your PC's entire screen to a Chromecast connected TV or display. So, here's how to stream Kodi to Chromecast using a PC:
1. Install the Kodi client on your PC or Mac. Also, make sure to install Chrome along with Google Cast Chrome extension.
Note: Windows users might have to install the Chromecast setup client, if you are connecting to Chromecast for the first time. 
2. Then, fire up Chrome and click on the Google Cast extension and you should see an option dubbed "Cast this tab to…". Alongside you will see a very small drop-down button, click that. In the menu, click the option to "Cast screen/window (experimental)".
3. You'll then get the options to share your "Entire screen" or the different tabs open in Chrome. Select Entire screen.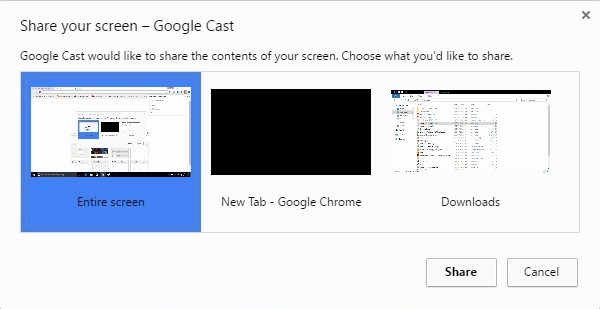 4. Now, simply open up Kodi and play any video you want and it should play on both your PC and Chromecast connected TV with ease.
Like the previous method, you will have to keep the Kodi client running in the foreground on your PC. Also, you obviously cannot turn off or lock your PC or Mac. So, not the best method but it works if you have to showcase a presentation or something else to a larger audience.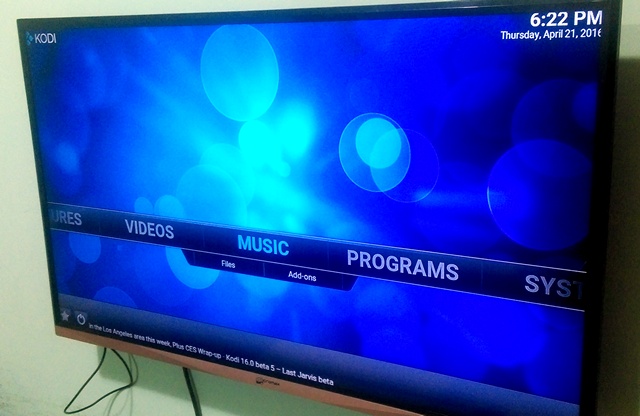 SEE ALSO: 10 Best Chromecast Alternatives
All set to stream your favorite videos from Kodi to Chromecast?
While all of the above methods will work, we'd recommend the first method if you want to stream from an Android device because that's the one where the playback is flawless and you can multitask on your Android device. So, try it out and let us know if you face any issues in the aforementioned methods, we'd be happy to help! Also, if you have an Amazon Fire Stick, check out our post on how to install Kodi on Amazon Fire Stick.
---
Load More